Never miss a bite! Sign up here to receive new recipes and reviews straight to your inbox.
Disclosure: I was invited to dine as a guest of the restaurant. No monetary compensation has been received for this post. As always, all opinions are 100% my own.
A little piece of Brazil has taken over property right here in Boca Raton — in the form of a prime steakhouse and fondue restaurant. The Little Chalet first introduced its fine dining experience to Brazil over 35 years ago and has been recognized as one of Brazil's top 10 restaurants. This family-owned establishment has multiple locations in Brazil, and now opens its US flagship location in Downtown Boca Raton. The restaurant is European in its essence, resembling a Swiss cottage with a warm and welcoming atmosphere. As I entered with my fellow bloggers and media, we each felt as though we were somewhere in the Alps, cozy inside the ski lodge, awaiting a hearty meal and warm mugs of hot chocolate. We were definitely not in South Florida anymore!
As with any fondue restaurant, I knew there would definitely be cheese and chocolate in my future — but what else?! Oh, there was plenty more, let me tell you — starting with two words that made me the happiest girl in the world: TRUFFLE BURRATA. Yes, rich and creamy, melt-in-your-mouth burrata infused with black truffle and garnished with cherry tomatoes. You can bet a million bucks I was grinning from ear to ear. You can't really go wrong with burrata and truffle, especially when combined.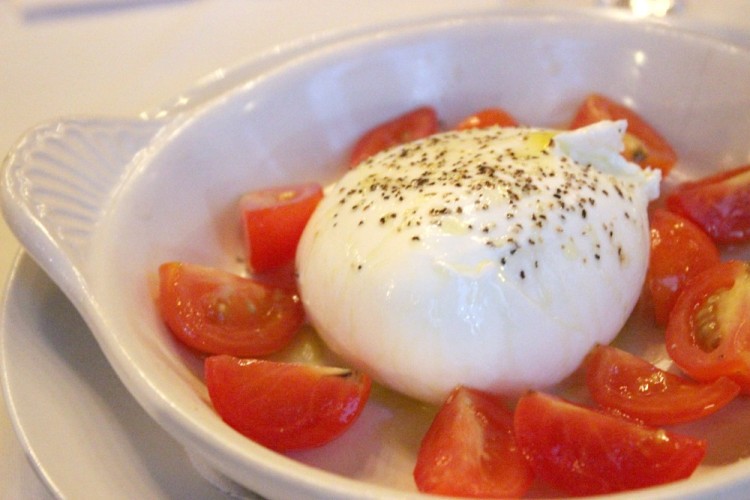 We were also served a traditional dish, the Swiss Raclette, a bubbling hot dish consisting of pickle, onion, potatoes and sausage topped with melted raclette cheese. The kitchen was nice enough to bring out a dish sans sausage for those of us at the table who don't eat meat. While I'm never one to scoff at golden brown, ooey-gooey cheese, I didn't care much for this — the pickle was a little too overpowering for my taste. The Blue Cheese Iceberg Wedge Salad was also brought to the table, a classic salad with blue cheese dressing, blue cheese crumbles, diced bacon and egg, crispy onions, and grape tomatoes. This dish didn't make its way onto my plate for obvious reasons, but that's fine — my glass of Meiomi Pinot Noir was keeping me happy as the rest of the group gobbled it up!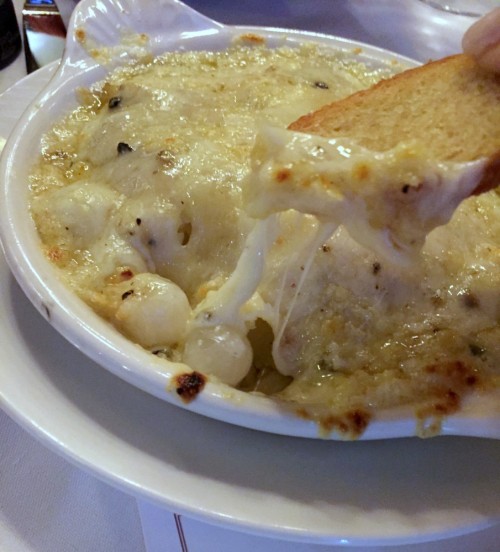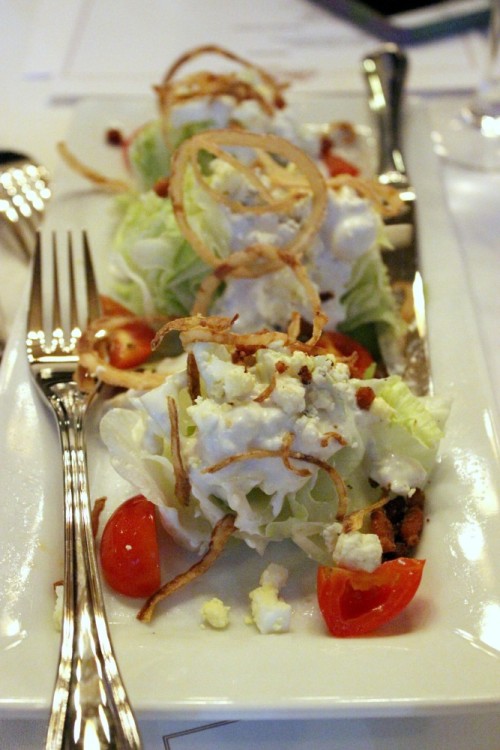 We were all anxiously awaiting the next course — it was time for Cheese Fondue! Four fondue pots were brought out to the table and placed on top of the little burners so the cheese could get all melty and gooey and delicious for us while we swirled pieces of freshly baked bread, broccoli, mushrooms, and potato in all its wonderfulness.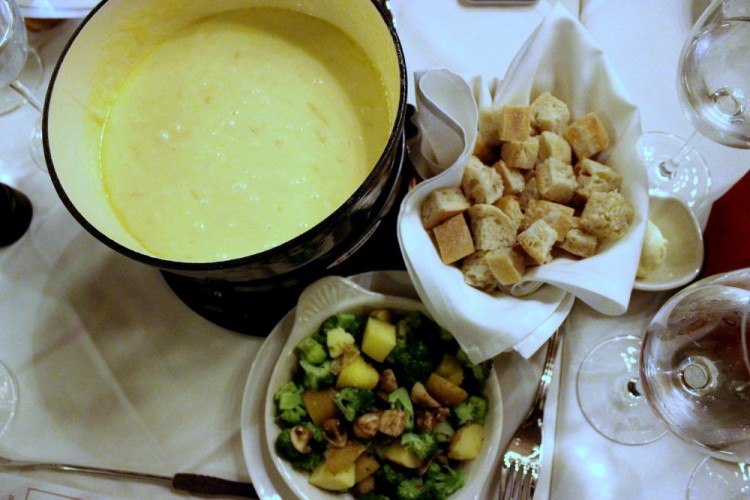 The Swiss Alps Original is a classic Swiss favorite, a mix of emmental and grand cru cheeses melted in white wine with a hint of kirsch. This one was good, but wait until you hear the others… Quattro Formaggi is, as you may have guessed, a mix of four cheeses — emmental, grand cru, parmesan, and blue cheese. The balance of flavor was on point! Just the right blend of salt and tang — perfection. Or so I thought. Then I tried the Creme de la Creme, a beautiful combination of aged gouda, emmental, and grand cru cheeses that really was the creme de la creme!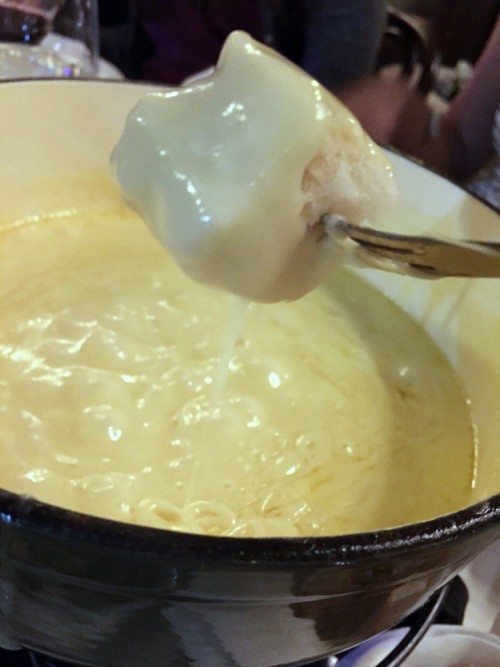 But wait… There was still one more to try. I subconsciously saved the best for last. I almost wish that this pot was the one sitting in front of me — almost — because I probably would have licked the entire thing clean. The Wild Mushroom takes the Creme de la Creme deliciousness and adds one of my favorite ingredients into the mix! It's funny that I used to hate mushrooms as a kid and now they are almost a daily staple of my diet.
After indulging in all that cheese, it was time for the main courses to arrive. All fondue entrees (which are all meat, by the way) are served with a basket of freshly baked bread and eight house-made sauces — mushrooms, mustard, spicy pineapple, garlic, blue cheese, au poivre, chimichurri, and horseradish cream. It should be noted that these sauces are to be used after you've cooked the meat in the liquid; they do not go in the pot. The fondue liquid is The Little Chalet's signature red wine consomme. Your fondue entree options include Filet Mignon, Pork Tenderloin, Filet de Poulet (seasoned chicken breast), or The Royal Chalet, a combination of all three — which is what we were served. Keep in mind, these are family-style servings.
Lucky for me, there were also two seafood entrees to nosh on — and they were absolutely delicious: The Almond-Crusted Sea Bass served with a honey-glazed apple and blue cheese au gratin potatoes, and the Honey-Glazed Salmon served over a bed of roasted fennel. We were also brought the Chalet Swiss Filet, a prime filet mignon filled with prosciutto and catupiry cheese and beef béchamel, as well as a few side dishes, including the White Truffle Creamed Spinach and Fennel-Infused Cream Corn.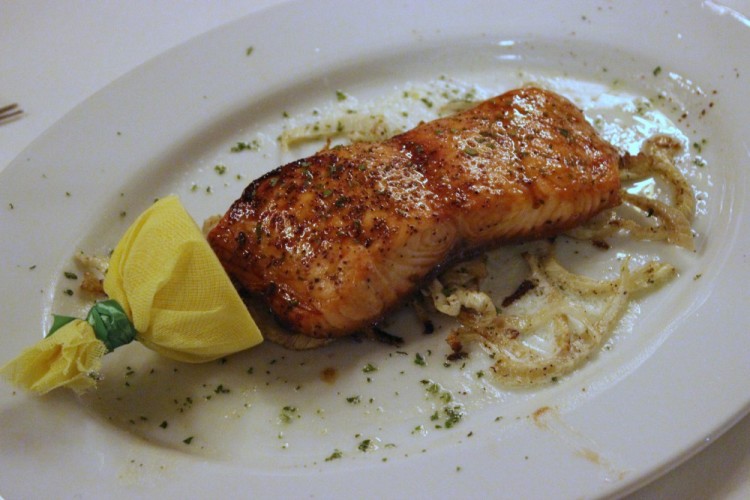 Both pieces of fish were cooked perfectly. The sea bass was smooth and buttery, as it should always be, and the salmon had a gorgeous crispy crust. I have to say, however, that my favorite components of the meal were the side dishes. That spinach was incredible. I kept going back for more! While I was happily stuffing my face with truffle spinach, others were enjoying the creamed corn — which had bacon fat in it, so I did not join in there. Another side dish I did not try was the Potato Roesti, which according to others was very "bacon-y." (Side note: why does everything always have to have bacon?!?!?)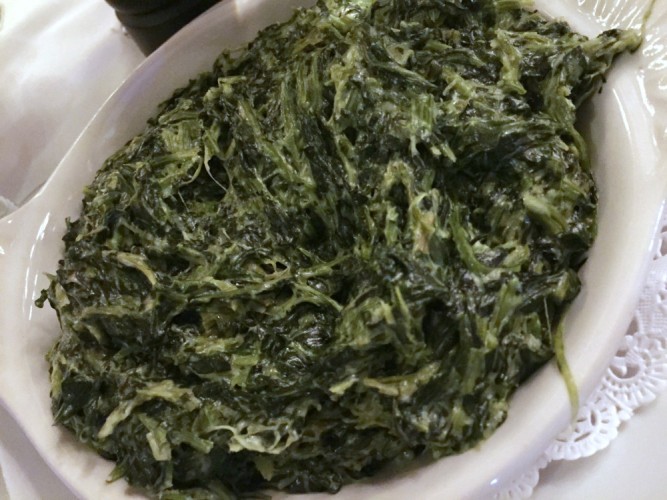 You'd think we'd had enough by this point, but no one goes to a fondue restaurant without having dessert! It's the best part! Imagine a platter of fresh strawberries, grapes, slices of banana, brownie and pound cake bites, champagne biscuits, waffle crisps, and marshmallows being set right in front of you with a big pot of dessert fondue next to it. I think it's safe to say we all pretty much died and went to heaven in that moment — especially because it wasn't just one pot of dessert fondue, it was four. Lindt Milk Chocolate, Dulce de Leche, Chocolate S'mores and Lindt White Chocolate Almond. Can we just stop here? I'm not sure I can continue without going into dessert withdrawal…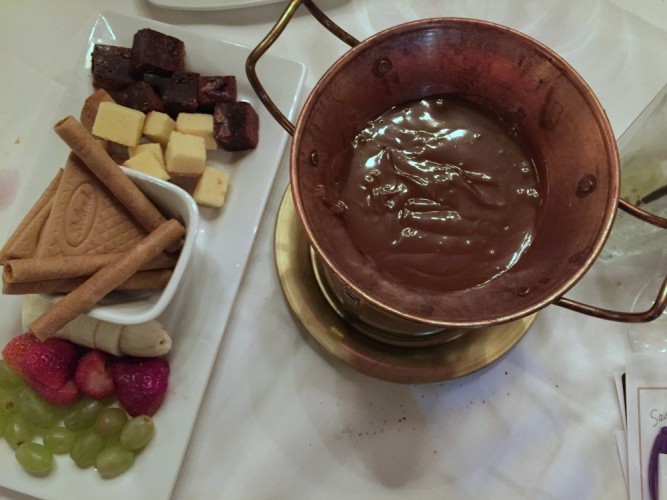 Seriously. If there is anything you go to The Little Chalet for, it should most definitely be dessert. The meal was delicious, and I'd give my right arm for a big bowl of that White Truffle Cream Spinach again (well, no, that's not true — I need my right arm to eat it…you get what I mean.), but dessert is where it's at. It's also pretty reasonably priced in comparison to most of the entrees, which is a nice plus. Other dessert fondue options include Lindt Chocolate Peanut Butter and Oreo Cookies and Cream — that's a must-try for me.
The Little Chalet is located at 485 South Federal Highway in Boca Raton.