Never miss a bite! Sign up here to receive new recipes and reviews straight to your inbox.
Disclosure: I was invited to dine as a guest of the restaurant. No monetary compensation has been received for this post. As always, all opinions are 100% my own.
Tucker Duke's. Best known for their insane Tucker Duke's burger with fried onion rings, american cheese, special "tucker" sauce, lettuce, and tomato. So huge that you have to squish it down to fit it in your mouth. (This I know only because I watched Jill do this first-hand). So loved, that Tucker Duke's will never make any changes or substitutions on it no matter who asks. So, you may be wondering why I'd be eating at a place known for its meaty burgers when you all know I don't eat meat…
…Because there is SO much more to Tucker Duke's than "meats" the eye, that's why! (See what I did there?)
Tucker Duke's opened in Deerfield Beach a few years back and has finally opened shop right here in Boca Raton. I had the pleasure of attending a beer pairing dinner at the Deerfield location a while back and Chef/Owner Brian Cartenuto was nice enough to make a few amendments to the menu so I'd actually have things to eat. I had a good time, and enjoyed the food, but never went back. Mainly because the menu just wasn't my thing. BUT, there have been some additions to the Boca menu that speak to me and my Pescatarian ways. Fish dip! Conch fritters! Tuna poke! Of course, there are some of the same vegetarian-friendly items that are also on the Deerfield menu such as the portobello fries and the chickpea burger affectionately known as "Sami."
Chef Brian and the Boca location's head chef, Dominic, are experimenting more and more with different kinds of cuisines and ingredients, and Jill and I got to be guinea pigs for some newer items — and of course we couldn't leave without there being a Tucker Duke's Burger appearance. For Jill, of course.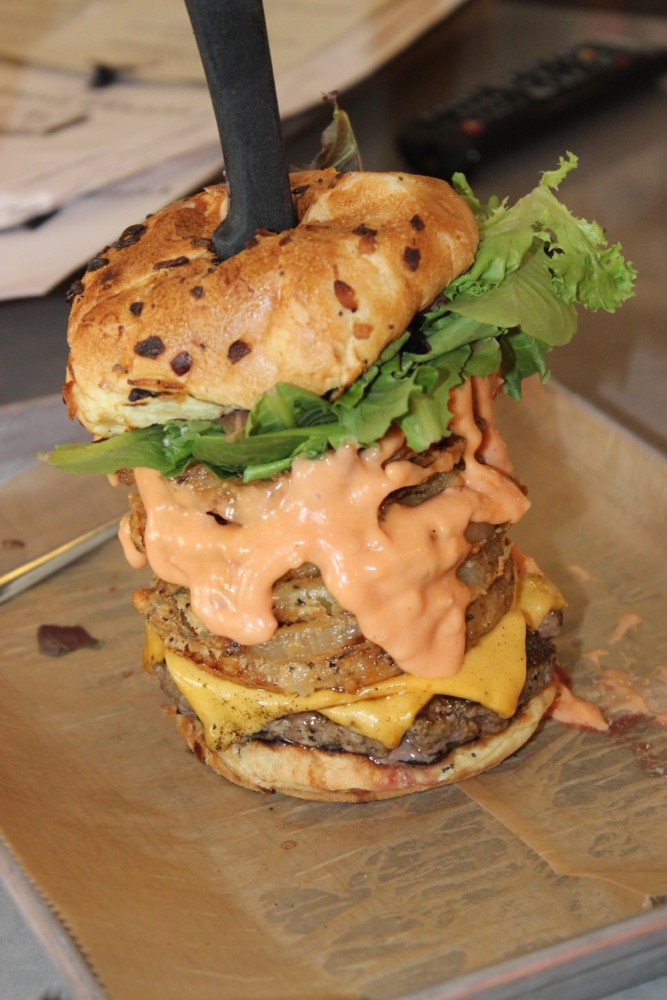 A lot of Tucker Duke's menu items are great for sharing. We started off with the portobello fries. Obviously when the word "fries" is in the description, Jill and I jump right on it. Meaty portobello mushrooms are coated in Panko breadcrumbs and parmesan and served with what Tucker Duke's calls their "horsey" sauce — a thick, aioli-like spread that complemented the saltiness of the parmesan very well. A sampling of the cheese and Reuben fritters came next. The cheese fritter is made with a combination of mozzarella, cheddar, swiss, and parmesan and served with honey mustard. It's a heavy bite, but filled with ooey-gooey delicious flavor and the crispy coating is a welcomed bonus. Jill loved the Reuben fritter, saying it was one of the best bites she's ever had. It has all the quintessential components of a Reuben sandwich — corned beef, sauerkraut, and swiss cheese — all rolled up into one crispy, crunchy ball.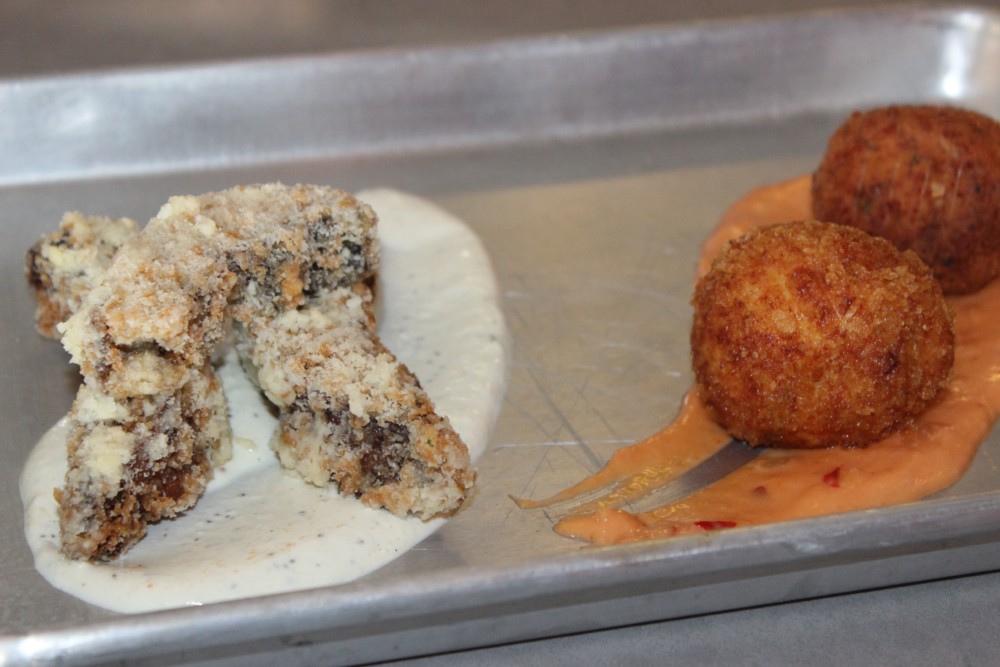 Then came one of the most delicious appetizers ever. I love Mexican street corn and the chefs did an excellent job on their version of "elotes."  An ear of chipotle-charred corn with queso fresco, guajillo lime mayo is topped with beer-braised shrimp. (FYI the dish also comes with pork rinds but we got those on the side). Just use a knife to cut off all the corn kernels, discard the ear, and go to town! It is out of this world. The flavors are intense and each bite smacks you right in the face.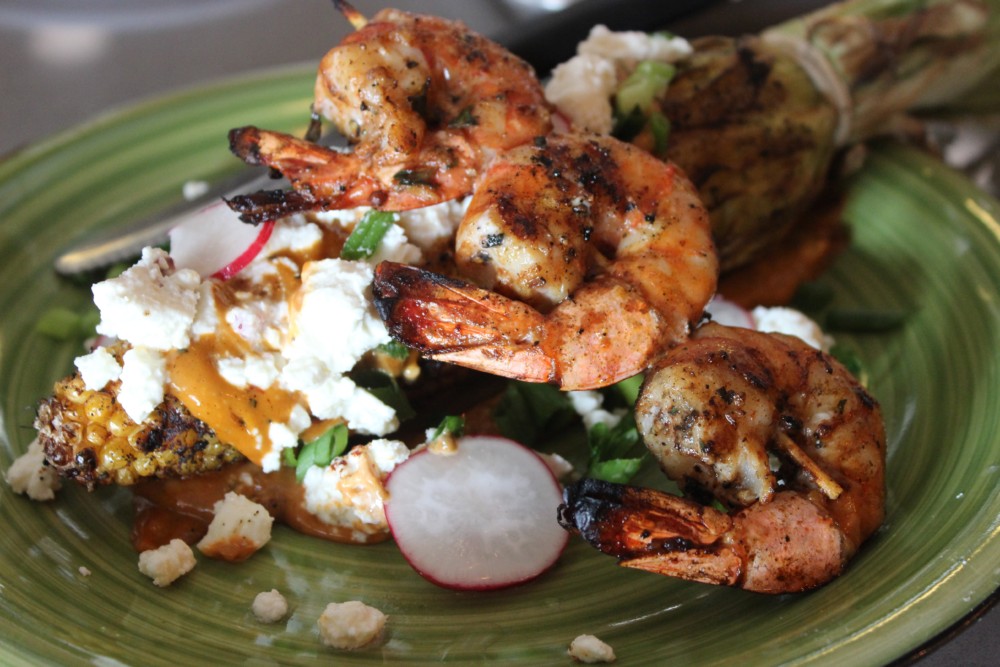 The Boca menu has a section called "From the Water," which you won't find in Deerfield. There's fish dip, peel 'n eat shrimp, conch fritters, and tuna poke. I would have liked to try all four of them, but decided (for the sake of my waistline) to stick with the fish dip and save the others for another visit. Chef Brian smokes his fish in-house and serves the dip with perfectly spiced (a.k.a addicting) tortilla chips. There's a little bit of heat from the Sriracha aioli that keeps you going back for more. I'm a fish dip lover, and this one did not disappoint.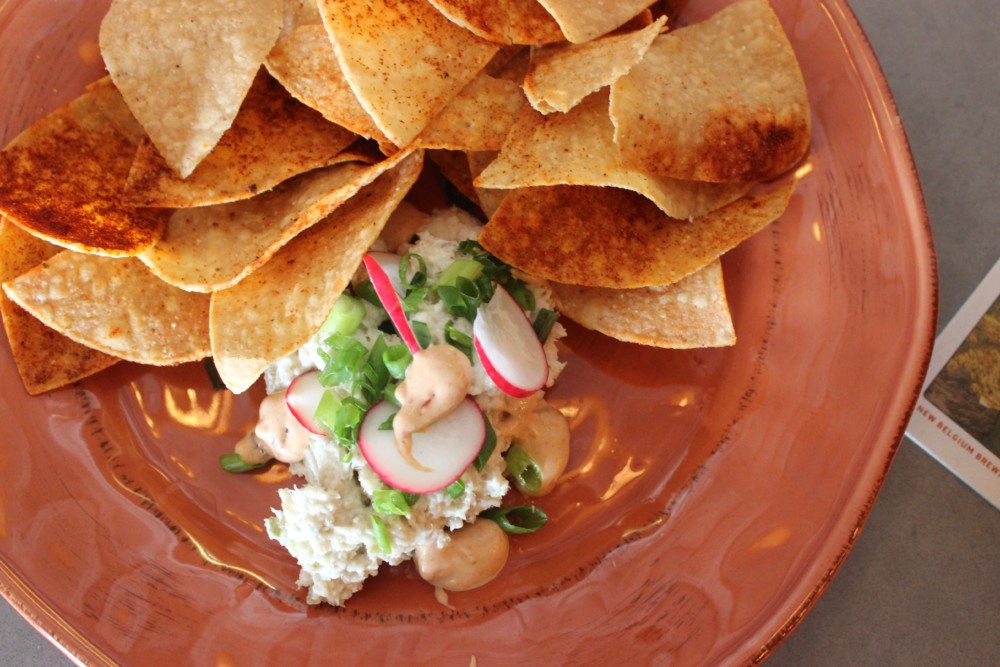 Since Tucker Duke's IS known for its burgers, I obviously had to taste the veggie burger. I tried a slider version of the Sami, a chickpea burger served with pickled vegetables, cilantro mayo, whipped feta, spring mix, and tomato. I really liked the whipped feta spread; it added a nice texture and salty flavor to the burger. The burger was thick and on the denser side, giving it a meaty-feel in texture, but definitely not in taste. The chickpeas were prominent and I loved the crunch of the pickled veggies. It was a good veggie burger, but not my favorite. Although I liked the Sami, it's not what I'd go back for. I would go back for all of the appetizers we tried (and then some) and the entrees. Speaking of which…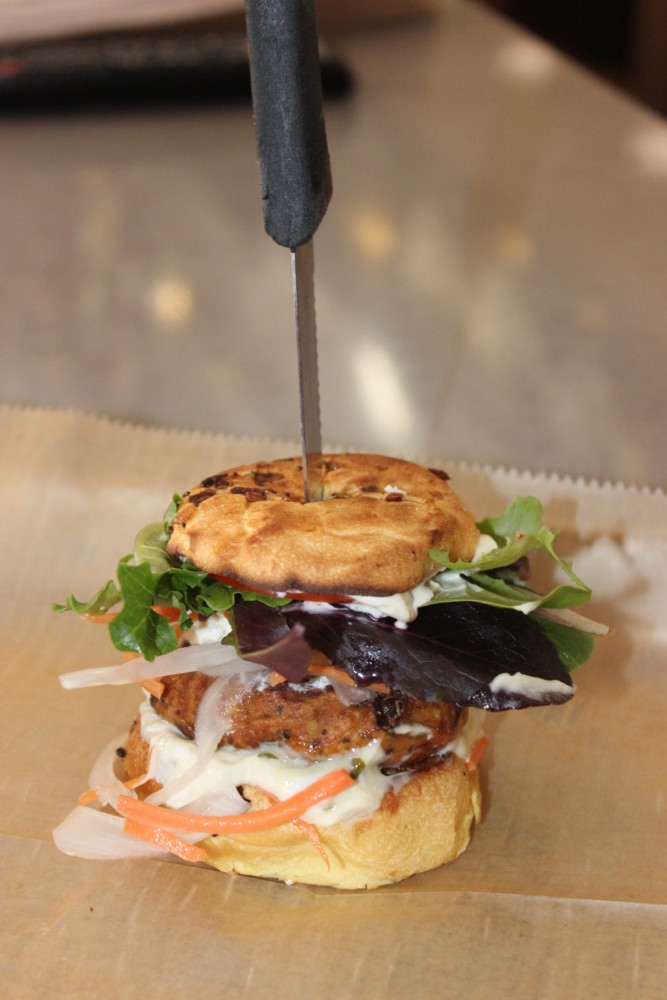 Chef Brian and Dominic's entrees were on point. Neither of them are regular are menu items, however I wouldn't be surprised if they show up soon or make special appearances. First was a simply grilled lion fish filet, seasoned with nothing but salt and pepper, served with mussels and shrimp in a beer broth, topped with micro cilantro. I was really surprised to hear that the fish had no other seasonings. It was so moist, so tender, and so incredibly flavorful. It was an elegant seafood dish you'd never expect to find at a place like Tucker Duke's. But like I said in the beginning, there is a lot more to this place than you'd think.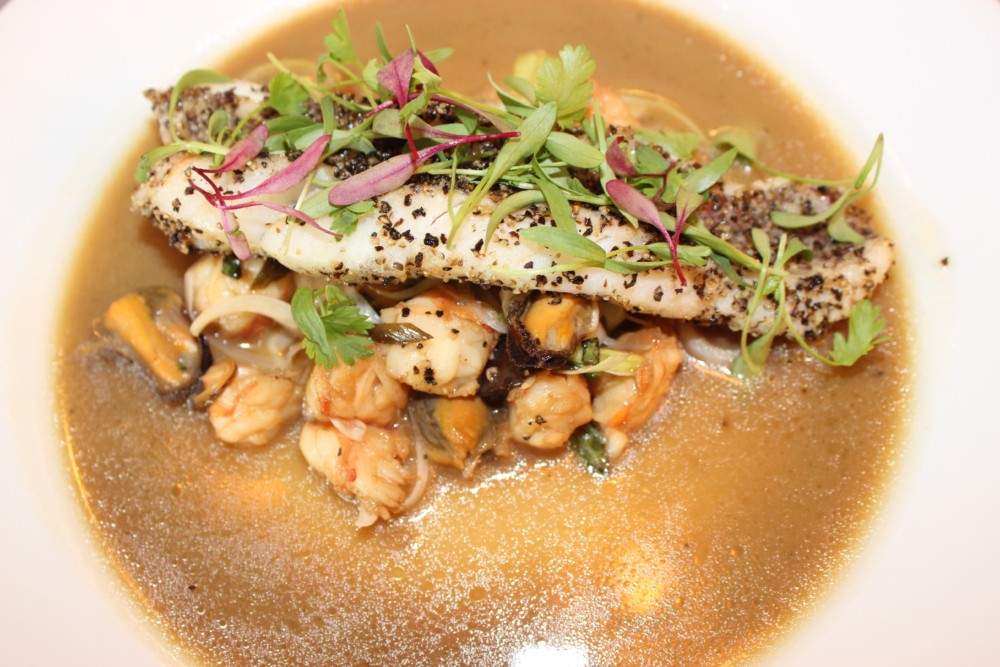 As soon as the next plate was set down, I could feel the smile spread wide across my face. FALAFEL! Ever since my trip to Israel 7 years ago (time really flies!), I've been obsessed with falafel. Of course, there's nothing better than having it in the motherland, but Chef Brian's Israeli-style preparation was a taste in the right direction. Made with peas and mint, the Mediterranean flavors really shone through. I loved the summer squash ragu it was served over, the chimichurri sauce poured delicately over top, and the micro beets that garnished just so. At the risk of sounding like a broken record, it was another beautiful, elevated dish that one would never ever ever think they could get at a restaurant like Tucker Duke's. Chef Brian is changing the game. Sure, you can get a burger that's the size of your head and a plate of nacho tots with a menu description that says "drunk people love these," but you can also sit down to a delicious seafood dinner made with sustainable ingredients sourced locally, or a vegetarian appetizer influenced by the popular flavors of another country.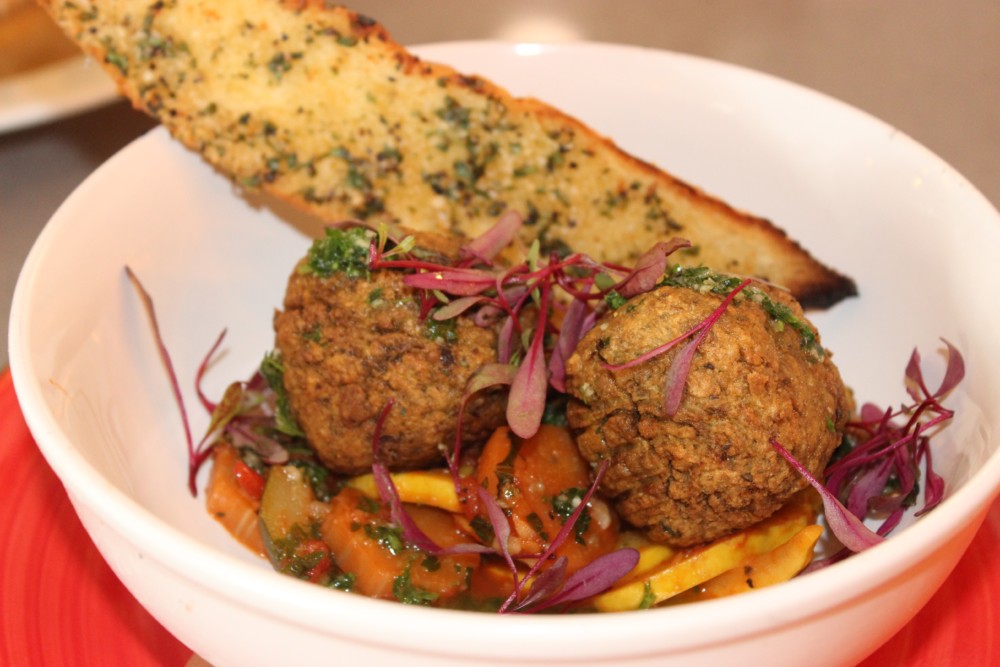 Now, you know we weren't finished — there hasn't been talk of any sweets! Chefs Brian and Dominic tested out a new dessert on us — something a little out of the ordinary that they were pretty excited for us to try. Grilled figs with caramelized red onions and blue cheese. The figs were very sweet, but the combinations of flavors here were incredibly compatible. These are ingredients I've seen together in many different ways — mixed in salads, on top of flatbreads, or even in a sauce, but just deconstructed together on a plate as a dessert? That's new. And probably the most simple, forward-tasting way to serve them. No fuss. All finesse.
Aside from the monstrous Tucker Duke's Burger, another menu item this place is very well known for is the PB&J BonBons, which have been voted the best appetizer in South Florida by the New Times Broward/Palm Beach. Yeah, it's listed under their appetizers — but this is 100% dessert, and 100% amazing. Fried peanut butter balls served with house-made jam. FRIED PEANUT BUTTER! Yes. It's a thing. And I want to eat it all the time. My pants feel tighter just thinking about them, but they are SO worth the calories.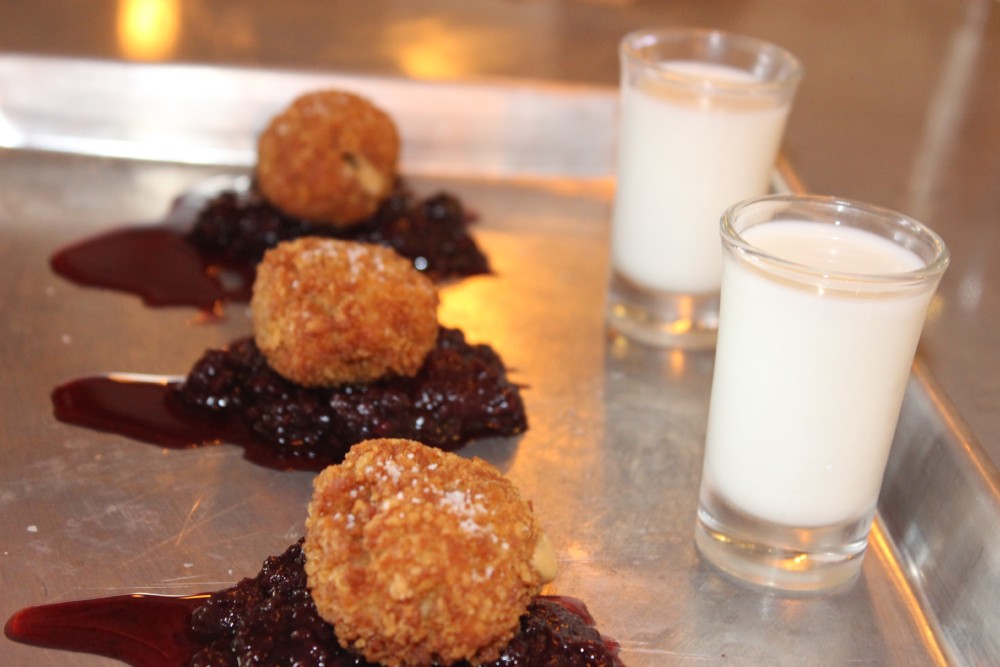 Tucker Duke's is located at 1658 N Federal Highway in Boca Raton, 1101 South Powerline Road in Deerfield Beach, and there is also a location in the northwest part of the state at 113 W John Sims Pkwy in Niceville.