Never miss a bite! Sign up here to receive new recipes and reviews straight to your inbox.
Disclosure: I was invited to dine as a guest of the restaurant. No monetary compensation has been received for this post. As always, all opinions are 100% my own. Photos courtesy of Simply The Best PR.
It's not every day that a restaurant in Boca Raton celebrates its 25th anniversary — but The Melting Pot is doing just that! This charming dining destination is one of the city's top spots for special occasion dining. It is on the list of OpenTable Diners' Top 100 Most Romantic Restaurants in America for 2015, Restaurant News' #1 Casual Dining Restaurant in the U.S. for 2015, winner of TripAdvisors Certificate of Excellence for 2015, and winner of the Annual Wine Spectator Award — not to mention over 250,000 special-occasion celebrations with its customers.
Can you believe that I have never been to any of the Melting Pot locations before? I was absolutely thrilled to get an invite to a special dinner highlighting this award-winning menu in celebration of 25 years. The interior of this 2-story restaurant is very intimate — it has undergone a complete remodeling and offers loft seating with vaulted ceilings, slate and stacked stone, soft lighting, and private booths. I wish I had seen it before so I could compare, but nonetheless, I was very impressed with the decor and could definitely see it being a perfect date-night spot.
I was joined by fellow local media personnel in a cozy booth on the second floor, with high walls separating our area from other diners so that it felt very private and personal. Our waiters were both extremely knowledgeable about the menu, as well as the wine list and could easily suggest a glass for each of us based on our preference. I spotted one of my all-time favorite wines, a German Spätlese, a kind of Riesling I don't find too often and haven't had since my trip to Germany last October. This was a 2010 Schmitt Söhne, "Piesporter Michelsberg" from Mosel, Germany — sweet, refreshing and absolutely perfect.
One of the best parts about The Melting Pot is that everything is prepared right at the table for you. The cheese, the entree cooking broths, the chocolate — you see it all there right before your eyes.  We were able to choose three different cheese fondues, one for each of the three burners on our table. I piped up first, recommending we try the Spinach Artichoke made with Fontina and Butterkäse cheeses, spinach, artichoke hearts and garlic. Another diner suggested we go with the classic Cheddar with aged, medium-sharp cheddar and Emmenthaler Swiss cheeses, lager beer, garlic and seasonings. For the third choice, a few others thought the Bacon Brie with baby brie, creamy Classic Alpine cheeses, white wine, bacon, lemon juice, pepper and scallions sounded like a winner. I really wanted to try it since I love brie, but I knew the bacon would be too overpowering and kill it for me, so I refrained. The cheese fondue course comes with a selection of artisan bread and seasonal vegetables for dipping. You can order a selection of artisanal Italian meats, as well.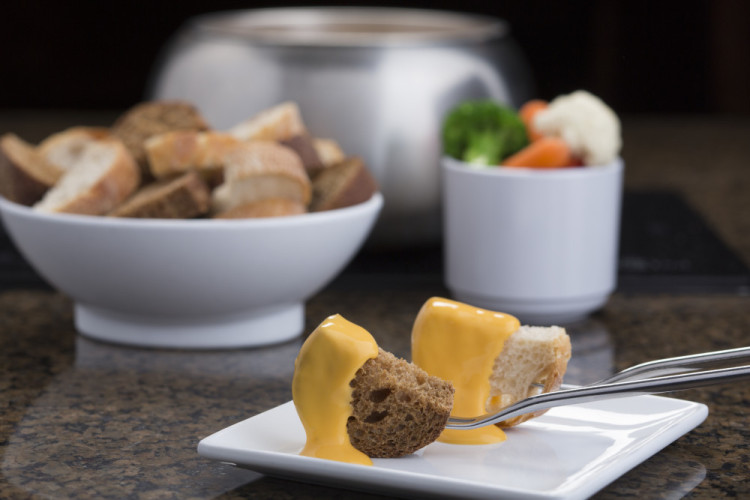 The cheddar was just that — cheddar. It was traditional, classic, and of course good, but a little plain for my taste. On the other hand, the Spinach Artichoke was totally up my alley. I think it's safe to say it was our table's favorite, as by the end of our cheese course the pot was basically licked clean.
It's only natural to follow a filling cheese course with something light and palate-cleansing, right? Salads were next. There were a few to choose from, but I gravitated immediately toward the Anniversary Ruby Special, a delicious combination of spring mix, ruby red beets, glazed pecans, dried cranberries, goat cheese, and a savory berry balsamic dressing. These ingredients are a match made in heaven and instantly scream fall — I couldn't pass it up. Other options included the California Salad with mixed baby salad greens, Roma tomatoes, candied pecans, gorgonzola cheese and a raspberry black walnut vinaigrette, a classic Caesar Salad, or the Melting Pot House Salad with crisp romaine and iceberg lettuce, cheddar cheese, fresh tomatoes, crispy croutons and sliced egg with either peppercorn ranch dressing or the sweet and tangy house dressing.
Entrees were up next. I have to admit, this part freaks me out a little bit. What if you don't cook your protein long enough?! But alas, I happily dunked my seafood into the vegetable-based broth and enjoyed perfectly cooked lobster tail, Old Bay scallops, salmon and shrimp. I did overcook my sesame-crusted Ahi tuna a bit, but hey — 4 outta 5 ain't too shabby! My favorite by far was the lobster — I was pretty proud of myself for cooking it just the way I like it, especially since it can be very easy to overcook. There were also plenty of fresh veggies on the table to dip, including sweet potatoes and broccoli, and a variety of yummy dipping sauces — the best was a curry sauce that I thought paired extremely well with the seafood.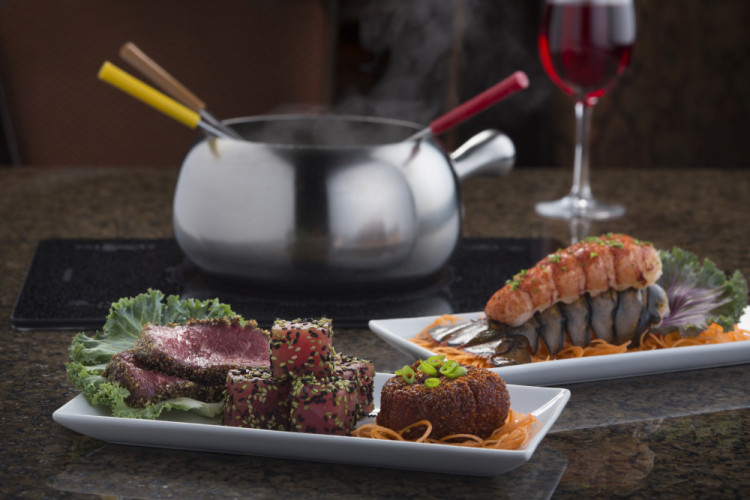 The rest of the table also enjoyed herb-crusted chicken breast, Memphis-style BBQ pork tenderloin, orange duck breast, Certified Angus sirloin, teriyaki-marinated sirloin, and filet mignon. They cooked the meat in the Mojo, a Caribbean-inspired bouillon with fresh garlic and citrus, and the Coq au Vin, Burgundy wine infused with fresh herbs, spices, scallions and mushrooms. There's a fourth cooking-style available, the Bourguignonne, which is a European-style cholesterol-free canola oil.
Now for the main attraction, the part we were all waiting for, what I tried to save as much of my appetite for as possible — dessert! There were so many chocolate fondue options, it was really hard to pick just three for the table. After much deliberation, we settled on the Dark Chocolate Raspberry, the Chocolate Turtle, and the Cookies and Cream Marshmallow Dream. The platter of dippers was perfect — fresh pineapple and strawberries, sliced bananas, blondie and brownie bites, Krispie Treats, graham cracker-crusted marshmallows and Oreo-crusted marshmallows. There was some serious indulgence going on, and I was totally okay with it. That Cookies and Cream fondue was easily my favorite — I am powerless before cookies and cream flavored anything!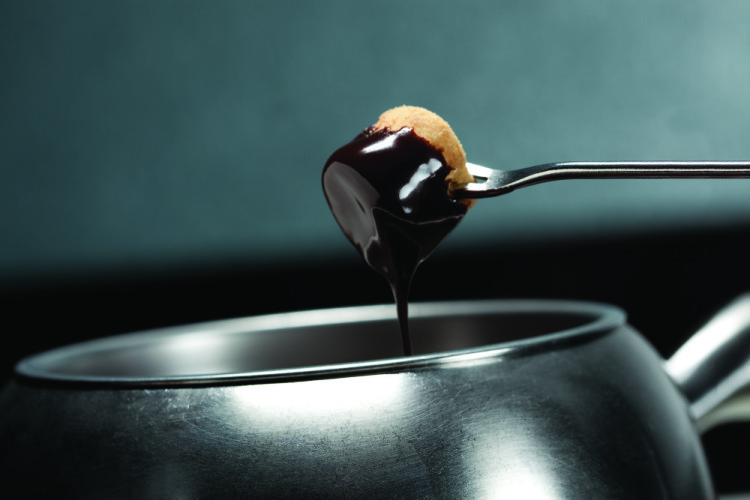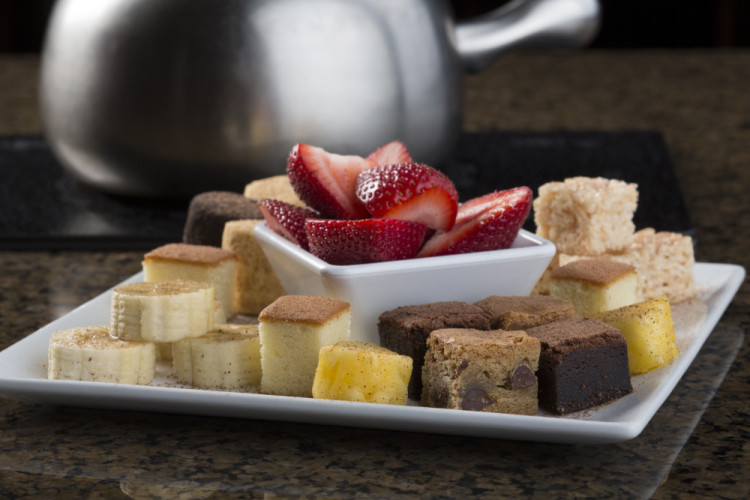 My first Melting Pot experience was like no other. The service was impeccable from the moment I walked in the door and was greeted by the owners, and continued throughout the night. It was top-notch. When it comes to food, I can see myself going back for the cheese course or dessert, but I'm not sure if I would go for dinner unless it was for a very special occasion. This is not the innovative, chef-driven, farm-to-table dishes I'm used to having at other other local restaurants when I casually dine out. It is, however, extremely fun and unique, and makes for quite a memorable experience.
Date night, girls' night out, engagement party, birthday — whatever the occasion, I would definitely recommend The Melting Pot as something a little different than your typical celebratory dinner, especially if you go before December 30th and get in on their Anniversary Special. For just $40, you can experience a 4-course dinner including your choice of cheese fondue, choice of entree and cooking style, the Anniversary Ruby salad, the limited edition Molten Lava Fondue, and a $20 Dip Certificate towards a future visit.
The Melting Pot is located in Suite A at 5455 N. Federal Highway in Boca Raton.