Living in South Florida, you can go out to eat every single day for a year and still not hit all of the restaurants here. It's crazy how many places there are – and I'm not even just talking about Boca. Delray, West Palm, Fort Lauderdale, Boynton Beach, Miami, etc. The list of cities with great dining scenes down here is pretty impressive, and the variety of restaurants even more so. While there are so many enticing new spots opening up every day, there are a lot of favorites that have been around for years that I'm still discovering. Case in point: Mario's Osteria, originally Mario's of Boca, has caught my eye every single time I'm in the plaza where it's located. I've eaten at the restaurant next door, J. Alexander's, and loved it, and have been very curious about Mario's since I have always heard great reviews. I don't know why I never suggested it as a place to go when Bubby and I are scrounging for ideas or when I've gotten together with a friend, but it finally occurred to me one night while making plans. I must say, dinner did not disappoint.
For an appetizer, we got the Mussels Arosta "Sardinia Style" — cast-iron skillet, oven-roastedmussels with thyme, garlic and sea salt. The best part of any mussel dish is always the sauce — it'sperfect for dipping the table bread. At Mario's, they served garlic rolls and soft breadsticks. I drenched the breadsticks in the sauce, because otherwise they were a bit bland and nothing special. On the contrary, the garlic rolls were delicious. I dabbed away most of the butter that slathered the outside, but was still left with plenty of garlicky goodness.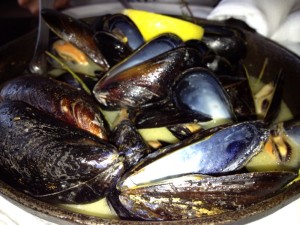 They have an extensive menu with a huge variety of of appetizers, salads, pizzas, paninis, pasta, chicken, seafood, and meat. My eyes immediately went straight to the Spinach Gnocchi. I've only had gnocchi twice in my life; one of them being at work when we made it from scratch. The other time was at an Italian place back in New Jersey and I absolutely loved it. But this wasn't just your normal gnocchi dish, it was spinachgnocchi with Brussels sprouts, sweet peas and Parmesan — everything about this sounded right up my alley. Normally I can be insanely indecisive when I'm at a new restaurant with a million things on the menu that I like. But I didn't even think twice. And I'm really, really glad I didn't. I could have easily eaten an entire second helping of that spinach gnocchi. The texture from Brussels sprouts shreds, the sweetness from the peas, and the creaminess from the butter and Parmesan made for a really insanely good Italian meal.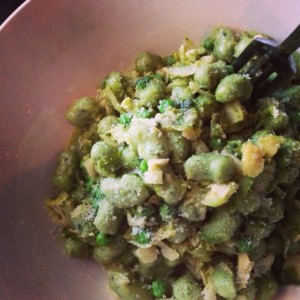 My dining partner ordered the Chicken Scarpiello in a white wine sauce, with pepperoncini, cherry peppers, roasted peppers, calamari and Sicilian olives, and artichokes. I tried a bite of the chicken with a piece of artichokes and it was pretty good.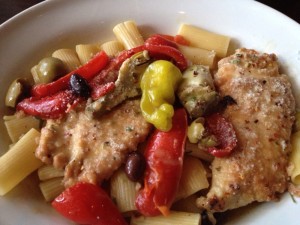 I'm kind of motivated to make my own gnocchi at home now. Maybe I'll even be brave enough to tryto recreate the spinach gnocchi from Mario's. What have I got to lose?
Anyway, I want to go back to Mario's. I'm thinking I'll take my sister there while she's visiting next week. Yep, sounds like a good plan to me.

Posted with Blogsy