NOTE: This restaurant has since closed.
I never turn down a good margarita. That's one thing you can always count on. I recently went to a new Mexican restaurant in Boca, 101 Cantina. It has a bit of a reputation for being a total college bar — it's one of the only bars in all of Boca that is 18+ so on "Techno Tuesdays," college kids of all ages can get in and dance to crazy house music all night long. Not my cup of tea nowadays, but hey…for happy hour, 101 Cantina works for me. My friend Kathryn and I love going out for Mexican on our "girls' nights," and since neither of us had tried this place before, we figured it's time to give it a shot. All of their margaritasare half off during happy hour, so we each got the Cadillac, which is your standard margarita amped up with some OJ and Grand Marnier. My faaaavorite! Of course, no Mexican Happy Hour is complete without a full array of chips, guacamole, and salsa. The Appetizer Trio gives you a big basket of crispy tortilla chips and three dips: salsa, guac, and queso. Neither Kathryn nor I are big queso fans. Well, actually, we are, but our stomachs are not. So we doubled up on the salsa instead. I judge Mexican restaurants based on the chunkiness of their guac and the crispiness of their chips. 101 Cantina passed on each account. Their salsa was a little watery for me, but at least the guacamole had enough depth! The chips though…that's where it's at. If you don't have a good tortilla chip, I will never come back.
For dinner, Kathryn wanted to see if their Baja Cobb Salad was as good as the ones she's had at other Mexican places. The salad has grilled marinated chicken, romaine lettuce, avocado, bacon, tomato, tortilla strips and cilantro-lime vinaigrette. Her judgement? She liked the salad, but the dressing didn't do it for her. I got the Quesadilla but subbed shrimp for the chicken. It had roasted red peppers, caramelized onions, cheese and pico de gallo. I chosemango BBQ sauce on the side instead of the Fuego Sauce, which Jose the bartender told me is pretty spicy. I don't normally get quesadillas but I'm glad I chose to get it this time because it was reeeally good, and that sauce…Oh. My. God. Awesome! I highly recommend it for anything — chicken, shrimp, beef; it would easily complement any of those very nicely.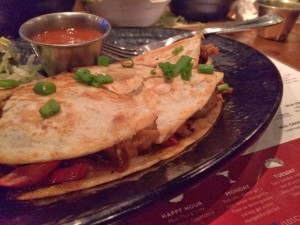 101 Cantina used to be The Mexican, and I'm happy to report that the street art on the wall is still there even though they changed ownership! I love that mural; it definitely sets the restaurant's décor apart from most other establishments. Even if the nightlife is aimed toward college students, I still think going for happy hour or around dinnertime works for anyone.