I recently came across an interesting article on the New Times food blog, Clean Plate Charlie. It highlighted ten of the best restaurants in Boca. Naturally I had to see how many of the ten I had already been to, and then make it a point to get to the ones I haven't. I was surprised to see that most of the places on this list were restaurants I've never visited. The list is as follows:

10. Max's Grille
9. 13 American Table
8. Six Tables
7. Sybarite Pig
6. Red, The Steakhouse
5. Morimoto
4. Casa D'Angelo
3. Abe & Louie's
2. Rebel House
1. Kapow! Noodle Bar
I don't know if I necessarily agree completely with the ranking of these restaurants, but hey…everyone has their own opinions.
I've been to Max's more times than I can count. Rebel House is a regularhangout of mine, and I've had drinks at Kapow! Never been to any of the others.
I looked at the menu for 13 American Table and immediately moved it way up to the top of my list of places to go. I didn't wait as long as I usually do to go to new restaurants and got a chance to check it out last week. It's a small place, but there is an outside seating area too. They have some interesting cocktails and a really nice list of craft beers. I got the Watermelon Basic Martini. The waitress made sure to put a heavy emphasis on the fact that all of their drinks use all-natural flavoring from fresh ingredients. In this particular drink, fresh ginger is used and real watermelon is muddled to make the watermelon juice. A lot of restaurants nowadays pride themselves on the way they make theircocktails — all fresh, made-to-order, and nothing artificial.
Instead of each of us ordering our own entrees, we ordered 3 "share plates" and 1 side dish and went to town. The first thing on the menu that caught my eye was the grilled octopus with chickpeas, poblano peppers and salsa verde. You know how much I love octopus. This was freaking awesome.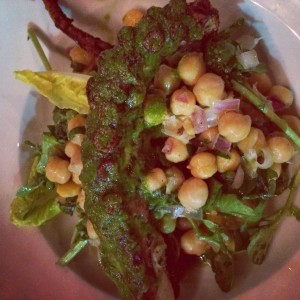 Next up was the eggplant burrata with crositini. It was my date's first time ever having burrata so I was pretty excited to see how much he liked it, because I knew he would. Who doesn't love burrata?! Mozzarella cheese with a creamy, oozy, gooey cheesy center. Uh, yes please!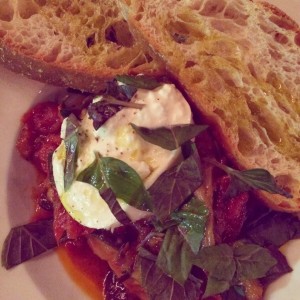 We also got the Florida grouper ceviche with avocado, grilled corn, tomatoes, red onion, chili, lime, cilantro, and yucca chips. I'm always a fan of ceviche; most of them are pretty similar no matter where you go, but one thing always remains: the citrusy seafood and crispy accompanying chips are a perfect match and are a nice refreshing appetizer to set off any other spicier dishes you may order.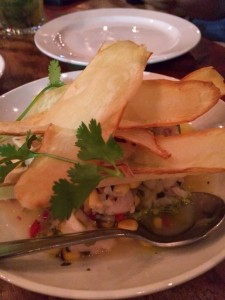 The side we ordered was called "corn off the cob." It really should be part of the "Share Plate" section. It was absolutely amazing and packed with some seriously intense flavors from the chili aioli, cilantro and lime. It was topped with lots of crumby queso fresco.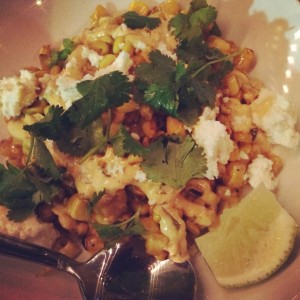 Everything was really tasty, but that corn… I probably could have eaten an entire bowl of that as my meal and been totally satisfied. Actually, give me more of the octopus and chickpeas too. THEN I'd be completely satisfied.

Posted with Blogsy