Never miss a bite! Sign up here to receive new recipes and reviews straight to your inbox.
Aladdin's Eatery brings authentic Lebanese cuisine to Boca Raton's ever-growing list of restaurants. It prides itself on serving good, healthy food in a simple, sophisticated atmosphere. They've only been open for about 2 months and already have quite the following!
Ever since going to Israel about 5 years ago, I have not been able to enjoy falafel. Not because I had a bad experience — it's the exact opposite, actually. The falafel was so unbelievably delicious that I haven't been able to find anything even remotely close to what I had over there. It's not worth eating if it isn't as good. I was skeptical when ordering the falafel at Aladdin's. But I read the reviews, and even talked to a few others who had been, and everyone raved — especially about the falafel.
I finally found Israel's match. A perfectly crispy and crunchy coating enveloping that delicious chickpea filling. The texture was spot on, and there was a tiny kick of spice giving it some pretty powerful flavor. Now, Aladdin's is a Lebanese restaurant, not Israeli — these countries are not to be confused in any way — but the food is similar, as is most of the food found in this part of the world. Each country may have their own special twist on traditional dishes, but the general idea is similar. Mediterranean food is my favorite type of cuisine. The flavors are incredible and there are so many vegetarian options that I'm never without something to chow down on!
I fell in lust with Aladdin's after that first bite of falafel, but it turned to love after the entire dining experience.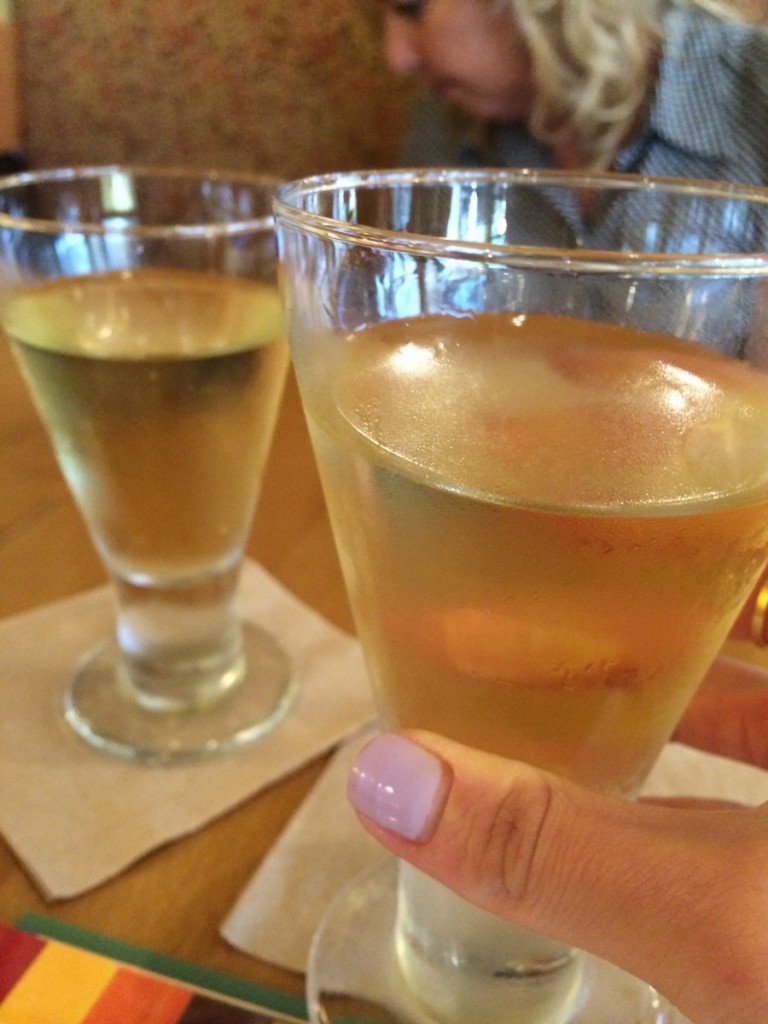 Instead of ordering my normal Sauvignon Blanc or Riesling, I decided to go with one of their Lebanese wines — the Ksara Blanc de Blanc, a sparkling white wine with just the right amount of sweetness to accompany all of the flavor we were getting on our plates. There are tons of appetizers to choose from, but the best deal is to get the Vegetarian Combo, which includes all of the classics — hummus, baba ghanoush, tabouli, dawali (grape leaves), falafel, tahini, and fresh pita bread. This is the perfect way to start out a meal at any kind of Mediterranean restaurant. You absolutely cannot leave without trying these traditional bites. The hummus and baba ghanoush were both silky smooth and so tasty. I used to dislike grape leaves — I found them way too vinegary for me, but I've grown to like them a lot over the past year, and these were especially good. I smeared my pita with either hummus or baba, piled on the tabouli and drizzled a little bit of tahini and I was in appetizer-heaven.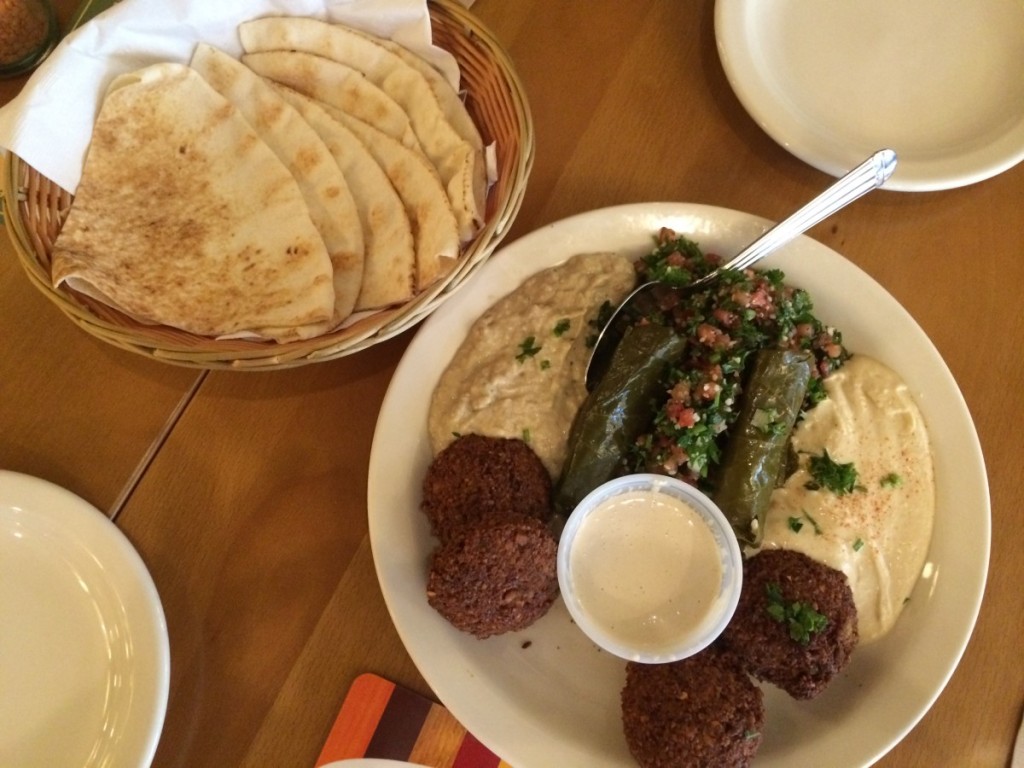 For dinner, there were two Speciality Platters that caught my eye. The Mujadara Plate — Lebanese Salata on top of a bed of steamed lentils and brown rice and topped with a heaping pile of fried onions. At first glance, it looks like a bunch of fried onions — you can't see all the amazingness that lies underneath. After you dig in and take that first bite, it's hard to put your fork down. At least it was for me. I kept going back for more and more and more… Chopped tomatoes, cucumber, green pepper, scallions, parsley, and onion are tossed with the lentils and brown rice. The only thing missing was a little bit of feta…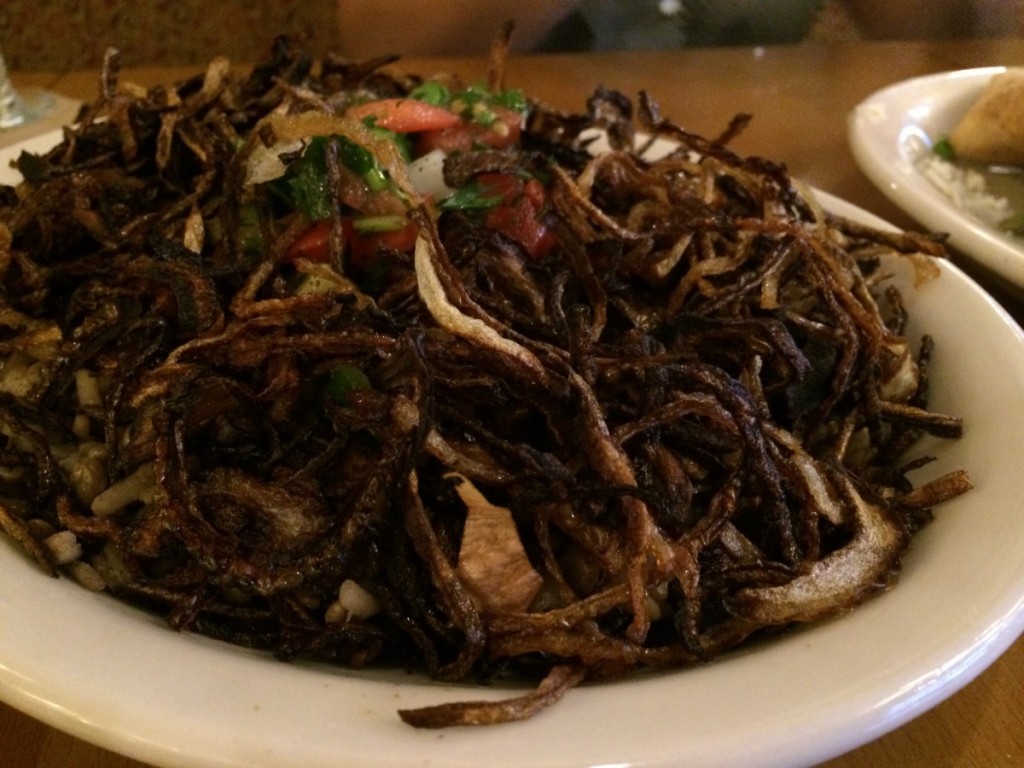 But I got my feta fill in our second choice dish, the Fatayer Plate — spinach and feta pita pie topped with even more feta. I thought this would be similar to Spanikopita, but it was very different. Spanikopita is pie made of a spinach and feta filling in between each layer of phyllo dough; this was more of a wrap-style "pie" filled with a spinach and feta mixture. I loved the filling — there was something very different about the spinach. It had some serious depth of flavor to it.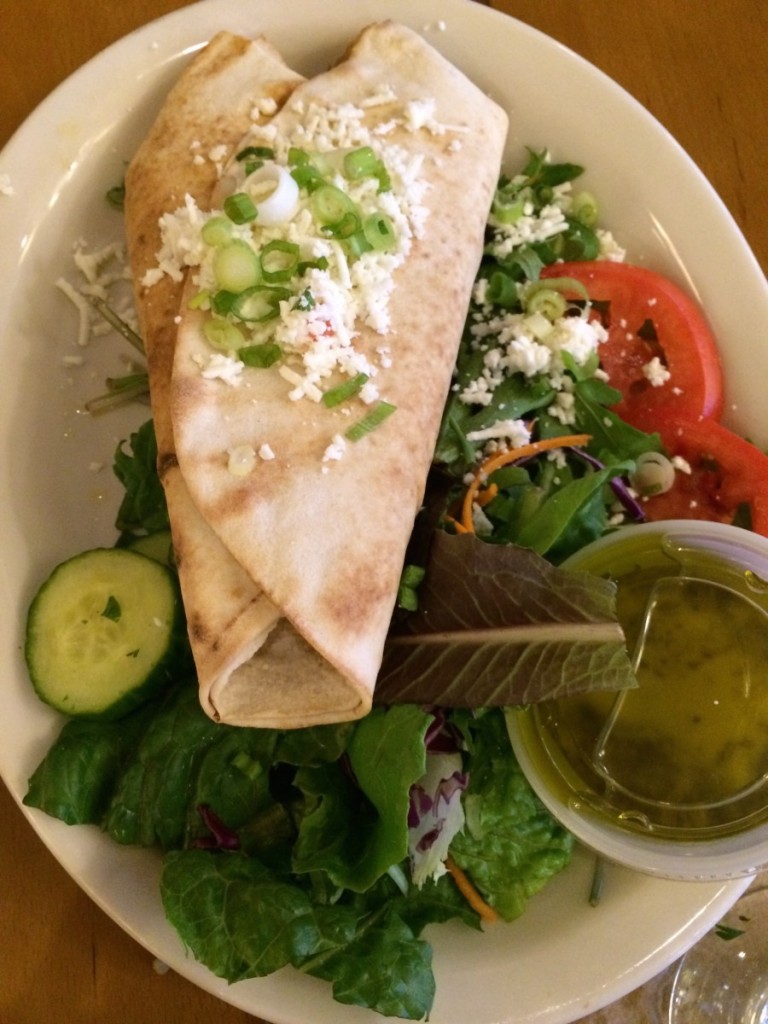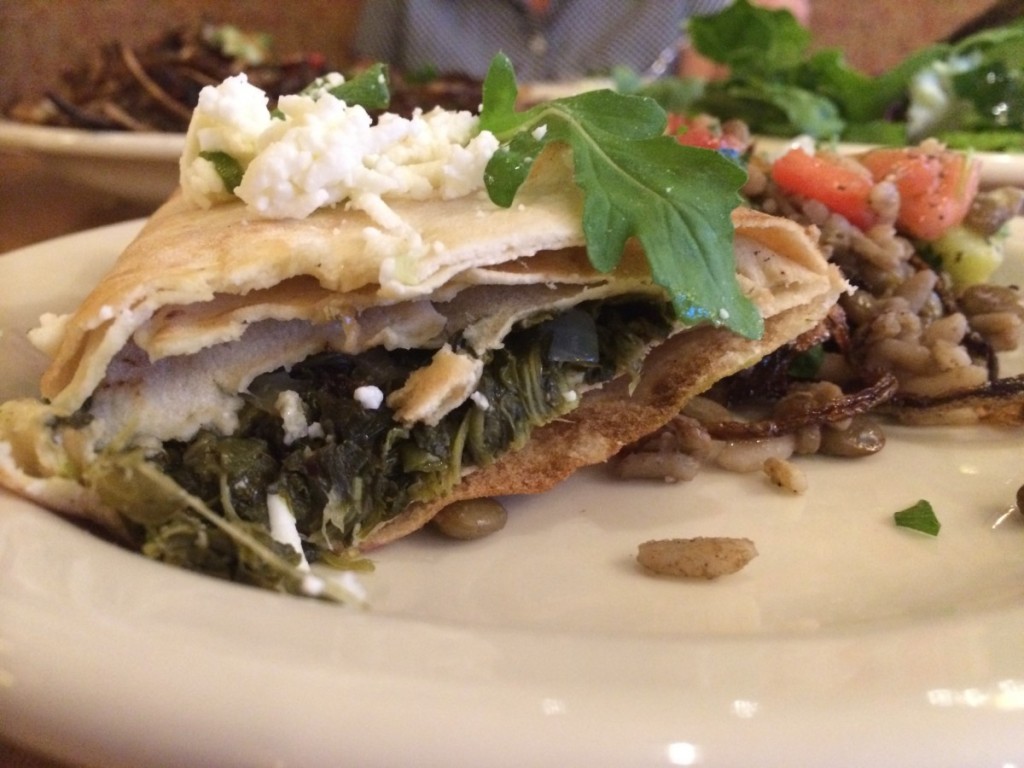 The restaurant owners were too good to us when it came to dessert. First they brought out their traditional treats — Baklava and another pastry made with cashews that they call a "cigar." Aladdin's may be primarily Lebanese cuisine, but they have a killer bakery with a huge variety of cakes, cheesecakes, and other desserts. We were a bit spoiled… Before we could even say another word, slices of their Black Forest Cake and Coconut Cake were placed in front of us. And not just a sample size; these were massive!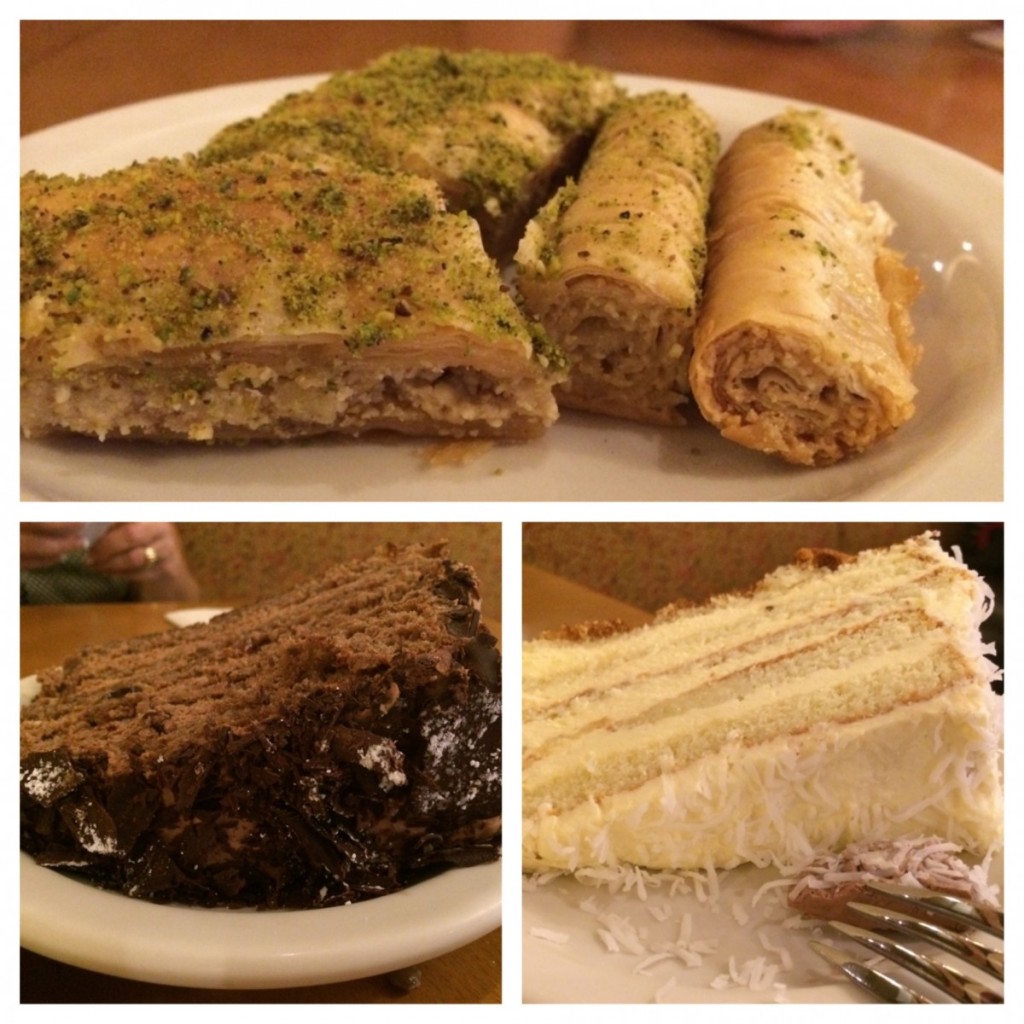 See?! In true bakery fashion, cake slices as big as your head! Black Forest is a chocolate cake with cherries studded throughout and topped with a ganache and more chocolate flakes. I'm a sucker for the chocolate-cherry combination, so this is a favorite of mine. But I have to say the coconut cake was the winner of the night. Every bite was filled with a burst of sweet, tropical coconut flavor. It's a good thing Denise was there with me to share, but we barely made a dent! These slices could easily feed 4 people!
Aladdin's Eatery is a great option for those with a Vegeterain, Gluten-Free, or Vegan lifestyle, but there is plenty for meat-lovers too! The menu has so many options for everyone. It's located in Boca Raton at 21200 St. Andrew's Blvd (near Publix Greenwise).
Disclaimer: Aladdin's Eatery invited me and a guest to enjoy a complimentary meal on behalf of the restaurant. There has been no compensation for this review, nor was I required to write one. As always, all opinions are 100% my own.