Never miss a bite! Sign up here to receive new recipes and reviews straight to your inbox.
Classic Italian food is up there as one of my favorite cuisines. There really is nothing better than a bowlful of homemade linguine tossed with clams, creamy dreamy risotto dusted in parmesan, or a hearty lasagna filled with lots of yummy cheese and veggies (or meat for you carnivores out there!) Although Brio is not your traditional mom and pop Italian restaurant, this chain restaurant with locations all over the country still does a decent job of cranking out the favorites and even reinventing the wheel at times.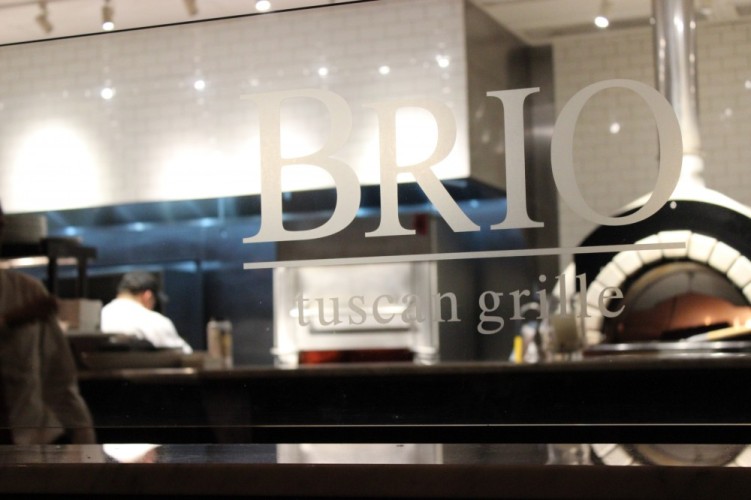 My roommate is not one to pass up a good meal, so she was elated when I invited her to Brio with me to review their menu. We were starving, especially after having finished our Monday night Get Ripped class at the gym, so our bellies were ready for some love. We were seated at a table directly in front of the open kitchen, but it did take a little bit before anyone came over to greet us. Our waitress did finally make her way over and ended up being the sweetest girl ever — her giddiness was contagious and I loved that she offered up her own commentary about every dish we ordered.
The chef surprised us with two tasty appetizers — the Spicy Shrimp and Eggplant with a black pepper cream sauce and the Roasted Tomato and Herb Pesto Bruschetta with beautifully blistered grape tomatoes, creamy ricotta, sharp Parmigiano-Reggiano, fresh thyme and a pistachio mint pesto. The shrimp and eggplant dish just so happens to be my favorite appetizer at Brio — that cream sauce is incredible! The eggplant slices are crusted in Romano cheese to give a little extra crunch and lots of delicious flavor. Like I mentioned, Brio reinvents the wheel with some of their dishes — I've never seen an appetizer like this at any typical Italian restaurant, but that doesn't matter to me. I love it!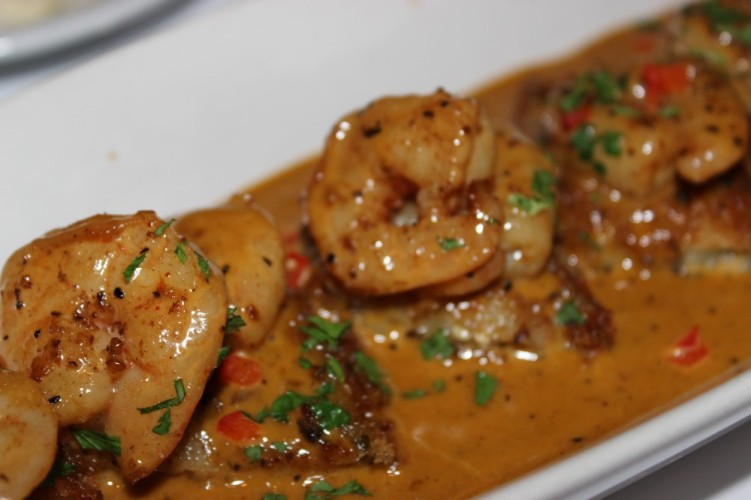 We also wanted to try the Roasted Garlic, Spinach and Artichoke Dip. It came with crispy parmesan flatbread that was almost too addicting! The dip was good — it had a nice balance of creaminess without being too heavy. We liked it even better as it got a little cold later on during our meal.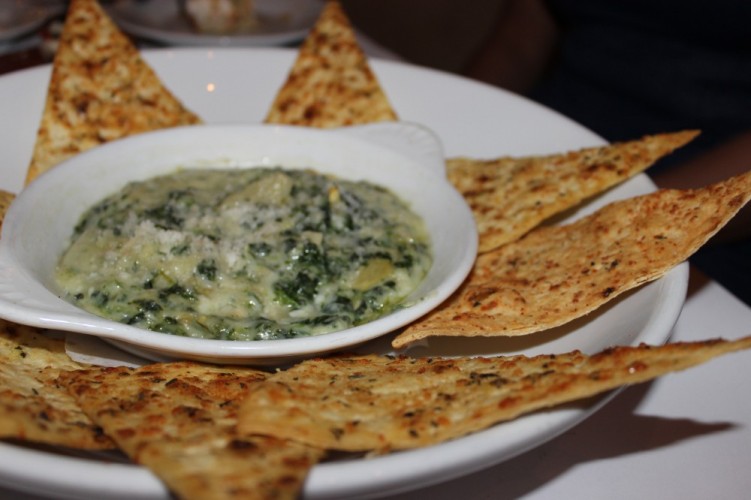 The bruschetta was classic — tomatoes and cheese sitting atop a perfect crusty baguette. I didn't eat any of the basket bread on the table because I was saving my bread-intake for this bruschetta. I probably ate 3 or 4 pieces — it was too good to stop! The burst of sweet tomatoes coupled with the varying textures and flavors of ricotta and parm, it was just the perfect bite.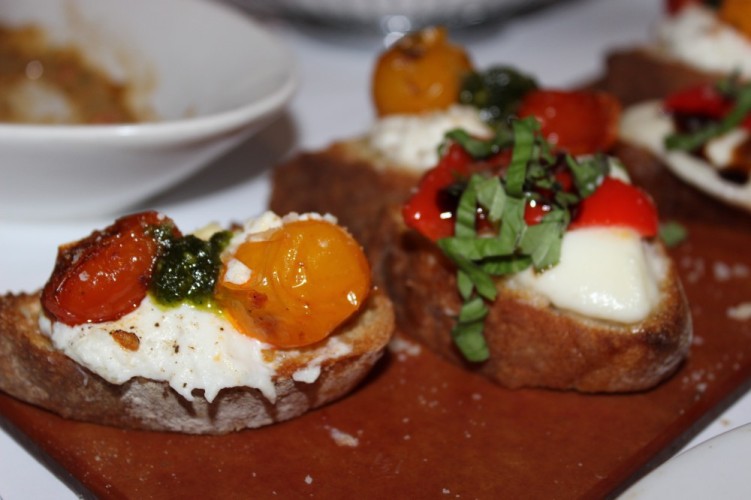 For our entrees, we ordered one salad and one pasta dish to share. First up was the Quinoa Salad with Asparagus and Grilled Chicken (we had the chicken on the side for Trish). We both were eyeing this salad from the moment we looked at the menus. Filled with roasted red peppers, quinoa, farro, cucumber, tomato, Feta cheese, arugula and a creamy herb dressing — this is the salad of champions! There was so much happening on this plate that I was afraid some of the flavors may get lost, but nope — everything was front and center. Nothing went unnoticed.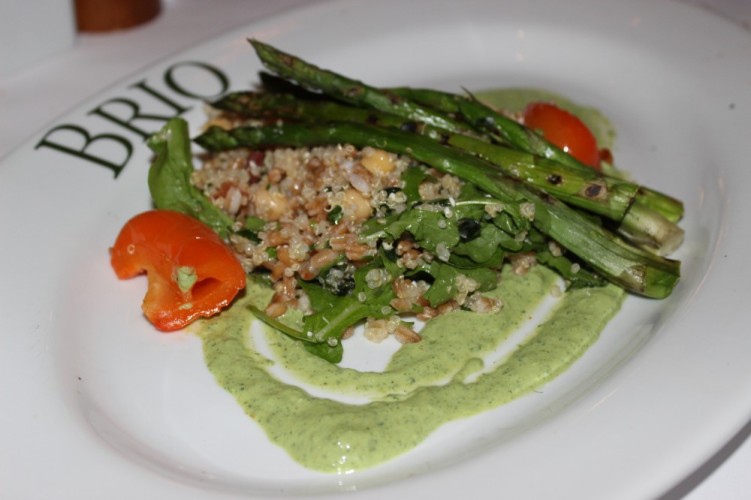 Deciding on a pasta dish was hard. There were so many we wanted to try, but in the end we stuck to the Classic Pomodoro with tomatoes, pine nuts, basil, parmesan and a cilantro pesto. As a true Italian, Trish said it was a little bland. After being wowed by the shrimp and eggplant, bruschetta, spinach and artichoke dip and the quinoa salad, she was expecting something that would blow her mind. Alas, her mind was not blown. However, I didn't grow up eating traditional Italian dinners with food so good you'd think it was flown in straight from Italy, so I was pleased with the dish. I liked the simplicity of it and how each ingredient had enough room to shine bright without any worry of being pushed to the side. I would have liked more of the cilantro pesto, though. That was the only thing I felt I didn't get enough of, no matter how hard I tried to get more and more of it on my fork.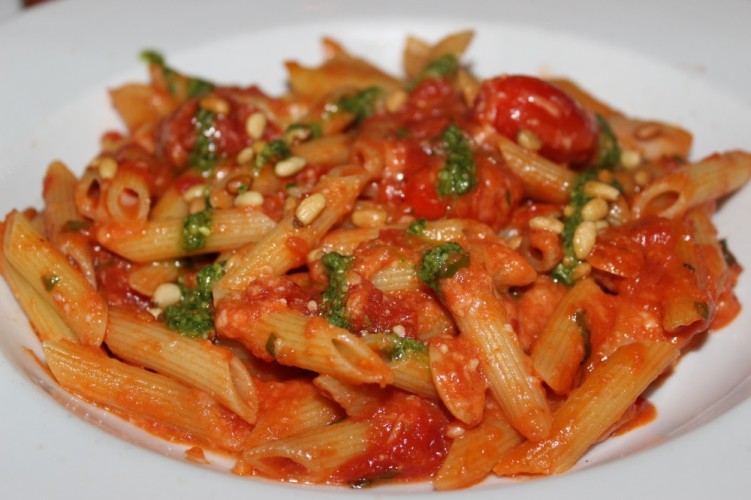 Dessert came straight from our waitress. She suggested the most decadent thing on the menu and we were so happy she did. The Torte di Cioccolata with a warm chocolate center topped with vanilla bean gelato, anglaise sauce and chocolate fudge drizzle. It was like a molten chocolate lava cake — but in brownie form. Ah! There could not have been a more perfect way to end the night. Each bite of rich, gooey fudgy brownie put a smile on our faces. We were stuffed, but definitely satisfied.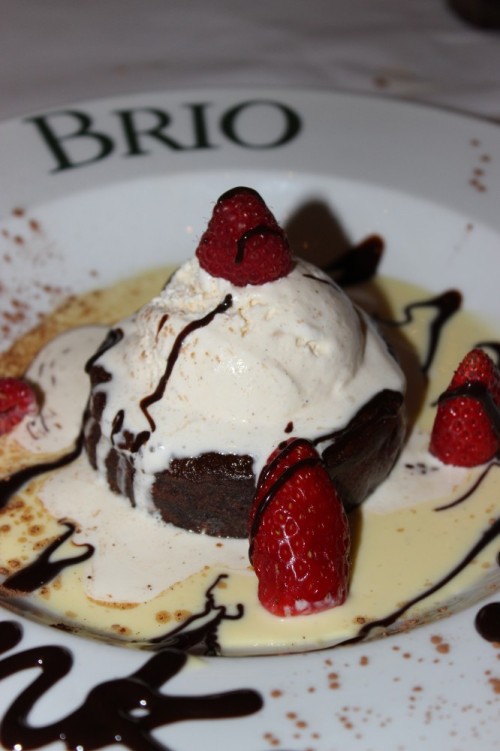 Brio is located in The Shops at Boca Center at 5050 Town Center Circle.
Disclaimer: I was invited to dine as a guest of the restaurant. No compensation was received for this review. As always, all opinions are 100% my own.