Never miss a bite! Sign up here to receive new recipes and reviews straight to your inbox.
Butcher Block Grill is a steakhouse proud of their high-quality 100% naturally aged beef, fresh poultry, seafood and produce all sourced from local and natural sustainable farms and farmers. What drew me to their menu was the long list of appetizers, soups and salads — things like French Onion Flatbread and Crab and Corn Chowder. It's definitely traditional American food in a sense, but with lots of pizazz. Denise and I headed over for dinner on a Monday, which just so happens to be the night of their Prime Rib Special — a 12 oz. prime rib with the house-made mashed potatoes — all for only $20! "Prime Time Mondays" is from 5-10pm and features USDA Prime Rib which is not available on the menu at any other time.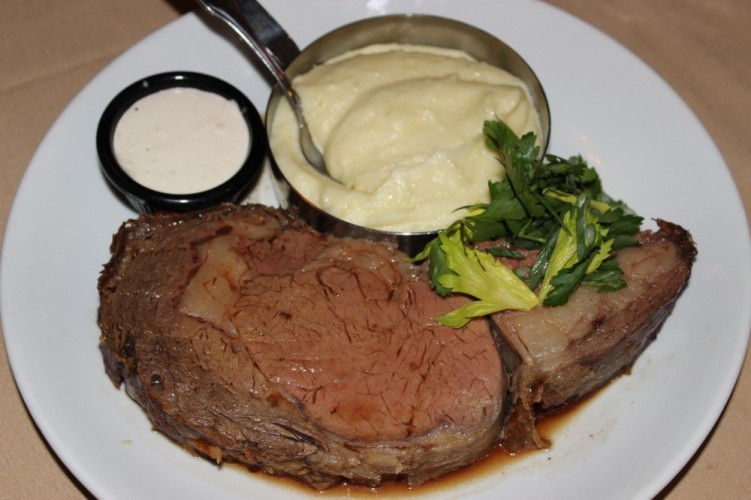 Denise did end up ordering this for her entree — but let's start from the beginning, shall we? Butcher Block Grill presents every table with a basket of their house-made bread, baked fresh every morning, alongside their "Butcher Butter." This is made from beef trimmings and bones that have been boiled together to create a roux which is then made into this butter. I obviously did not try the butter, but Denise did — she said it was good, but could not detect much of that beefy flavor she was expecting.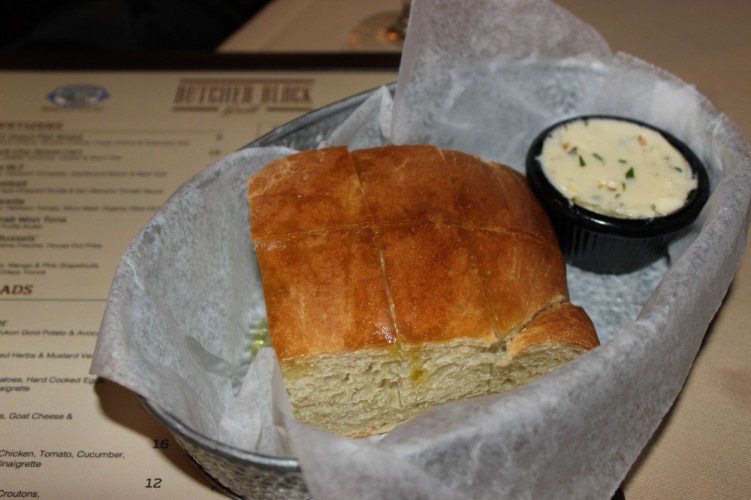 The appetizer and soup/salad lists are brimming with things a Pescatarian like myself would love to chow down on. Things like Mussels, Corn and Crab Chowder and Ahi Tuna Tartar. We started with the Polenta and Crab Wontons, a dish very similar to ravioli stuffed with creamy polenta and crab meat (side note: these could have used a little more crab meat…) and swimming in a generous helping of a super flavorful, roasted red pepper truffle butter sauce. Not only was this delicious, but it looked beautiful. Little speckles of red popped out from the deep yellow truffle butter. I couldn't get enough of that sauce. But that should be obvious… Truffle. Duh.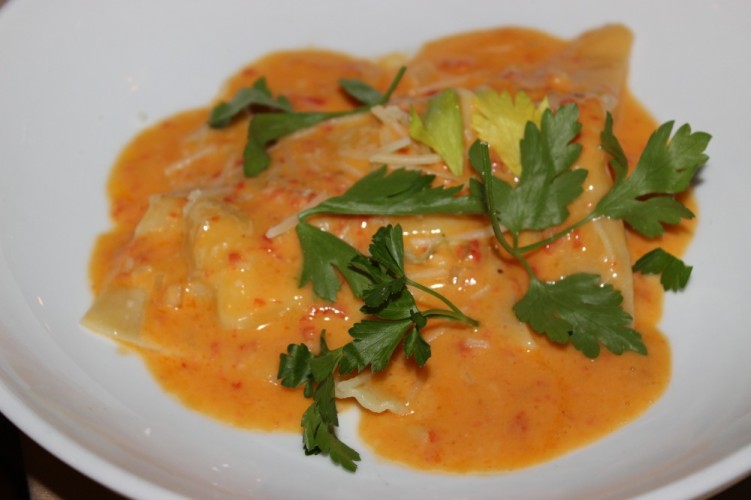 We also tried the Fried Green Tomato salad of arugula, radicchio, roasted red peppers, and goat cheese tossed in a sweet and tangy brown sugar balsamic vinaigrette. The restaurant tends to dress their salads very lightly to adhere to the preference of their clientele, but Denise and I needed more of that sweetness to bring out the flavor of the tomato and take away from some of it's wateriness. Don't hesitate to ask your server for more dressing if you're like us and like big flavor — they are happy to oblige. I especially enjoyed each bite of tomato slathered with lots of goat cheese. Those two elements, in both taste and texture, pair so perfectly together. I almost wanted to ask for more goat cheese too!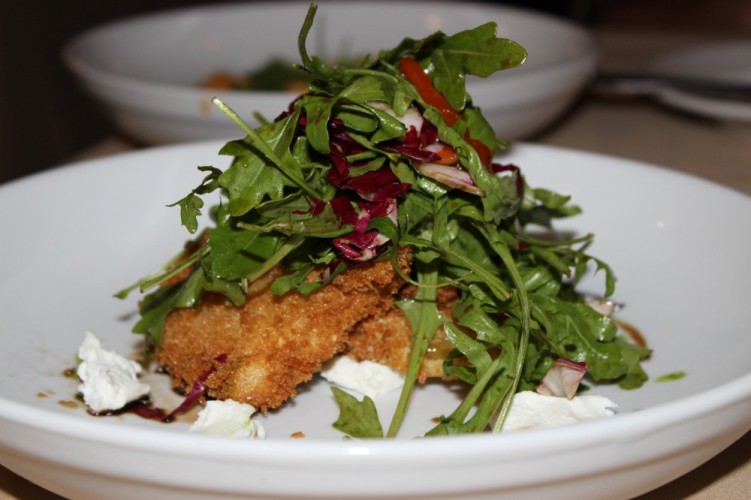 Like I mentioned earlier, Denise chose to order their Prime Rib Special for dinner and I went with one of the fish entrees — Pan Roasted Salmon with lemon spiked farro, shiitake mushrooms and bok choy and a blood orange reduction. There aren't enough words for me to describe how incredible this salmon was cooked. Perfectly tender and flakey inside with a crisp sear on top that was so good I found myself literally just picking at that crispy part. There was a balance of acidity and sweetness in the farro that practically pulled my fork down forcing me to eat every last bite (not that I'm complaining…). There was so much bright citrusy flavor from both the lemon and the blood orange in the reduction — every bite was better than the last. I was sad to see it end.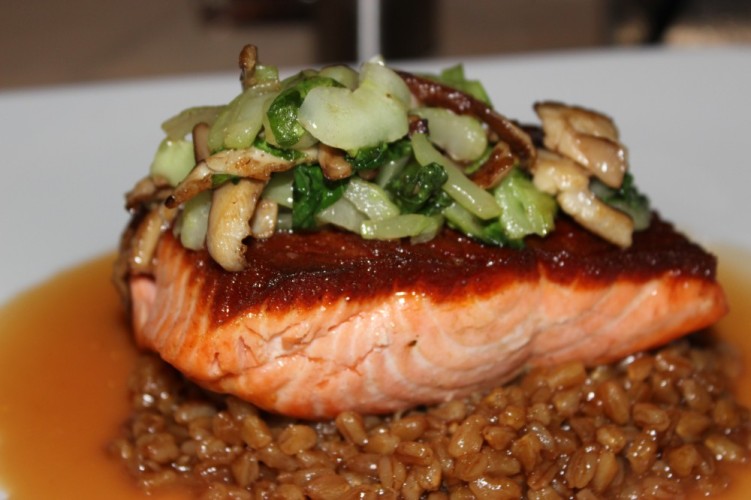 But end it did, and things only got better… Butcher Block Grill makes all of their desserts in-house and on this particular night they had their Goat Cheese Cheesecake ready and waiting for us to try. Goat cheese…in a cheesecake?! I've had ricotta cheesecake before, but never goat cheese. As excited as I was about that salmon entree, I basically turned into a giddy little kid at this point. As soon as the dessert came out, Denise and I dug right in. A sweet, buttery pecan crust held this thick and creamy filling that felt so decadent yet so light at the same time. Cheesecake can often feel dense and heavy, but using goat cheese gives it an airiness that really lends an incredible texture. This is definitely my new favorite cheesecake, and maybe even my new favorite dessert. More, please!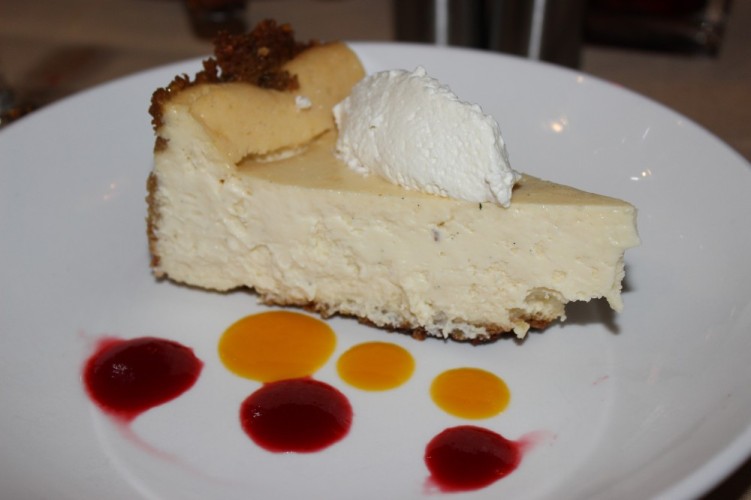 Butcher Block Grill is located at 7000 W Camino Real in Boca Raton.
Disclaimer: I was invited to dine as a guest of the restaurant. No monetary compensation was received for my review. As always, all opinions are 100% my own.