I'm not usually one to dine at chain restaurants, but there are definitely exceptions. Like The Capital Grille. I actually didn't even know it was a chain; I'd never heard of it until I moved to Florida, but apparently it has locations all over the place. It is totally not your quintessential chain, though. When I think of chains, I think Olive Garden, Red Lobster, Friendly's – places like that. THIS is nothing, and I mean NOTHING, like those restaurants. I've tried food from Capital Grille at food and wine events, such as Boca Bacchanal, but I haven't had the pleasure of actually going there for dinner. Bubby suggested that we go there sometime. So on our latest dinner date, that's exactly where we headed.
First of the all, the décor is really beautiful. It's very antique-y looking with a completely wide-openkitchen, which I love. Our waitress Michelle was awesome – super attentive and really friendly. It always makes such a difference when you have someone fun and sociable rather than someone boring and bland.
Bub and I wanted to try a little taste of the crab bisque as our appetizer, so we got the small bowl split into two. It was just a small taste but it had big flavor: lump crab meat in a sherry cream broth. It was good, but in all truthfulness, nothing compares to the crab bisque we know and love from The Crab Trap in Somers Point, NJ. I don't think we'll ever find bisque quite like theirs.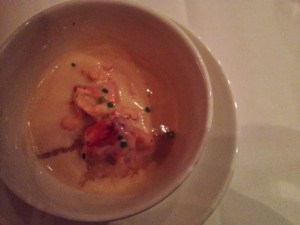 We both ordered the same entrée for dinner – parmesan crusted sole with a crab and avocado salad, and we got one side of the roasted wild mushrooms to share. Visually, the sole looked really appetizing. The parmesan crust looked perfectly crispy. Then I cut into it and it was even more appealing. I haven't had sole in such a long time. It really is just a bland white fish when you think about it, but this preparation of crusting the outside with parmesan gave it so much depth and flavor. We both really enjoyed it. And that little crab and avocado salad with parsley and radish! So yummy! It's funny how something so simple can really be one of the best things on your plate. The roasted mushrooms were a nice complementing side dish too. There were a lot of bright, refreshing flavors from the fish and salad; the mushrooms added an earthy taste to really round out our dinner.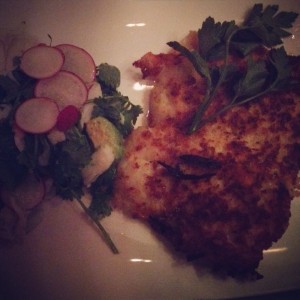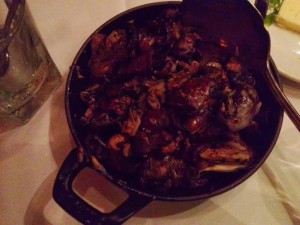 Dessert… Oh, dessert. When we sat down, we both said "no dessert!" But I have a theory; anytime you start a meal by swearing off dessert, you will undoubtedly order dessert. We got the coconut cream pie. Thank God we didn't listen to our silly "no dessert" rule. On top of the pie sat a heaping mound of homemade whipped cream, sprinkled with toasted coconut. The pie crust, which is always the best part, did not disappoint and that coconut cream…oh my coconutty deliciousness. I was pretty much in heaven with every bite I took.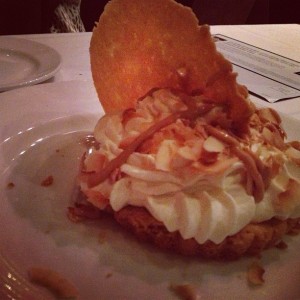 I left feeling full, but not that oh-my-god-I-ate-so-much-that's-gross feeling; it was more of a that-meal-was-amazing-I'm-so-satisfied feeling instead. Even though Capital Grille's menu seems to cater to meat eaters, I would still go back and try the other seafood dishes. Another amazing dinner with Bubby. Like I said, she never fails to show me good restaurants.

Posted with Blogsy