Never miss a bite! Sign up here to receive new recipes and reviews straight to your inbox.
Nothing on the menu at DaVinci's of Boca is made outside the doors of this restaurant. Each dish is hand-crafted within the walls of the kitchen — pasta is made from scratch, fresh fish is brought in whole and the sauces maintain that true, Italian flare. The owners of DaVinci's are originally from Mesoraca, Italy and have brought their love of fine food and drink and a warm, inviting atmosphere right to our little town of Boca.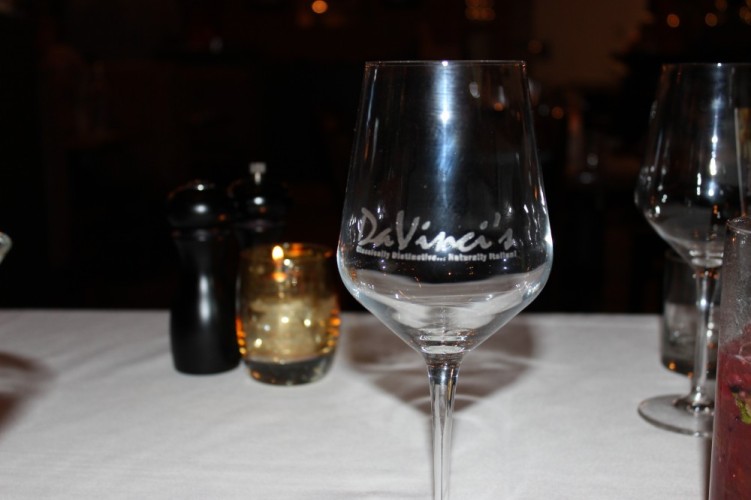 DaVinci's is located at Town Center where Legal Sea Food used to be. When DaVinci's was slotted to take over the location, the whole place was gutted and redesigned before opening this past September. The new decor is elegant yet comfortable at the same time. From the moment you walk inside, you feel at home. The staff is right there to greet you, the bartenders at the sleek indoor-outdoor bar are friendly and talkative and everyone looks like they are enjoying themselves. Denise and I had the pleasure of dining at DaVinci's right before the holidays — a time when going anywhere near the mall is really brave, but we stuck it out and weathered the storm of holiday shoppers. And we are so thankful that we did — DaVinci's really wowed us.
Before heading into the restaurant, Denise and I stopped at the bar to check out the uniquely crafted cocktail list. The bar extends onto the outdoor patio and is definitely an eye-catcher for those who happen to be walking by. Denise had their Wildberry Mojito and I was instantly drawn to the Fall Light, which included my current favorite mixture of St. Germain and Prosecco. The drink also had pear vodka, grapefruit juice and peach bitters. I was quite the fan of that one. Starting out with a refreshingly sweet and delicious cocktail kicked off an equally as impressive dinner.
This may have been the first time in all of our dining experiences that we did not feel a need to study the menu. Our waiter, Michael, was so on point with his detailed descriptions of the specials and other house-favorites that we ordered immediately after listened to him speak. But first, we were given a basket of freshly baked bread so warm and fluffy we knew it had come straight out of the oven, which Michael confirmed. The bread is served with a trio of dips: extra virgin olive oil and balsamic vinegar, eggplant caponata and mascarspone with lemon zest and thyme. A little smear of mascarpone topped with eggplant caponata was my ideal topping — the perfect combination!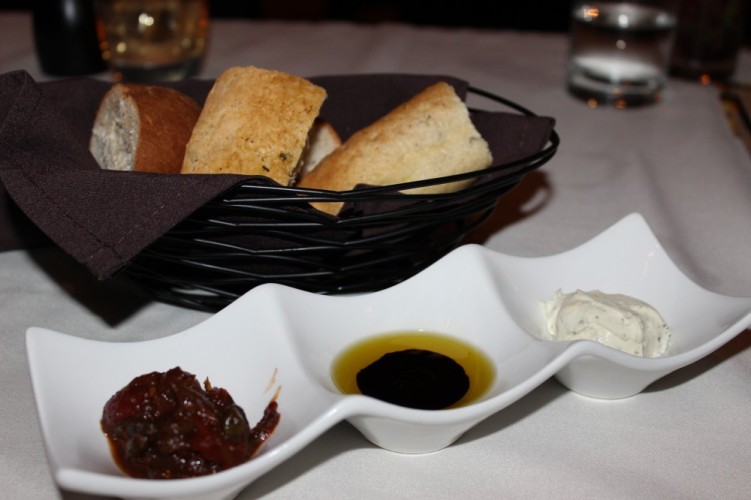 Appetizers were easy — there was octopus on the menu. The Chilled Octopus Salad was a colorful mix of potatoes, peppers, lemon, parsley and baby arugula. This Italian preparation took me back to one of my first octopus experiences at Jose Andres' tapas restaurant, Jaleo, in Las Vegas. Most of the octopus dishes I've had are Mediterranean-style with chickpeas and things of that sort, which are always delicious, but this…this was a masterpiece. It looked as amazing as it tasted. I never wanted it to end.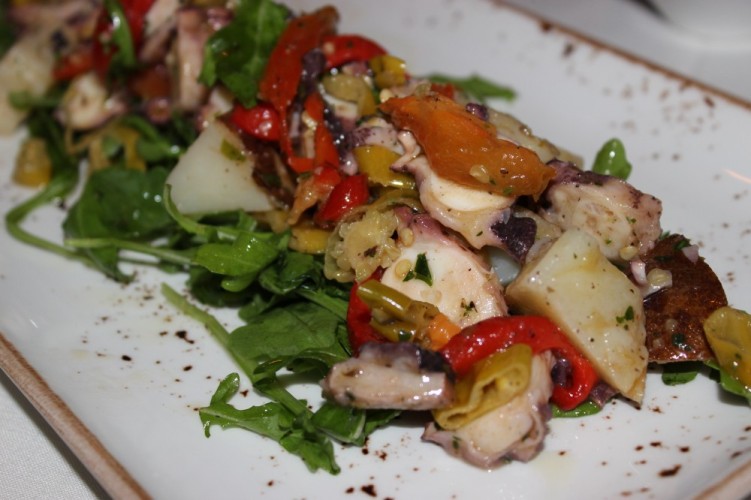 Denise ordered one of the appetizer specials, mozzarella stuffed with prosciutto with a bacon-tomato jam, teardrop tomatoes, baby arugula, and drizzled with aged balsamic. Although I didn't eat this, I marveled at the gorgeous presentation of these little swirls of mozzarella and prosciutto.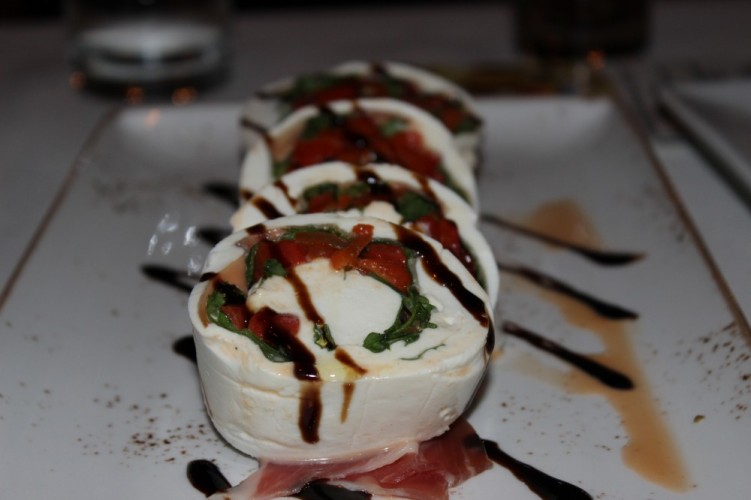 The fish special of the night was Chilean Sea Bass over a bed of squid ink risotto with asparagus and a drizzle of saffron cream sauce. Sea bass is a favorite for both of us so we were pretty sold just on that, the squid ink is what did it for me. I've been hearing about squid ink pasta dishes for quite some time now and haven't had it — this was my chance! We ordered this, as well as the house-made Pappardelle with porcini mushrooms, asparagus tips and shaved black truffle.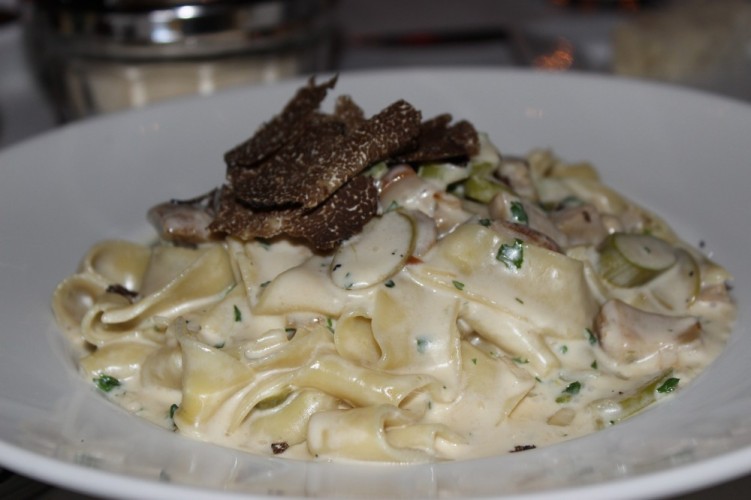 Pappardelle is a thick, wide noodle — it's probably my favorite type of pasta. There really is nothing like fresh homemade pasta. Michael set the plate down and Denise and I could smell the truffle right away. Automatic smiles turned up on our faces and we couldn't wait to dig in. There was so much harmony between all of the ingredients on the plate, making every bite just as good as the last. Both dishes were amazing in their own unique way. I really had no idea what to expect from the squid ink risotto. It had a little bite to it, and definitely wasn't "fishy" or anything that might turn someone off. I'm having trouble putting into words how good it was — you will just have to trust me. The sea bass had a crisp outer layer and was buttery smooth on the inside, the way a well-cooked sea bass always should be.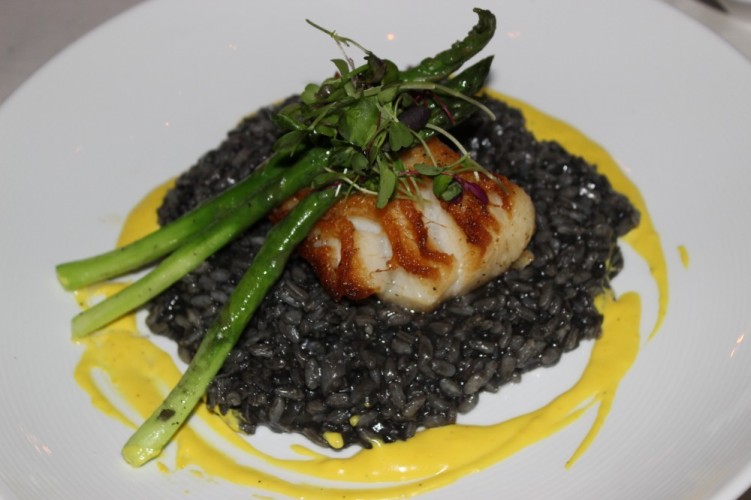 We were warned by the General Manager, Luigi, not to fill up on pasta as we would be getting two of their most popular desserts very soon. Our ears perked up at this and our forks were immediately set down. Bring on the sweets! Let me preface this by saying that both of the desserts they brought for us are things I normally do not like — tiramasu and a lemon meringue. The other ingredients used are what made me love them despite this little fact.
The Sea Salt and Caramel Tiramasu seriously made me rethink my disdain toward tiramasu all these years. It's just one of those desserts I've never cared for, but now? Make it with salted caramel and I'm all over it!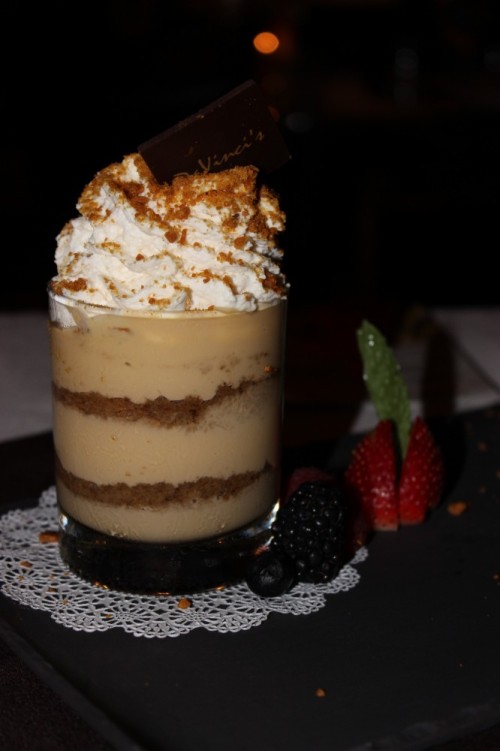 The Lemon and Mascarpone Cheese Meringue made my tastebuds all giddy. I do not like citrus desserts, but the tangy, creamy mascarpone is what helped offset any tart, citrusy flavor and give it just the right amount of sweetness. I can't decide which dessert I liked better. They were both so different and so amazing.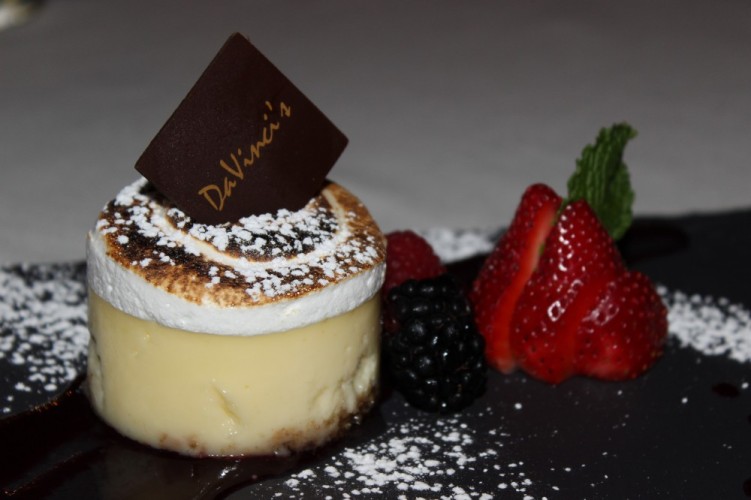 DaVinci's is a total hidden gem. I would never have known it was there if they hadn't invited me out to dine. I bet most of you locals haven't seen it yet either, which is why I was super excited to tell you about it. Everything about our meal was incredible. It included our two favorite things — octopus and truffle. How could we not be happy?
DaVinci's is located at 6000 Glades Road at Town Center in Boca Raton.
PS- Read Denise's review here!
Disclaimer: I was invited to dine as a guest of the restaurant. No monetary compensation was received for this post. As always, all opinions are 100% my own.