The Farm-to-Table movement is making more moves in South Florida with another new restaurant that just opened up in Boca Raton. Fresh, organic eating is really becoming a mainstay in this area. People are catching on to the idea that our food should not only taste good, but also BE good.
Farmer's Table has taken the place of what used to be Rosso Italia, the sister restaurant to RED Steakhouse (which is still there). Both restaurants are attached to the Wyndham Hotel, which is actually where I take yoga classes. There is a beautiful yoga studio inside the hotel, Yoga Journey, and that is how I first found out about Farmer's Table. Months ago, Yoga Journey had an awesome outdoor yoga class followed by dinner provided by none other than Farmer's Table. This was way before they had their opening date; I guess we were sort of like their taste testers as they were putting together the menu. Let me tell you, it was INCREDIBLE. Exactly the kind of food you want to eat after enduring a yoga class. Refreshing flavors, healthy and nutritious ingredients, and really creative dishes. There was quinoa, hummus, lentils, so many different kinds of salads (and I'm not just talking the kind with lettuce), fresh pita bread, homemade lemonade and iced tea..

Now Farmer's Table is open and ready for business — and certainly getting just that! I went on a Wednesday night with my friend Lauren (after we did yoga, of course) and it was packed! The menu is full of everything I love, so it was hard to decide what to get. Lauren and I ended up picking three things (plus dessert) and shared everything. We started with their soup special: Pumpkin, Carrot and Ginger.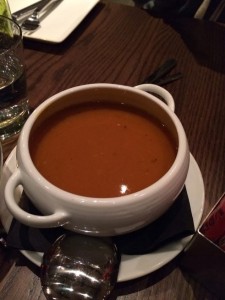 You know how I feel about ginger. This soup was our favorite of the night, for sure. The carrot really shone through the most, but the hint of spicy ginger was definitely present and the sweetness from the pumpkin completely rounded it out. I tried to sip slowly so I could savor every single spoonful.

Next up was the Edamame Shrimp Dumplings in a Dashi Consomme. The dumplings had that great umami flavor you get from most Asian dishes. With edamame, red peppers and sprouts floating along in the broth, this dish was definitely not lacking in bright bold colors. Lauren and I both agreed that this was a good pick for an appetizer. We had been yo-yoing back and forth between a few, and were happy we picked this one.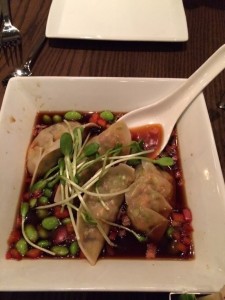 For our entrée, we split the Florida Snapper with grilled asparagus and butternut squash puree. The puree tasted really pure — just like my Butternut Squash Gratin. I loved it; there is no need for all that added cream and butter to thicken it up. Don't mask the amazing flavor of butternut squash. It is perfect on it's own.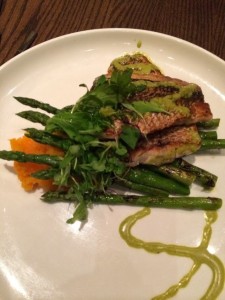 Of course we couldn't leave without getting dessert. We got the Wood Fire Grill Baked Apples with granola topping. We had only one critique about the dessert: more topping!!!! The warm, just-out-of-the-oven, full-of-cinnamon apples were nothing short of amazing, but there definitely needed to be more crumbly clusters of granola topping it off. And a hint of whipped cream or something would have been a nice touch too. (I did note this on my comment card after dinner, so hopefully they will take my suggestion into account!)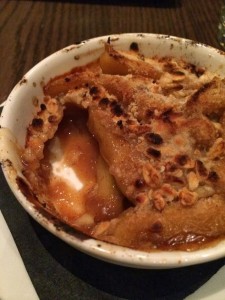 Lauren and I enjoyed everything we ordered, but that soup was over the top. The size of our dishes were really great for sharing. It wasn't too much food, and we were very satisfied with our portions. We already picked out what we want the next time we go for dinner after yoga. It may start to become a routine. Wednesday night Vinyasa Flow followed by Farmer's Table. Sounds like the perfect Girls' Night Out!