NOTE: This restaurant has since closed.
"Just like grandma used to make…only way different."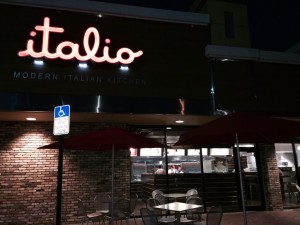 The writing is on the wall…literally…at Italio. Italio is classic Italian food with a twist. It has quick and easy counter service, but it is not your typical fast food. Every meal is made right in front of you in the restaurant's open kitchen. Fresh, flavorful ingredients are displayed behind the counter and you choose what you want from beginning to end. Start by deciding whether you want a pasta bowl, salad bowl or piadina (a thin Italian wrap). Select your main entree: grilled steak, chicken, or shrimp, crispy chicken fritte, pan-seared Italian sausage, ground beef and pork meatballs, or sauteed zucchini and portobello mushrooms. Then pick one of the many house-made sauces, pestos, and dressings. Now get creative with your toppings! There are so many to choose from…cucumbers, chickpeas, eggplant caponata, carrots, sauteed onions and peppers, arugula, spinach, pancetta, roasted red peppers, and more… Finish it off with some cheese and your meal is complete! And as if that weren't enough, there are side dishes like crispy calamari or the cheesy Italio stick. Kids get their own menu too; they can create their own bowl, or keep it classic with spaghetti and meatballs or chicken alfredo. Italio also has a variety of Italian sodas, beer, and wine.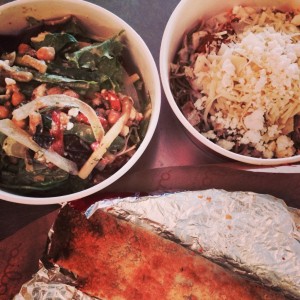 This concept is similar to places like Chipotle or those customizable salad bars, but it is totally unique to the world of Italian food, a cuisine with lots of devoted fans. To have somewhere to go for a quick and simple Italian meal that actually tastes good is much-needed, especially for nights when you just want to grab food on your way home from work and don't want to wait long for take-out. It takes all of 5 minutes to walk through the line and put together your meal.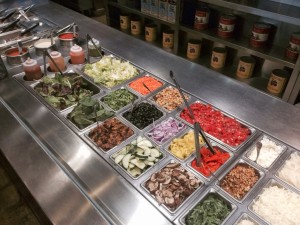 I piled on the toppings in my salad bowl, starting with the sauteed zucchini and mushrooms and mixed greens. I added chickpeas, eggplant caponata, roasted red peppers, bruschetta, feta cheese and lemon-herb vinaigrette and made one super-satisfying salad. My friend ordered the whole grain pasta bowl with grilled chicken and the artisan alfredo sauce and sun dried tomato pesto. She made it extra cheesy with lots of aged parmesan, feta and mozzarella. For only about $7, you get a huge portion of food. It easily could have been split between two.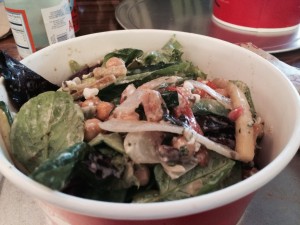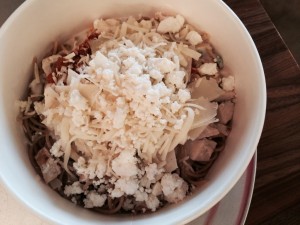 And then you have room to try all the yummy sides! I'm a sucker for calamari; it always calls my name, so of course I had to try 'em. Be careful though; there are spicy banana peppers mixed in with the calamari and you may not realize you picked one of them!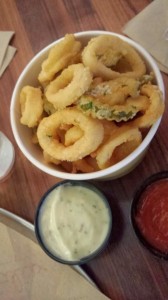 The cheese and basil pesto Italio stick was probably my favorite. Of course. How can you not love carbs stuffed with cheese and pesto? It was like a way better, gourmet version of one of my old childhood favorites: Domino's Cheesy Bread (I am really ashamed to admit this…).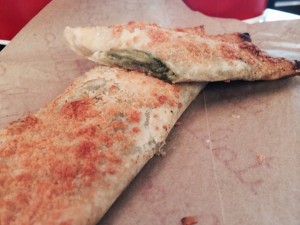 Italio is a gourmet "fast-food" restaurant that I'm glad to now have on my radar and one to which I will return. They cook in an open kitchen, which is admirable. It shows they have nothing to hide and want to invite their diners to be right there with them every step of the way as they prepare your meal. I never thought I'd say I enjoyed a fast food restaurant, but with the direction that food trends have been going, I guess I'm really not all that surprised…
Italio is located on Federal Highway right by the Fifth Avenue Shops in Boca Raton. There are also locations in Winter Park, FL and Fort Lauderdale, FL and<<in adsdition to>> Orland Park, IL.
Disclaimer: This is a sponsored post written by me on behalf of Rockaway PR. Myself and a guest were treated to complimentary food and drinks at Italio for the purpose of a review on my blog. As always, all opinions are my own.