Never miss a bite! Sign up here to receive new recipes and reviews straight to your inbox.
I recently had the pleasure of dining at Madison's New York Grill & Bar here in Boca. Madison's has only been open for about 8 months, but it is quickly becoming a great place to go for quality wine, prime happy hour specials, and truly unbeatable service.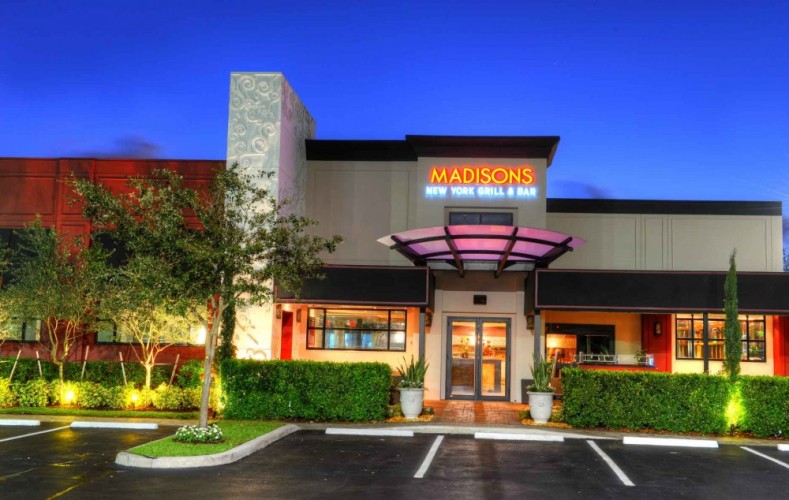 It's common for the service to be over the top whenever I go on restaurant review dinners; however, Madison's was even better than what I've experienced in the past. Our waiter, Alex, was funny and personable, and happy to chat with us about the menu items and other random things each time he came to our table. The managers, Charles and George, were incredibly attentive and allowed us to try smaller portions of various items on the menu so we could really get an idea of what the restaurant is all about. So what is it all about? Well, I'd classify it as American food with heavy Greek influence. This is evident as soon as you see both of the managers' last names. Menu items include Greek-style lamb chops, Mediterranean grilled chicken, "Mykonos" style Greek chicken salad, and of course the traditional Greek salad.
Even though the menu has a lot of commonly seen dishes like spinach and artichoke dip, fried calamari, and caesar salad, it's also full of unique creations like Philly Cheesesteak Egg Rolls (DAD!!!), Quinoa Caprese Salad, and Soho marinated grilled chicken with grilled zucchini, red peppers, goat cheese and a Jardiniere sauce — a sauce made with mixed vegetables stewed with savory herbs.
Charles and George sat with me and Denise for a while, giving us the low down on their Wine Down Tuesday specials and telling us all about the plans for a new Madison's location in Pompano Beach opening soon. What's Wine Down Tuesday, you ask? Well only the most amazing night ever for wine lovers! A rotating selection of bottles are offered for half off and glasses are only $5. These are incredible prices for the wines on the list. A regularly priced glass of Newton Chardonnay is $14 on a normal night, but on Tuesdays you can have it for $5! Whaaat? A $68 bottle of Caymus Mer Soleil Chardonnay is only $34. Yep, Madison's is the place to be on Tuesday nights. Denise and I have plans to go back very soon for this…
Charles and George also made wonderful suggestions for what we should eat, and pretty soon we were elbow deep in tons of food!
We started with the Grilled Artichoke — the first thing that caught both of our eyes as soon as we opened the menu. Fire-grilled fresh seasoned artichokes topped with an herbed butter and served with a remoulade sauce, now this is the perfect appetizer to start a meal. There was so much flavor in each bite; I could make a meal out of just this! The remoulade sauce wasn't too heavy and was speckled with lots of beautiful fresh herbs. Just a dab of this on the artichoke leaves was a great way to add a little extra flavor.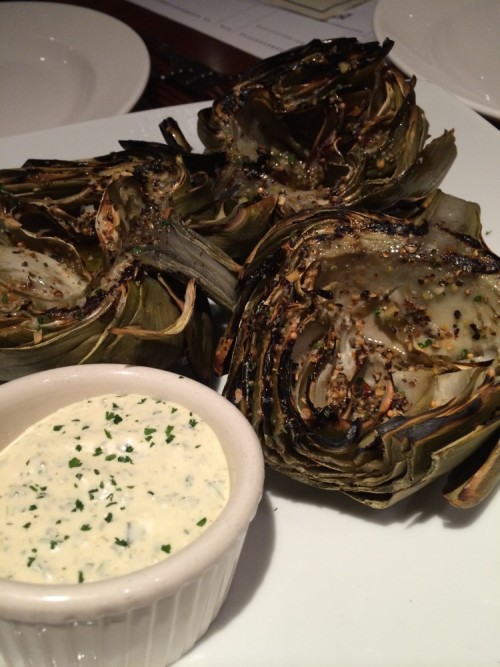 We also had the Seared Sashimi Tuna served with a sweet soy sauce reduction. OH MY YUM! This was honestly the best preparation of sashimi tuna I've had in quite a while. The tuna was blackened and seared. I've never had it this way and absolutely loved it. The edges were crisp and full of texture. The soy reduction reminded me of my favorite sushi accompaniment, eel sauce — thick and sweet and the perfect complement to the tuna.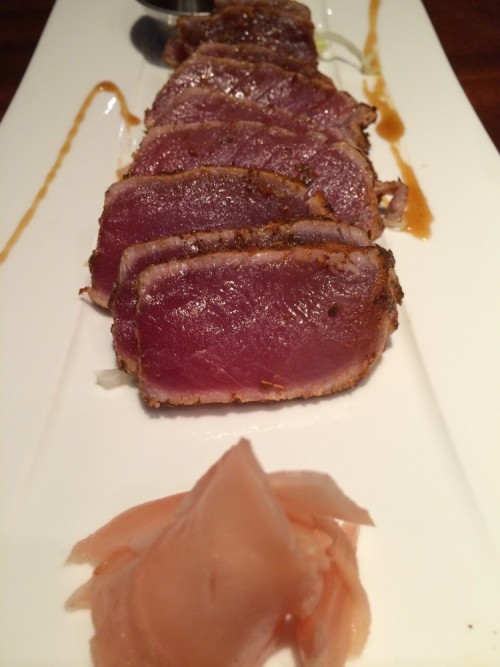 Denise wanted to try one of their side dishes, the Pineapple Coleslaw. I am not a coleslaw fan (unless it's Asian-influenced), but I still tried a bite. Unfortunately, neither one of us could detect too much pineapple in the dish and deemed it the one letdown of the evening. Turns out, it isn't made with actual pineapple chunks — just a pineapple puree that is used to replace most of the mayonnaise in your traditional coleslaw. It didn't thrill us, but coleslaw lovers who are looking for a lighter version of the dish would probably like it.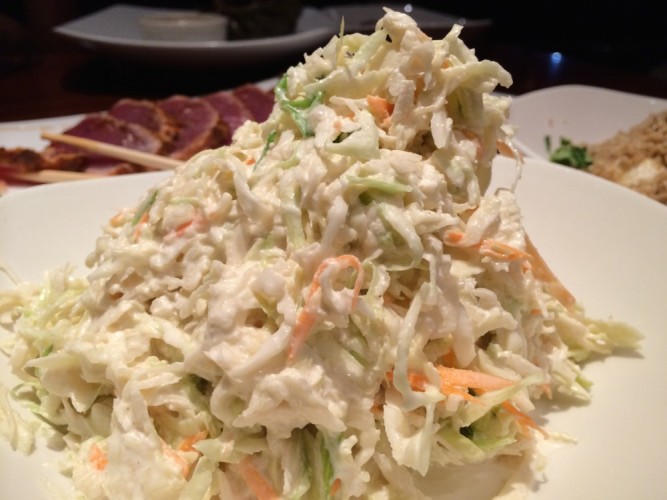 Onto the salads! We tried half portions of both the Quinoa Caprese Salad and the Sweet Thai Chili Steak and Noodle Salad (steak on the side). The quinoa salad was a bit bland at first — it's basically a quinoa dish with grape tomatoes, mozzarella balls, and lots of freshly chopped basil. It was seriously in need of an added kick. Alex brought us a balsamic reduction to mix in and once we did that, it was a flavor explosion! The sweet balsamic seemed to brighten the tomatoes, enhanced the quinoa, and made the basil even more aromatic. We recommend asking for a side of balsamic reduction when you order this salad.
I love anything Asian-inspired, so this Sweet Thai Chili salad was right up my alley. Thankfully it was perfectly fine for them to serve the slices of marinated filet mignon on the side for Denise to enjoy. The salad is a mix of egg noodles, avocado, mangos, peanuts, toasted shaved coconut and mixed greens tossed with a sweet and spicy Thai chili dressing. The combination of avocado and mango is one of my favorites. I love the creaminess that avocado lends to whatever it is mixed with, and mango…well, it's just one of my favorite fruits ever. There was a great variation of textures in this salad, which made each and every bite a little different.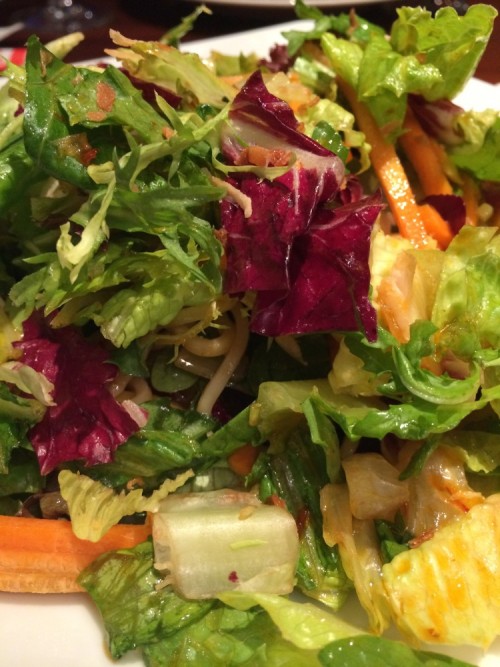 For our entree, we split an order of one of the evening's seafood specials — Grouper topped with crispy potatoes with sides of sautéed carrots and haricot vert-style green beans with caramelized onions and blue cheese. LOVE doesn't even begin to describe how much I enjoyed this dish. The fish was so perfectly flaky with the crispiest skin ever. There was just the right amount of potatoes piled on top of the grouper for good flavor without overpowering the fish. The green beans and onions were a great pairing and the blue cheese was even better. I loved that my plate was so colorful! Bright orange carrots on one side… Gorgeous green beans on the other with a deep brown caramelization on the onions mixed in.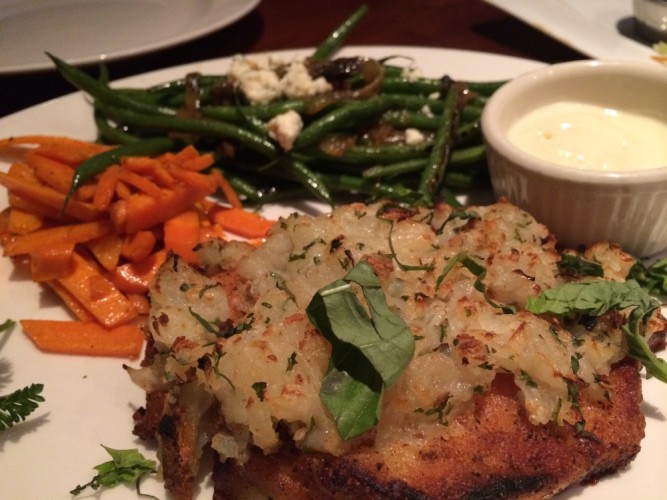 Alas, as all good meals come to an end, there must be something sweet. Dessert was something neither Denise nor I have ever had or even heard of before — Galaktoboureko. Try to pronounce that one! It sounds like "galactic booty call," which Alex told us is what everyone calls it because let's face it, nobody can pronounce that. It's a flaky pastry crust with a custard and cream-based filling and topped with a cinnamon and honey syrup. It may be hard to say, but it is definitely not hard to eat. This isn't something I would typically order, so I was happy the managers sent this out. It was really a great way to end our meal.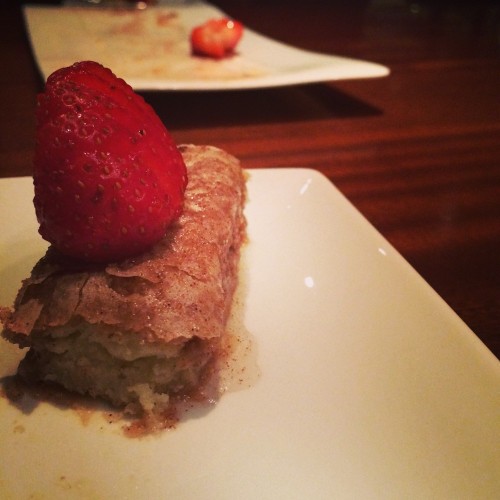 I'm eager to return to Madison's for Wine Down Tuesday and their Happy Hour — everyday at the bar starting at 4pm! Happy Hour has been extended until closing since the beginning of the summer season, however this might not last too much longer, so take advantage of it while you can!
Disclaimer: I was invited to dine as a guest of the restaurant and received a complementary meal. No other compensation was received for my review and as always, all opinions are 100% my own.