Never miss a bite! Sign up here to receive new recipes and reviews straight to your inbox.
Imagine walking into an office building with a bank at one end and a…taproom…at the other? Yes, MEAT Eatery is a restaurant and bar located in the Cendyn Spaces Building on Federal Highway in Boca. Not your typical location for a restaurant, but hey — I bet they get a killer lunch crowd! And how awesome would it be to literally leave your office and walk right down the stairs to happy hour. Maybe MEAT Eatery is onto something…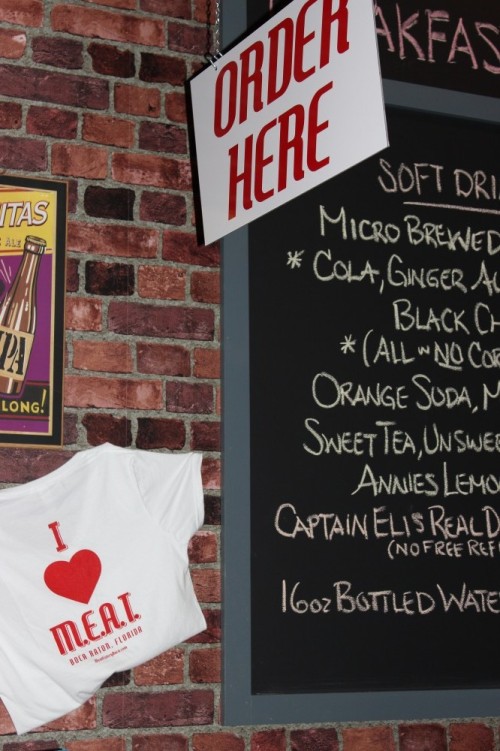 I didn't know what to expect when my roomie and I pulled up to the building and walked through the doors. Would it be a sit-down restaurant? A bar in the middle of the lobby? MEAT Eatery is very small and intimate with only stool seating at the bar and another long hightop along the outer edge of the space, but there are plenty of tables in the lobby area that the restaurant can use for their patrons. It's a unique way to approach diners, but it seems to be working. MEAT Eatery has a creative menu with lots to choose from, a great lineup of craft beers, organic wine and microbrewed sodas.
Okay, let's address the elephant in the room. MEAT Eatery….meat…I don't eat meat…what the hell am I doing at this place?! Turns out, the menu at MEAT Eatery has way more than just meat. Sure, there are burgers and pulled, ground and smoked meat, but there's also beets and quinoa and edamame. I was on a mission to prove you don't have to be a meat eater to enjoy MEAT Eatery & Taproom.
Trish isn't a huge meat eater either — although she does eat chicken often — so she was the perfect company. We started out by ordering the Dip Trio — hummus, smokey eggplant caviar and olive tapenade served with carrots, celery and crispy wonton chips. Neither of us liked the tapenade. Looking back I'm not sure why we didn't tell them to leave this off since neither of us like olives… Oh well. The eggplant dip and hummus were both very good, and Trish even discovered they were good layered on top of one another on a chip. Oh, and those chips?! Killer! I will be getting wonton wrappers to make my own chips very soon.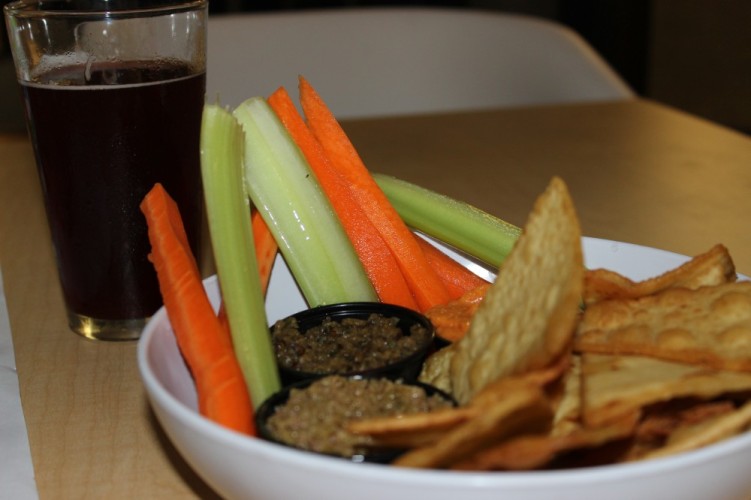 Steamed edamame is always a good appetizer to nosh on — and this one didn't disappoint. In fact, it was utterly addicting. Little soy beans are steamed in sesame oil, lime and sea salt. So simple, so delicious. I liked the flavor so much that I actually made some edamame the next night at home with the same ingredients. The dips and edamame aren't the only vegetarian options available for appetizers — there's also crispy onion strings and fried corn on the cob.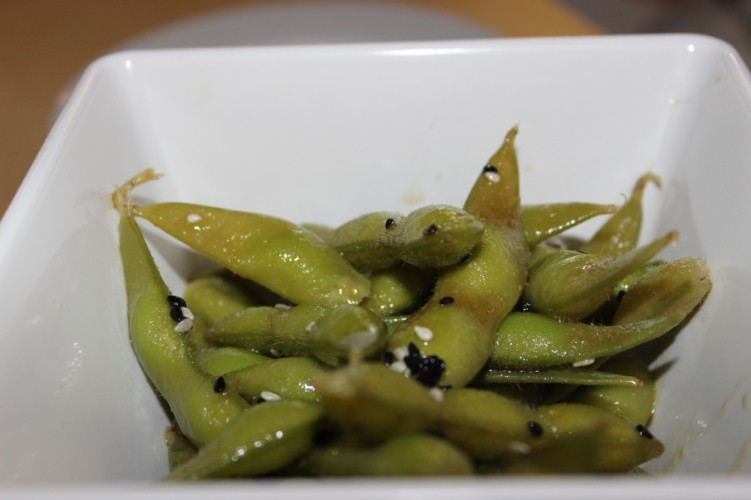 There are two salads on the menu that sound delicious — the House Salad with roasted beets, crispy farro, cotija cheese tossed in a mustard vinaigrette, and the Golden and Red Quinoa Salad with mango & grapefruit-ginger mint vinaigrette over shredded iceberg and napa cabbage. We opted to split the beet salad — the crispy farro won us over. Although the salad was incredibly tasty, we wished we had asked for the dressing on the side. Our waitress described it as a sweet mustard vinaigrette, but it was WAY more spicy. The dressing is made in-house fresh every day, and it seemed like someone went a little crazy with the horseradish that morning. So my warning to you is that unless you can handle some serious heat, ask for the dressing on the side, and taste it before drizzling on your salad. Toasting the farro added incredible texture and that crumbly cojita cheese was a nice alternative to typical goat cheese in this kind of salad. Did I really just say using something INSTEAD of goat cheese is acceptable?! You know it had to be good…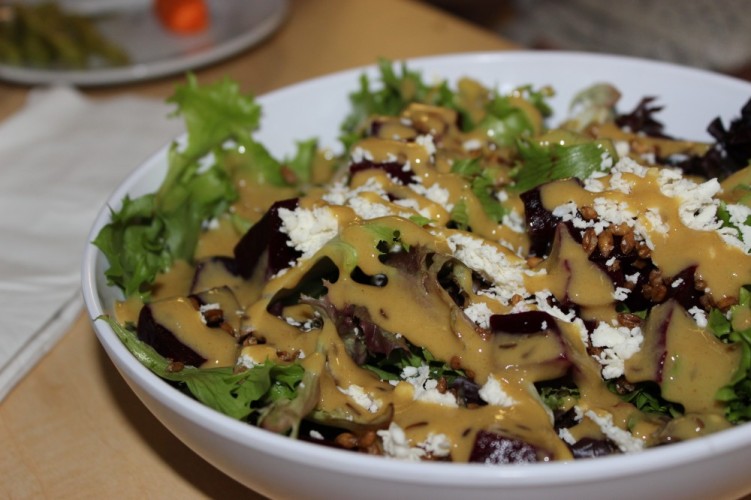 For our entree, we split the BOCA Burger made with quinoa, farro, mushrooms, edamame and beets and wrapped in lettuce and tomato. We couldn't decide whether we wanted the sweet potato tater tots or truffle parmesan fries on the side — so we got both. I need to discuss these tater tots with you. They came with a marshmallow cream dipping sauce. These things were as good as dessert! They were sweet and super crispy and truthfully didn't even really need a dip, but when it's marshmallow cream, how can you resist?! The truffle fries were a really good decision. The truffle was very prominent and there was certainly no shortage of parmesan cheese. I love to completely drown things in parm, so this made me very happy. And truffle, well, need I say more?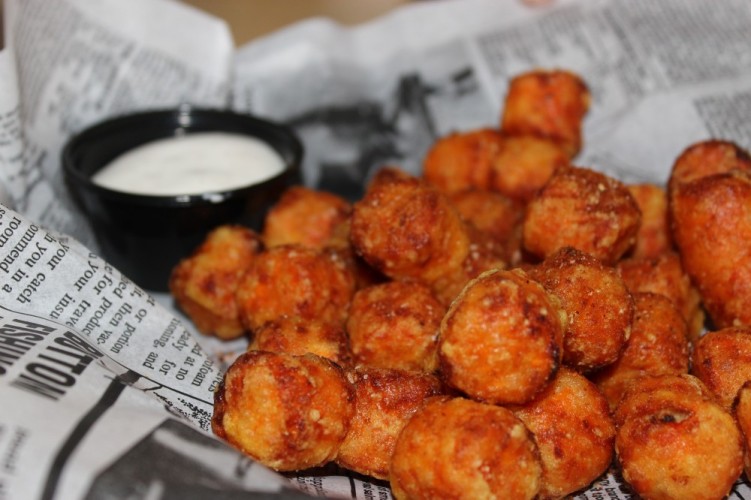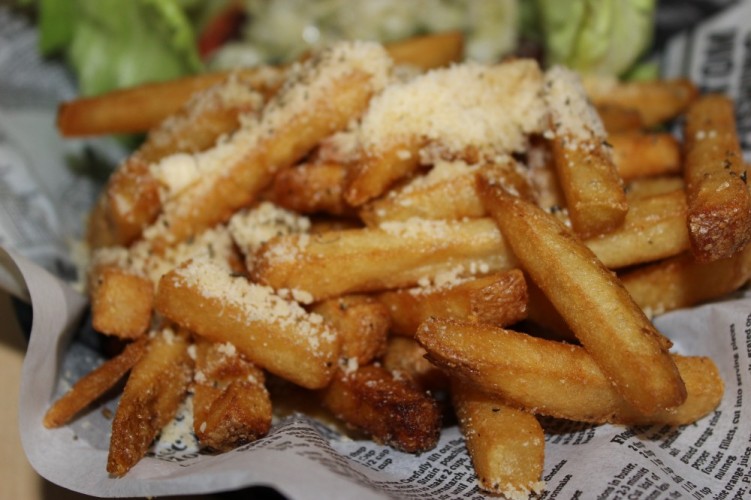 Now for that veggie burger — what a GREAT mixture! The deep purple beets gave it such an interesting and pretty color, and the texture was varied from all the different veggies and grains used. I like the idea of serving it in a lettuce wrap, but I ate it with a knife and fork. Less messy that way, and the boring iceberg lettuce may have gotten in the way of all that yumminess.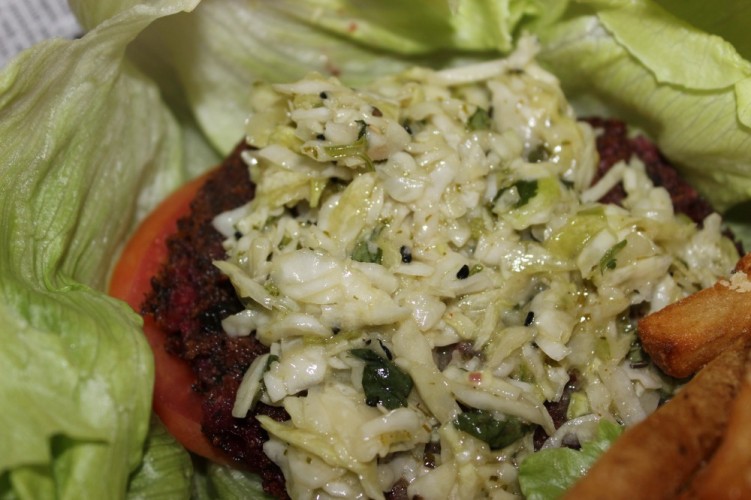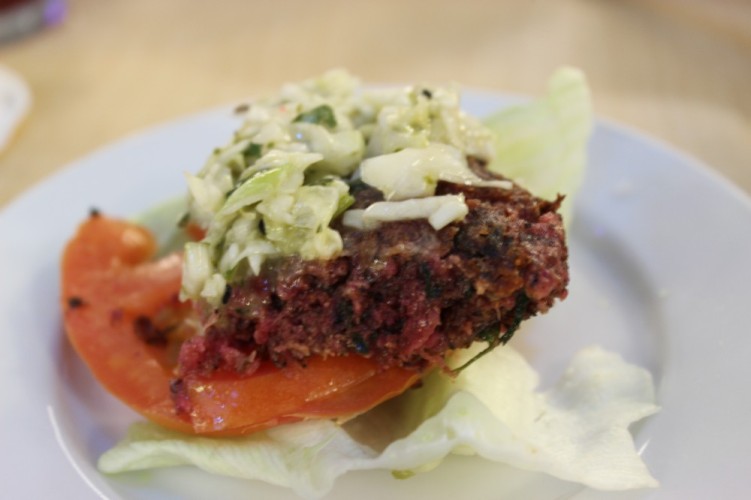 Dessert was the house special — Heath Bar Bread Pudding. The bread pudding flavors change frequently — we lucked out being there for this one! I could have easily devoured the entire slab on our plate. But instead of stuffing my face, I carefully inspected each spoonful making sure to get a little bit of everything in each bite. There were too many amazing flavors to risk missing anything. A gorgeous creme anglaise oozed down the sides and the plate was garnished with enough Heath Bar crumbles to make a whole bar. And whipped cream. Heaven on a plate!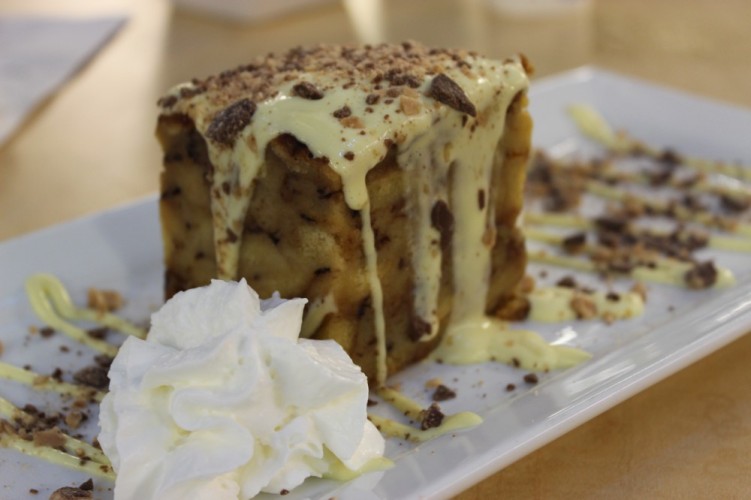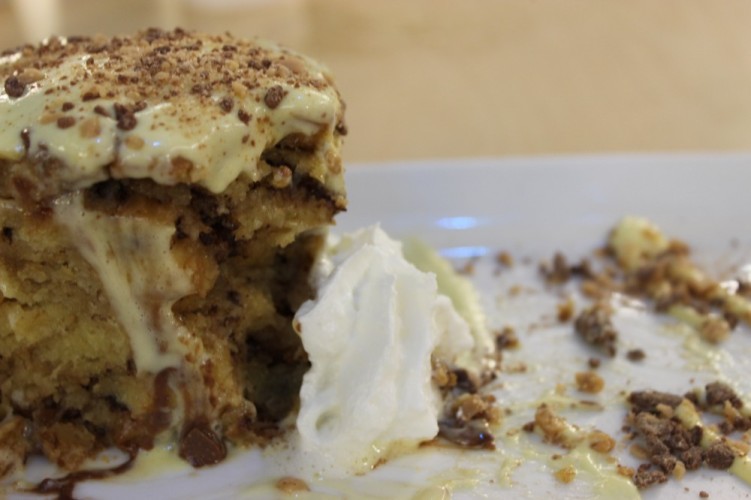 As you can see, you don't have to eat meat to enjoy a meal at MEAT Eatery. There is plenty for us vegetarians to enjoy too! MEAT Eatery is located at 980 North Federal Highway, Suite 115 in Boca Raton.
Disclaimer: We were invited to dine as guests of the restaurant. No other compensation was received for this review. As always, all opinions are 100% my own.