Never miss a bite! Sign up here to receive new recipes and reviews straight to your inbox.
You could eat out every single night for a full year in Boca and never have to go to the same restaurant twice. There are SO many places to eat, it's hard to keep track! Tripadviser says there are 673 restaurants here in Boca! Thankfully I get to experience lots of them all at once during various food festivals and culinary tours, but some of them stand out way above the others and just having a sample of their menu is not enough. Most of the time, my tastebuds are begging me to go back for more!
Nick's New Haven Style Pizza & Bar is one of those restaurants. I first learned about Nick's two years ago at Flavors of Boca when I was asked to be one of the judges for the culinary competition. Nick's served their linguine with clams and Nutella ravioli, which we all agreed on as the dessert winner of the evening. Ever since that night, I've been dying to go back to Nick's and really explore their menu. Can you believe it took me over two years to do so?!
Denise and I headed over to Nick's ready to fill our bellies with lots of yummy food. Since this was a first for both of us, we asked our server to make some appetizer suggestions. She gushed about the fried calamari which also came with fried zucchini, squash, and hot cherry peppers. Denise and I are big fans of calamari, so we liked the sound of that one. Unfortunately, despite the rave reviews from the server, the calamari did not live up to our expectations. It just seemed…bland. Sure, it's a great idea to include the other veggies, but they didn't wow us. The sauce was your average marinara with no pop. I guess we've just had so many other variations of this dish that have really struck a chord with us, that now the bar is set pretty high.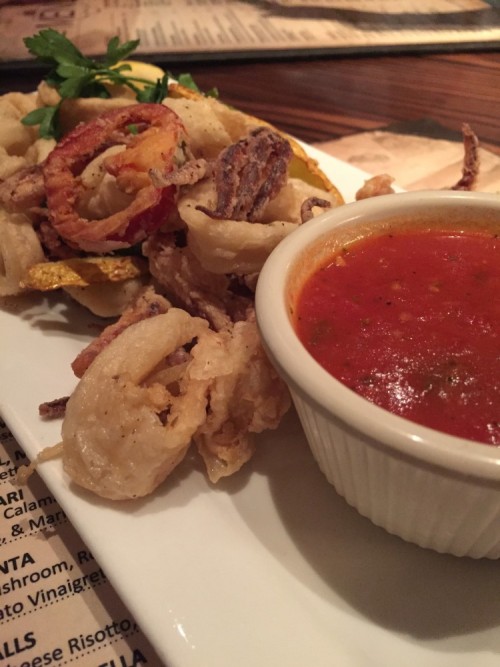 It was a nice attempt at a classic favorite, but nothing special. It's okay though, because the other appetizers we ordered definitely made up for it.
Nick's has something on their menu that I have never seen before — Make Your Own Bruschetta! You can choose 3 different toppings to put on top of their rustic bread that has been generously rubbed with olive oil. There are marinated veggies like roasted peppers, mushrooms, and artichokes; cured meats such as prosciutto, salami, capicola and sopressata; and lots of different cheeses. Of course you can also stay classic and order tomatoes too (even though this is weirdly not in any of the ingredient lists). We chose marinated eggplant, tomato, and shaved parmesan, and it was FANTASTIC. The bread was super crispy with that great crunch in every bite. The ingredients complemented each other perfectly. I could have easily eaten a whole plate full of that bruschetta!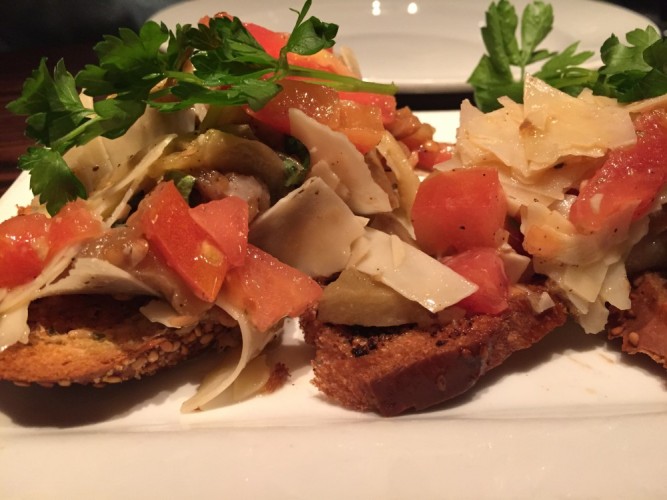 Denise chose another appetizer that I would not have picked, but I'm sure glad she did. Escarole and beans. I've had this in soup before, but never as an actual plate of food. I was smitten! This is easily one of my new favorite things, and I can't wait to have it again and again and again. Thin slices of garlic, beautifully sautéed escarole, creamy white cannelloni beans, and grated parmesan all mixed together to form one delectable dish. Whew, I'm making myself really hungry…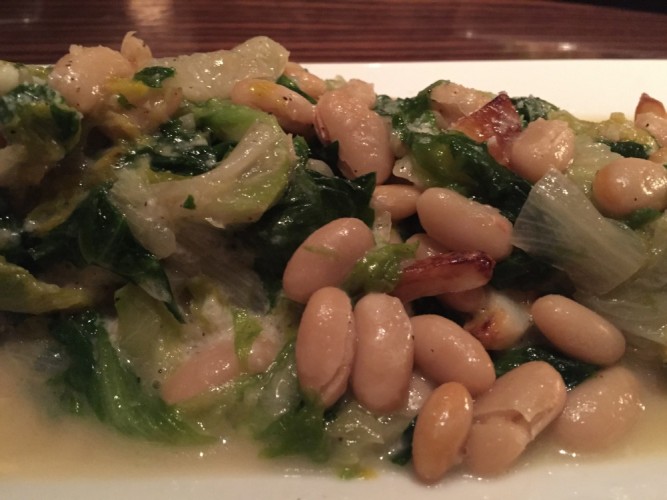 Now you can't go to Nick's without getting pizza. I mean, what kind of food bloggers would we be if we didn't taste their New Haven Style specials! (By the way, if you're wondering what New Haven style pizza is all about, read Denise's review!) Nick's serves their traditional pizza as well as the "Pizza Flat," which is a bit crispier with no real outside crust. In order to get a true taste of the restaurant, we decided to go for one of each. We split our pizza into two so we can get two different combinations.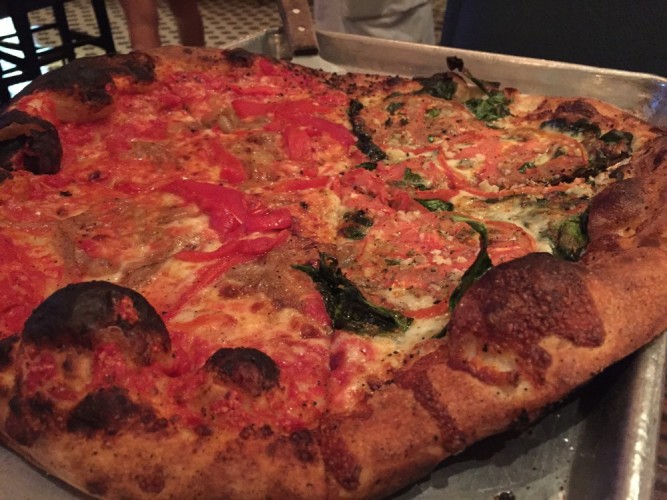 One half was a signature white pizza with mozzarella, tomatoes, spinach and garlic and the other half had caramelized onions and roasted red peppers. The thin crust held up pretty well under the mozzarella and spinach, but it got a bit soggy on the onion and pepper one. I really didn't care though; I enjoyed both! My favorite part was the big crispy air bubbles in the crust — I love those!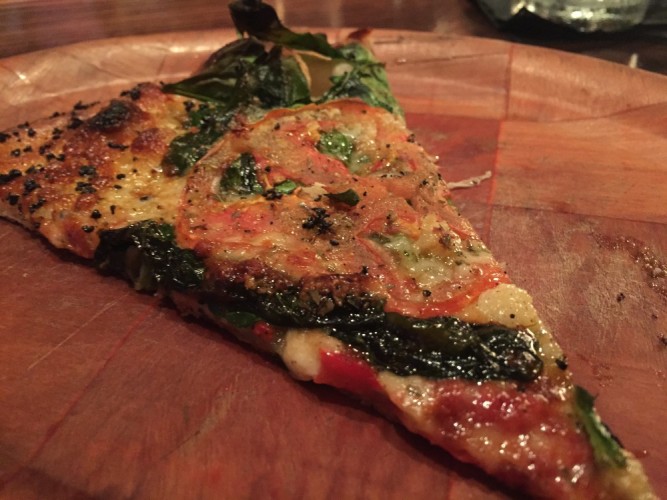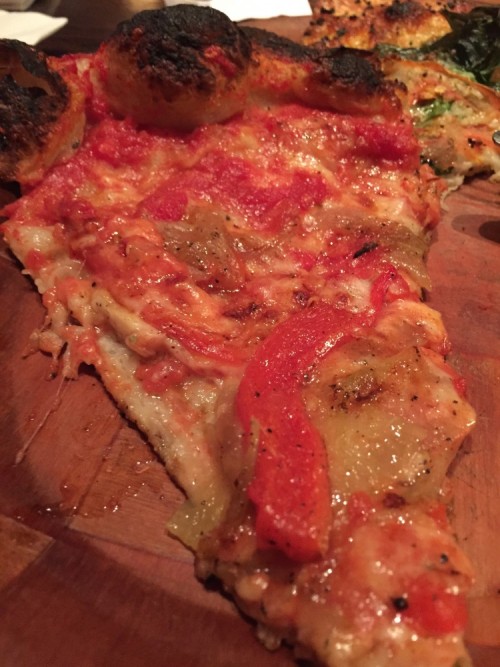 Nick's is noted for their white clam pizza, so that's what we got for our Pizza Flat. As soon as I took a bite, I felt like I was chowing down on a bowl of steamed clams in a white wine sauce. Lemon and garlic, lots of parmesan, and of course clams, completely covered the crust. The beauty of this pizza was that the slices were smaller than the traditional pizza slices, so I totally scarfed down two of 'em! I only recently started my love affair with clams, so when I heard this was Nick's noted dish, I was pretty excited to try it out. There's no doubting why this is their most popular pizza combination — it's delicious!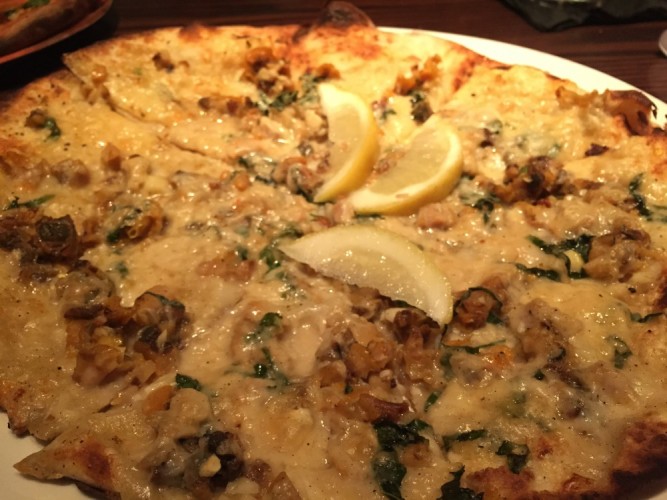 You know Denise and I never leave a restaurant without dessert, and tonight was no different. Nick's makes all of their desserts in house, and they have quite the selection. I already mentioned the incredible Nutella ravioli, but they also make a flourless espresso chocolate cake, apple strudel, and classic Italian desserts like tiramasu and cannollis. Denise had her eye on one of the specialty dessert drinks — cappuccino over your choice of gelato. They have vanilla, milk chocolate, pistachio or sea salt caramel gelato. Can you guess which she picked? Sea salt caramel, duh! You can also make your own soda float with the gelato — such a great idea! But I was in a chocolatey mood, and the Chocolate Mousse Cheesecake was calling my name. These treats hit the spot after such a savory meal. There's nothing like ending a great meal with a little something sweet.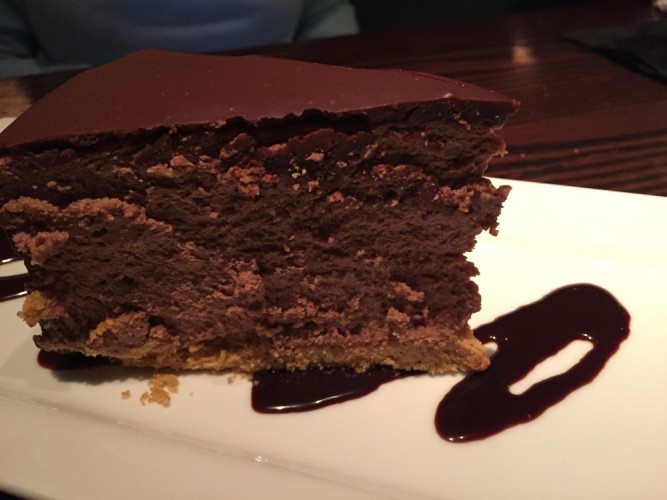 Nick's New Haven Style Pizzeria & Bar is located in Glades Plaza at 2240 NW 19th Street, Suite 904 in Boca Raton.
Disclaimer: I was invited to dine as a guest of the restaurant. No other compensation was received for this review. As always, all opinions are 100% my own.