It's been a while since I had a dinner date with my Bub. We went out when Bec visited, and when my mom was here, and we've had some family dinners for the holidays, but I miss those nights when it's just me and Bubby enjoying some good food and wine at one of Boca's many restaurants. She really is a great dining partner; she always knows the best places to go. Grandmothers are amazing. If you're like me and are lucky enough to have yours living 5 minutes away, I hope you make sure to spend time with her whenever possible. I make sure to see my Bubby at least once a week. Of her four granddaughters, I'm the only one to have ever lived with her – more than once. Aside from the 10 months I lived at her place when I first moved down here to Florida, I also spent weekends with her when I was little. My parents would drop me off at her apartment in Trenton, NJ on Friday and pick me up again on Monday. I spent time with her and my Pa, who I may not remember too much about, but I know I absolutely adored him. I was only like 3 or 4 years old, but I do have a few memories of being in that apartment. I remember exactly how it looked. I remember putting on little shows for Bubby, Pa and all their friends in the living room. I remember playing with paper dolls…yes, PAPER DOLLS. And I remember the 'See No Evil, Hear No Evil, Speak No Evil' pillows that their neighbors had on their couch (I don't remember their names, though).
I'm eternally thankful for everything my Bubby has done for me since I moved here. I wouldn't have been able to do it without her, as I'm sure I've mentioned many times before. She's a pretty awesome woman, and I'm a lucky girl to be able to have such a good grandmother to hang out with.
We recently ate at Pinon Grill over by Town Center Mall in Boca. I tried their food at Boca Bacchanal earlier this year and loved the crab cakes with corn relish and red pepper remoulade they served. My roommates went there not too long ago and really liked it, so I've been wanting to go check it out. Bub said she went for lunch once and it was great, so we decided to go for dinner. Instead of doing the usual and ordering entrees, we changed it up a bit and ordered a bunch of different appetizers to share. None of the entrees particularly stood out to me anyway, but there were a ton of appetizers that I knew I wanted to try. I like ordering this way — it lets you get a little taste of everything and you don't get bored with a plateful of the same flavor. We got the grilled artichokes, something that will always make me think of my Bubby. We got them at Augy's a while back and it was the first time I ever tried it; she loves that dish.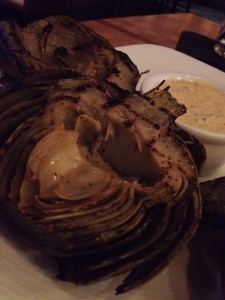 We also got the spinach and shiitake mushroom quesadillas with chihuahua cheese and cilantro; it was served with some super creamy and delicious guacamole and a refreshing tomato salsa. The side dish special for the night was a chopped kale salad with parmesan and red pepper flakes. I love love love kale, and duh — it was the special, so of course we had to get that, too. It was good; a very healthy and nutritious dish but also packed with a lot of flavor from the red pepper and parmesan.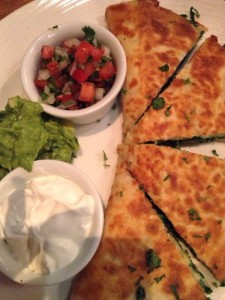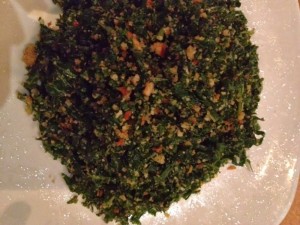 But the best of the night was the crispy crab fritters. Shredded phyllo dough stuffed generously with crab and shrimp risotto, on a bed of corn relish in a lobster ginger sauce. I may have died and gone to heaven for just a second as I was taking my first bite. Holy amazingness. It was the first thing on the menu to catch my eye, and I knew I would not be leaving without devouring that dish. I did share. I promise. But next time, that baby is aaaalll mine.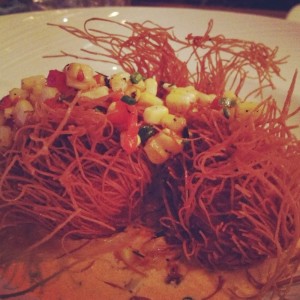 The next time I go I'm finishing off the appetizers list and getting the kung pao calamari, poke style tuna tacos and seared scallops with griddled polenta cake.The only thing left is the Kobe beef sliders, but I'm not getting that. Obvi. There's also a few salads that I'd like to try: the Pinon goat cheese salad and the seared tuna salad, especially.
But I don't know how I'll resist getting those fritters again. I'm getting hungry just thinking about them.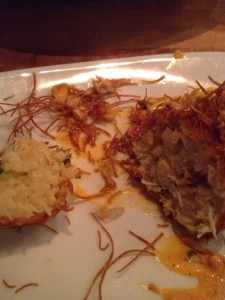 Posted with Blogsy