I've passed by lots of cafes & bakeries that serve dinners and have always wondered if the food is any good. I mean, these places are mostly known for pumping out delicious desserts and coffee drinks, so the food should be pretty good too, right? I recently learned that YES, this is totally 100% accurate. Bubby took me to Saquella Cafe for dinner one night last week and we loved it. She's gone there for breakfast and I've gotten coffee there before, but neither of us had tried their dinners. After multiple recommendations from her friends, Bub and I finally ventured out to try it.
The cafe itself is absolutely adorable. Most cafes are. It must be in the guidebook or something, because I've never been inside a cafe that isn't decorated with that hipster-esque, casual, cool, relaxed vibe. It makes dining at these kinds of places really comfortable. I was excited to try the bread because, duh, it's a bakery, so they must have good bread. They brought out the basket and I dove right in, trying one of each kind. One was a sweeter loaf loaded with dried cranberries and the other was much like an Italian bread with a hint of parmesan. The dinner menu had so much to choose from and everything sounded so good!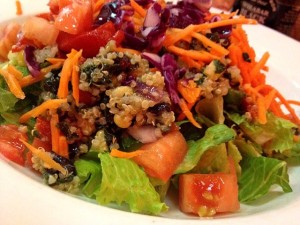 We wanted to split a salad to start, but were having trouble choosing between two. One had gorgonzola cheese, sliced pears, pecans and raspberry vinaigrette. This is one of my favorite types of salad, but I feel like I've had it so many times, so after much deliberation, Bub said I could choose…so I went with the other salad, which had quinoa, red pepper, tomato, carrots, red cabbage, corn, black beans, and cucumber tossed in a chardonnay vinaigrette. This was definitely the better choice — it was packed with all of the ingredients and let's be honest, any salad with quinoa perks my ears right up. The chardonnay vinaigrette was the perfect pairing, too. Loved this! I brought home half to eat for lunch the next day and it was just as good in my lunch room at work as it was in the restaurant. For dinner, Bubby got pecan-crusted cod with capers over sauteed spinach and potato cakes. Of course I tried some of her dish. The cod was very good, but neither of us cared much for the potato cakes. I think we're too accustomed to "potato cakes" being like latkes, so any other presentation just doesn't cut it. I loved what I got and pretty much devoured the whole thing. It was a grilled shrimp risotto with lemon and roasted asparagus on the side. I cut up the asparagus and mixed it in with the risotto. Mmmm so good! They gave me freshly shredded asiago cheese to sprinkle on top, too, which I would never have thought to do. Normally I pour on the parmesan, but the asiago was a really nice change up.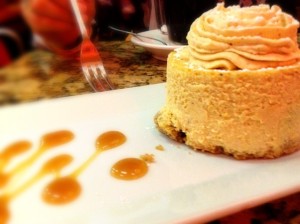 Dessert was the best part. I went over to the bakery counter to check out what they had going on and the first thing to catch my eye was pumpkin cheesecake. Bubby and I shared a small piece of it with a cup of coffee. This was one of the smoothest cheesecakes I've ever tasted. Each bite was so creamy and delicious and the pumpkin wasn't too overpowering. My cousin makes a pumpkin cheesecake for our family Thanksgiving dinners that will always be my favorite, but I have to say…this was an extremely close second.
With an extensive list of coffee and desserts and a breakfast menu that looks phenomenal, I know I'll be back to Saquella sometime soon. Who knows whether it will be for breakfast, brunch, lunch, dinner, dessert or just for a cup of coffee. The best part is that I could go for any of those!