If you know me, you're not going to believe where I ate the other night — Sybarite Pig.
And yes, I actually ate there. I didn't just go for the craft beer, or to check it out since it's a new restaurant in town that has been getting good reviews. I mean, I did go there for those reasons, but I was able to find things on the menu that (gasp) did NOT have meat! This place is known for their pork-heavy menu, especially the bacon chocolate chip cookie, which my roommates shared. I tried a tiny taste of the cookie, and tasted no bacon anywhere. It's just an insanely rich and gooey brownie-like cookie with strips of bacon baked right in the center. I carefully selected my bite so as not to get any of the bacon.

Sorry, I skipped ahead of dinner and totally threw dessert in your face. Not that you're upset, I'm sure.

Sybarite Pig has some great rotating craft beers. Foodie got there before me and Amy and didn't waste any time on the drinks. He had the J.W Lees English Barleywine, which he let each of us try. It was…um…interesting. I started out with tangerine wheat beer, and Amy got this Belgian beer that had a very sweet yet sour taste to it. I asked the bartender for a taste and ended up getting that one for my next round. It was strangely delicious.

For dinner, Amy and Foodie pretty much covered all the bases when it comes to meat. They had the Hellswine Sausage, Pickled Beef Tongue and the Pork Belly Roll with the Duck Fat Roasted Potato Salad, Pickled Beets with Melted Goat Cheese, and Kapusta as their side dishes. The sides are all very vegetarian-friendly, especially that beet and goat cheese dish. You really can't go wrong with beets and goat cheese. They're kind of a match made in heaven. Like PB&J for foodies.

They do have a chicken sandwich that's supposed to be really tasty, but I opted for soup and a salad instead. Sounds so boring of me, doesn't it? It was anything but. The Harvest Spice Butternut Soup with roasted squash, cardamom cream and pepitas sprinkled on top was OUT OF THIS WORLD. One of the best soups I've ever tasted. There was a ton of intense spicy flavor, but the smooth creaminess tamed it down a bit. Amy and Foodie also got the soup and we all agreed on its amazingness.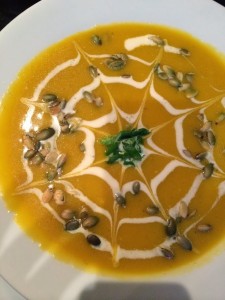 In addition, I got the Autumn Salad with mesculin greens, goat cheese, pickled onions, poached pears, and pumpkin seeds. This has my name written all over it! All of those ingredients and flavors marry together so well for a very fall-inspired palate. The best was when I took some of the pickled beets from Amy and Foodie's side dish and tossed them with my salad. Had there been beets in the salad to begin with, it would have been the most perfect salad ever.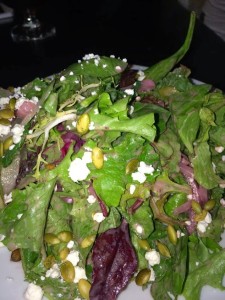 For the non-meat eaters like myself, there is also a Sriracha Chicken Salad, and more meat-free sides include the Kimchi, Pea Puree, and Mac & Cheese. And for those of you who do like to indulge in a little swine and friends, there is morethan enough food to keep you coming back for more. They change the menu frequently, so keep checking online. It's a cool little place in a very unpretentious strip mall out on 441 and Glades. It's definitely a weird area for this place to be, but hey…it seems to be working out just fine for them.