Never miss a bite! Sign up here to receive new recipes and reviews straight to your inbox.
Growing up, I remember going out on my uncle's boat in Lake Boca and looking up at "the big pink building" nestled right on the intracoastal. That big pink building is, of course, The Boca Raton Resort — a lavish and exclusive hotel and spa with top-of-the-line restaurants and attractions. You have to either be a member of the resort, a guest of a member, or staying at the resort to dine at any of their restaurants, so when Denise and I were invited to come experience The Blue, we jumped at the opportunity! The Blue is located on the 27th floor of the resort and overlooks basically the entire downtown Boca area. It's a spectacular view! The restaurant serves new American style cuisine — both sophisticated and contemporary with some unexpected flavors and modern takes on classic dishes. The menu changes along with the seasons and offers fresh, local ingredients.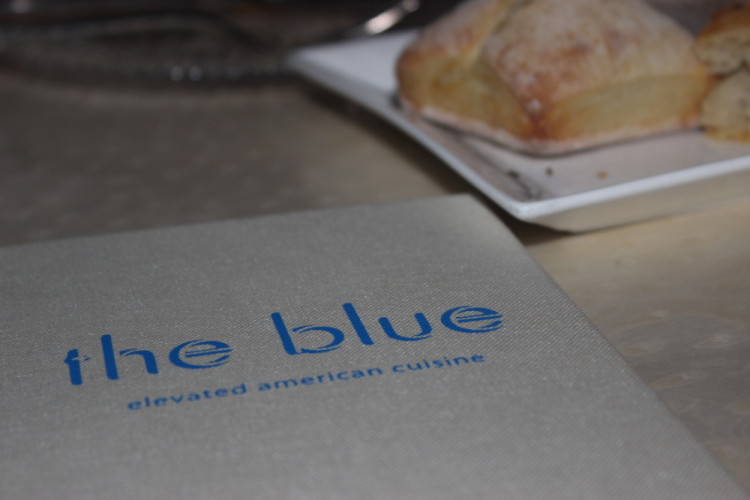 Denise and I were immediately greeted by the Beverage and Lounge Manager, Jeffrey, who whipped up a couple cocktails for us in no time. I had the "French 27," a riff on the classic French 75 cocktail made with gin, mint, lemon and Prosecco. Denise went a different route and got sangria. But this wasn't your ordinary sangria — it was made with Domaine Canton (ginger liqueur), Chambord, cranberry juice and Cabernet Sauvignon. They call it the "Sweet Carolina."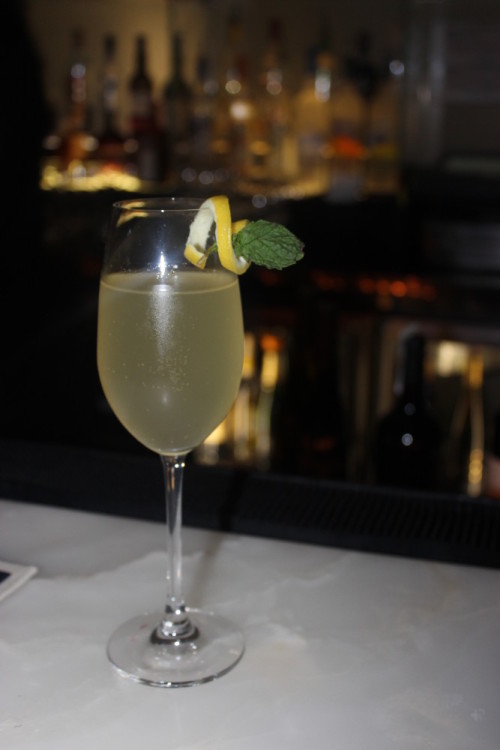 After chatting with Jeffrey and enjoying our drinks, we moved over to our table for dinner and noshed on some freshly baked bread, warm out of the oven. I'm such a sucker for a good bread basket, that's for sure. The menu is simple yet elevated, with lots of yummy things to choose from. "The Claw Bar" includes items such as oysters, shrimp cocktail and stone crab. We had ourselves a little taste of West Coast oysters from the state of Washington — a clean and refreshing way to start our meal.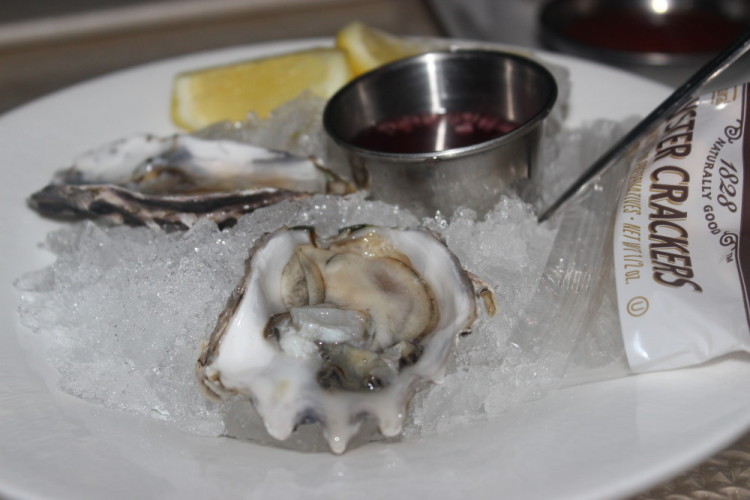 We also couldn't resists the Brussels Sprouts Hash. Though neither of us were quite sure why the dish was called a "hash," we still thoroughly enjoyed it. You can't go wrong with a good Brussels sprouts dish in my mind — this one was unique with the addition of caramelized onions and a bacon vinaigrette which, of course, was kept on the side. Caramelized onions make everything okay in the world, wouldn't you agree?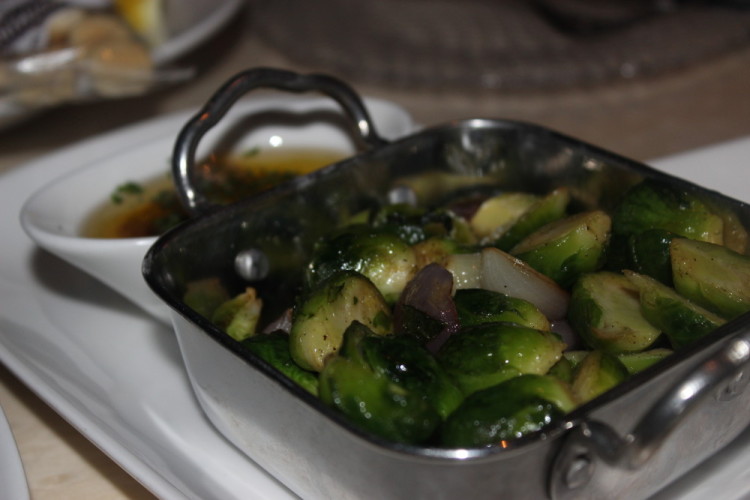 After some more menu-browsing, the Florida Winter Salad caught our attention. It's made with a Tatsoi blend, beets, pear slices, dried cherries, pecans and goat cheese, and tossed in a white balsamic-lime vinaigrette. The flavors were memorable and all complemented each other very well. The kitchen staff was nice enough to split the dish for us, but I totally could have devoured that entire salad. The combination of pear, dried fruit and goat cheese is up there as one of my favorites. The sweet, tart and tangy elements work beautifully. If you can't tell, I really, really liked that salad.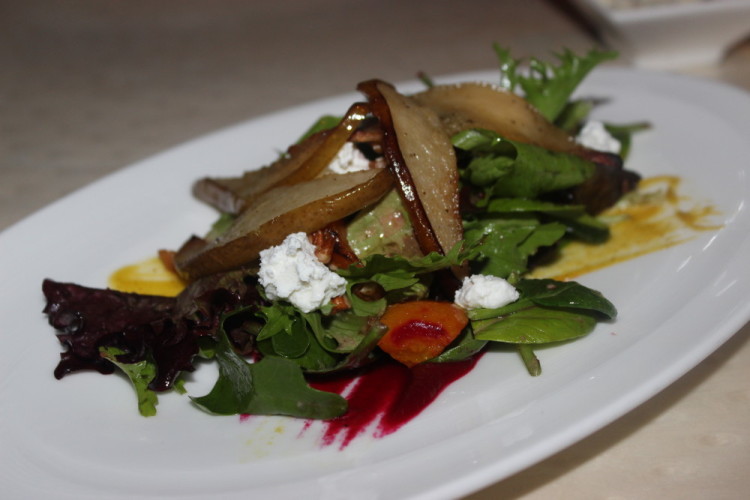 For dinner, Denise and I shared one of the side dishes, grilled portobello mushrooms with sherry vinaigrette and parmesan cheese alongside each of our entrees. The mushrooms were super hearty and flavorful. This mix of parmesan and sherry with the 'shrooms is not something either of us have seen before, and we were pleasantly surprised.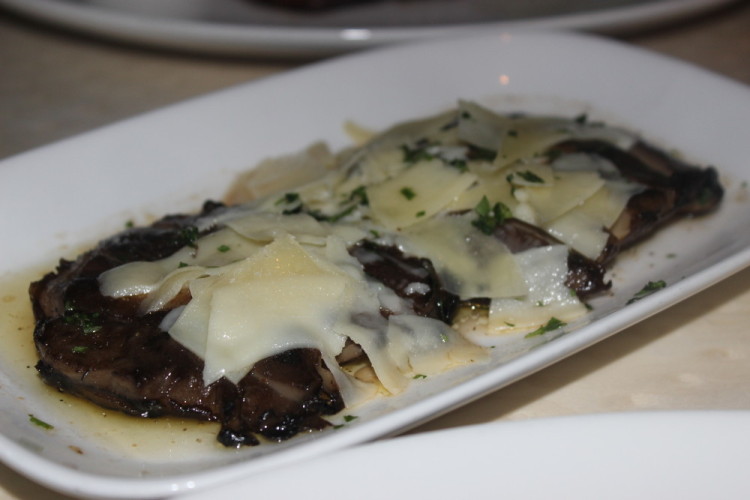 Now for the entrees! Denise got the ribeye special of the night. It was served with asparagus and the restaurant's signature steak sauce. I opted for the Pan-Seared Snapper, which came over a silky-smooth cauliflower puree, broccoli and kale, and cipollini onions. The fish was cooked very much to my liking, with a perfectly crispy coating. Snapper has become my preference when it comes to fish ever since Bubby started cooking it when we do dinner at her place. I really liked those cipollini onions too — they're nice and soft and mild in flavor.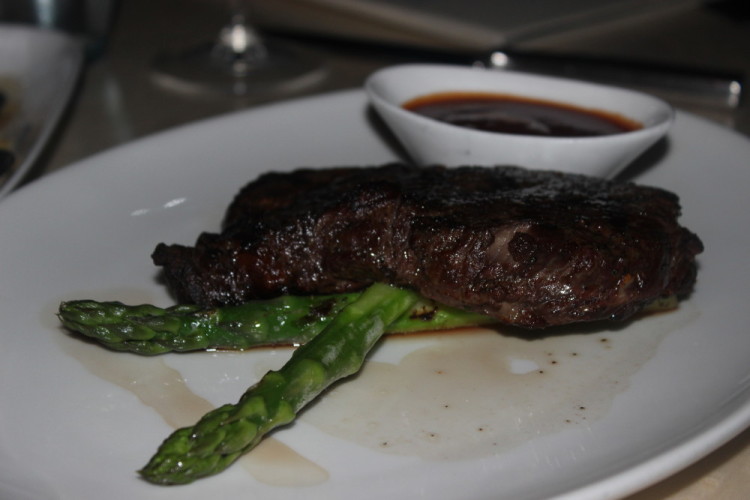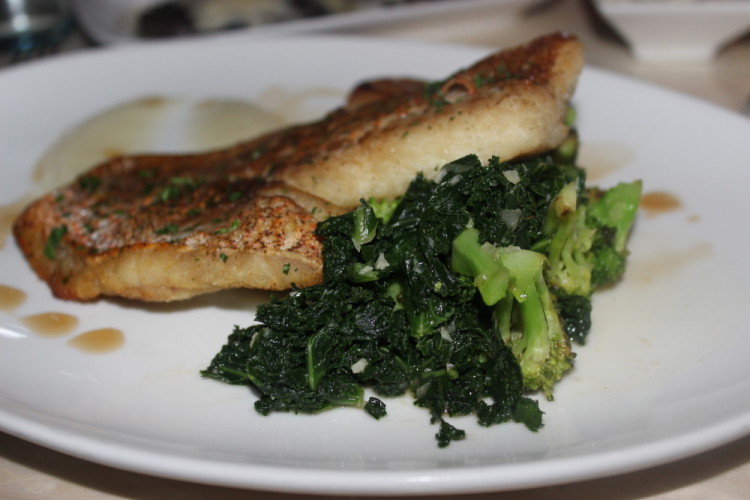 The staff was extremely giving when it came to dessert. In fact, they didn't even ask us to order. Instead, they brought out three — yes, THREE — of their dessert items for us to sink our sweet tooth into. There were Apple Fritters with a creme fraiche semifreddo and candied cranberries, Carrot Cake with caramelized pineapple, coconut marshmallows and topped with a crispy carrot chip and Sponge Cake with cream cheese mousse, blood orange and toasted croissant.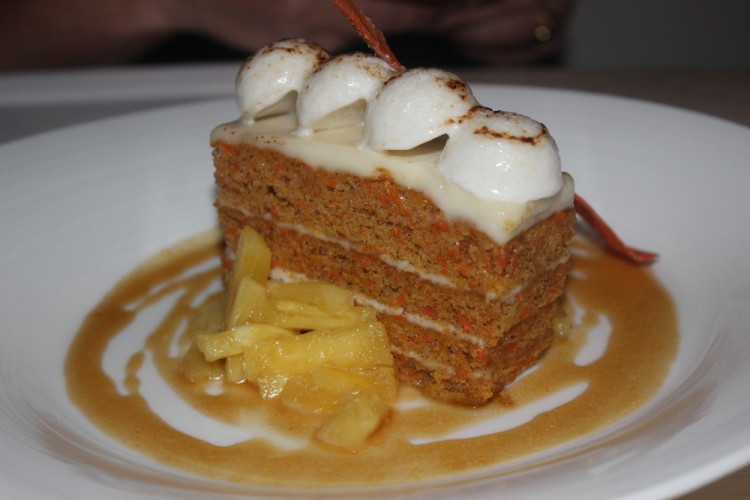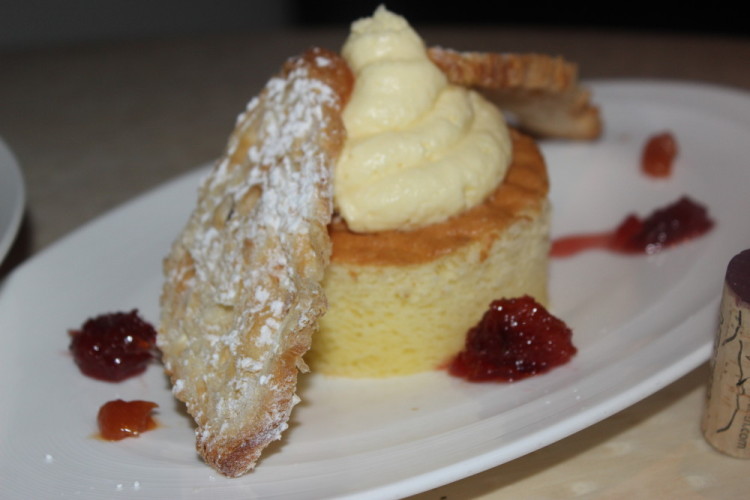 I obviously couldn't play favorites, so my spoon just kind of jumped between all three…again and again…and again…and again. While all three desserts were fabulous, I really can't choose a favorite dish. I can, however, choose a favorite component — the coconut marshmallows on top of the carrot cake were totally on point. What a genius idea!
If you ever have a chance to visit the Boca Raton Resort or happen to know someone who is a member there, you should definitely make your way up to the 27th floor and visit The Blue — located at 501 E. Camino Real.
Check out Denise's review here!
Disclaimer: I was invited to dine as a guest of the restaurant. No monetary compensation was received for this review. As always, all opinions are 100% my own.