Never miss a bite! Sign up here to receive new recipes and reviews straight to your inbox.
The Florida restaurant scene has many different types of food, but the one thing that is sorely lacking down here is good seafood. Sure, there are plenty of places that serve a delicious piece of fish, ceviche is certainly plentiful and everywhere you turn you can find mussels and oysters, but let's talk about those little sideways-crawling critters — the crab.
Anyone who has lived up North knows that a good crab cake has ZERO filler and is simply filled with luscious, plump, juicy crab meat and plenty of spices for flavor, browned to perfection and served to hungry patrons who are hanging with their mouths open wide just waiting for that first bite. Most places you find crab cakes in Florida have like, a 3:1 ratio of filler to crab — something outrageous that has you going on a deep sea exploration looking for the crab in your dish. But I have a secret for you… Boca has a little hidden gem of a restaurant, hailing from the great land of Baltimore, Maryland, where the crab is plentiful and the diners know what's good — let me introduce, True Boca Raton.
Chef/owner Frank Hawkins is bringing his home-cooked recipes from Charm City down to South Florida, where over half of the area's residents are from up North and are clamoring for some decent seafood. Bubby has been raving about this place since she first went months ago, and I've been itching to go. When I was given the opportunity to review True, of course I brought Bub along with me!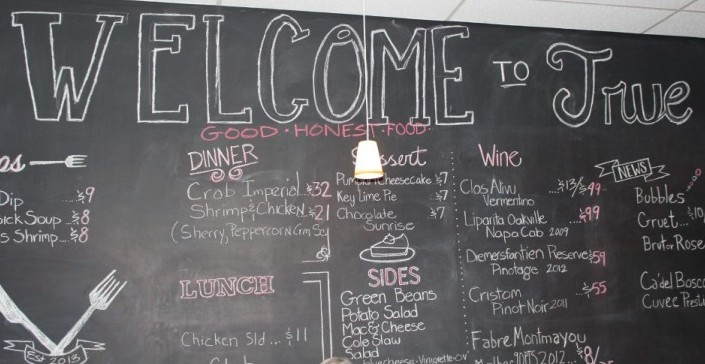 The restaurant is small and cozy, with a colorful chalkboard wall boasting all of the nights' specials. I was excited to see Crab Imperial noted since that was definitely something I had to try. My crab-loving self was in a happy place — a glass of German Riesling in my hand, Bubby at the table with me, and a menu full of delicious and authentic seafood staring back at me. Ah, life was good. And it was only going to get better…
Frank surprised us with an array of different starters to try — the warm crab dip with crostini and Devils on Horseback (bacon-wrapped dates filled with herbed cream cheese and served with a ginger soy dipping sauce), and small bowls of both the Cream of Crab soup and the Maryland Crab Soup.
Both of the soups were delicious but I preferred the lighter of the two, the Maryland Crab Soup. It had just the right amount of kick to it and was filled with lump crab meat and veggies. The heat wasn't too overwhelming, allowing those who may not like spicy foods to still enjoy a taste of this soup. Bubby loved the Cream of Crab, flavored with sherry, shallots and Old Bay. Named "Frank's Famous Cream of Crab Soup," this is a staple menu item, and a true Baltimore classic.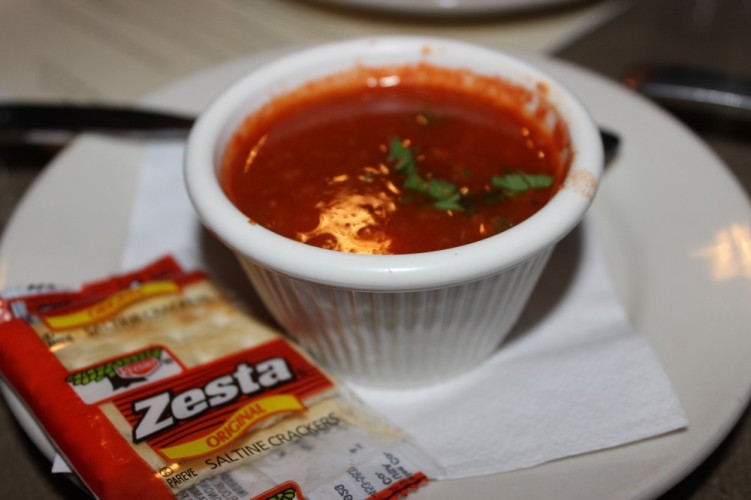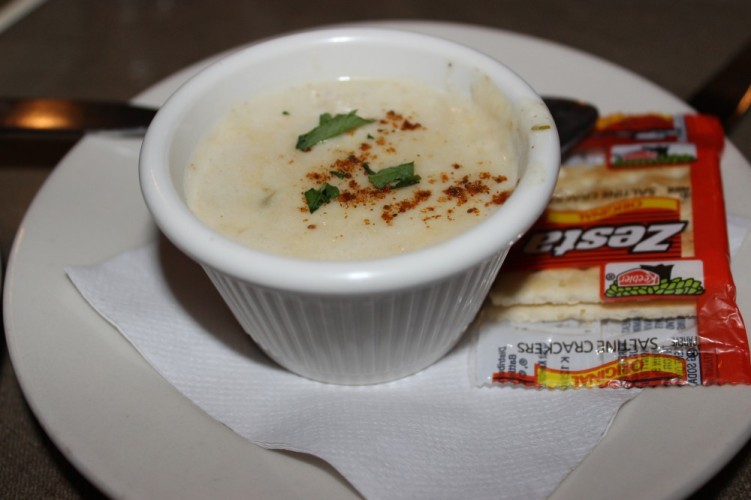 Bubby got the whole plate of Devils on Horseback to herself since there was bacon involved, but I did try one without. It wasn't the same though — the main point of the appetizer is the combination of sweet and salty, and without the bacon, the saltiness is missing. However, when dipped in that sweet ginger soy sauce, I got a little bit of the saltiness back. That sauce was incredible even on its own! Bubby didn't even know what it was when she popped one into her mouth. Her expression alone was enough to make anyone want to try them. She clearly liked them a lot — her plate was clean within minutes.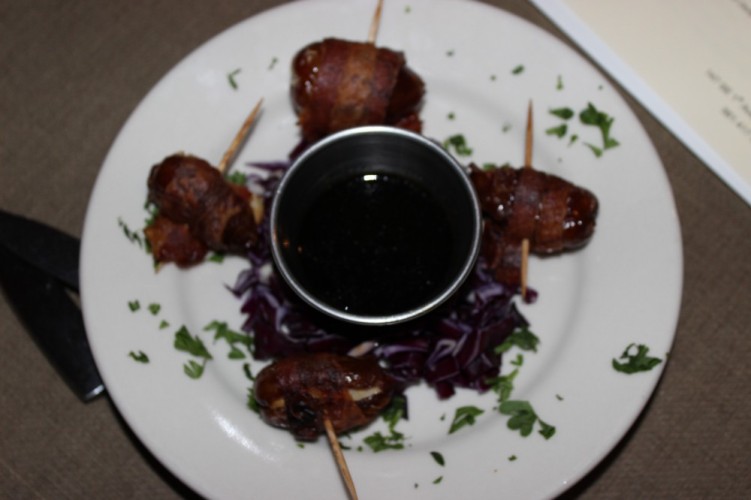 Moving on to the lusciously creamy crab dip. So cheesy. So crabby. So delicious. This stuff is addictingly good! Pile after pile topped my crostini and with each bite, I just craved more. There is something so warm and comforting about a crab dip like this — it reminds me of home. One of my best friends would make crab dip for our group of friends whenever we'd get together. Tasting a crab dip so similar to hers really made me nostalgic. Food that brings out the good memories from our past is always the best kind.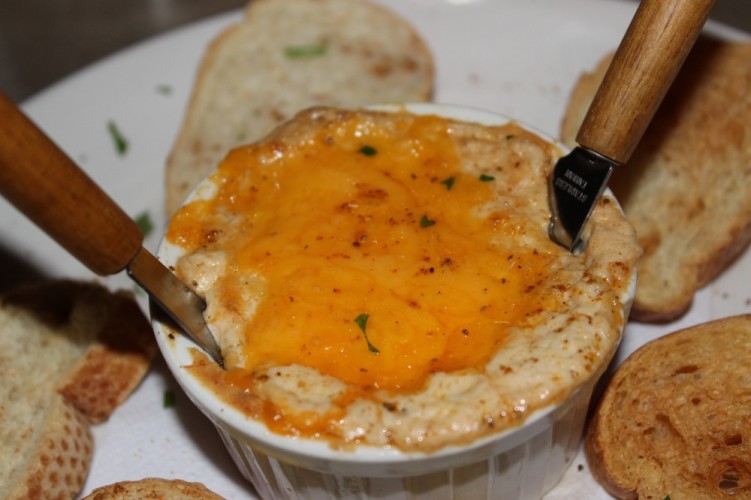 We made sure not to fill up though — we had crab cakes and crab imperial to try! I was also intrigued by a salad on the menu — the Fetacomply, a mixture of avocado, tomatoes and feta cheese drizzled with basil olive oil. I have never had this combination of ingredients together on one plate, but definitely need to have it again and again and again. Bub and I both decided that the next time we cook home together, we will make this salad. The salty feta, refreshingly sweet tomatoes and creamy avocado all complemented each other, and the basil oil pulled everything together on the plate.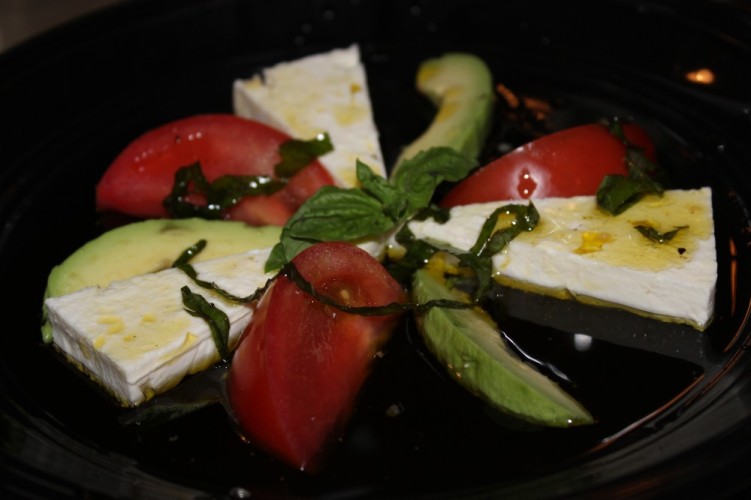 After the salad came the stars of the night — Crab Cakes and Crab Imperial. Give me a moment to compose myself before I start to tell you about these two dishes…
…Okay, I'm good. These crab cakes are the real deal, people. Pure lump blue crab meat and Old Bay seasoning — the way a crab cake should be. No filler, nothing extra — that isn't needed when you know how to make your star ingredient really shine. The only other place I can remember having such amazing crab cakes was at my favorite seafood restaurant in New Jersey, The Crab Trap.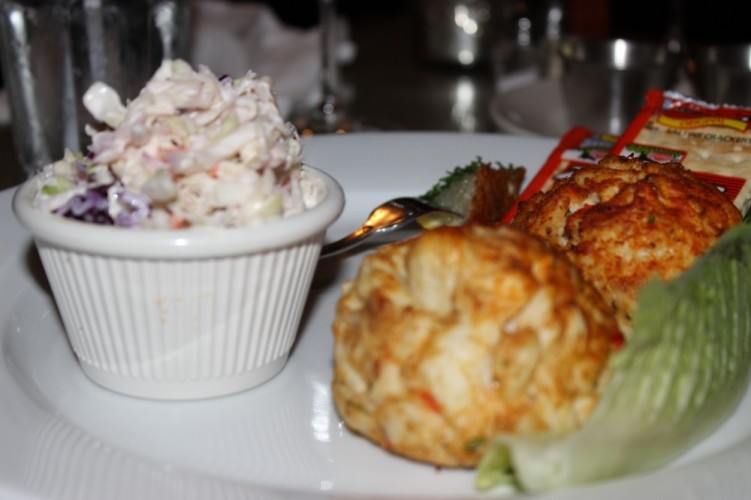 I was equally as impressed with the Crab Imperial. Bubby makes this dish and so does my dad (well, his is stuffed into Flounder so it's a bit different) and I've actually never had it at a restaurant before. But wow — this was amazing. Just like the crab cakes, the imperial was filled with the same lump blue crab meat and baked to perfection. With crab imperial, you run the risk of it being too creamy and the chunks of crab meat getting lost, but not here. Nope. This was so well balanced in every way.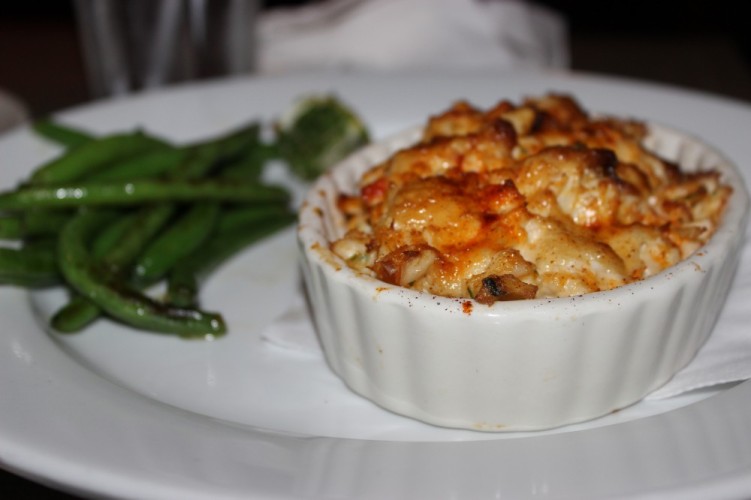 Dessert was True's signature homemade Pumpkin Cheesecake. Frank's wife makes all of the desserts for the restaurant, and let me tell you — she's incredibly talented. At first glance, it looks almost cake-like. It looks so fluffy, with a thick crust and crumble topping — but then you pierce your fork into the center and watch as it slides down smoothly, taking with it the most decadent, creamy cheesecake filling I have ever had. The addition of that candied walnut crumble on top just took things to a whole new level.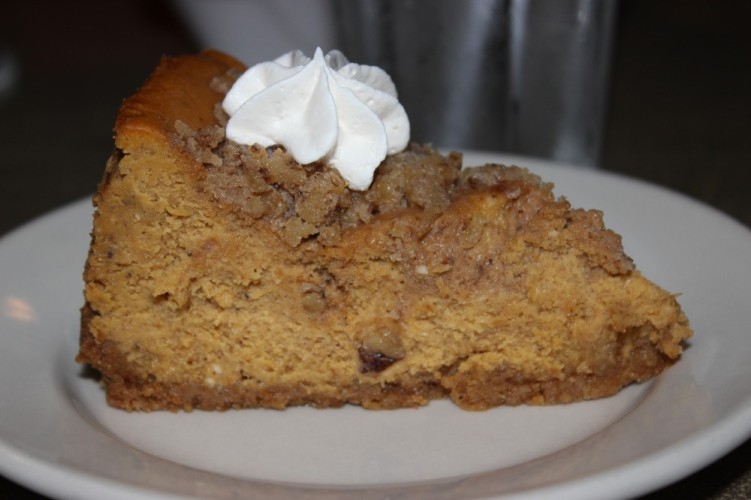 We also tried the Chocolate Sunrise — a rich chocolate brownie topped with vanilla ice cream, drowning in chocolate sauce. While I did enjoy all that chocolatey deliciousness, that Pumpkin Cheesecake has my heart.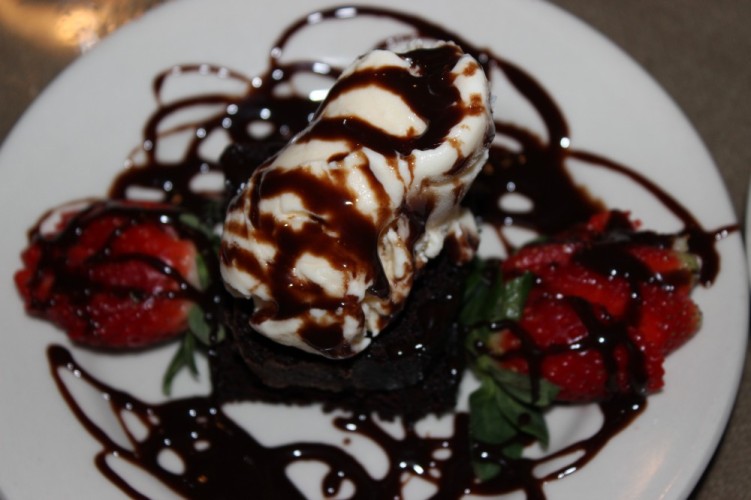 I can't wait to go back here when my parents visit in a couple months. Yes, Mom and Dad, I know you are reading this right now and probably wiping drool off your chin. Don't worry, Bub and I will bring you to True the first night you're here!
Frank really knows what he is doing in the kitchen, and he is obviously so passionate about his food as evidenced by the dishes he puts out. What's nice about True being a small restaurant is that it gives him the opportunity to come out of the back and greet his guests, ask them how they like their meal and really engage with them. He made multiple appearances throughout the night, making sure that everyone was happy with their food. Happy? That's an understatement.
True is located at 147 SE 1ST Ave. next to Royal Palm Plaza in Boca Raton. Oh, and visit True on Facebook if you want to make yourself hungry looking at amazing food photos!