Never miss a bite! Sign up here to receive new recipes and reviews straight to your inbox.
Town Center Mall in Boca Raton is more than just boutiques and department stores — lately it's become a mecca for innovative restaurants with good food and a lively bar scene. Zinburger Wine & Burger Bar is just that. The Boca Raton location is the newest addition to this "zinfully delicious" chain — there are a total of 10 locations spanning across Florida, Georgia, New Jersey, New York, North Carolina and Virginia, and two more on the way.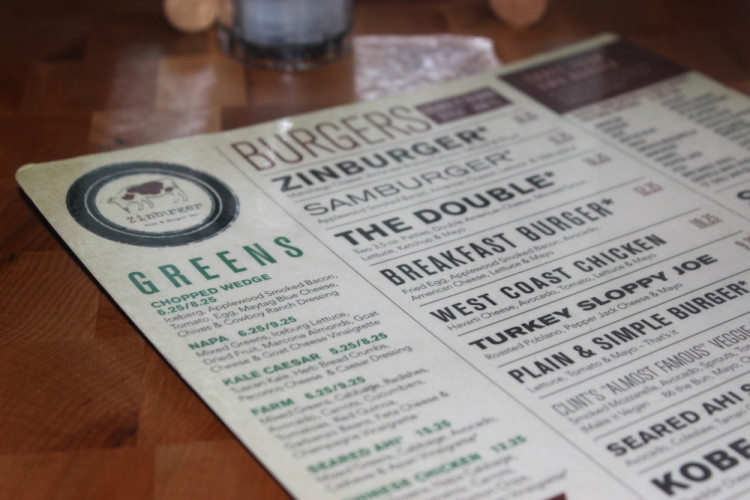 I was recently invited to come check the place out and feast my eyes on their many vegetarian-friendly side dishes and salads, as well as their "Almost Famous" veggie burger. Of course I had to bring along a meat-eater to try their fresh ground American-style Kobe beef and see if it lives up to the hype surrounding the place (spoiler alert — it does!).
General Manager, MJ, took some time out from his hectic night to talk with us about the gourmet burgers and creative shakes made right there in their open kitchen overlooking the sleek and spacious dining area. The bar was packed at 6:30 on a Friday night and everyone seemed to be enjoying themselves. There wasn't an empty seat in the house, but the well-trained servers didn't miss a beat. MJ explained the vigorous process each individual server went through after being hired to work at Zinburger. They tasted every single item on the menu and were tested on their knowledge of each. Those of age tried every wine, craft beer and cocktail (doesn't sound like a bad day of work to me!) and of course, everyone indulged in the shakes and house-made pies. Our waitress, Paige, was super friendly and attentive all night and explained each menu item with perfect detail.
Zinburger is all about its burgers and shakes. When you enter the restaurant, a large chalkboard will tell you the Featured Burger of the Week, Shake of the Month, and the featured wines and craft beers that are not on the regular menu. I tried the featured red — Fox Block Pinot Noir. I've been really into Pinot Noir lately and loved this one for its subtle zing and light, smooth flavor. There is quite a variety of salads on the menu including a traditional wedge and Asian-style as well as the more contemporary Kale Caesar and the Napa, which is what we ordered. Mixed greens and iceberg lettuce, dried cranberries, Marcona almonds and goat cheese all tossed in an earthy goat cheese vinaigrette. Yes, earthy. I almost thought there was truffle hidden somewhere in this salad, but nope — this was just an earthier style of goat cheese, much different than your average chèvre. You know me and truffle, so it's no doubt that I loved flavors in the salad.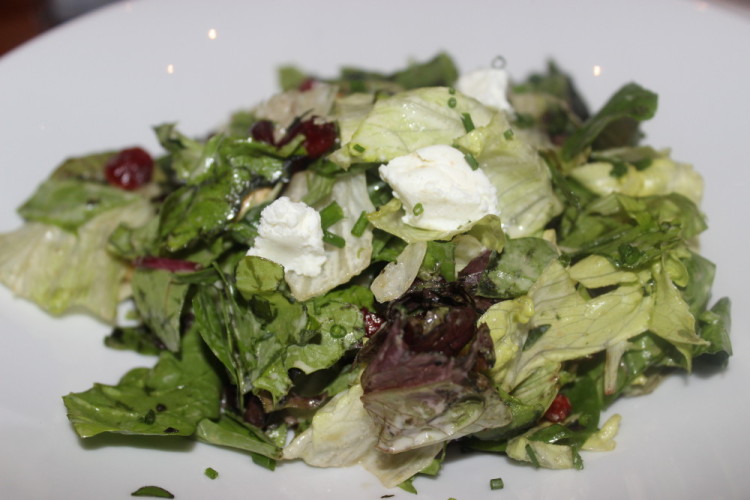 Meat-eaters will get a kick out of all the different kinds of burgers on the menu. You can get a Plain and Simple Burger, but I'm sure most would opt for something more daring like the signature Zinburger with manchego cheese & zinfandel braised onions, the Breakfast Burger with Applewood smoked bacon, avocado and a fried egg or the El Diablo with fire roasted jalapeños, pepper jack cheese, braised onions and chipotle mayo. Those who don't eat beef still have plenty to choose from — things like the Buffalo Chicken Sandwich, Seared Ahi Sandwich, or Turkey Sloppy Joe. And for the vegetarians? The most delicious, veggie-filled burger ever! Clint's "Almost Famous" Veggie Burger comes topped with smoked mozzarella, avocado, sprouts, lettuce and tomato and is definitely one of the best I've ever tasted. There are so many textures going on and that smoked mozzarella really packs in the flavor. You can order it without the bun too if you so choose. In fact, there is a "No Buns" option on the menu for anyone watching their carb intake.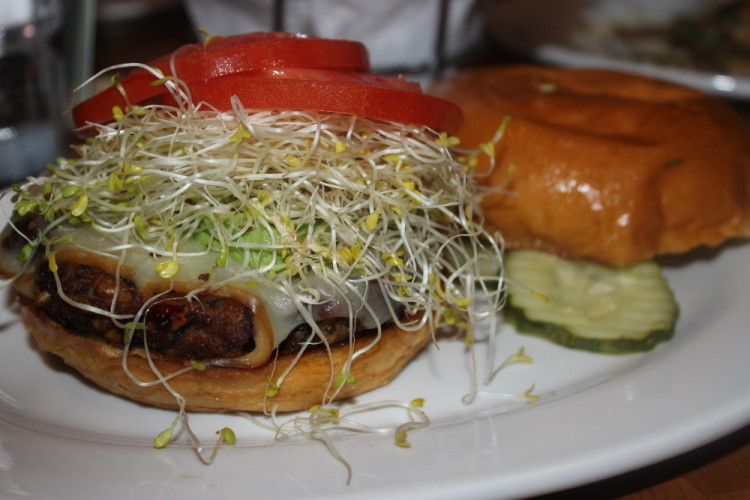 My meat-loving friend Jim went for something simple, opting for only cheddar cheese and bacon on his burger. He wanted to give the Kobe beef the chance to really shine through — and shine it did. Moist, flavorful and seasoned just right (I'll take his word for it!).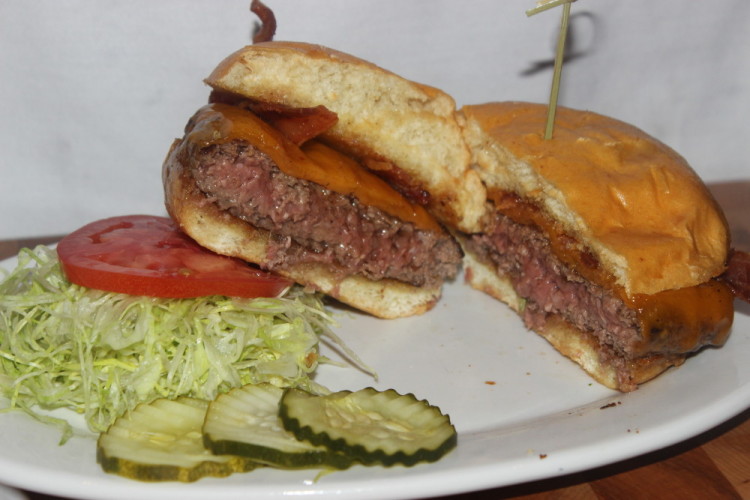 Now for the best part — the sides! Zinburger offers four kinds of fries — Hand Cut, Sweet Potato, Double Truffle, and Zucchini, all of which look and sound delicious. Obviously we got the Double Truffle, and after our waitress gushed about the zucchini fries, we couldn't pass those up. The zucchini fries were thick-cut, perfectly crisp and dusted with a heavy coating of parmesan cheese — a great match for the creamy ranch dipping sauce served alongside. The truffle fries were thin with a great crunch, sprinkled with parmesan and truffle oil and came with a truffle aioli for dipping. Although they were both delicious and hard to stop eating one after another, the zucchini fries won me over completely. I'd go back just for those!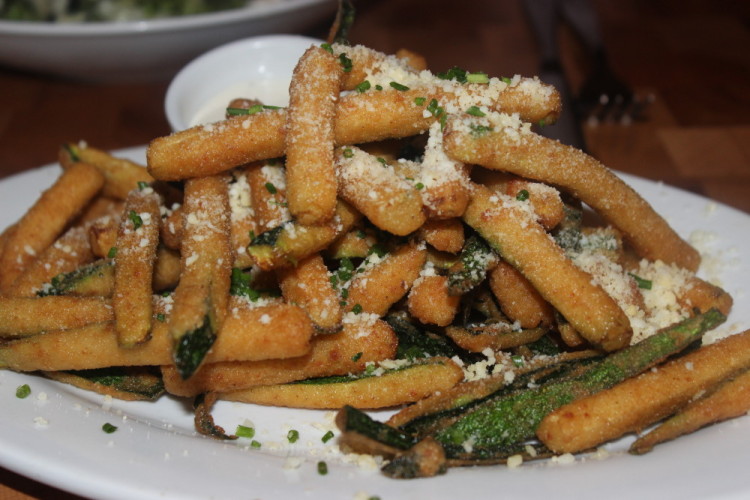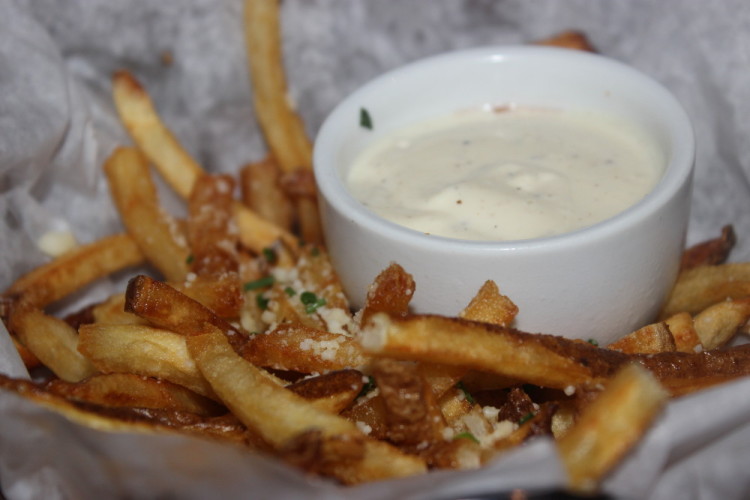 I mentioned earlier the shakes at Zinburger, a staple to their menu. There are 12 shakes on the menu, plus one monthly feature. You've got Strawberry Cheesecake, Cookies and Cream, Chocolate Mint, Salted Caramel — only the best flavor combinations ever created! I didn't get a shake. I know, what was I thinking?!? I was thinking that I wanted their house-made Banana Cream Pie instead. Each slice is ONE QUARTER of the pie. So when you go to Zinburger and order pie for dessert, I hope you have at least four mouths to feed because it is huge! They offer both a Banana and Chocolate Cream pie, all made fresh in house. Once you get past the sky high light and fluffy whipped cream, you find a rich and creamy banana filling, followed by the crunch of graham cracker crust on the bottom. I can never turn down Banana Cream Pie, it's my favorite! A great Banana Cream Pie makes a happy Shaina.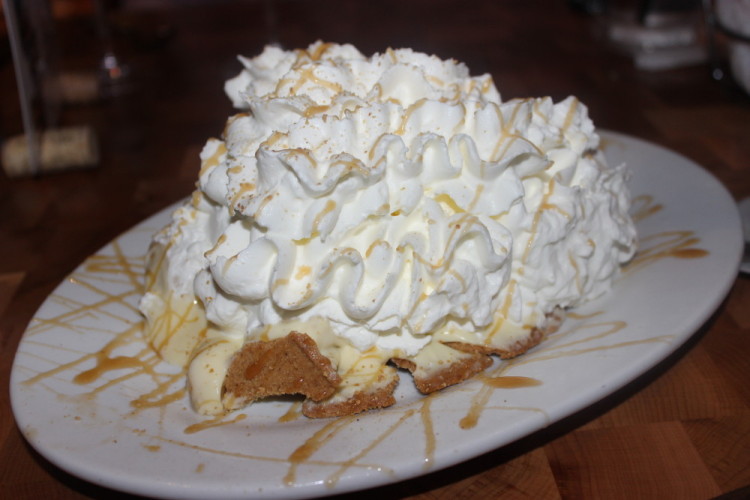 Zinburger has nightly specials including half price bottles of wine on Wednesdays and Happy Hour Monday through Friday from 3-6pm with 1/2 off all four kinds of fries, $5 plain and simple burgers and $1 off all liquor, beer and wine by the glass. You can also join their VIP club and get 1 point for every dollar you spend, and when you reach 100 points, you'll get a $10 coupon. There's also a free birthday shake for all VIP club members.
Zinburger
is located at Town Center at 6000 Glades Road at the front entrance near The Container Store.