Never miss a bite! Sign up here to receive new recipes and reviews straight to your inbox.
Disclosure: I was invited to dine at the restaurant as a guest of Denise's Foodie Events. There has been no monetary compensation for this review. As always, all opinions are 100% my own.
For us East Boca dwellers, Rafina Greek Taverna is a little far out of our comfort zone, a little bit hidden, and a little under the radar. I'm here to let you know that it is safe, smart and totally 100% worth your time to venture out to this authentic, delicious Greek restaurant. I had the opportunity to try a ton of items from their menu during a recent Foodie Event put together by my friend, Denise. Not only did I leave Rafina Greek Taverna completely stuffed, but I was already thinking ahead to my return visit. The General Manager, Evan, went above and beyond to ensure our experience was exceptional. It was everybody's first time, but I'm certain it will not be our last.
The appetizers came out fast, and pretty soon our table was flooded with traditional Greek dips, perfectly crisp and fresh pita slices, the thickest spanakopita I've ever seen, and to my absolute delight, grilled octopus. I always look forward to the dips and spreads at any Mediterranean-style restaurant. Rafina Greek Taverna did not disappoint. We were given a very classically prepared hummus, thick and creamy tzatziki, a roasted eggplant mixture called melitzanosalata, a caviar spread made with lemon and olive oil called taramosalata and a tasting of another dip made with roasted red pepper and a hint of jalapeño. The toasted pita bread is seriously addicting. It's always my downfall — I could eat it forever! I thoroughly enjoyed the entirety of this appetizer, but I was leaning heavily toward the taramosalata — the caviar spread. You may think this would taste quite fishy, but it wasn't at all. It was very mild and tastes very much like the fish dip you find at a lot of beachy Florida restaurants. The tzatziki was a bit too thick for my taste, but still flavorful.
Onto the next plate… The mile-high spanakopita was unlike any other I've had. Sometimes they are pretty thin, and the flakey phyllo dough takes over; sometimes the feta overpowers the spinach; and sometimes, the phyllo is so crispy that you can't cut into it without it flying all over the place. This particular piece was perfect in every way. I loved its thickness. I loved how the spinach was the star, and I loved how the phyllo was cooked. It was the perfect balance between crispy and soft. I even took home a piece to enjoy the next night for dinner. That's saying something — if you know me, you know I never ever bring home leftovers!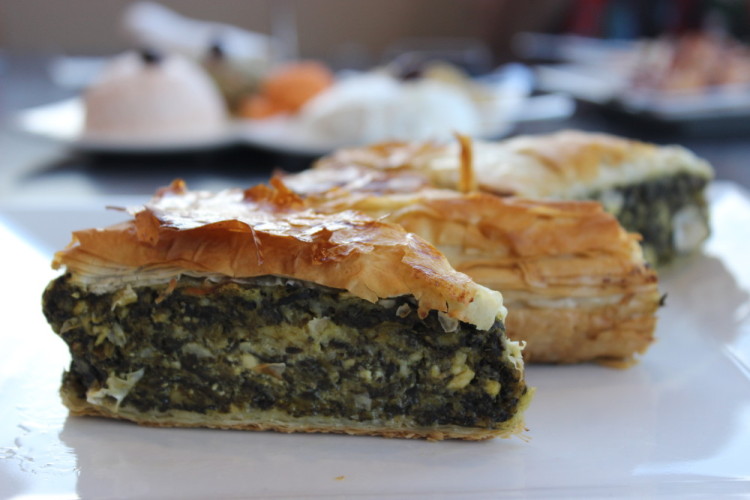 After experiencing spinach pie heaven, it was time to dive into the grilled octopus. Bet you're dying to hear what I thought of this, aren'tcha? Well, it was very good. Charbroiled octopus marinated in olive oil, sliced and topped with red onion, capers and dill — a very thoughtful dish with tons of flavor. The octopus was super tender and had the smokey char flavor I always love. I definitely enjoyed the dish, however, if I were to choose my favorite appetizer, it'd be the spanakopita, hands down.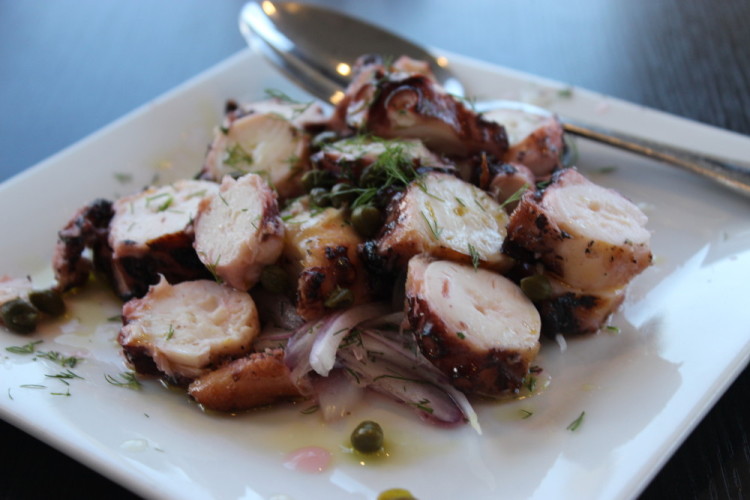 Next we were served a classic Greek salad with mixed greens, feta, tomatoes, cucumber, pepperoncinis, Dolmades, onion and olives. My favorite part of this kind of salad is always the feta. That salty cheese is just too good to pass up! This was a nice, light dish to nosh on — a palate cleanser, if you will, before transitioning to our entrees.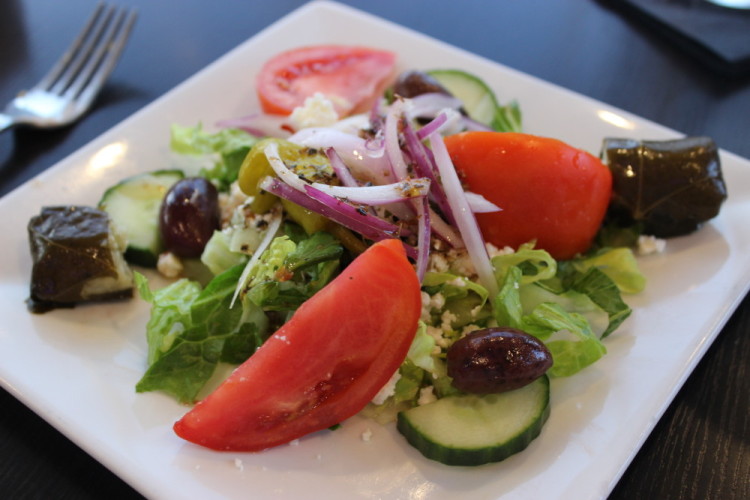 A procession of servers approached our table with plates of food that made everyone's mouths drop to the floor. This was no "tasting menu," this was a full blown meal — and then some! Each guest was served a plate full of lemon roasted potatoes and Greek seasoned vegetables, accompanied by a marinated and glazed chicken kabob, a baby lamb chop marinated in fresh herbs & garlic, then charbroiled, and two plump grilled shrimp. I was offered an alternative plate of seafood — Mediterranean-style mussels with garlic, white wine, tomatoes, lemon and topped with feta and a beautiful piece of oven roasted branzino in a lemon butter glaze; I was served the shrimp and lemon roasted potatoes and Greek seasoned vegetables, as well.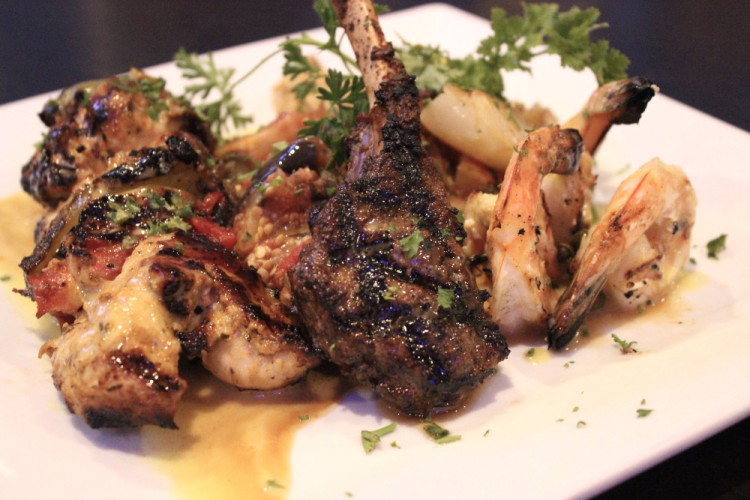 The silence heard around the table as we all took our first bite of food was the proof of the pudding — er, Greek food. There was not one thing on any of our plates that we wanted to leave uneaten. To-go boxes were passed around, plates were emptied and discussions about how we couldn't wait for tomorrow night's dinner of leftovers. My mussels were excellent. This was my first experience with feta in a mussel dish — it was unique and very flavorful. The branzino was cooked perfectly, and the shrimp had the grill marks I love to see and taste.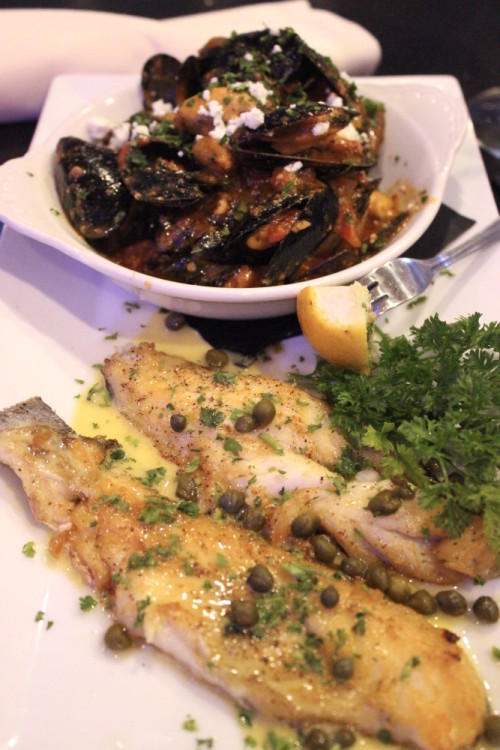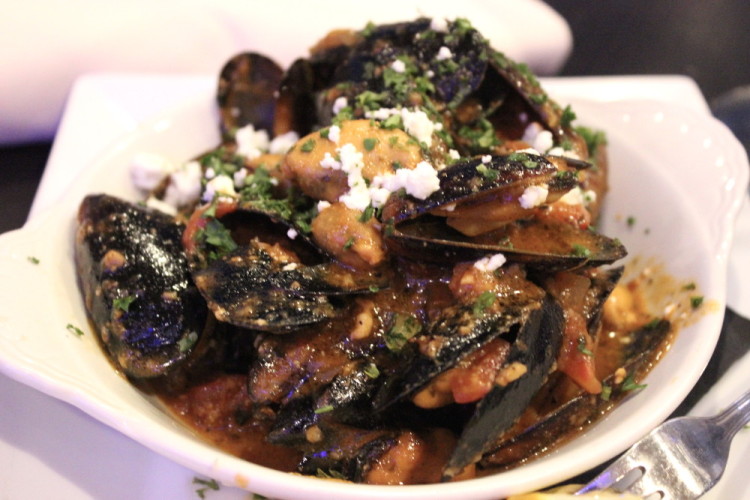 Despite being totally full, some of us couldn't resist taking at least one bite of the popular Greek dessert, Galaktoboureko, a
semolina custard wrapped in phyllo dough served with honey. It tastes almost like an extra thick, super sweet cheesecake — I love it! I'm not a huge Baklava fan, but this? I'll take this any day!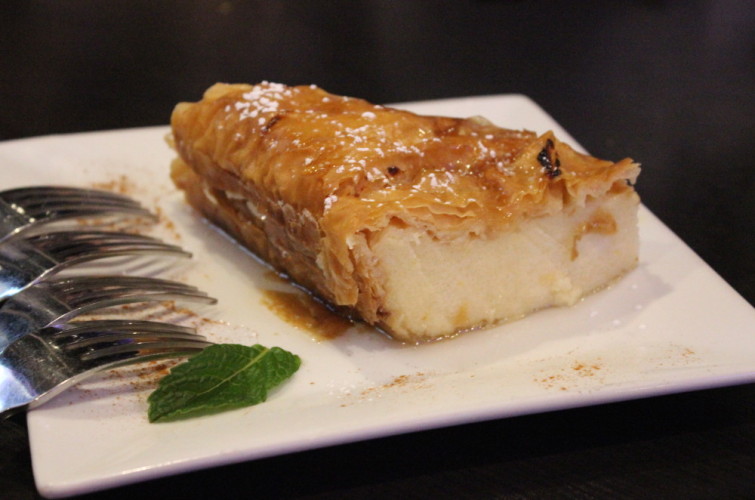 If you are a fan of Greek or Mediterranean cuisine, I highly recommend you give this place a try. Your best bet is to go with a group of friends so you can order a few different things to share. There's an outside deck overlooking the water, and if you're lucky to be there during sunset, the sky is a beautiful sight.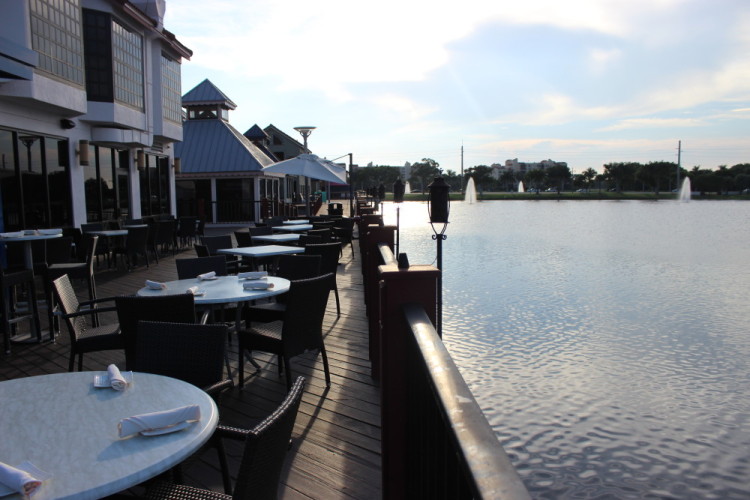 Rafina Greek Taverna is located at 6877 SW 18th Street in Boca Raton.