Never miss a bite! Sign up here to receive new recipes and reviews straight to your inbox.
Disclosure: I was invited to dine as a guest of the restaurant. No monetary compensation has been received for this post. As always, all opinions are 100% my own.
If you've spent any time in Downtown Boca, I'll bet money that you've stopped into Saquella Cafe for breakfast — or maybe just for coffee or a taste of one of their delicious house made desserts. While Saquella might be best known for its early morning fare and delectable sweets, there's a lot more behind the doors of this establishment, which opened in Boca in 2005 all because of one man's belief that "if you want something done right, do it yourself." When Owner Abraham Sekeral — Avi to his friends — couldn't find quality cappuccino anywhere in the area, he decided to take matters upon himself and bring locals a little taste of what he discovered during his travels to Italy — and we are SO grateful that he did!
But that's not all he brought to us Boca locals. An in-house bakery and made-from-scratch kitchen also came along with the package. I recently had the opportunity to try some of the options on Saquella's dinner menu — a meal that is often overlooked at this gem of a restaurant. Saquella is a great spot for breakfast or lunch, but now that they have launched a new dinner menu spearheaded by Executive Chef David Fogel and his team, you might as well eat all three meals of the day here!
I was recently invited to check out the new dinner menu — and of course dabble in their desserts too! The night started off with the most perfect Mediterranean platter I have ever laid eyes on. It's incredible, and basically "me on a plate," as some of the other bloggers I was dining with pointed out. A gorgeous display of roasted cauliflower, zucchini, eggplant, and red peppers surrounded by hummus, tomato salsa, falafel, tahini, and grilled pita. That alone would be good enough for me for dinner, and it has been! I've been back to Saquella since just for this dish.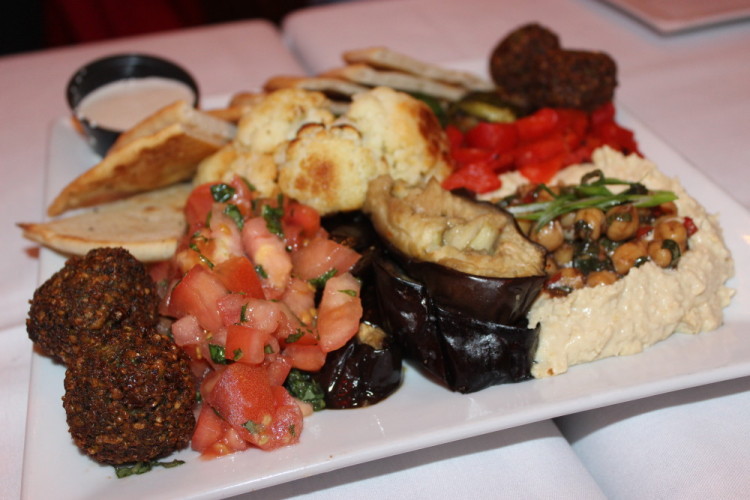 As if I wasn't overwhelmed with so many of my favorite things already, all of a sudden Goat Cheese Croquettes hit the table. We were served miniature versions of the regular-sized portion — and they were the perfect bite! Creamy goat cheese enveloped in a crispy coating, sitting on top of a sweet fig jam, all nestled perfectly on a piece of crostini. Goat cheese + fig is a heavenly combination. The sweetness of the figs balanced out the tanginess of the goat cheese, and the textures of each ingredient all played well together. Another appetizer I would totally go back again for…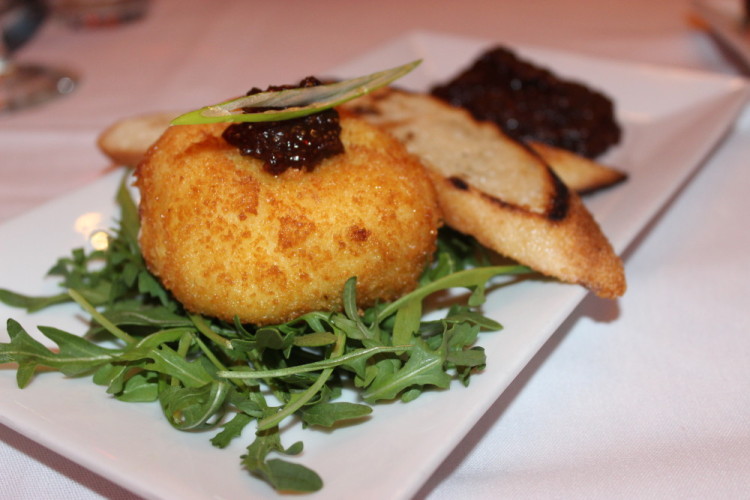 We also had a chance to taste the Lobster Bisque, one of Saquella's rotating soup options that change daily. It's a thick, creamy soup filled with flavor from grilled fennel, corn, tomato, and tarragon — and a little brandy to give it extra oomph. I don't normally order rich soups such as this, but it was pretty tasty and I loved how the tarragon really shone through in the cream-based broth.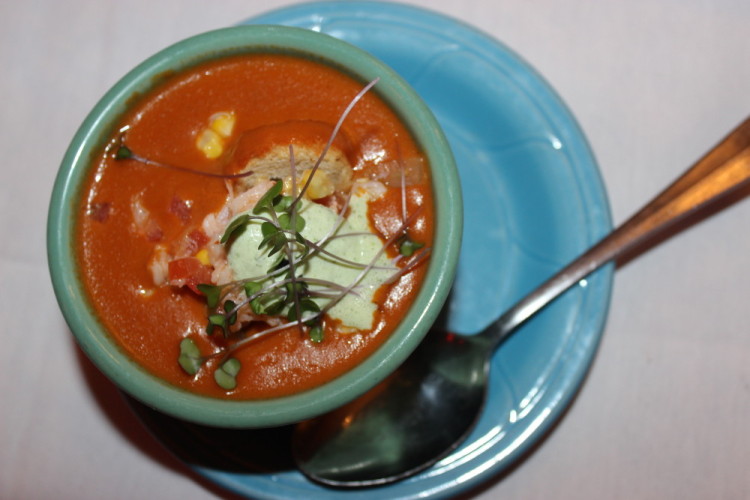 Since I was totally smitten with the two main appetizers, I was pretty excited to see what we had in store for the entrees. Saquella's menu emphasizes fresh top-quality ingredients sourced from local vendors — a movement I fully support and love about the farm-to-table restaurants we have here.
First up was the Salmon Burger made with wild-caught salmon, cilantro, and citrus, topped with a grilled artichoke-lime aioli, avocado, and arugula, on a challah bun — made IN HOUSE! I love me some good challah bread. I'm totally the one that rips off piece after piece after piece at any of our family holiday dinners. It's the best! So back to the salmon burger. I'm all for meatless burgers — I think that's a well known fact — and this one left a lasting impression. I loved the texture, and absolutely loved the grilled artichoke-lime aioli. The flavors were fantastic. The best part? You won't find french fries as a side option at Saquella. Instead, the burger is served with the most perfectly roasted fingerling potatoes. I couldn't stop eating them one by one, sneaking another when no one was looking. They had just the right amount of crispness to the skin, and the potato wasn't the least bit mushy. You can have your french fries — I'll take these fingerlings any day!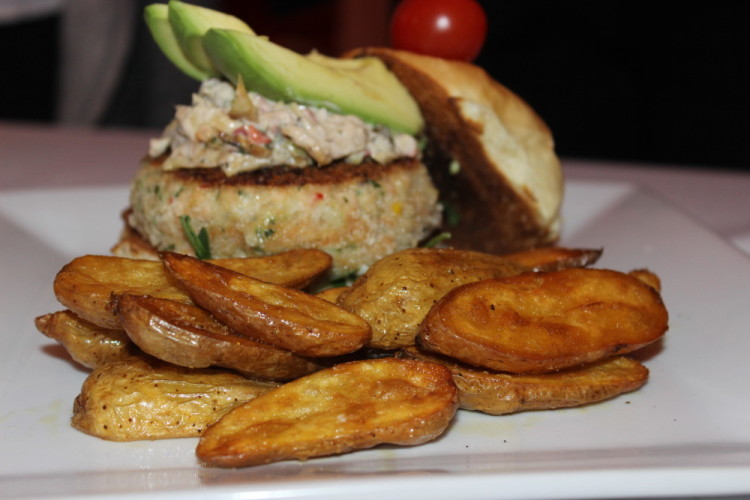 One of Saquella guests' favorite speciality items is the Quinoa Crusted Salmon — although it isn't technically on the menu, it's always available and people always know to ask for it. It's served with Toy Box tomatoes, a microgreen salad and an incredibly tasty side of braised kale. To be honest, I liked the kale more than the salmon!
The meat-eaters at the table got to try the braised short rib, served with horse-radish infused potato waffle, cabernet demi-glace, and horseradish cream, and the grilled garlic and herb marinated skin-on boneless crispy chicken, served with more of those yummy fingerling potatoes, sundried tomatoes, feta, balsamic glaze and a refreshing arugula salad to brighten everything up.
Dessert at Saquella is a meal in itself! There are so many choices of pastries, pies, cakes, cookies, and gelato — all made right in house. It's impressive and beautiful to look at, and once you've tried any of their desserts, you'll want to go back every night to try something new! We sampled the Strawberry Napoleon — layers of puff pastry, sweet custard cream, and fresh strawberries, the gluten-free Turtle Brownie Sundae, and the Key Lime Pie. All delicious, all devoured. My favorite? The brownie, in all its rich, dense, fudgy glory. Just as I kept going back for more of those fingerling potatoes, I found myself slicing my fork into this brownie sundae way more than I should have. Sometimes my inner chocoholic comes out — and when it does, she's ravenous!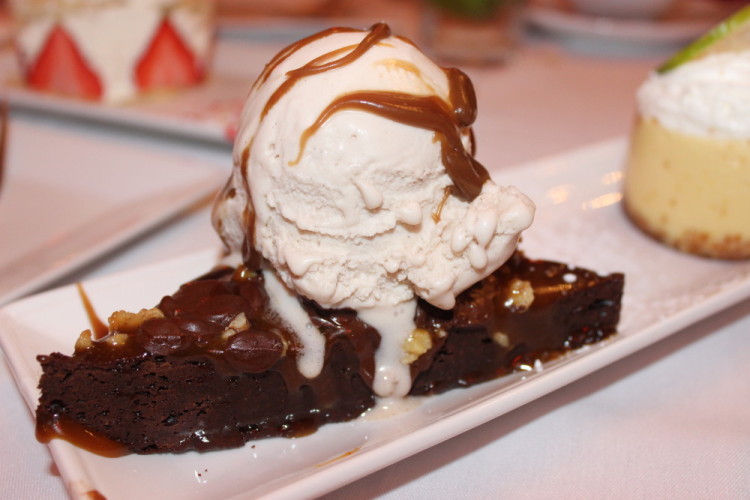 Avi wouldn't let us leave without trying a cup of cappuccino. For those of you like myself, who don't drink dairy milk, Saquella has almond milk! I was super excited about this and decided to get a cup of decaf since it was late. I have, however, gone back again for a regular cappuccino. It is that good — a good cup of coffee or cappuccino is hard to come by. When you find it, must you stick to it.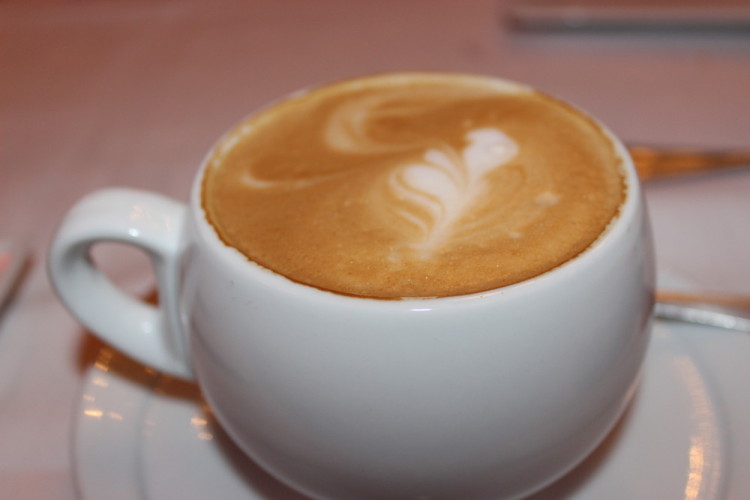 Saquella Cafe is located in Royal Plam Place at 410 Via de Palmas in Boca Raton.