Never miss a bite! Sign up here to receive new recipes and reviews straight to your inbox.
Disclosure: I was invited to dine as a guest of the restaurant. No monetary compensation has been received for this post. As always, all opinions are 100% my own.
Once in a while, you stumble upon a restaurant that almost seems too good to be true. A restaurant that surprises, delights, and engages you all in one night. A restaurant that serves as the ultimate dining experience in a setting unlike any other. A restaurant like this can only be named one thing — and that's a "STaR." Six Tables a Restaurant, to be exact. This gem of a restaurant is known to locals as simply Six Tables, and it has quite the exclusive reputation. Nestled inside a small strip mall in downtown Boca and overshadowed by its neighboring Mizner Park and Royal Palm Place, Six Tables is not only a diner's dream, but a restauranteur's dream as well.
It's open three nights a week, for dinner only, and holds no more than six tables — hence the name. There's one person in the kitchen — Chef Jon, one person to serve the tables — Max, and one woman to hold everything together — Chef's wife, Deborah. The food is beautifully presented on vintage dishware, incredibly delicious, and perfectly paired with wine if you so choose. This is not your average night out kind of place; this is the place for celebrating a birthday, anniversary, engagement, date night — or it's the place for those who thrive on unique dining experiences.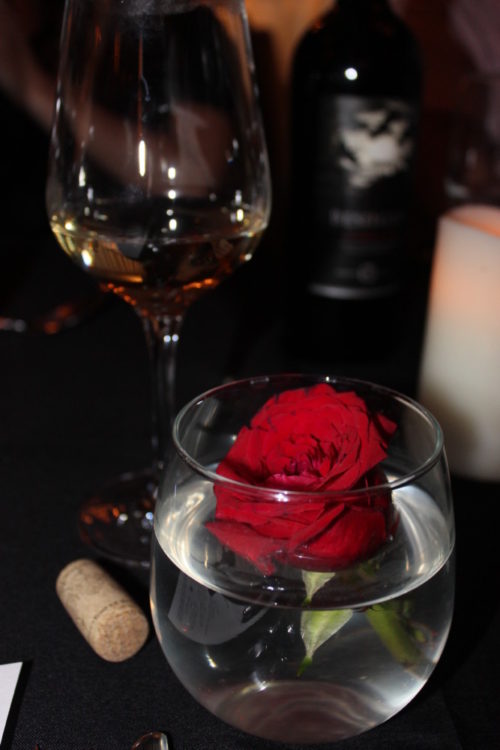 As we dive into the summer months here in South Florida, Chef Jon has created a 3 course dinner menu available on Thursday and Friday nights only. Reservations are required for this summer special at either 6pm or 8pm. It's $99++ for two people and wine pairings can be added on for an additional $30 per person. Compared to their regular dinner menu, which will be available on Saturday evenings for the summer, that is a steal! Saturday dinner is $89++ per person with one seating at 7pm. The menu on Saturdays includes a 5-course prix fixe menu, champagne toast, and port wine to conclude the dinner, so it is quite different. Either choice will make for a fantastic evening. But alas, I want to tell you more about the summer special — especially since I got to try everything on the menu!
Every good dinner should start with a delicious array of appetizers, much like we experienced at Six Tables. We had a Maryland-style crab cake with a fennel remoulade topped with micro arugula, smoked salmon bruschetta on toasted brioche topped with micro red cabbage, and seared Diver scallop with red vein sorrel. By the way, the greens highlighted during each course are from Natural Nomad Farms, a small Palm Beach County farm. You can find them every Saturday at the Boca Raton Green Market, and I have to say, they have a fantastic selection to choose from!
This Appetizer Trio serves as the 'Welcome' dish of the summer dinner. It was so perfect, especially for a pescatarian like myself. Crab cakes, smoked salmon, and scallops — all we needed was some octopus and I would have been in seafood heaven! By this time, wine was poured and we were ready for more deliciousness to come.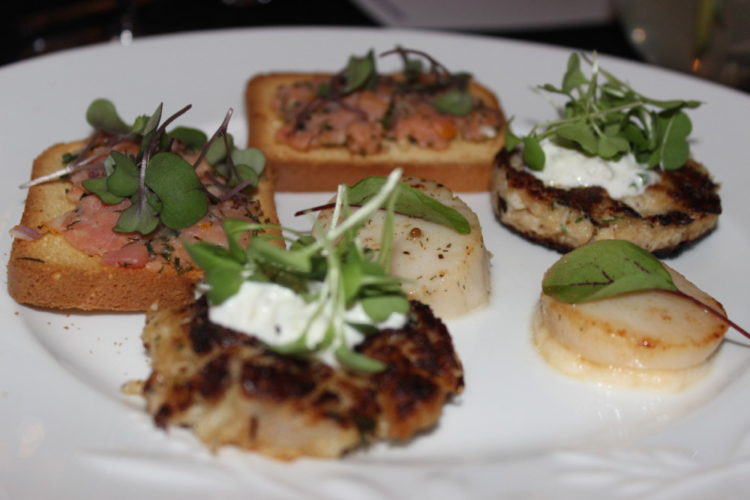 Now for the 'Starter' course, where guests have a choice of two different soups or house salad. Lucky for me and my food blogger buddies, we got to try all three! Two small teacups were placed in front of us, one holding the Six Tables signature Lobster Bisque topped with micro green sorrel, and the other a chilled vegan velouté topped with micro kale, a soup that Chef Jon makes by pureeing oven roasted vegetables — without any cream, butter, or flour. These soups could not be any more different, definitely at two polar opposites of the spectrum, but both were filled with flavor and absolutely delicious. The chilled soup was a nice light, refreshing contrast from the Lobster bisque, which is well known for its richness.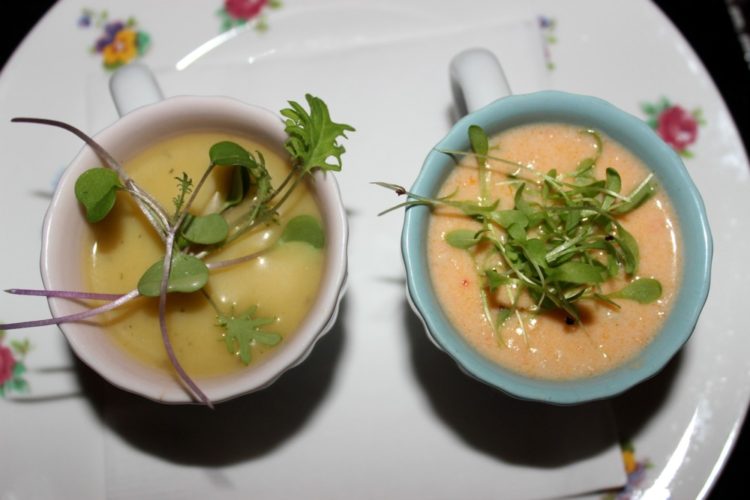 The Garden Melange salad consisted of mixed micro-greens, leaf and bibb lettuces, almonds, manchego cheese, and a light vinaigrette. The various flavors and textures married wonderfully, and Natural Nomad provided a pretty little nasturtium flower as edible garnish.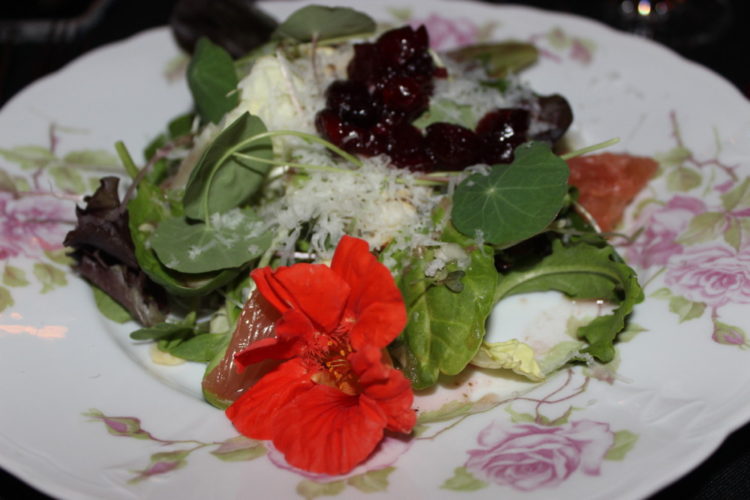 Next up, the entree choices, which come with sautéed summer vegetables. Guests can choose from the Chef's special, the fresh fish filet, or the Chateaubriand, which was a thick cut of filet mignon with pea shoots. Chef Jon served a pistachio-crusted lamb rack with garbanzo shoots as his special. I obviously did not taste either of the meat dishes, but definitely was in awe of their presentation.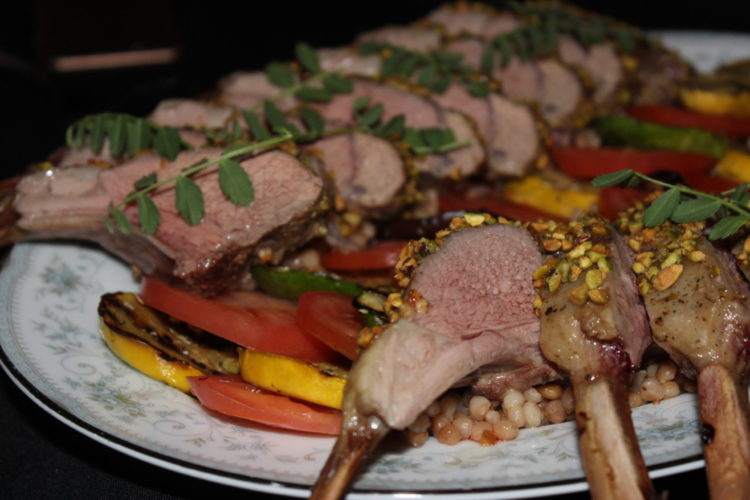 The fish dish, much to my delight, was absolutely fantastic — American red snapper with micro shiso. I made sure to grab the largest piece of fish and savored every last bite. While everyone was feasting on their filet, lamb, and the bonus plate of roasted duck that Chef Jon wanted to bring out, I was happy as ever with my snapper. As always, side dishes are often my favorite part of a meal — and these did not disappoint. The cook on the veggies was perfect. There was also Israeli couscous with pomegranate arils and crispy smashed potatoes.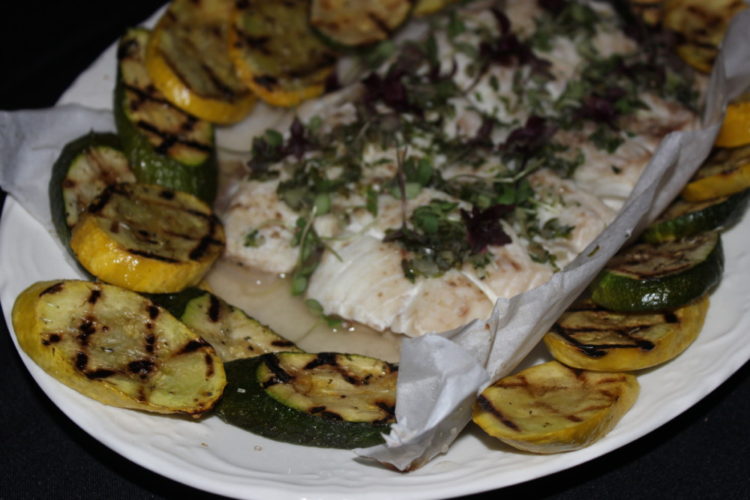 The final course, dessert, is a show-stopper. Like any great stage performance, the ending should bring you to your feet immediately with a thundering ovation. That's how I felt about this last dish, a strawberry shortcake with chocolate mousse. The biscuit had the most amazing crumb texture, the mousse was light and fluffy and rich and decadent all at the same time, and the strawberries were bright and bursting with sweetness.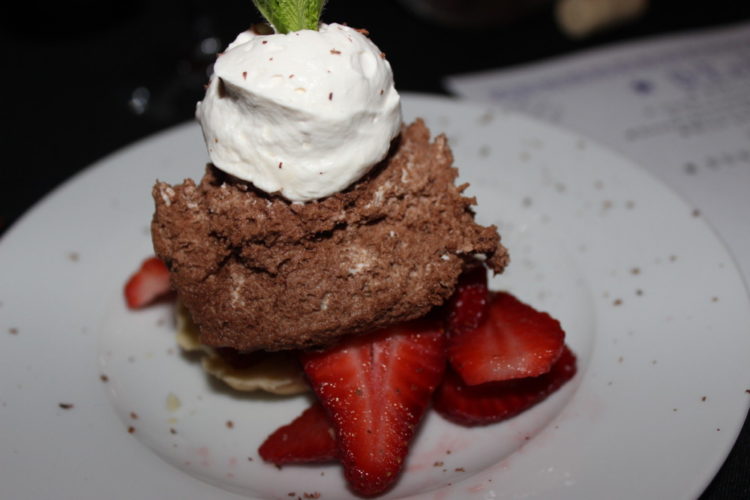 Then, to cleanse our palettes after such an incredible meal, we were served a fruit sorbet mixed with the flowering herb, buzz buttons, topped with fresh fruit and a blue borage flower.
As we sat there coming down from our food high, one of my fellow diners asked me if I had had enough to eat since there was such an abundance of meat entrees. Without any hesitation, I nodded my head. Oh yeah, definitely. It was a meal to remember. Everything from start to finish felt too good to be true, just as I mentioned at the beginning of the post, but then we realized… it is that good, and it is true.
Six Tables a Restaurant is located at 112 NE 2nd Street in Boca Raton.