Never miss a bite! Sign up here to receive new recipes and reviews straight to your inbox.
Have you heard of Miami Spice? It's a celebration of Miami cuisine where the very best restaurant chefs create three-course menus for lunch and dinner for very reasonable prices. This is a great way to experience restaurants that might normally be a liiiittle too hard on your wallet. It lasts from August 1st to September 30th and includes a huge variety of restaurants. Chef/owner of Boca Raton's Ristorante Sapori, Marco Rocco Pindo, wants to bring this brilliant idea to Boca. He's doing so with his Boca Spice lunch menu — a three-course menu for only $25, tax and gratuity not included.
Chef Marco recently invited me to his restaurant to sample some of these Boca Spice dishes. The menu is full of classic Italian favorites, but Chef Marco puts his own special touch on everything he lays his hands on. Can you believe Ristorante Saporti has been in Boca, in the same location, for 21 years? Not too many restaurants around here can say that. He must be doing something right to outlast all the other restaurants constantly opening and closing around him.
After eating his food, I totally get why he's been able to stick around all this time. Italian food at its finest. Crisp and refreshing seasonable vegetables. Homemade Pasta made fresh every Tuesday and Thursday. Seafood so succulently juicy it feels as though it was freshly caught moments before being plated. A quaint, comfortable atmosphere with an authentic Italian feel. Ristorante Sapori is truly one of Boca's hidden gems…
The new Boca Spice lunch menu includes an appetizer, pasta dish, and entree to make up your meal. Appetizers include the soup of the day, open face shrimp Provençal, Caesar salad, carpaccio of the day, lobster claw oreganata, mozzarella and tomato, and eggplant steak. Choose between rigatoni Sapori, homemade linguine al sapore di mare, ravioli of the day, gnocchi of the day, homemade fettuccine alfredo, or penne with roasted vegetables bolognese. For the entrees, selections are chicken scaloppine Toscano, veal scaloppine of the day, snapper Siciliana, or the salmon sandwich.
For my taste of Boca Spice, I had the open face shrimp Provençal, homemade linguine with clams (the change to homemade linguine al sapore di mare took place after my visit to the restaurant), and the snapper Siciliana. The shrimp appetizer was something new for me — I've never been served shrimp with the head still on! There were eyeballs. Eek! It was so yummy though. The shrimp was topped with a very bright and flavorful bruschetta-like mixture.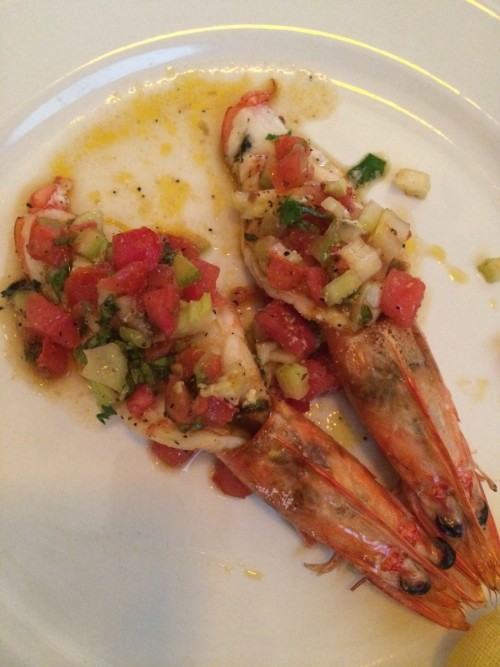 I liked this a lot, but I was REALLY looking forward to my homemade linguini with clams. The night before, I was watching Beat Bobby Flay on Food Network and that's what they made — homemade linguini with clams. It made me CRAVE it like never before. I've actually never ordered linguini with clams at a restaurant. It's never been something I would choose over other menu items. Mussels, yes. Clams, no. But after watching Bobby Flay and his competitor battle it out, I just had to have it. It totally and completely satisfied my craving and was so freaking delicious, I never wanted to stop eating it. Freshly made pasta with briny clams in a gorgeous garlicky broth, sprinkled generously with parmesan and black pepper. Ah, now I'm craving it again…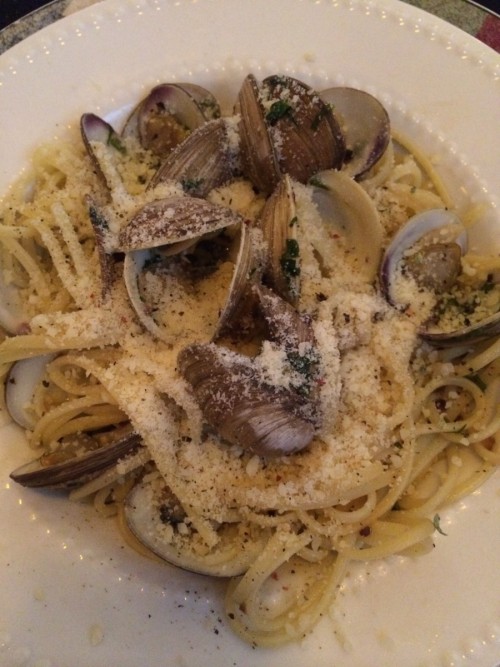 As much as I wanted to finish my entire bowl of homemade linguini, I forced myself to stop so I had room for the snapper. What a gorgeous piece of fish! So buttery smooth, my fork glided right through with absolutely no need for a knife. The snapper is accompanied by diced eggplant and tomato, fresh basil and the biggest capers I've ever seen in my life. Seriously. At first glance, I thought they were edamame! That makes no sense — what Italian seafood dish has edamame?! But I swear, that's what they look like! The fish was cooked to perfection, seasoned just right, and presented beautifully. Chef Marco really knows what he's doing when it comes to Italian cuisine.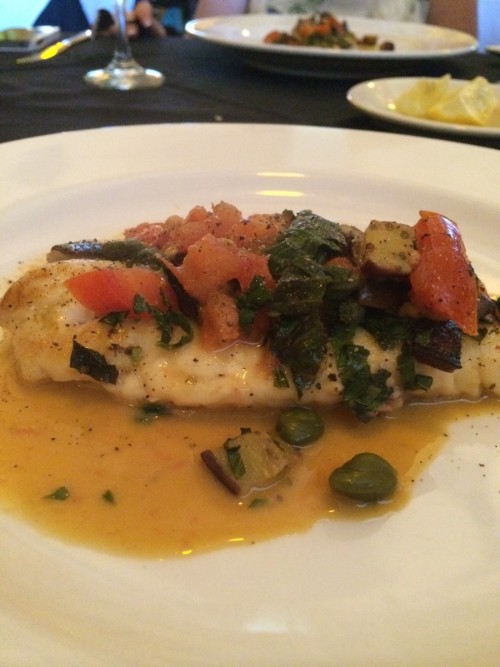 Dessert may not be included in the Boca Spice menu, but that shouldn't deter you from ordering one of their amazing options. Gelato, ricotta cheesecake, tartufo, panna cotta… When I heard panna cotta, I jumped. I'd never tried it before! It means baked cream, and it is just as luscious and creamy as I imagined it would be. Fresh raspberry compote added a touch more sweet to this dessert. Panna cotta doesn't feel as rich as other desserts. It's not dense and heavy like a cheesecake or creme brûlée. It's light and airy and oh so yummy.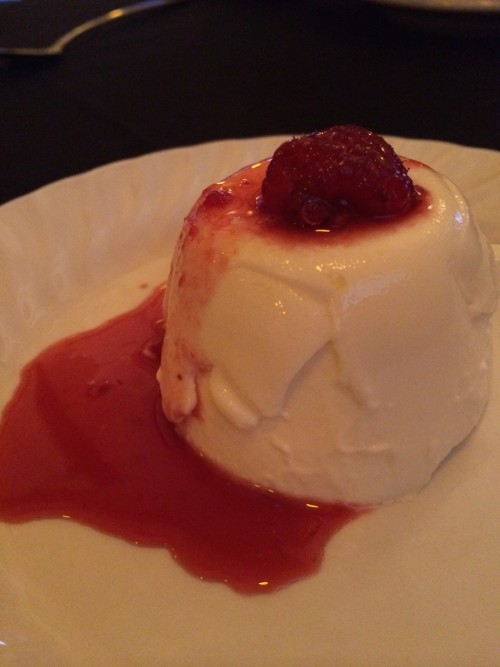 Oh my god. I can't believe I forgot to mention the bread and butter. This is no ordinary butter — it was roasted garlic and pesto butter! I never put butter on my bread when I'm out to eat. I actually really dislike it. But this? You can bet I had a piece of bread slathered in each of these amazing flavored butters. And you know what? It was worth every single solitary calorie.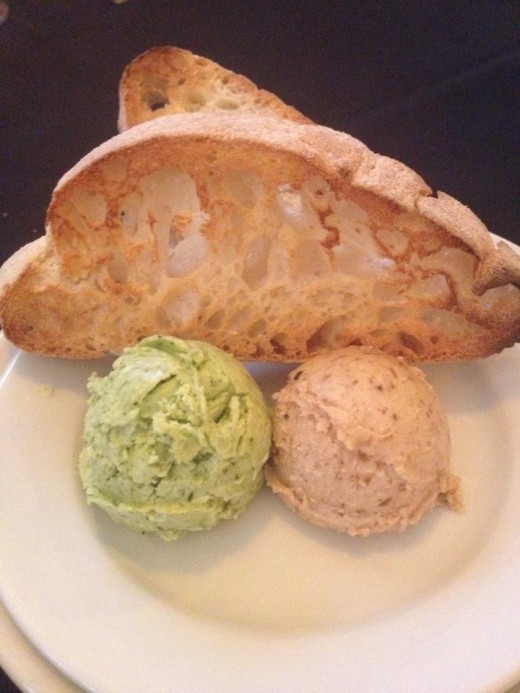 Chef Marco brought out a smooth montepulciano, a classic Italian red wine, to pair with dinner. It was the perfect complement to all of the delicious flavors of Italy I got to experience during my meal.
Check out Ristorante Sapori's Boca Spice menu for lunch (and definitely go back again for dinner!) It's located in Royal Palm Place at 301 Via De Palmas.