Last winter when my parents visited, we went out to Hallandale Beach and ate dinner at a great restaurant called The Yard House. I posted about it here, raving about the variety of food available and how great everything we ordered was. Well, I'm happy to announce that the Yard House had made it's way to Boca! Mizner Park welcomed the restaurant not too long ago and it has been busy since it opened. Not only is it in a great location, but the menu is superb, so I wasn't surprised to see the place packed.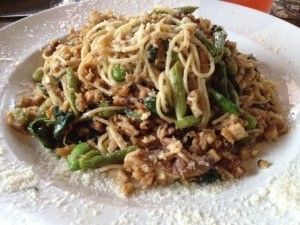 My last weekend as Bubby's "roomie" definitely called for a good dinner out. Since Bub has never been to the Yard House, she wanted to check it out and I was all for it. We headed over to Mizner and got a table outside. Like I mentioned in my last post, the menu is huge! Of course it took me forever to pick out what I wanted — both for my drink and meal! I was going to try one of their house brewed beers, but then I decided to go with the Cherry Limeade cocktail instead. Cherry vodka, amaretto, sweet and sour mix and a splash of lime. It was a super-sweet drink, just how I like 'em! For dinner, I chose the garlic chicken noodles. Chicken, smoked tofu, and Asian-style noodles with edamame, asparagus, spinach, shiitake mushrooms and parmesan. It was SO good. I'm not usually one to order pasta dishes when I'm out for dinner, but all the fixings in this one just sounded way too good to pass up, and I'm really glad I didn't! I love the way parmesan elevates the flavor of any dish it's in, and edamame is one of my  favorites, so with those two ingredients listed in the description, I knew it was a good choice. Bub got one of her favorites, something she said she hasn't had in years: fish and chips. Beer-battered haddock with thinly cut fries, its a meal I personally wouldn't touch, but she enjoyed it. There were tons of other meals that caught my eye while perusing the menu, so I hope to go back soon and try something else. 
If you're looking for a restaurant to go to with a group of people, and especially if you have picky eaters among your group, I would recommend The Yard House as a good place to go. There is a lot to choose from so there is bound to be something for everyone.