A panel of foodies,
including bloggers, critics, and media, visited a whole slew of restaurants throughout the month of March in search of the best meatball. The meatballs were judged on taste, texture, presentation, and originality — and there sure were a few very original takes on this traditional spaghetti-companion.

BocaLocals hosted the event, and restaurants in and around Boca Raton were generous and kind enough to host our group and present everyone with some absolutely delicious food. Some presented items right off their menu and others prepared something special for the group. Most places served bread (Yes! something I could eat!) and other dishes off their menu, and some also paired their meatballs with a specific wine.
As a Vegetarian, I did not actually take part in the judging but I still participated in a few of the outings just to see what kind of fare the restaurants were putting out, and of course to spend time with my favorite local foodies!
A huge thank you goes out to all the restaurants involved. We are so excited to see which one of you ranked number one! Here's what the chefs had to offer:
Segreto – Caprese-style meatball layered with tomato and mozzarella with balsamic and fresh herbs; classic meatball entree with marinara sauce and herbs.
The Meatball Room – Veal/beef/pork meatball with marinara, basil and a scoop of ricotta cheese.
SoLita – Pork/beef/veal meatball with tomatoes, basil, ground pepper and parsley, fried and slow-cooked alongside pork-shoulder.
Table 42 – Beef/pork/veal meatball in a red sauce served with ricotta and fried basil leaf.
Trattoria Romana – Beef
"Poletone" meatball (large meatball) with prosciutto, mushrooms, red pepper, onions and mozzarella.
La Stella's – Beef/pork meatball with Pomodoro sauce, ricotta and homemade garlic toast; chicken meatball seasoned with fennel in a peperonata sauce; Mexican-style beef meatball stuffed with a hard boiled egg and cooked in a chipotle sauce .
South Shores Tavern –
Arancini (fried rice balls) with blue cheese, mozzarella, parmesan and cheddar cheeses and Applewood smoked bacon, served with jalapeño arugula aioli.
Tucci's – 100% beef meatball with onion, garlic, parsley, black pepper, egg whites and a four-cheese blend, slow-roasted in their wood oven.
13 American Table – Veal/pork meatball served over a red wine demi-glace and a blue cheese fondue with homemade potato chips.
Vic and Angelo's –
Kobe beef/veal/pork meatball.
Twenty-Twenty Grille – Duck and chicken confit and foie gras meatball with a dried cherry inside, served over a
brown butter, roasted tomato and port wine syrup accompanied by a landing strip of crispy duck skin.
Paradise – Veal meatball poached in a tomato sauce served over ricotta.
V and S Deli – Beef meatball with Romano and Pecorino cheeses and fresh herbs, baked in a red sauce.
Henry's – Lamb meatball with fresh herbs and arugula; chicken meatball made with white and dark meat in a red sauce.
Cafe Med – Veal/pork/beef meatball with garlic and parsley garnished with fresh basil and parmesan and served in a tomato sauce.
Terra Fiamma – Buffalo chicken meatball served with celery sticks, hot sauce and gorgonzola cheese; beef meatball in a tomato sauce with a scoop of ricotta; veal meatball in a marsala sauce; spicy pork meatball with hot cherry pepper sauce and caramelized onions.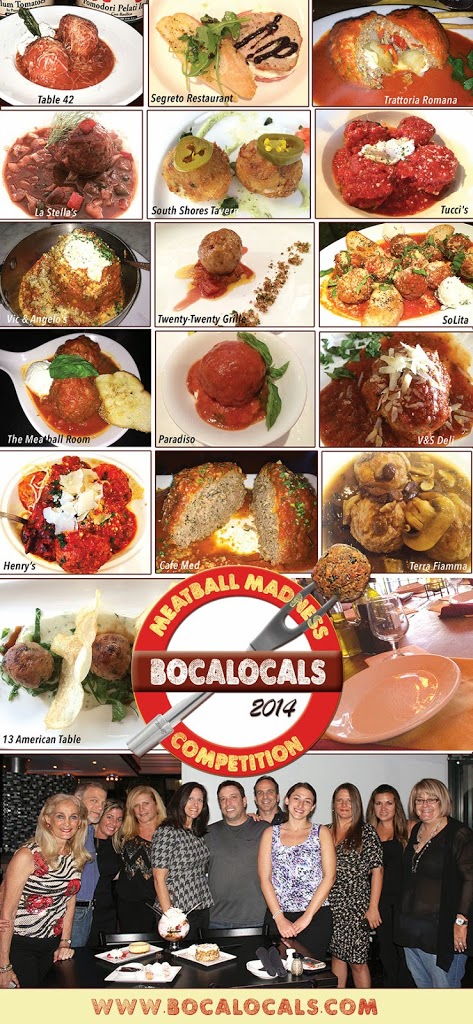 Presentation wise, I was partial to 13 American Table's "steakhouse" style ball. I ate one of the potato chips (they were very large) and smothered it in the blue cheese fondue. Um, hello deliciousness! I smeared it all over a piece of bread too; I couldn't get enough of it! While everyone devoured meatballs, I licked plates clean of blue cheese fondue. This was our last stop of the madness, and we all had a great time, as you can see below. Cheers!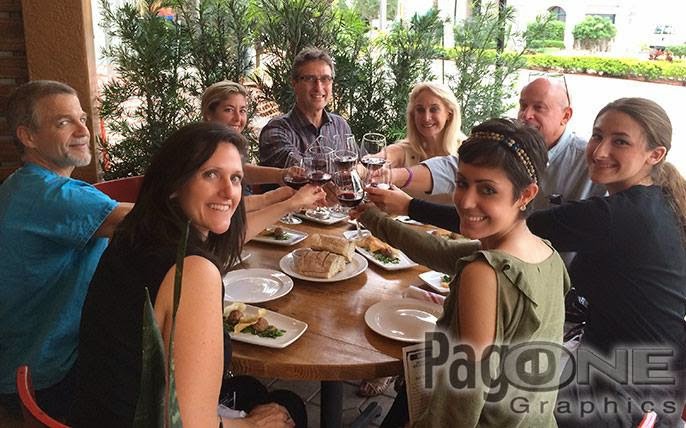 15 restaurants and at least 20 different kinds of meatballs later, the winner will finally be announced tomorrow, Tuesday, April 8th live on wrpbitv.com with Barry Epstein. A press release will be sent out to at least 50 media contacts and all the participating restaurants, and there will be e-mail blasts and social media shout-outs from BocaLocals and Page One Graphics. Reviews from all the bloggers involved will be shared. Want to know which meatball was the tastiest? Which was the most inventive? Or maybe you'd like to try some of Boca's most classic-style meatball? Check out all of the judge's reviews to get a feel for some of the balls this side of town has to offer…