Never miss a bite! Sign up here to receive new recipes and reviews straight to your inbox
Disclaimer: I was invited to dine as a guest of the restaurant. No monetary compensation has been received for this post. As always, all opinions are 100% my own. 
After success in Wellington and Palm Beach Gardens, Bolay celebrates its third location, opening TODAY in Boca Raton!
The concept to Build-Your-Own anything is sweeping over South Florida, thanks to Bolay. This fast-casual approach to fresh, bold, flavorful food was created by Outback Steakhouse co-founder Tim Gannon and his son Chris Gannon. YEP — this healthy, 100% gluten-free restaurant chain is the brainchild of a steakhouse known best for its popular appetizer of deep-fried onion rings.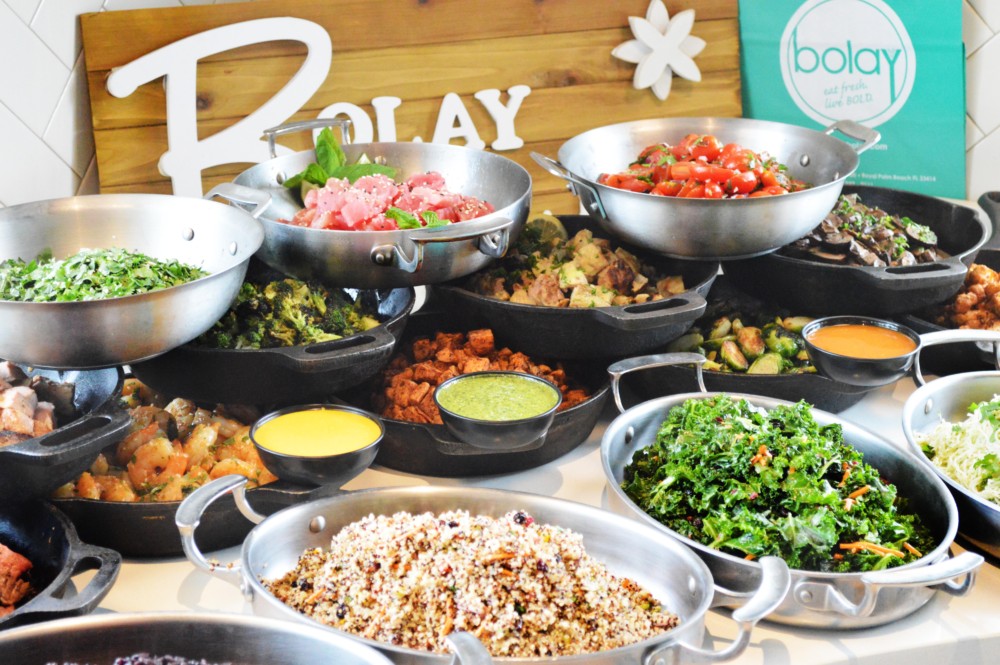 Bolay invites diners to customize their own bowls for lunch or dinner. There are plenty of pescatarian-, vegetarian- and vegan-friendly options — and as already stated, everything is gluten-free. The ingredients are chef-driven and include a variety of nutrient-rich super foods and creative flavors that give diners the chance to build their own unique creation every time they step through the door.
Every bowl starts with a base. Options include baby spinach, cilantro noodles, forbidden black rice, marinated kale and currant salad, Peruvian quinoa, Moroccan basmati rice and a seasonal selection. Then it's on to the veggies — balsamic mushrooms, smokey cauliflower, paleo Brussels sprouts, ginger-orange-glazed broccoli or again, the seasonal special. Choose from a variety of proteins including miso-glazed tofu, sushi-grade Ahi tuna, Caribbean-spiced steak, spicy Thai shrimp, pork tenderloin, BBQ chicken or lemon chicken, then top it all off with an Asian herb mix, parmesan cheese, goat cheese crumbles or minted tomatoes. Last, but not least, the sauce — because everything's better with more flavor! Take your pick between carrot-ginger, spicy Thai or cilantro pesto.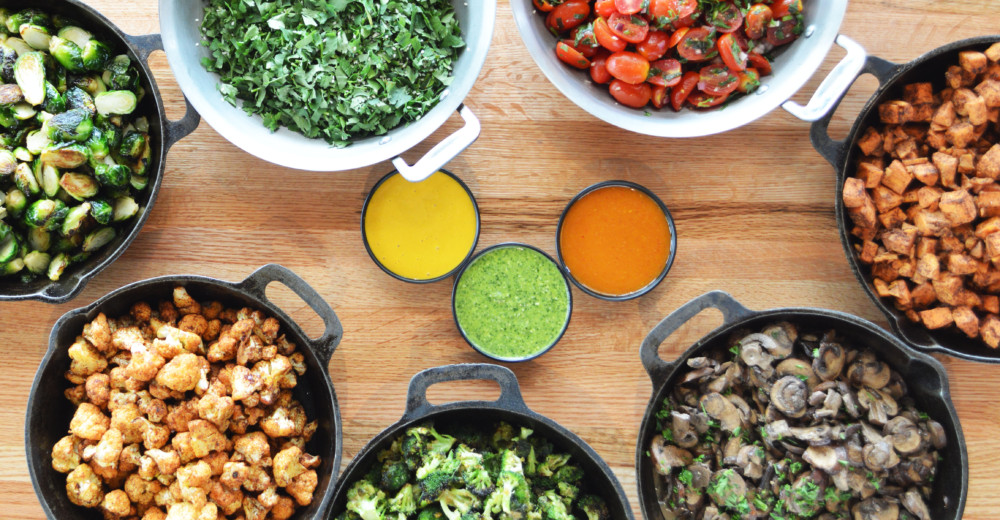 I had the chance to preview the menu at Bolay earlier this week before today's grand opening to the public, and was extremely satisfied with my visit. I absolutely love the concept of building your own meal from the ground up, especially with my newfound eating restrictions. Speaking of which, my hats off to the chef who took the time to go over each and every ingredient behind the counter with me, carefully pointing out what had sugar and even how much was in it. Even though there was a massive line of people at the counter placing their orders, he never once winced at my questions, nor did he seem annoyed or aggravated to ensure I was getting the best experience possible. This alone helped to shape my impression of Bolay and its team even before sitting down to eat. The customer service I received was above and beyond, in all aspects. The staff never stopped smiling and it really showed just how much they enjoyed being there.
But back to my insanely delicious bowl! I started with baby spinach, topped it with cauliflower, Brussels sprouts and broccoli, added the sushi-grade tuna, minted tomatoes and cilantro pesto sauce. The tuna was super fresh and all of the vegetables were all perfectly cooked. The Brussels sprouts had tons of garlic flavor and were just the right texture — easily my favorite part of the bowl. The minted tomatoes were cool and refreshing and the cilantro pesto added just the right amount of spiciness to the bowl.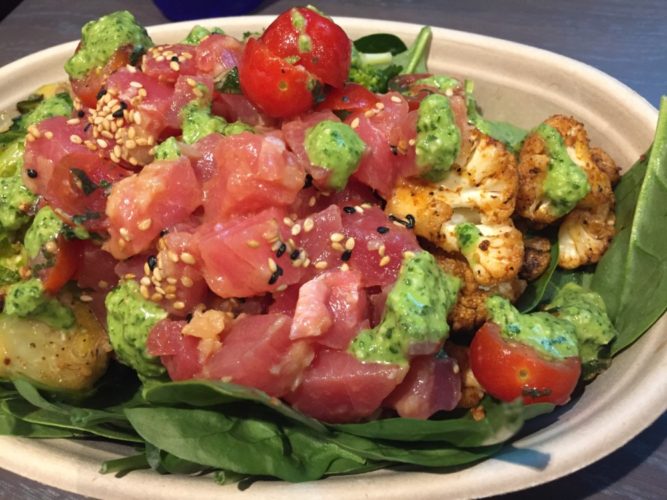 Bolay also serves cold-pressed juices and infused teas, as well as crave-worthy desserts that won't leave you feeling too stuffed. While I unfortunately couldn't taste them, the looks on the faces of those around me who did says it all.
This is definitely going to be my spot for grab-and-go options when I want a quick and healthy lunch or dinner.
Bolay is located in the Polo Shoppes at 5030 Champion Blvd., in Boca Raton.