Never miss a bite! Sign up here to receive new recipes and reviews straight to your inbox.
Disclosure: I was invited to dine as a guest of the restaurant. No monetary compensation has been received for this post. As always, all opinions are 100% my own. 
There's a great reason to head over to Boston's on the Beach this summer, and it has nothing to do with the incredible oceanfront view, entertaining band lineup, or perfect game-watching seats at the bar — although, all of those things play a large part in the restaurant's success and popularity. But nope, those aren't the reasons why Boston's should be on your radar right now. It's because of the NEW menu!
Boston's on the Beach has been a premier sports bar, entertainment venue and restaurant in Delray Beach for the past 35 years, and has been dubbed the official destination for New England sports. The restaurant has recently revamped the menu with plenty of fresh-caught seafood and New England style dishes sure to please all you beach bums as you're heading toward or coming off the sand.
You may recognize one of the new appetizers from Boston's sister restaurant, 50 Ocean, located right upstairs — the Devilish Eggs with smoked salmon mousse, fried Ipswich clams and crispy bacon, which just so happens to be one of my favorite things at 50 Ocean. (Of course I get mine without the bacon.) Combining the traditional deviled egg filling with whipped smoked salmon and topping it with a crispy fried clam makes for the tastiest bite ever. There is another Delray restaurant that has a smoked salmon deviled egg during brunch that I am so in love with and pretty much dream about getting every Sunday, but the addition of the fried clam does give Boston's version a little bit of a leg up.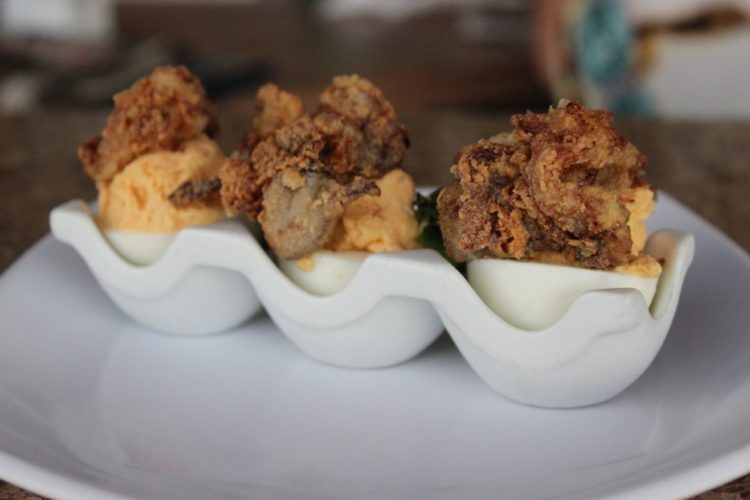 Other newbies in the appetizer section include five-onion dip with caramelized onions and served with house-made potato chips; spicy hummus with roasted jalapeños, corn, tomato and avocado relish and served with plantain chips; the artisan cheese board filled with chef's choice of seasonal fruits, honeys and jams; and mussels with roasted shallots, white-wine-chili broth and fresh tomatoes. The mussels were a decent size, very fresh, and soaked up aaaall that amazing flavor from the broth. Seriously, it took all of my will power not to pick up the bowl and slurp it down. Since I couldn't have the bread to sop up all the extra liquid, I'm not ashamed to admit I practically ladled it onto my plate on top of the mussels and swirled each of them around and around until they were totally and completely covered in broth. Oh, the things I'll do in order to not miss out on anything… No broth left behind!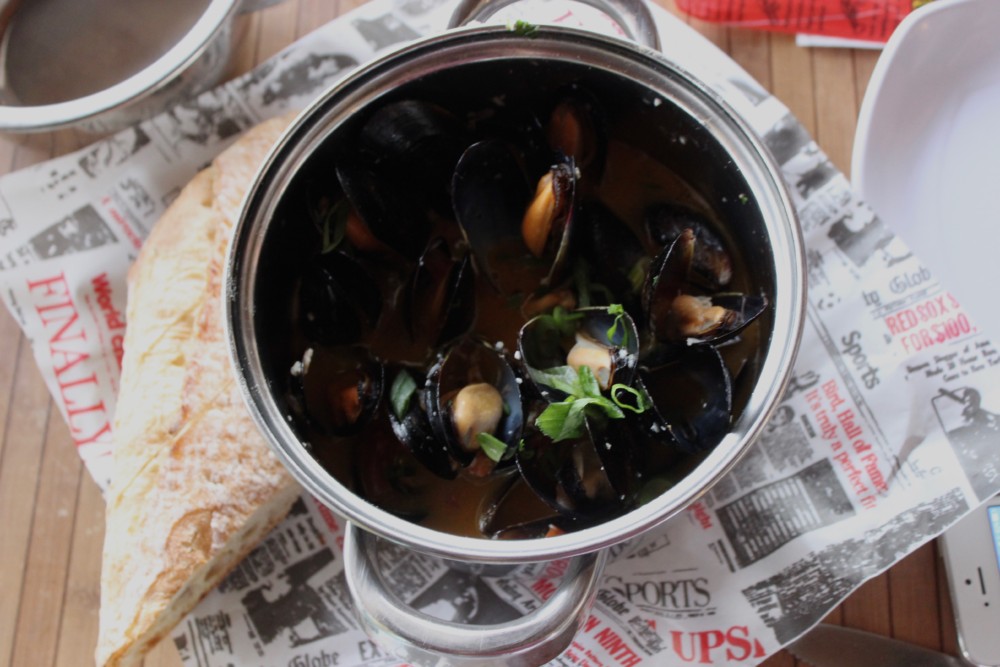 There's one other new appetizer that deserves a shout-out — more like a climb-up-to-the-roof-and-scream out. The sesame-seared Ahi tuna with teriyaki glaze, seaweed salad and wasabi creme was excellent. The tuna was beautifully presented and crazy delicious. Yes, this is a very commonly seen dish on pretty much every restaurant menu in Delray, Boca and beyond — so are the mussels. But having somewhat healthier options such as these at a sports bar is really exciting — especially when that sports bar is across the street from the beach and you don't want to sacrifice that beach bod you worked so hard to get. Nachos and burgers don't mesh all that well with bikini season…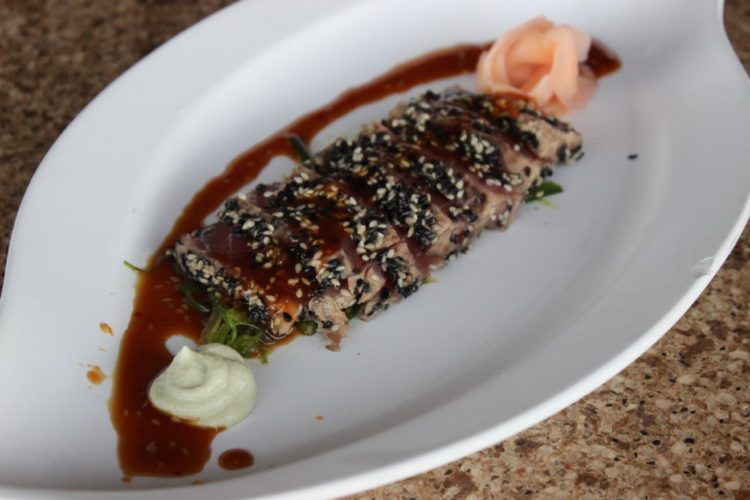 At Boston's, you will find some of your typical bar food like nachos, fried calamari, and burgers — but since they're focused more on New England style seafood, there are a not-so-typical items too. One of their most popular dishes is the classic lobster roll, which you can get with a side of crispy seasoned fries, Cape Cod chips, or their yummy island mango slaw. Insider tip: I know you'll want the french fries, but get the slaw on the side too — it's well worth trying!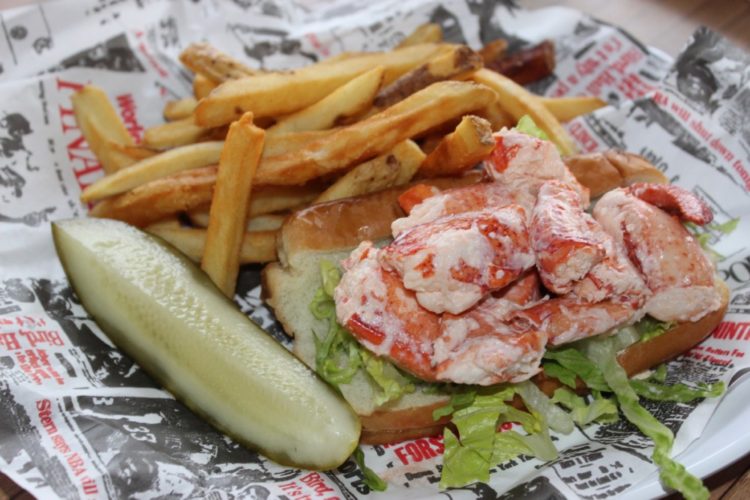 I have a feeling the new SBLT will become just as loved as that lobster roll. The sandwich features a patty made of 5-spiced local shrimp topped with thick-cut applewood bacon, tomato and pickled ginger slaw. It's a unique twist on a classic BLT and highlights the fresh Florida flavors that Boston's is proud to serve.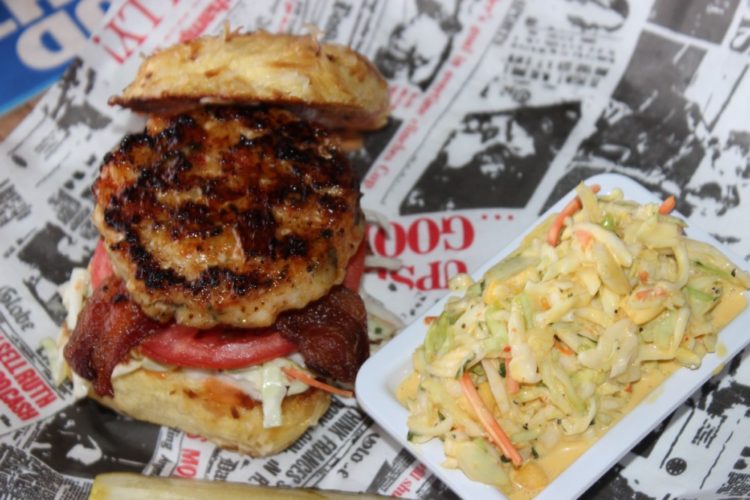 There are plenty of great seafood options, but when I noticed all of the wholesome ingredients that make up the new salmon burger, I knew I couldn't pass it up. Fresh salmon is blended with capers, dill, mustard and Old Bay seasoning — NO breadcrumbs or filler! It's topped with arugula, sun-dried tomato tapenade, sliced cucumber and roasted red onions. I passed off the multigrain bun and went fork-and-knife on that burger. The texture was on point, the salmon was apparent and all of the ingredients balanced each other out very nicely. There was a hint of olive in the tapenade, but the sun-dried tomato took over (thankfully) and gave it a lot of great flavor. There was also a small amount of remoulade sauce smeared on the bun, which had transferred over to the burger toppings. That sauce was the best part. I needed more! An extra side of sauce is a MUST when you order the salmon burger… I slathered it all over the burger and dipped my sweet potato fries in it too.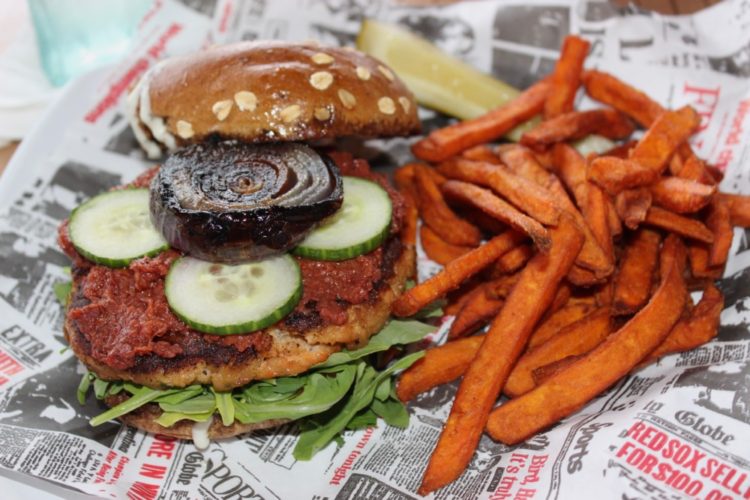 Next time you're sunbathing on the beach in Delray and need a snack, hop across the street to Boston's! Boston's on the Beach is located at 40 South Ocean Blvd. (A1A) in Delray Beach, Florida.