Never miss a bite! Sign up here to receive new recipes and reviews straight to your inbox.
Disclosure: I was invited to dine as a guest of Boulud Sud Miami in exchange for this post. As always, all opinions are 100% my own.
Inspired by the flavors of the Mediterranean, Boulud Sud's menu features fresh vegetables, seafood, grains and herbs that will make you feel as though you've traveled across the globe to places like France's Côte d'Azur, Spain, Italy, Greece, Morocco, Tunisia, Lebanon, Israel, and Turkey. Guests can get a taste of the Mediterranean during breakfast, lunch, and dinner, and brunch every Sunday.
You got a sneak peek into my happy hour and brunch experiences at Boulud Sud in a blog all about my recent weekend in Miami, but now it's time to really get into it. Mediterranean food is unparalleled. The spices and herbs are always so aromatic and the proteins cooked beautifully, no matter which Mediterranean region you're talking about. There are slight similarities to all of them, of course, but every once in a while there will be one small thing that pops and really sets that particular cuisine apart from its Mediterranean cousins.
At Boulud Sud, you get a little taste of everything.
We were totally spoiled by the incredible restaurant staff and were able to taste a large variety of items off the menu. Our servers were attentive to detail, making sure all allergies were accommodated and all special requests handled. Their friendly personalities kept us entertained, and they accepted our influencer dining traditions without question — photographing each and every dish a zillion times, from a zillion different angles, before anyone even so much as thought about picking up their fork.
This is what happens when you have ten influencers all sitting together surrounded by multiple plates of food and countless cocktails.
During happy hour, we got to chill out in the lounge where comfort is key. The unique chairs and couches are as decorative as they are comfortable — not to mention, great for photos too!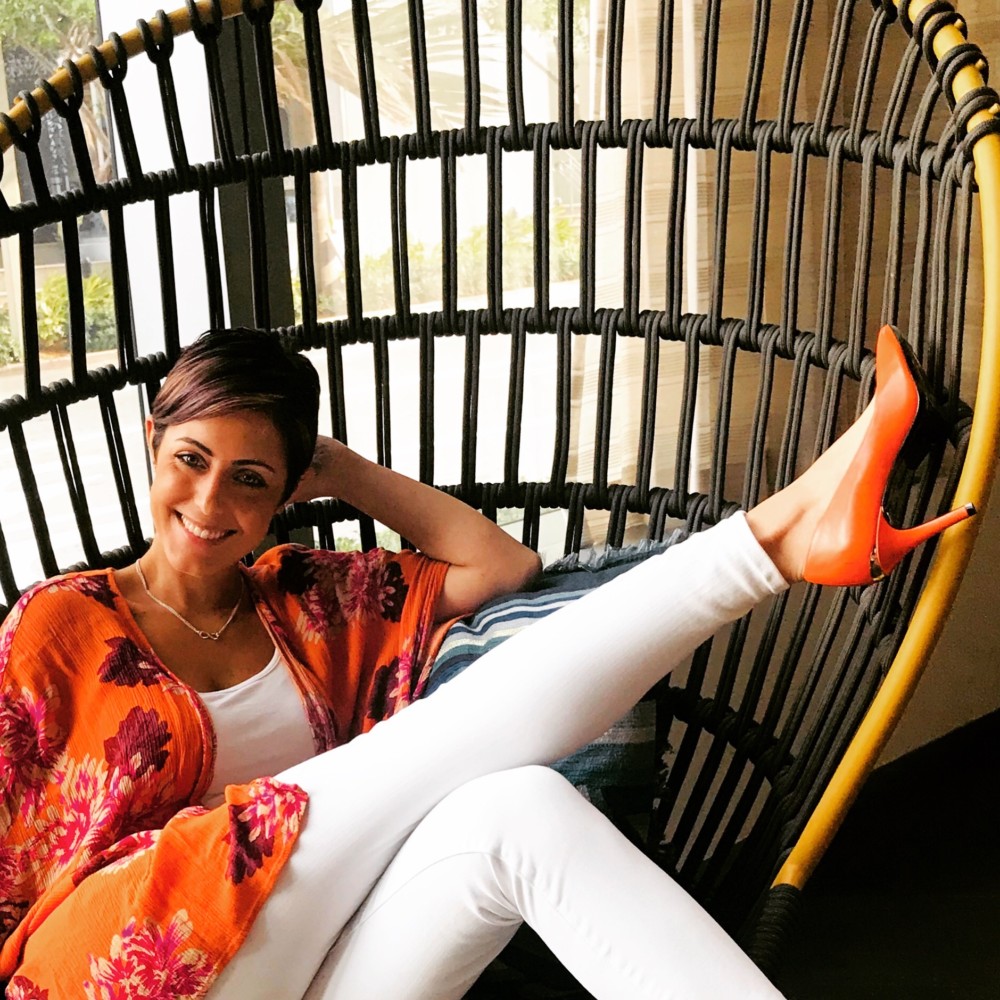 The bar has a rotating selection of wine and beer, as well as craft cocktails that feature seasonal ingredients and signature recipes from the master mixologists behind the bar. The one drink I could not stop raving about was the Méditerranée Margarita, a mix of tequila, hibiscus, ginger, aqua faba (the liquid from chickpeas) and lime. It got its beautiful, vibrant hue from the hibiscus, which also lent a subtle sweetness that mellowed out the ginger spice just perfectly. I loved it so much I had one during happy hour, and one again the next morning during brunch.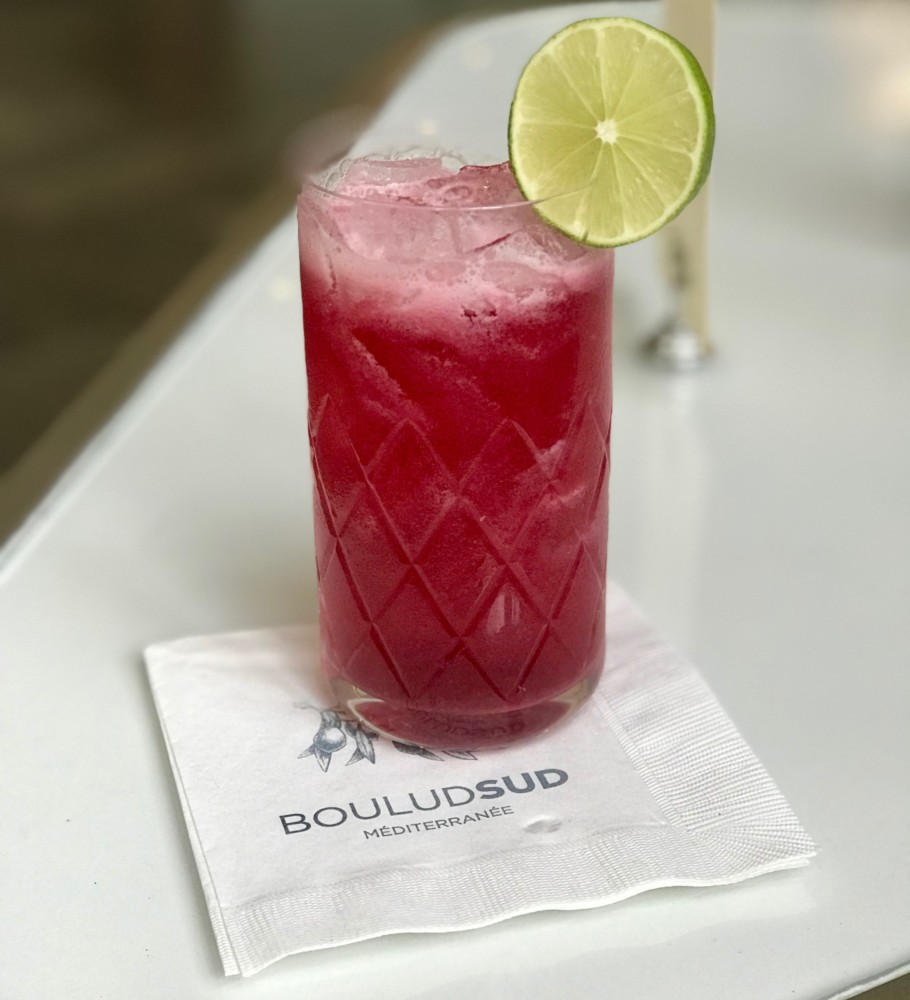 There is a small selection of $5 appetizers available during happy hour, but I recommend checking out the regular bar and lounge menu, which is served all day and offers some different options than the regular dinner menu. Plus, all bar bites are 30% off during happy hour anyway!
If you're happy hour-ing with a group, the 'Dips to Share' is probably a safe choice. It comes with spicy Moroccan hummus, tzatziki, babaganoush (eggplant), muhamma (red bell pepper) and whipped ricotta. Another great sharing option is the lamb flatbread with eggplant, pine nuts and labneh, or the Spanish flatbread with chorizo, goat cheese and romesco. Whatever you choose to nosh on during Boulud Sud's happy hour, you'll be happy — I promise.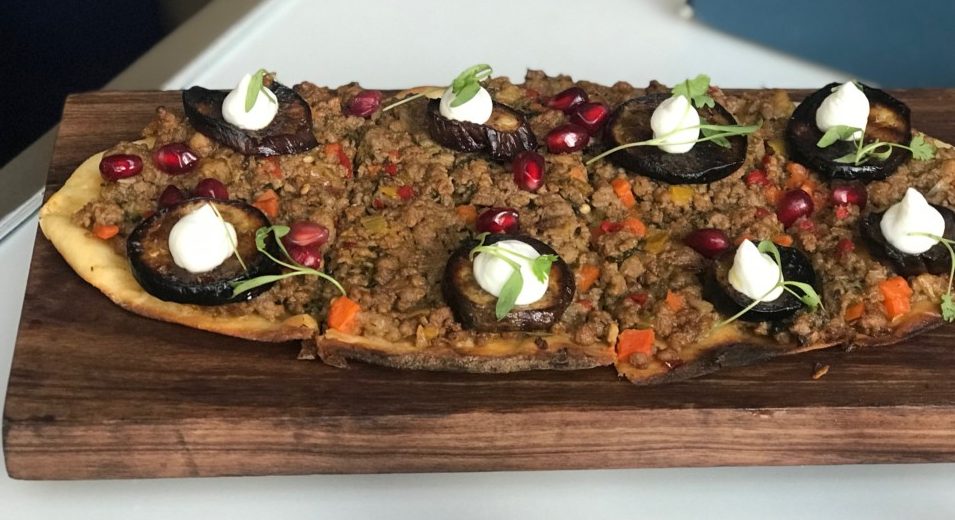 If your visiting Boulud Sud for Sunday Brunch, you'd better wear your stretchy pants — especially if you choose the prix-fixe menu option. I'm more of an a la carte person, and decided to order the side of cauliflower tabbouleh with za'tar spice, mint, pomegranate and fig, which was an absolute and total slam dunk of a side. There were so many textures, flavors and colors that every bite was different from the last. It was exciting, and certainly different than your typical brunch side of hash browns and bacon.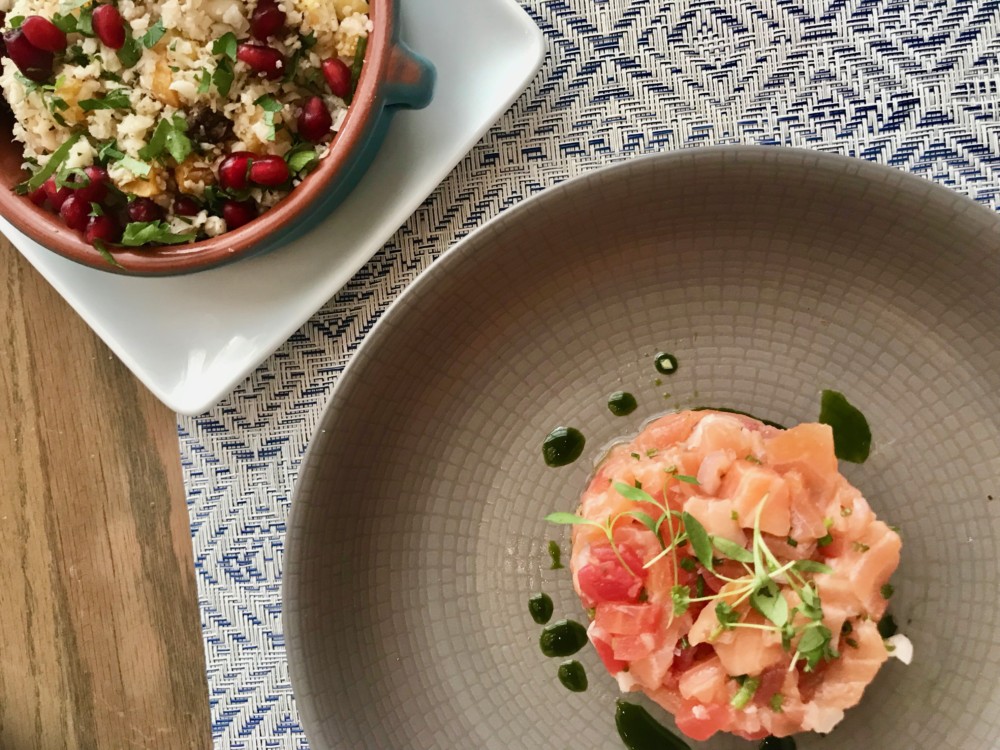 I also had the salmon tartar, which was actually something the chef made special for me due to my dietary restrictions. The salmon was so fresh and flavorful, and I loved the burst of sweetness from the tomatoes mixed in. It was a really light, refreshing choice — a smart way to go, since I knew I'd be getting a little taste of some of the other dishes ordered around the table.
Some of those other brunch options I got to taste were the Horiatiki — a classic Greek salad, the octopus à la plancha (for the second time, since I had devoured it the night before at happy hour too), the Cinco Jota — Iberico ham with tomatoes, and everyone's favorite, classic steak and eggs. I tried some of the steak and potatoes, and both were right on point.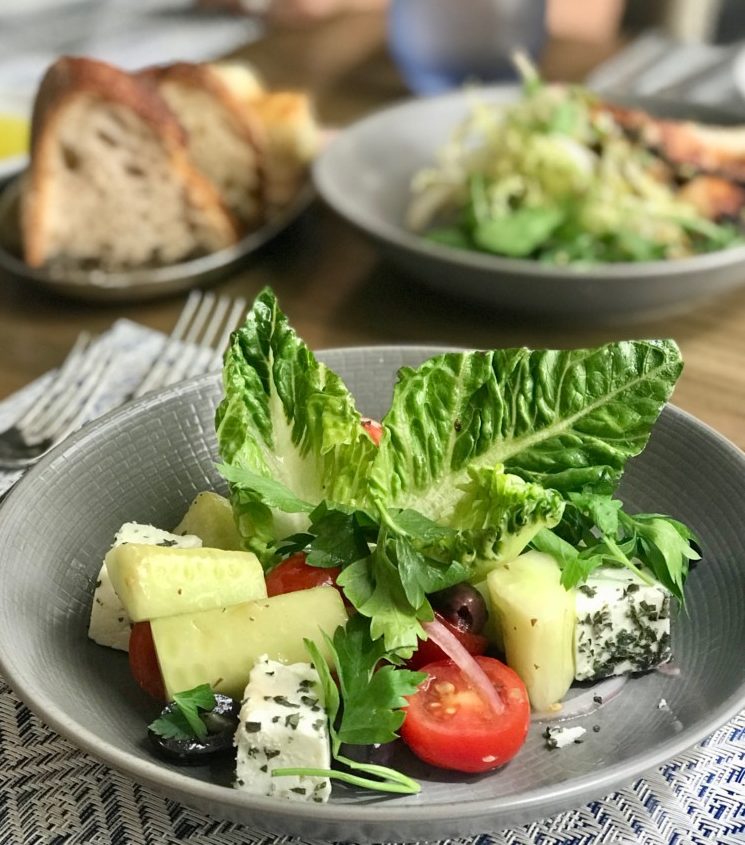 Boulud Sud offers a lot of different options for bottomless beverages, including the traditional mimosa and Bloody Mary, and more creative choices like frosé made with Lillet Blanc and Lillet Rosé, the Cinque Terre with Absolute Elyx, Dolin Blanc, sparkling wine and hopped grapefruit, and the Venetian with Aperol, elderflower liqueur and pomegranate juice.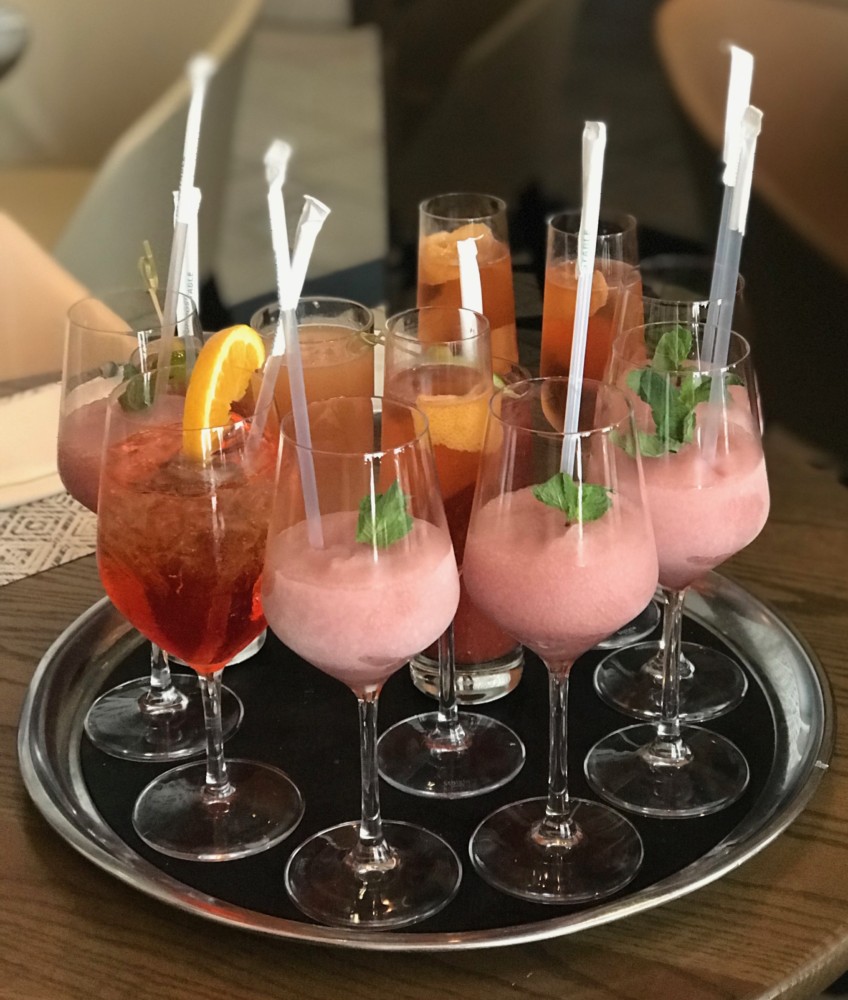 Oh, and no matter what you do — don't forget to order the basket of Viennoiseries for the table, which comes with regular croissants, chocolate croissants and raisin danish. Clearly not Shaina-friendly, but I could just smell the deliciousness. I could see it in everyone's eyes as they indulged in these sweet treats — it was well worth it.
There's no wrong way to dine at Boulud Sud, whether just grabbing a cocktail and appetizer during happy hour, dining in for lunch or dinner, or enjoying a Sunday Funday at brunch.
Boulud Sud is located at 255 Biscayne Blvd Way in Miami, inside the JW Marriott Marquis. Breakfast is served daily from 6:30-11am, and lunch is offered Monday through Friday from 12-2:30pm. The restaurant is open for dinner Monday through Thursday from 6-11pm and Friday and Saturday from 6pm-midnight. Sunday brunch is served from 11am-3pm.
Happy hour is served in the bar and lounge Monday through Friday from 5-8pm. The new Tapas Tuesday menu is now available every Tuesday from 5-8pm, featuring rosé three ways (sparkling, frozen or simply provençale) and a Spain-inspired tapas menu — all food and drinks just $5 each.