Never miss a bite! Sign up here to receive new recipes and reviews straight to your inbox.
NOTE: This restaurant has since closed.
Disclosure: I was invited to dine as a guest of Bowlicious. No monetary compensation has been received for this post. As always, all opinions are 100% my own.
Fast-casual, Build-Your-Own-Bowl concept, Bowlicious is just shy of being open two months, and already getting rave reviews for its entirely gluten-free menu, plentiful vegan options, ingredients with low levels of sugar and sodium, hormone- and antibiotic-free meats, fresh veggies prepped daily on site, organic beverages, including local cold-pressed juices and craft sodas, and bright, colorful and inviting atmosphere. For us Boca and Delray residents, a 30-minute drive south to visit a casual lunch spot may sound silly… But Bowlicious is so worth the drive!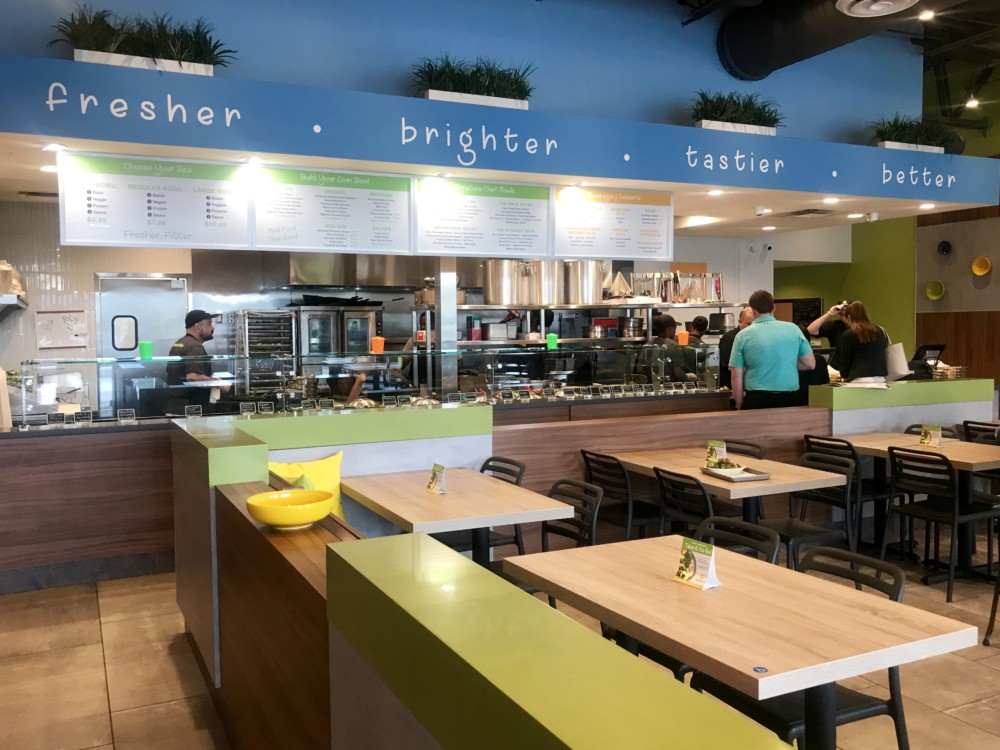 Executive Chef Gustavo Baldovino's Peruvian background can be seen in some of the options, such as the spice mixture on the grilled chicken and steak, and a beet salad that hails from his mother's own recipe box. There are four Chef-created bowls, but the real treat is being able to mix and match your favorite ingredients, pile 'em on high and hope that your stomach is ready for all of the deliciousness it's about to enjoy. Everything is made in house, so you know you're getting the good stuff.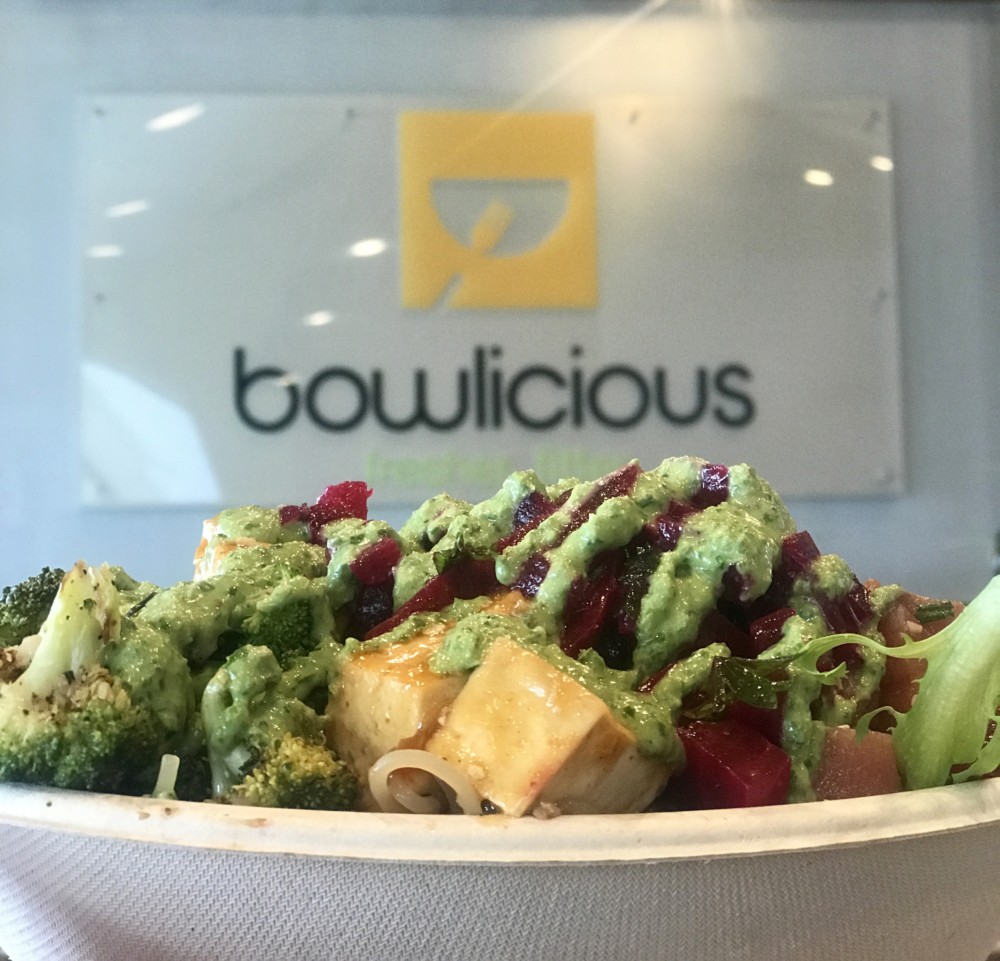 I could barely contain my excitement when it came time to build my bowl. I wanted all of the things! There are a lot of options at Bowlicious, making it really hard to choose — but prompting you to come back again and again so you can try something new each and every time. I went with the spicy sweet potato noodles (a must-try!) and mixed greens as my bases, topped with glazed mushrooms and rosemary garlic broccoli, Szechuan tofu and Ahi tuna poke, beet salad and the dairy-free spinach-basil pesto and the sweet ginger sauce. I literally want to put that pesto sauce on everything. Me telling you how good everything was is not enough — you just need to go and experience this place for yourself.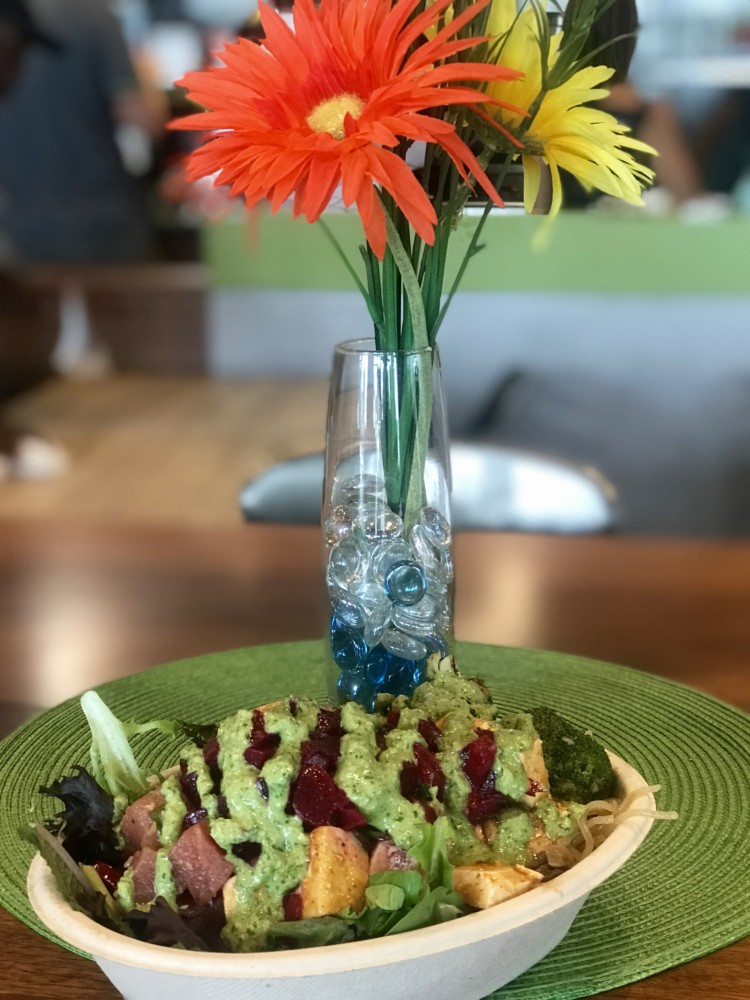 The flavors are bold, and very different from the other fast-casual, build-your-own-bowl concepts here in South Florida. There are quite a few, and a lot of the ingredients are similar. Bowlicious has a roster of spices and seasonings that are unique to its brand and really help it to stand out. Things like Spanish cilantro Basmati rice, Asian green beans, cinnamon roasted sweet potatoes, Moroccan cauliflower, ginger chicken, Peruvian grilled chicken, pineapple cole slaw and spicy three pepper sauce are globally inspired and really give guests an opportunity to try something new and different.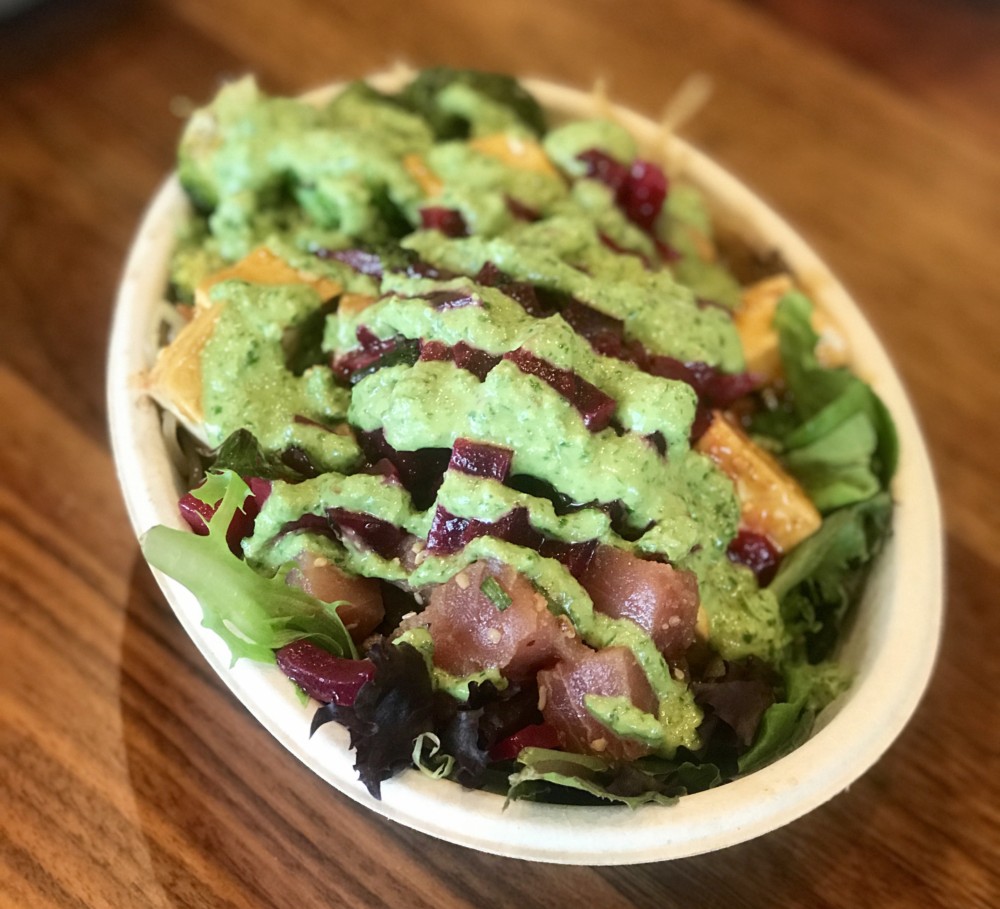 Bowlicious lives by the motto to help the community eat fresher and live fitter in a clean, fast, and friendly environment. I'm down with that! I'm still dreaming about my Bowlicious bowl, and can't wait to go back for more.
Bowlicious is located at 1823 East Commercial Boulevard in Fort Lauderdale. It's open Monday through Saturday from 11am-9pm and Sunday from 12pm-8pm. Bowlicious also offers catering and online ordering.