As promised, here are a few more restaurants I've been to in the last couple months. These three are in Boynton Beach. There are quite a few good restaurants there. I had no idea.
Sweetwater Bar & Grill — if you're looking for a kind of rustic, artsy atmosphere, Sweetwater is your place. There's an amazing bar and an insane drink menu with just about any kind of drink imaginable. Their signature cocktails are the weirdest concoctions I've ever seen. I got one called "Pickadilly Circus" that had rum, aperol, luxardo maraschino, fresh lime juice and pomegranate molasses. It was DELICIOUS. The menu is small, but everything sounds great. We shared two appetizers — the hand-pulled mozzarella with heirloom tomatoes, olive tapenade, roasted garlic, basil and aged balsamic, and the baba ghanoush with toasted pita, carrots, peppers and celery. Baba ghanoush is usually completely pureed and very smooth and creamy, but this had huge chunks of eggplant, which I absolutely loved.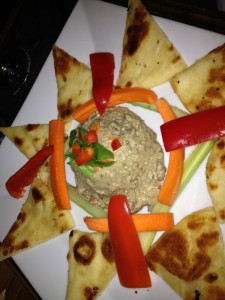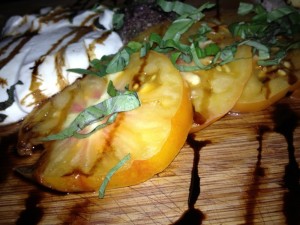 The same night we went to Sweetwater for drinks and appetizers, we followed it with sushi for dinner at Sushi Simon. McKenzie has been raving about how this place has the best sushi, so my expectations were pretty high. We sat down and opened the menu and I was already impressed. The rolls were filled with such an interesting variety of things that you don't see at a lot of sushi places. We got a couple of rolls to share: One with king crab and Chilean sea bass, and one with shrimp tempura.. and lots of other goodies in there, too. It was just as good as he had described. Good sushi is hard to come by, but this place is definitely a winner.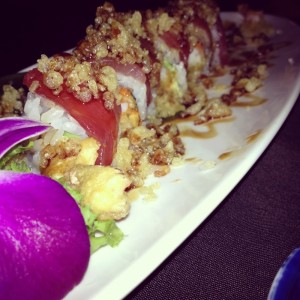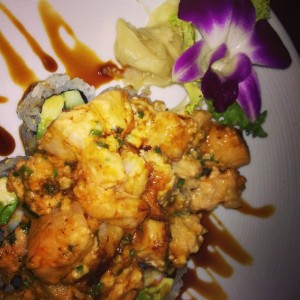 The last place I'm going to tell you about is The Little House. This is literally a little house. It was built in the 1940s and is a really small, old-fashioned, artsy-looking place. There are about 10 wooden 4-top tables and a large dining room table with wooden bench seating, a great little bar, fireplace, live music, and an awesome outside patio. First things first…apparently their homemade sangrias (4 different flavors!) are award-winning. Obviously I had to try one. I had the watermelon lychee. My first sip was confusing…I didn't really know what to expect; it was very interesting. Second and third sips got better, and then I really liked it. McKenzie was excited by the beers they had, some of which are hard to find at other places. The menu is pure comfort. There are unique twists on classic dishes, like bread pudding, for instance. This was one of the appetizers we got, a savory bread pudding with roasted garlic, green onion and fresh tomato topped with sour cream. I only had a couple bites since I don't like sour cream and it was really heavy; I didn't want to spoil my dinner! Plus, I ate plenty of the other appetizer we got — the artichoke dip. It was extra creamy with chili pepper and tons of parmesan. The bread it came with was the best part; it had perfectly crispy crust with a warm doughy center. For dinner, I had the chinois chicken salad with bok choy, napa and purple cabbage, roasted chicken and peanuts in a chinese dressing. I always enjoy Asian-style salads like this. They're hard to mess up. McKenzie had the Indian butter chicken with masala naan and basmati rice. YUM. Indian flavors are really poignant. Love it. Dessert may have been the best part — warm, home-made, gooey cookies that really did melt in your mouth. The four quintessential cookies were brought out to us: chocolate chip, white chocolate macadamia, oatmeal raisin and peanut butter. I don't think I could choose a favorite even if you paid me.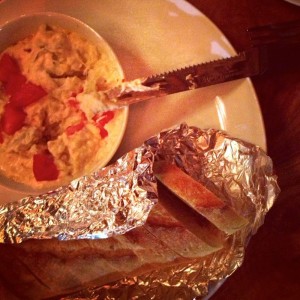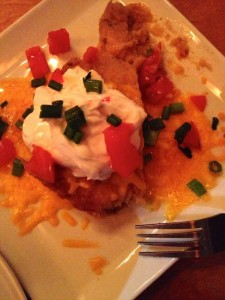 I think it's safe to say that we enjoy eating and drinking and finding fun, new restaurants. A lot. And I think we're pretty good at it, no?
Disclaimer:
I was not compensated to review these restaurants. I just love sharing my great experiences with all of you. All opinions are my own!