Never miss a bite! Sign up here to receive new recipes and reviews straight to your inbox.
Disclosure: Thank you to Bonne Maman for sponsoring this post. As always, all opinions are 100% my own.
Mother's Day is just around the corner, and with the help of Bonne Maman, it's time to #SayItWithHomemade. Make Mom breakfast in bed and serve her this sweet and savory bowl of Breakfast Quinoa with Strawberry Preserves.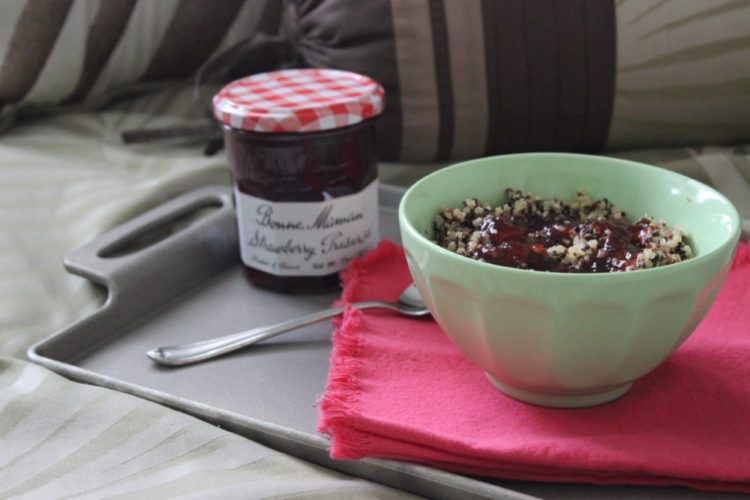 Did you know that Bonne Maman actually means grandmother or granny in French? How appropriate for Mother's Day! There's no sweeter way to show how much you care than by creating something from scratch and pouring your heart right into the bowl. You can do just that with this Breakfast Quinoa with Strawberry Preserves. It's super simple to make, with just a few ingredients — just like Bonne Maman's motto of simple ingredients, homemade taste.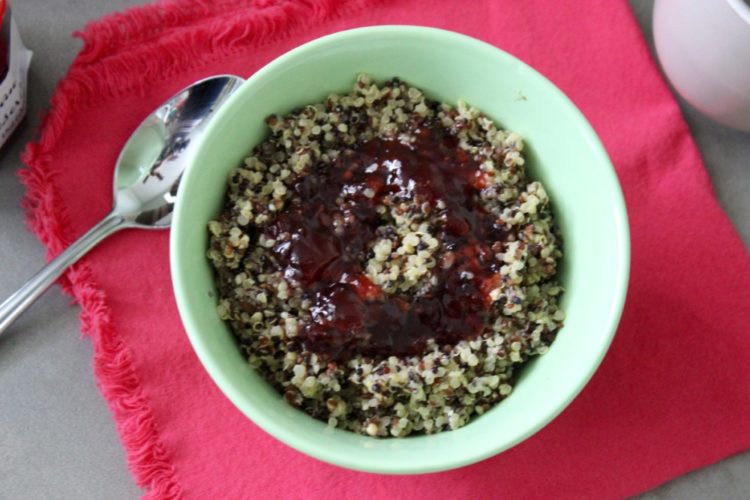 Bonne Maman's preserves are produced in France with the finest ingredients. They are made from whole fruit, and are Non-GMO Project Verified. There's no high fructose corn syrup, no artificial coloring and no preservatives added. Everything you'll find in their preserves could easily be found right in your own kitchen cabinets. Bonne Maman gets its appeal because of its dedication to authenticity — their products are reminiscent of those time-honored, homemade recipes that you probably remember Mom or Grandmom making when you were growing up.
But let's get back to breakfast in bed. First of all, no one wants to eat something messy in bed. That's why bringing Mom a bowl is ideal. There's no mess with this Breakfast Quinoa with Strawberry Preserves! We've pumped up the protein in this breakfast with some added hemp and chia seeds because even though Mom is already a super hero, a little extra boost of energy to get through the day would help. Add a cup of OJ, tea or coffee, and Mom is all set for a peaceful morning. Just make sure not to nag her for the rest of the day!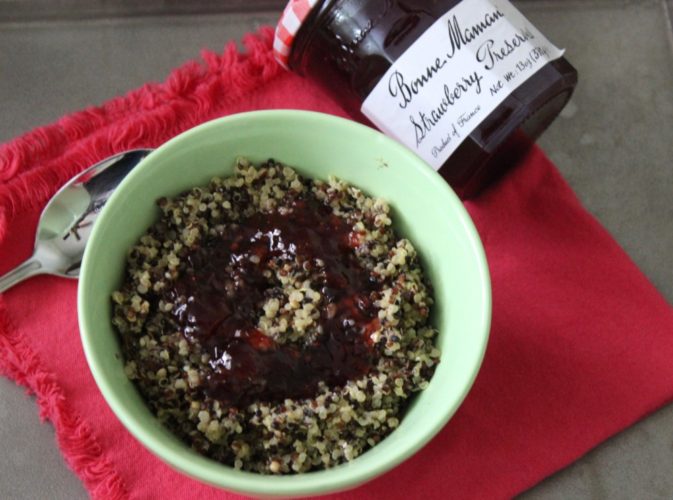 This Mother's Day, #SayItWithHomemade with #BonneMaman. Make sure to follow the brand on Instagram and Pinterest. Don't forget to enter their current sweepstakes! You can win a 12-piece set of Le Creuset cookware. There are over 1,000 prizes up for grabs, so you've got a great chance of winning something. But you can't win if you don't enter, so click here!


Looking for another Mother's Day breakfast in bed idea? Watch this!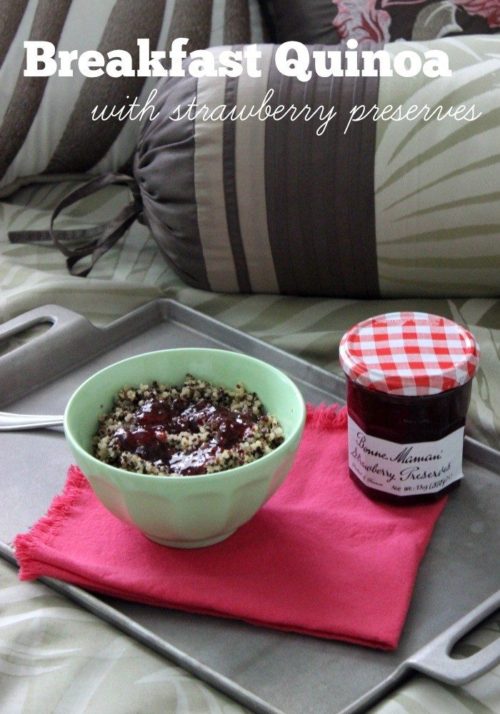 Breakfast Quinoa with Strawberry Preserves
Author:
Make Mom breakfast in bed and serve her this sweet and savory bowl of Breakfast Quinoa with Strawberry Preserves.
Ingredients
1/2 cup tri-color quinoa
1 cup milk of choice (I used unsweetened cashew milk)
1/2 tsp cinnamon
1-2 tbsp Bonne Maman Strawberry Preserves
Instructions
Bring milk to a boil over high heat.
Add the quinoa and bring to a boil. Reduce to low and simmer, covered, for 15 minutes.
Stir in cinnamon and re-cover, continuing to simmer until milk has fully absorbed.
Top with strawberry preserves right before serving.