Never miss a bite! Sign up here to receive new recipes and reviews straight to your inbox.
Disclosure: This is a sponsored post by Naked Nutrition. Product information and recipes have been provided by the sponsor. 
Hearty and Healthy Sweet Breakfast Recipes with Naked Nutrition
Naked Nutrition is a protein and supplement company whose slogan, "Nutrition with nothing to hide," emphasizes its belief in providing products that are made with clean ingredients — as few as possible — and being totally transparent so you always know exactly what you are putting in your body.
They offer over 40 products, with most having 3 ingredients or less, many of which are plant-based. There are a variety of different protein powders, protein cookies and bars, dietary supplements like collagen peptides, super greens and fiber, and other sports nutrition-focused products.
Naked Nutrition products are not only great for supplementing health and wellness, but they make great recipe ingredients too!
Let's talk breakfast…  Are you team sweet or savory? When dining out for breakfast or brunch, I tend to lean toward the savory side of the menu — omelettes, steak and eggs, potato and vegetable hash, etc. If I'm eating at home, my go-to breakfast on the weekend is always the same: scrambled eggs over greens, topped with Trader Joe's Everything But The Bagel Seasoning and whatever salsa I have in the fridge. I'm a creature of habit, and I don't ever really allow my sweet tooth to get the better of me during the first meal of the day…
Until now. Naked Nutrition has sent me two recipes that are definitely more sweet than savory, so breakfast is looking a little different around here this week.
Recipe for Gluten- and Dairy-Free Pumpkin Spice Overnight Oats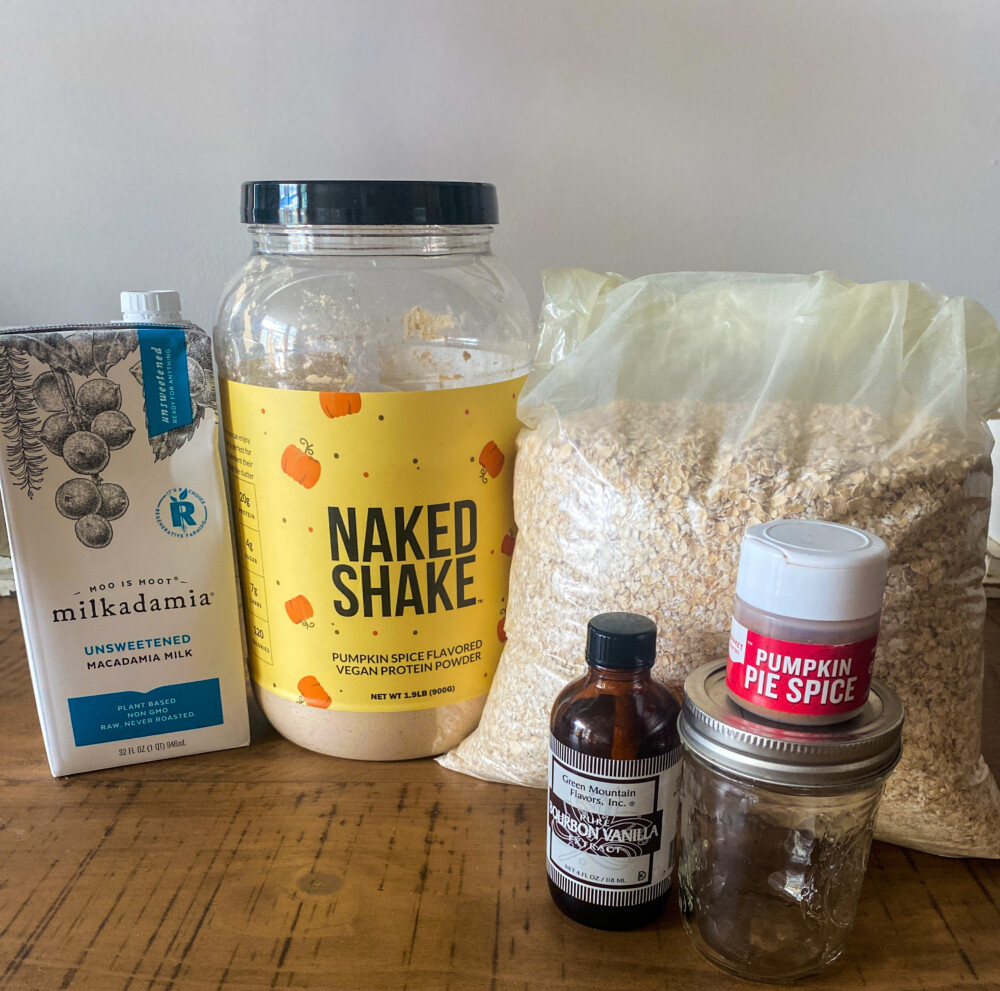 This overnight oats recipe features a seasonal, limited-time-only product from Naked Nutrition, and if you're a fan of the infamous PSL that everyone drinks this time of year, you're definitely going to want to try it out!
I've been using the powdered peanut butter from Naked Nutrition for a long time and prefer it to other powdered peanut butter brands, so when a new plant-based protein product came out, I was super curious to taste it. The Naked Shake comes in Strawberry Banana and Peanut Butter Blueberry, and the brand released an extra special flavor for the fall and holiday season: Pumpkin Spice!
The Naked Pumpkin Spice Protein shake is made with pea protein, MCT oil, cinnamon, organic coconut sugar, fermented cane sugar, and natural plant-based flavors. It packs a whopping 20g of protein into each serving, and only 4g of sugar. It also has 241mg of potassium, is gluten free, dairy free, soy free, non-GMO, vegan and independent third party tested.
Overnight oats has become such a trend in recent years, probably because it requires almost zero effort and still tastes awesome. This recipe is incredibly easy to make gluten- and dairy-free too. Simply make sure to purchase certified gluten-free oats and use your preferred plant-based milk product. The ingredient list is small and clean.
Grab a mason jar and let's make some Gluten- and Dairy-Free Pumpkin Spice Overnight Oats!
Ingredients:
2 scoops Naked Shake Pumpkin
3/4 cup gluten-free rolled oats
1 cup unsweetened non-dairy milk of choice
1/2 teaspoon vanilla extract
Dash of pumpkin spice seasoning
Optional: 2 tablespoons chopped walnuts
Instructions:
Add all ingredients to a mason jar or bowl and mix well.
Cover and refrigerate for at least 3 hours, or overnight.
After removing from the fridge, give it a stir and top with a sprinkle of pumpkin spice and chopped walnuts, if desired.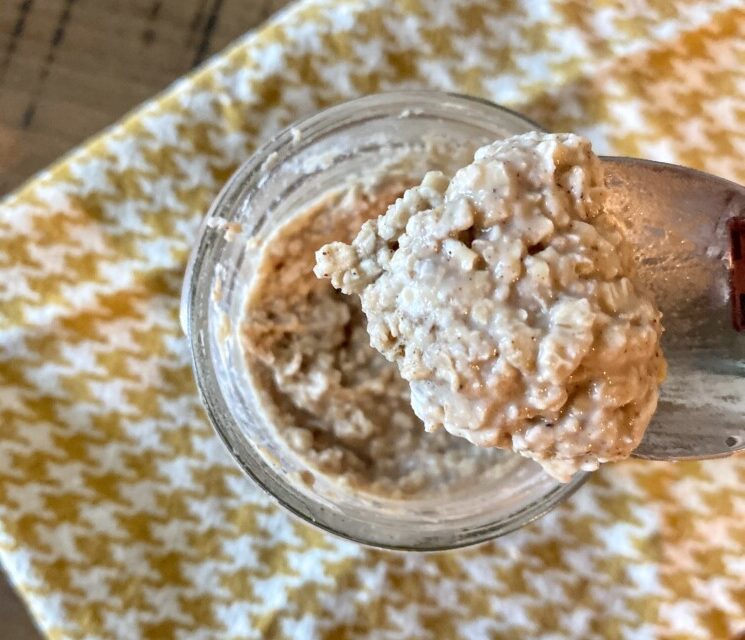 Recipe for Gluten- and Dairy-Free Peanut Butter Pancakes
Here's another tasty breakfast idea from our friends at Naked Nutrition! This recipe for Naked PB Pancakes uses my favorite Naked Nutrition product, Naked PB powdered peanut butter, so despite my love for savory scrambled eggs, I would definitely make this for a weekend breakfast!
Gluten- and Dairy-Free Peanut Butter Pancakes are the perfect weekend breakfast. Packed with simple, clean ingredients, a sweet stack of these pancakes is something you can feel good about eating.
I love the Naked PB powdered peanut butter for lots of reasons. First of all, it tastes SO good. I use it for all of my post-workout shakes, and I will definitely be using it to make pancakes and other baked goods from here on out. Naked PB is also low in calories and low in fat with only 2g of net carbs and 1g of sugar. Just like the Naked Shake, this product is gluten free, dairy free, soy free, non-GMO and vegan. It's made with one single ingredient: slow-roasted, non-GMO, US grown peanuts. There are no additives or artificial sweeteners, and it has been independent third-party tested for heavy metals.
Let's make some pancakes! Naked Nutrition likes to point out that typical pancake recipes are high in carbs and low in protein and fiber, which means your body is not getting adequate nutrients and you will probably be hungry again in an hour. These pancakes are anything but typical!
Ingredients:
2 bananas, mashed
2 eggs
1/2 cup Naked PB
1 tablespoon butter or your preferred cooking oil (to keep it dairy free, use vegan butter)
Instructions:
Whisk the eggs, and then add mashed bananas and Naked PB powder. Mix until well combined.
Lightly grease a pan with the butter or oil and place over medium heat.
When the pan is hot, add a large spoonful of the batter to the pan. Once the pancakes bubble, flip them with a spatula. Cook for about 1 minute on each side.
Naked Nutrition suggests serving with a drizzle of honey or maple syrup, fresh berries or sliced bananas — or, here's my suggestion: add a little water to the Naked PB powder to make a peanut butter sauce to pour over top.
Head over to Naked Nutrition to check out the variety of clean protein and supplement products available, and visit the recipe page for more protein-packed culinary inspiration!