Never miss a bite! Sign up here to receive new recipes and reviews straight to your inbox.
Disclosure: I was invited as a guest to stay at the JW Marriott Marquis Miami and dine at the restaurant. No monetary compensation has been received for this post. As always, all opinions are 100% my own.
Sometimes we South Floridians take advantage of this picturesque paradise we live in. People travel from all over the world to relax on our beaches, stay at our oceanfront hotels, dine at our award-winning restaurants and visit our exciting attractions — and us? We walk outside and can do these things every day if we so choose. Sure, there's that all Adulting thing that sometimes can get in the way, but still, the option is there. As a blogger and social media influencer, I'm lucky to be able to enjoy these luxuries on the reg. And I wake up grateful for that perk every single morning.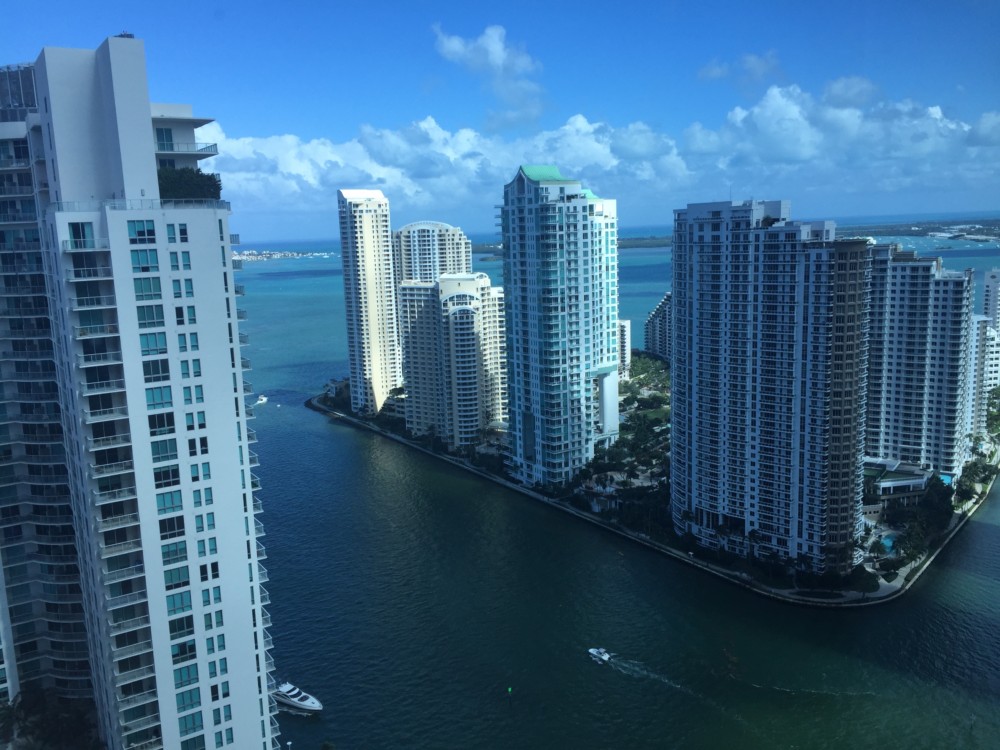 Recently, I was invited to stay at the JW Marriott Marquis Miami and enjoy dinner at the hotel's restaurant, DB Bistro Moderne, from one of the most iconic chefs and restauranteurs in the world — Daniel Boulud. I met Daniel once before at Palm Beach Wine and Food Festival four years ago and have been itching to eat at one of his South Florida restaurants ever since. There is Cafe Boulud in Palm Beach, and DB Bistro Moderne in the Brickell area of Miami. Since I had never been to Brickell before, I decided to go on a mini staycation and check out as much of the area as possible. The hotel graciously hosted us and provided a room with a stellar waterfront view from the room. Located right in the center of everything on Biscayne Blvd., the Marriott is a really awesome location for out-of-towners who don't want to deal with the hassle of driving in the city. Brickell City Center and Mary Brickell Village are both within walking distance. These shopping and dining destinations have it all, including a couple great spots I discovered with my friends during our Miami Girls Getaway. But we'll touch on those in Part 2. Today we're talking about the incredible French dining experience we had at DB Bistro Moderne, starting with top-of-the-line service from the restaurant's maître d', Christoph.
Christoph made sure our wine glasses were never empty, our bellies never empty, and our minds never lost. He explained each and every dish and paired them with excellent wines. It was a top-notch experience, starting with the cheddar biscuits all the way to the bonbons and macarons. We started with an appetizer that stood out to me more than any of the others — the cauliflower with coconut, cashews and curry. The assortment of rainbow cauliflower was beautiful to look at, and even more beautiful to dive into. It was an intense amount of flavor in a seemingly simple plate of food.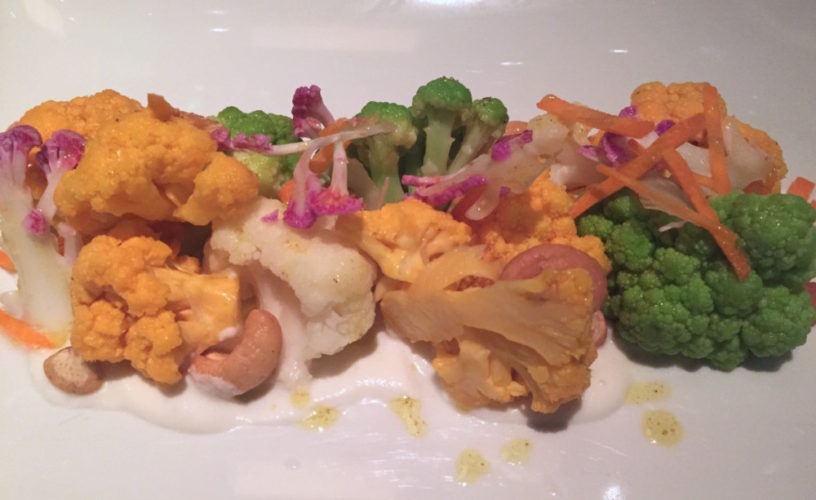 Another dish that pulled at my heart strings was the smoked salmon with avocado, tomato and horseradish crème fraîche. While this is normally something I'd crave during brunch, seeing it on the dinner menu made me crave it right then and there. It's a traditional combination of ingredients, but as with all of Daniel Boulud's creations, there was a degree of elegance and awe that just brought it to another level.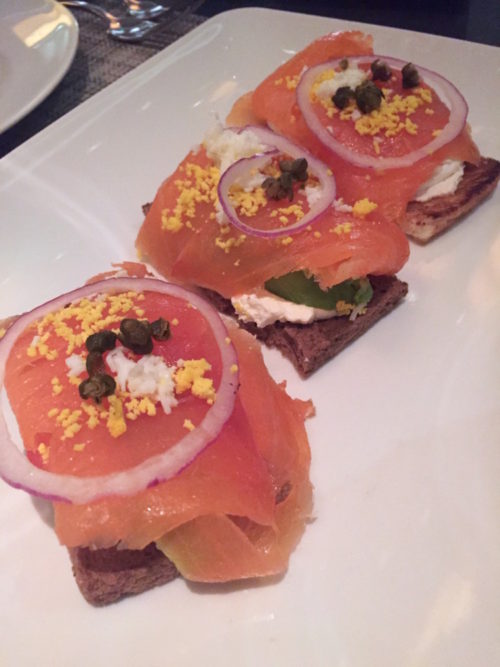 Same with the mushroom flatbread. I mean, how many times have you gone to a restaurant and seen a mushroom flatbread on the menu? I can't even count. But there is something so sophisticated about the way that DB Bistro Moderne combines the wild mushrooms with leeks and a béchamel sauce and places it on top of a super crisp flatbread that truly elevates this otherwise mundane appetizer. Even with the starchy flatbread, I couldn't resist reaching over for just one piece.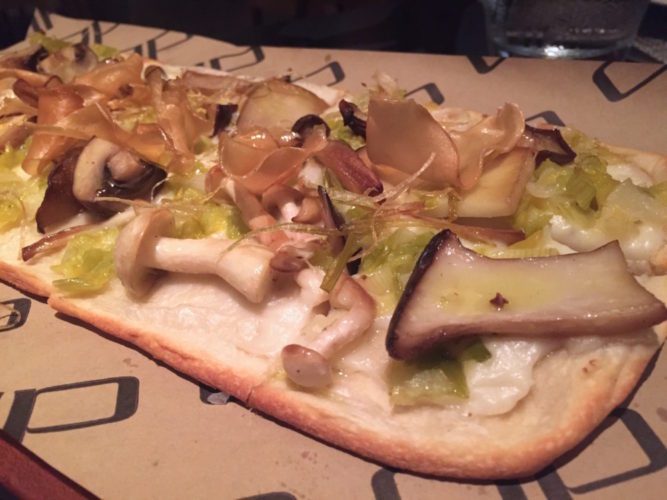 This seafood-centric meal continued with the crab cake, served with chayote, green papaya slaw, and an orange aïoli. Much to my liking, the crab cake was almost all crab meat, super flavorful and not dry at all. The entire dish was a win in my book, especially the aïoli!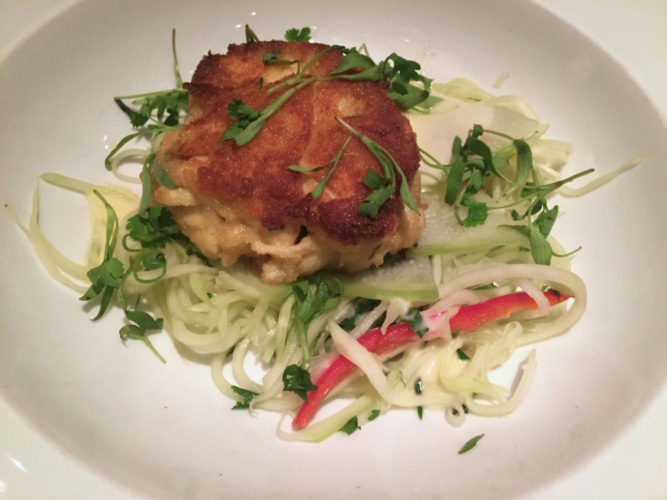 But my favorite, and I'm sure you aren't surprised, was the octopus. It was seared to perfection and mixed with chickpeas, piquillo peppers, and panisse (fried hummus). I couldn't get enough. I enjoy a variety of flavors and textures on a plate, and this delivered in every way possible. Keeping with the seafood theme, we also ordered the local pompano with tomatoes, fennel confit and focaccia. The fish was super tasty. It was light and almost airy with a ton of flavor.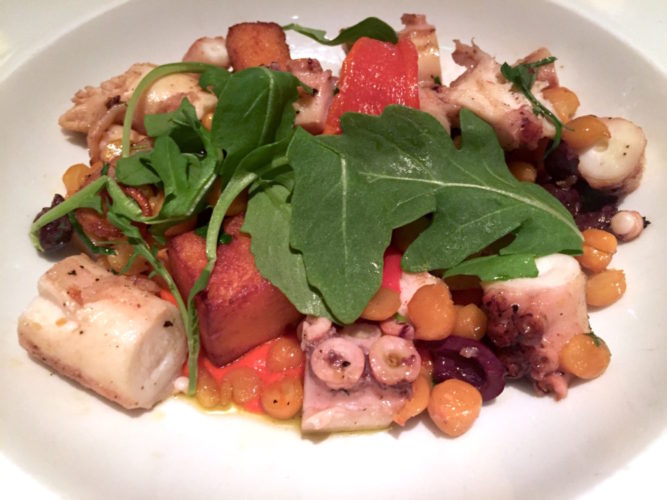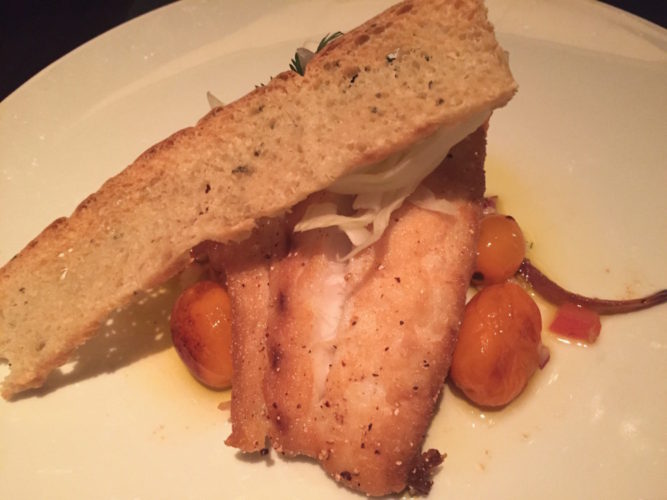 You really can't visit a French restaurant and not touch on the desserts. And when we couldn't really decide what to get, we ordered a bunch. Obviously, I threw my restrictions out the door for this one… I mean, it's Daniel Boulud's restaurant for crying out loud! I threw caution to the wind and indulged in a couple bites of the Arroz con Leche with a coconut sugar ring, macadamia nut tuile and blackberry sorbet; the Chocolate Bar with mango, dulce de leche mousse, and passion fruit & banana sorbet; bonbons, macaroons, and their signature warm madeleines. I can't brag enough about how amazing our experience was, largely due to the hospitality we received from Christoph. Why don't more restaurants have maître d's?!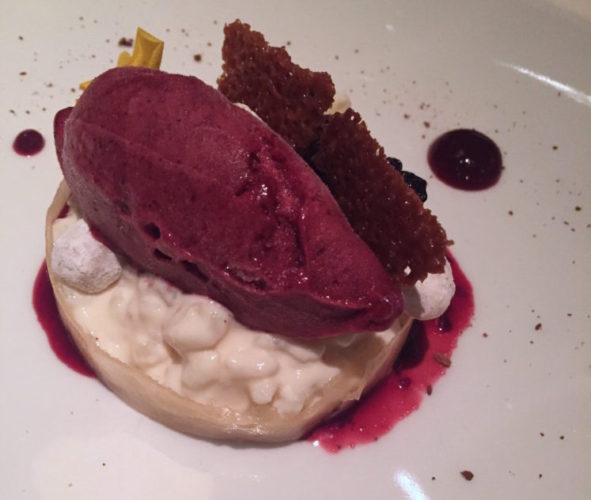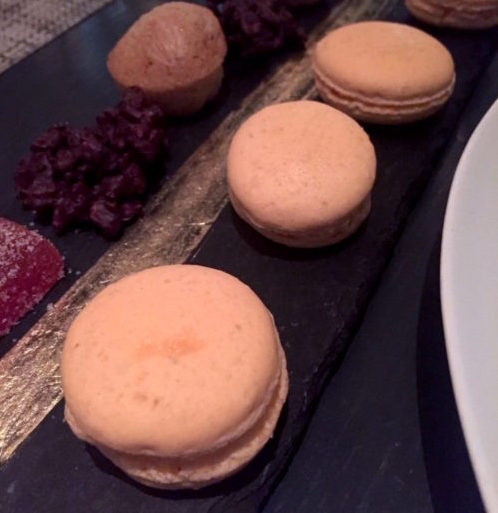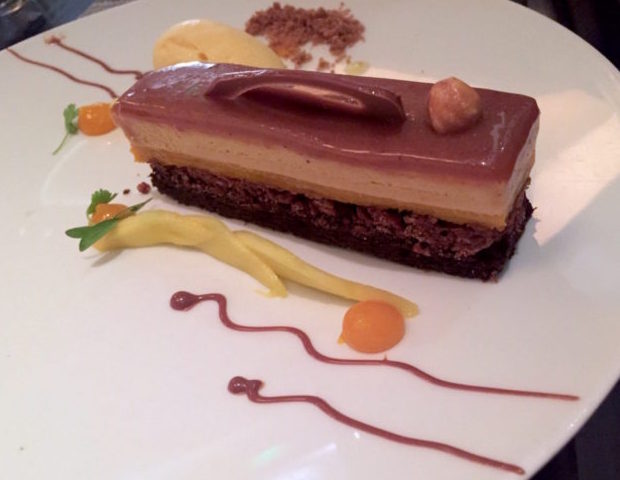 Later this week, I'll fill you in on the rest of my weekend in Brickell. Come back to read more about how we enjoyed happy hour overlooking the entire city at EAST Miami, a healthy fast-casual lunch at American Harvest, and cocktails at the trendy cocktail bar, Baby Jane, which we literally stumbled upon while walking around town.
DB Bistro Moderne is located in the JW Marriott Marquis at 255 Biscayne Boulevard Way in Miami, FL.