Never miss a bite! Sign up here to receive new recipes and reviews straight to your inbox
You never know what you're going to get when you make an upside down cake. This Brown Sugar Banana Upside Down Cake is a perfect twist on the classic.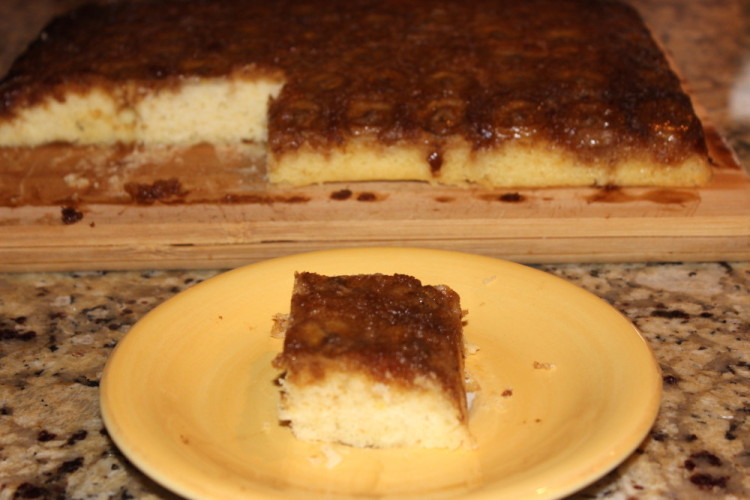 I'm kind of Food Network obsessed. That's how this whole blog thing started — I had nothing better to do than watch Food Network cooking shows all day long, and just fell in love. I watch just about every cooking competition show that's on. Spring Bake Championship started last weekend, and of course I tuned in. The baking challenge in the premiere episode was to make an upside down cake — I've made a pineapple upside down cake once before, but now I was inspired to try it again with different fruit. They used apricots, peaches, nectarines and blueberries — but no one used bananas.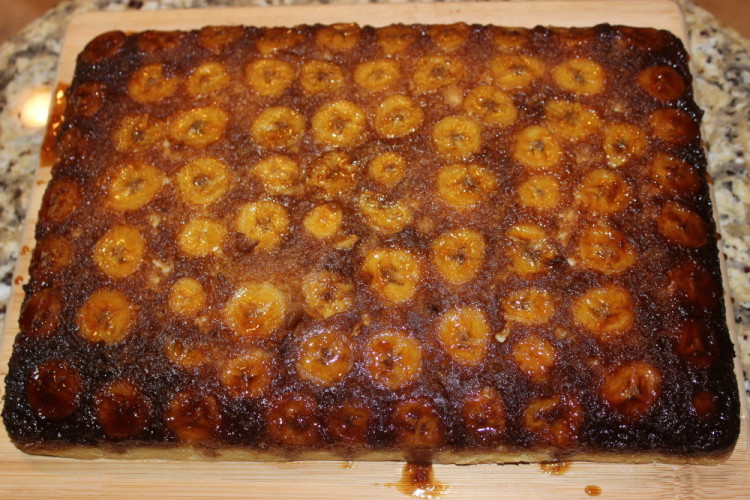 After watching contestant after contestant show off their cake to the judges, I was itching to get into the kitchen and make my own. What made it even better is that I was invited to join Country Crock® and bake up a yummy dessert for Mother's Day breakfast or brunch. This cake has bananas. Bananas are often eaten at breakfast, so I'd say this definitely qualifies as breakfast or brunch-worthy! Plus, Mother's Day Brunch always needs dessert. And what better than a big slice of Brown Sugar Banana Upside Down Cake to satisfy your sweet tooth and celebrate all those wonderful mothers out there.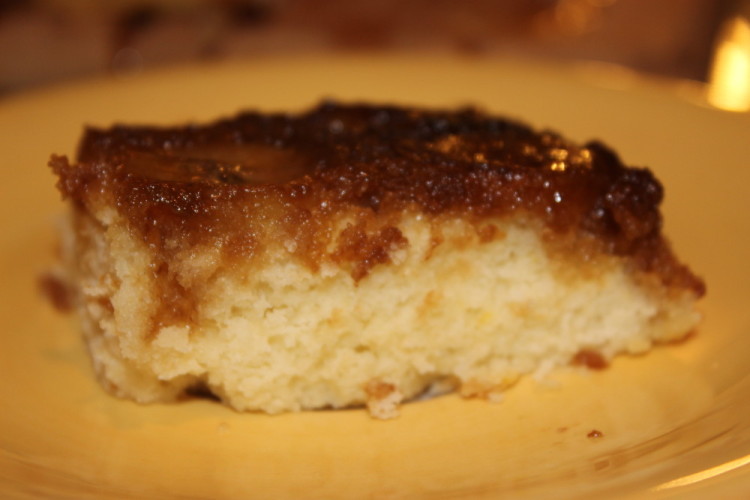 This Brown Sugar Banana Upside Down Cake is the perfect dessert to serve for Mother's Day Brunch. You can make it the night before and keep it covered, ready and waiting to serve to Mom on her day. My mom loves to bake with bananas. She'll randomly throw together banana chocolate chip bread, slice bananas to mix into her signature chocolate chip pancakes and always blends them into her smoothies too. A banana dessert is the perfect way to pay homage to the woman who made me….well, me. She may not live close, but she's always there. Her text messages and emails may be a bajillion paragraphs long, but it just shows how much she cares. To show how much I care, I spent the afternoon carefully creating this Brown Sugar Banana Upside Down Cake. And let me tell you, an upside down cake really does take a lot of tender love and care. Slicing the bananas, placing each piece on top of the mixture of melted butter and brown sugar, mixing up a perfect vanilla cake, and baking it to the perfect consistency. Then comes the inversion… The moment when you flip over the cake pan and pray that it comes out in one piece.
And when it does, and there isn't a crack in sight, you scream and do a little happy dance. Yep, that happened.
You still have plenty of time to plan your Mother's Day Brunch, and I highly suggest adding Brown Sugar Banana Upside Down Cake to the menu. Mom will love it!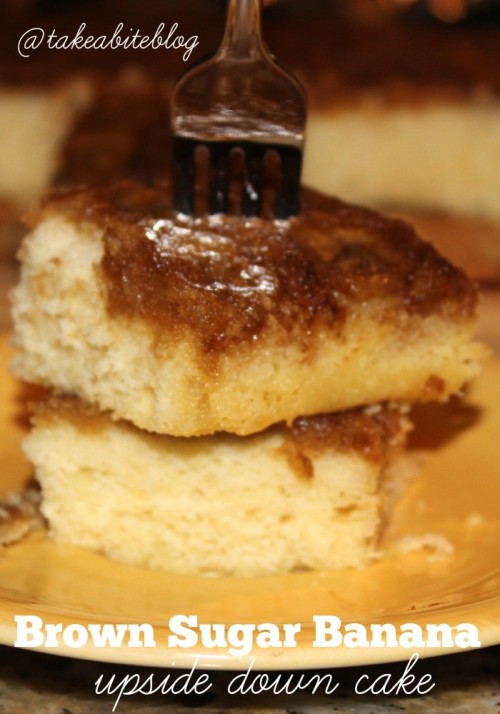 Brown Sugar Banana Upside Down Cake
Author:
You never know what you're going to get when you make an upside down cake. This Brown Sugar Banana Upside Down Cake is a perfect twist on the classic.
Ingredients
1/2 Country Crock® spreadable stick, melted
10 tbsp dark brown sugar
4 small bananas, sliced into 1/4-inch rounds
2 1/4 cups cake flour
1 tsp salt
1 tbsp baking powder
1 Country Crock® spreadable stick, softened
1 1/2 cups granulated sugar
3 eggs
1 1/4 cup milk of choice (I used unsweetened cashew milk)
1 tsp pure vanilla extract
Instructions
Preheat the oven to 350 degrees. Grease a 9×13 cake pan.
Pour melted butter into the cake pan and disperse tablespoons of brown sugar evenly around the pan.
Use the back of a rubber spatula to spread the brown sugar, mixing with the melted butter and completely covering the bottom of the pan.
Arrange sliced bananas over top of the sugar and butter mixture and set pan aside.
Combine flour, salt and baking powder in a small bowl and set aside.
In a bowl of a stand mixer, beat butter and granulated sugar until fluffy.
Add eggs, one at a time, making sure each one is fully beaten into the mixture before adding the next.
Add milk and vanilla and mix well.
Add the dry ingredients and mix until smooth.
Pour batter over the bananas, making sure to cover them completely.
Bake for 30 minutes, uncovered.
At the 30 minute mark, cover the cake with tin foil and continue to cook for another 20 minutes or until a toothpick inserted into the center of the cake comes out clean.
Notes
Cake recipe adapted from Bob's Red Mill Buttery Yellow Birthday Cake: http://www.bobsredmill.com/recipes/how-to-make/buttery-yellow-birthday-cake/
 Disclosure: