Never miss a bite! Sign up here to receive new recipes and reviews straight to your inbox.
Disclosure: I was invited to dine as a guest of the restaurant. No monetary compensation has been received for this post. As always, all opinions are 100% my own.
Spend your weekend brunching at Tanzy Restaurant in Boca Raton, then follow it up with a movie right upstairs at the iPic Theater. Now that sounds like the perfect afternoon!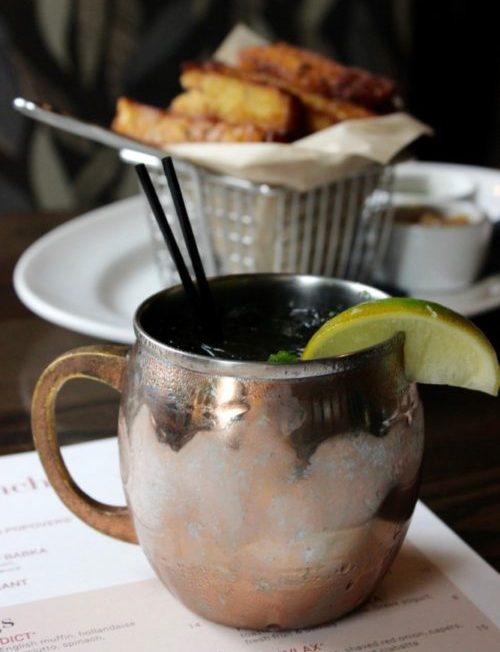 Once we hit the weekend, brunch is always on my mind. I've pretty much hit just about every brunch spot you can think of throughout Boca and Delray — but never Tanzy! I've been for happy hour, dinner, and even late night drinks, but I hadn't yet experienced their brunch. Had I known I was missing out on latke fries all this time, I would have come much, much sooner.
Let's just cut the banter and start right there. Latke Fries. Potato latkes in french fry form. Whoever thought of this is my hero. Latkes hold a very special place in my heart, no matter how they are prepared. They will always remind me of my Dad, who makes them from scratch every year during Hanukkah. We made them together the year before I moved to Florida, and I've made them on my own a few times since. If you aren't familiar with what a latke is, it's a potato pancake. Some people make them super thin and crispy without much potato filling in the middle; others make them thick with a fluffy potato-filled center and a perfectly crisp exterior. That's how I like 'em, and that's exactly how Tanzy's latke fries are. They are served with applesauce and sour cream, which are the traditional accompaniments for any latke. These are a must when visiting Tanzy for brunch. I totally could have eaten the entire basket of fries on my own, but I figured I should be nice and share with my guest… Note to self: in the future, order two.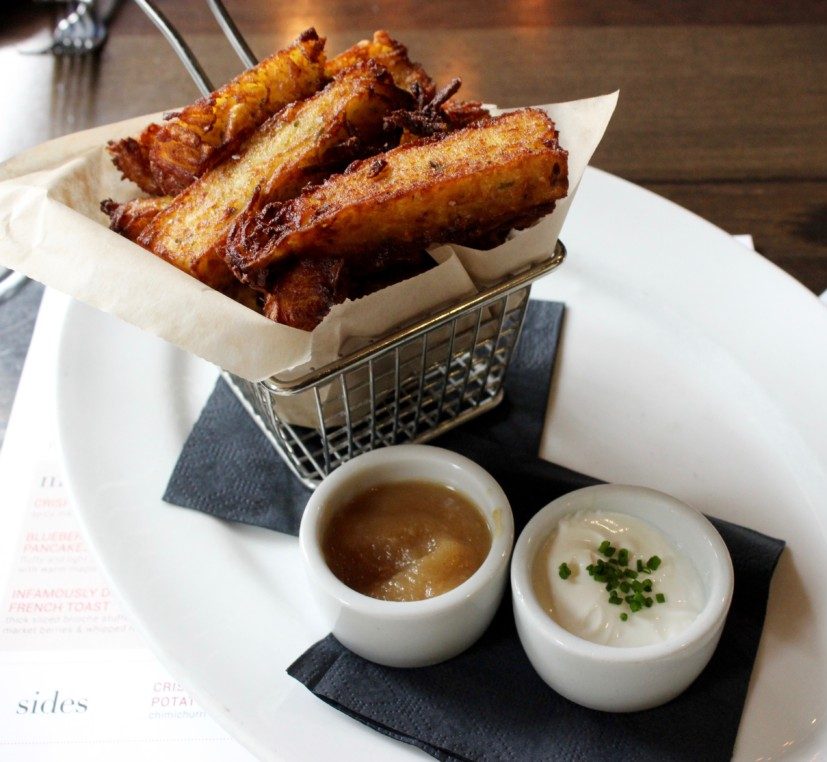 Tanzy offers a nice variety of brunch-inspired appetizers perfect for sharing (or hoarding for yourself — whatever your style may be) including smoked salmon popovers with dill crème fraîche, monkey bread babka, orange currant scones, Italian doughnuts, croissants, banana nut streusel muffins, sourdough toast with whipped butter and jam, and a bread basket filled with a scone, muffin, brioche, bombolini, croissant and served with berry marmalade and Nutella.
While the brunch entrees sounded super decadent and delicious, I was instantly drawn to the seafood cobb salad with lump crab, poached gulf shrimp, bibb lettuce, romaine hearts, hass avocado, blue cheese crumbles and a hard-boiled egg, tossed in lemon vinaigrette (I asked that they leave out the applewood smoked bacon, obvs). It just sounded so refreshing, and since I pretty much gobbled up those latke fries without shame, I was thinking something a little on the healthy side would be a good choice. The salad was just what I wanted — very light and very tasty.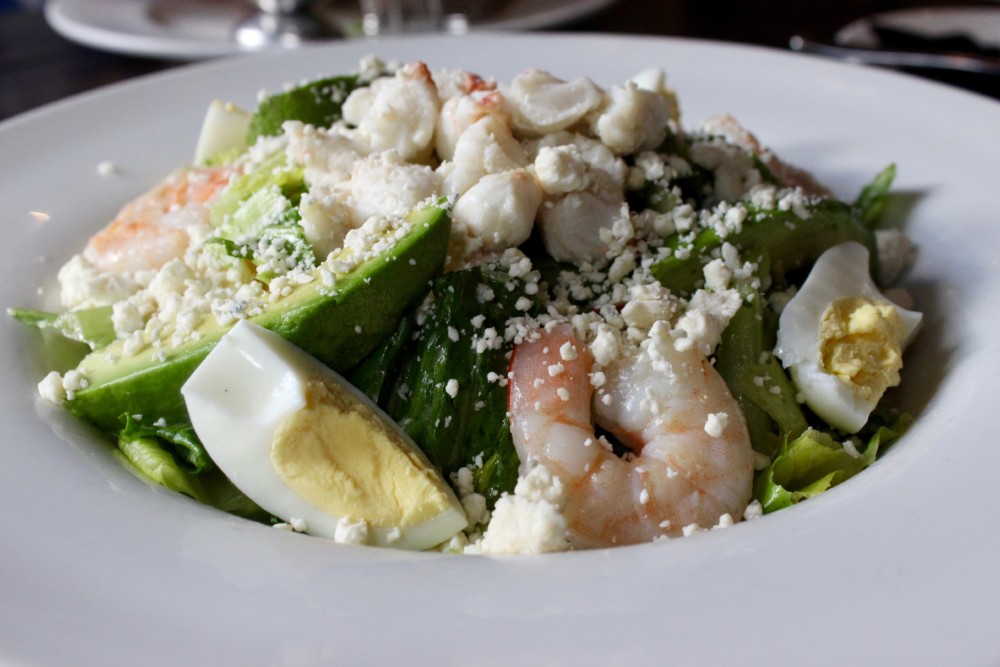 For my guest, there was a lot of back and forth between his entree choice. Crispy chicken and waffles with spicy maple syrup or the Tanzy burger made with wood-grilled 10oz ground angus and topped with applewood smoked bacon, smoked gouda, beefsteak tomato and arugula on toasted rosemary focaccia. My logic? Order the burger because I thought it would make for a better photo. Plus, the burger came with fries. And I mean, who can say no to that? Even if we already had potatoes, there's always room for more fries…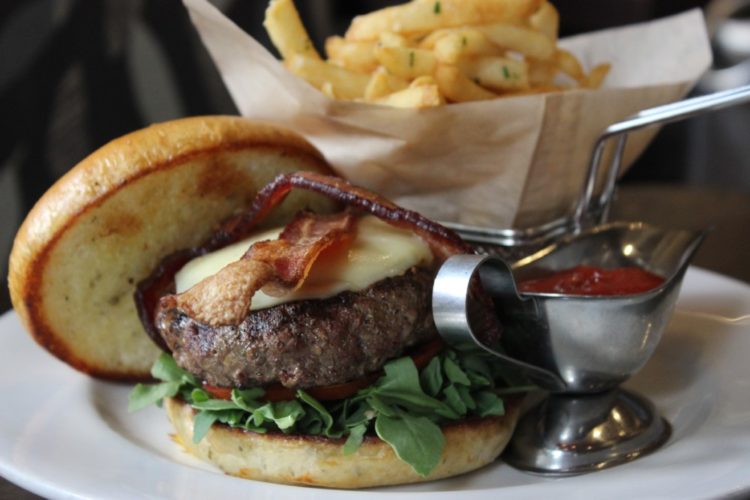 Aside from the crispy chicken and waffles, additional brunch options at Tanzy include their Infamously Decadent French Toast with thick sliced brioche stuffed with farmers market berries & whipped mascarpone, blueberry buttermilk pancakes, house-made granola with toasted almond oats, Greek yogurt, fresh fruit & berries, the gravlax platter, steak and eggs, and more.
You could opt for the $14 bottomless mimosas, but if you really want to get fancy while brunchin' at Tanzy, you need to check out their menu of liquid nitrogen cocktails. These have been created by iPic's Master Mixologist, Adam Seger, and are an over-the-top experience that is not to be missed. The drinks are made table side and are quite the sight to see. They are frozen at -196 degrees Celcius, and pretty much resemble sorbet. These could totally double as dessert, and I recommend sharing with a friend — they are large and strong. We tried the Champagne Crush made with lemon-infused Belvedere vodka, Moët & Imperial Champagne, Grand Marnier, and ginger-citrus sorbet. It was absolutely delicious, but started to melt quickly so we found ourselves using a spoon to scoop up all of the boozy deliciousness.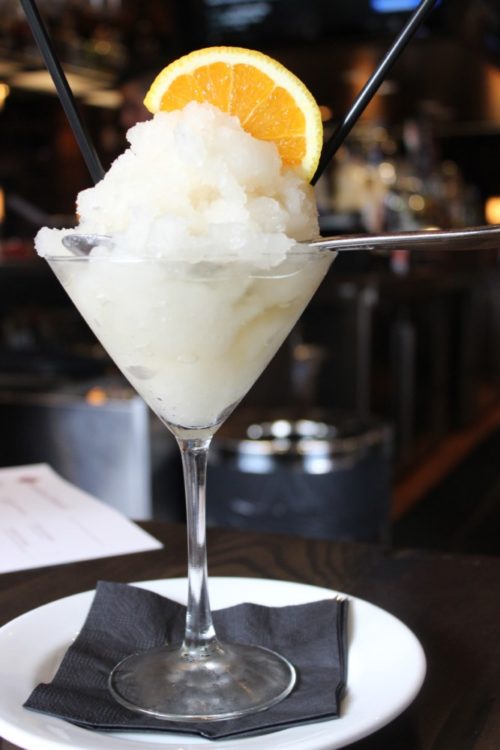 Tanzy proved to be just as good for brunch as it has been for dinner, and I would definitely return. Brunch is offered Saturday and Sunday from 11am-3pm. Tanzy is located in Mizner Park at 301 Plaza Real in Boca Raton.