Never miss a bite! Sign up here to receive new recipes and reviews straight to your inbox.
NOTE: This restaurant has since closed.
Disclosure: I was invited to dine as a guest of the restaurant. No monetary compensation has been received for this post. As always, all opinions are 100% my own.
Buddha Garden, located street-level underneath Buddha Sky Bar and its nightclub, Level2, has introduced a brand new menu featuring tapas-style specialities from the robata grill, dim sum and more.
With so many restaurants to choose from on Atlantic Avenue, it really takes something special for each one to stand out. To be honest, Buddha Garden was never really high on my list of places to go. I've walked by many times, but never sat down and ate. However, after a new management team took over and revamped the menu, I will be whistling a different tune whenever I pass by. There is a strong emphasis on robata-grilled appetizers meant for sharing, as well as dim sum and sushi and Asian-style entrees both traditional and modern. If you aren't familiar with the term robata, all it means is fireside-grilling. It's a charcoal grill that gives such amazing flavor and texture to everything that touches it. There isn't one thing I tried during my visit to Buddha Garden that I didn't like, and we tried a lot.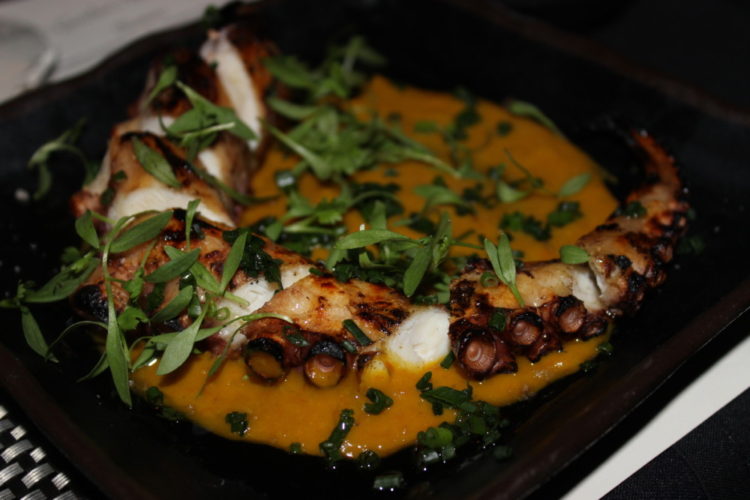 First up were two starters not from the grill, but still just as delicious. The wok-charred edamame with smoked salt and charred lime are super tasty. That charred lime has such an interesting and creative flavor profile that makes you keep going back for one after the other. You'll try to stop…then a minute later you find yourself picking up your chopsticks again, for just one more. But even more addicting than the edamame are the roasted shishitos. These were my favorite thing on their new menu and I practically hoarded an entire bowl of them all for myself. (There were plenty of other bowls for everyone else to enjoy, I promise). They were generously coated in mustard miso and lime and I just couldn't get enough of them. In fact, as I'm writing this, a friend and I are planning where to go for happy hour tonight, and I suggested we go to Buddha Garden just so I can have those peppers again!
Before diving into the menu, several new and interesting cocktails were available for us to try. The most popular choice for everyone seemed to be the Enchanted Garden made with gluten-free Reyka vodka, fresh ginger, muddled basil, prickly pear puree and sparkling pomegranate soda. Whiskey lovers will enjoy the Hibiscus Smash made with Evan Williams "White Label" whiskey, hibiscus syrup, agave, mint, lime, soda and a hibiscus ice cube. Buddha Garden also has an extensive list of Japanese beer and sake.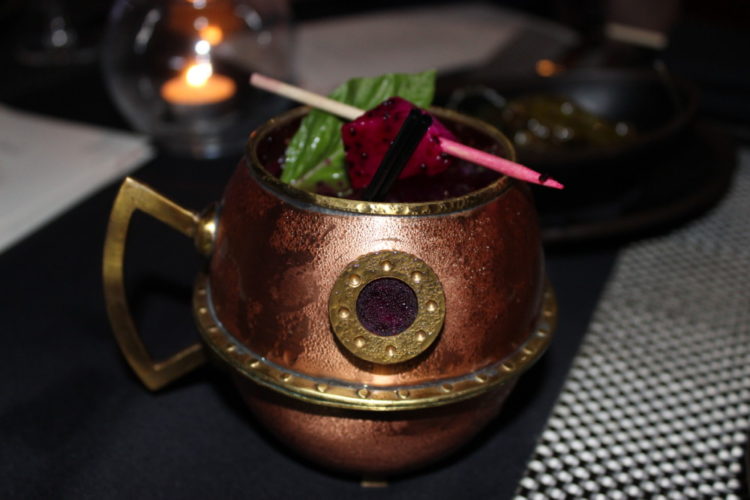 Now we were ready to get fired up! We were served an insane amount of food, but thankfully there were plenty of us at the table to make sure nothing was wasted. The idea behind these dishes is that they are grilled, never fried, which makes for a healthier choice, and perfect for sharing among friends. There are plenty of vegetarian options, as well as chicken, seafood and meat. Here's what we tried: sweet 'street' corn, jumbo asparagus with lemon honey, wild mushrooms with smoked maldon salt and truffle, miso Japanese eggplant, cauliflower with truffle butter, kalamansi (citrus) chicken thighs, durac pork belly with apple-hoisin glaze, Korean short ribs, crispy duck leg with red chili vinaigrette, crispy octopus with aji panca (Peruvian red pepper), and calamari steak with aji amarillo (Peruvian hot yellow pepper) aioli.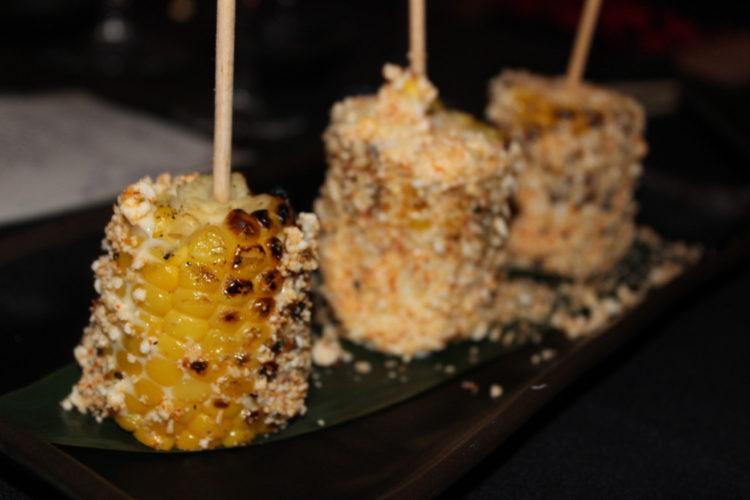 Like I said, I really enjoyed everything I tried (obviously none of the chicken or meat options), but there were a few that stood out tremendously. The calamari steak was one of the best grilled calamari dishes I have ever had — perfectly tender and not chewy in the least. The aioli wasn't overly spicy, but had just the right amount of heat to give off a kick of bold flavor. This is definitely something I would order again.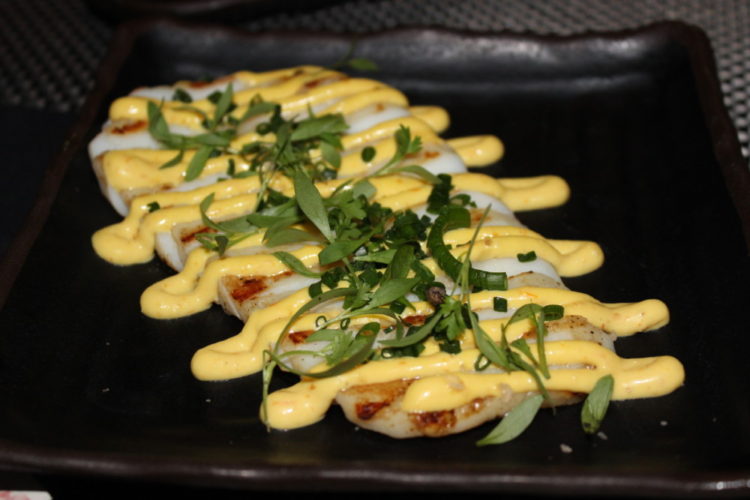 Another favorite was the Japanese eggplant. That miso glaze was so good. Japanese eggplant is a bit sweeter than regular eggplant, and I actually think I may like it better. I also favored the mushrooms. They were smokey and meaty and you know I was enamored by that little hint of truffle.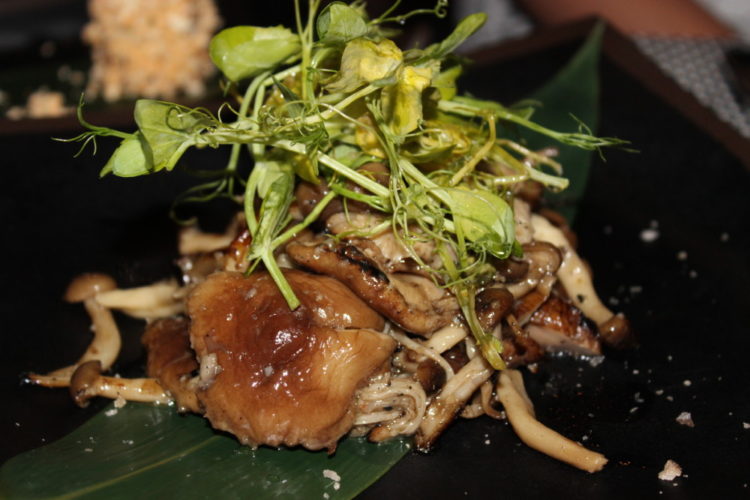 Sushi time! All of a sudden, a plate topped with a log of tin foil appeared on the table — and was then lit on fire! Inside the foil, there was a Buddha fire roll cooking up for all of us to enjoy. This roll was filled with spicy tuna, volcano mix, crab, shrimp and avocado. It was delicious, but the real winner here was its table side presentation. Everyone loves a little entertainment, am I right?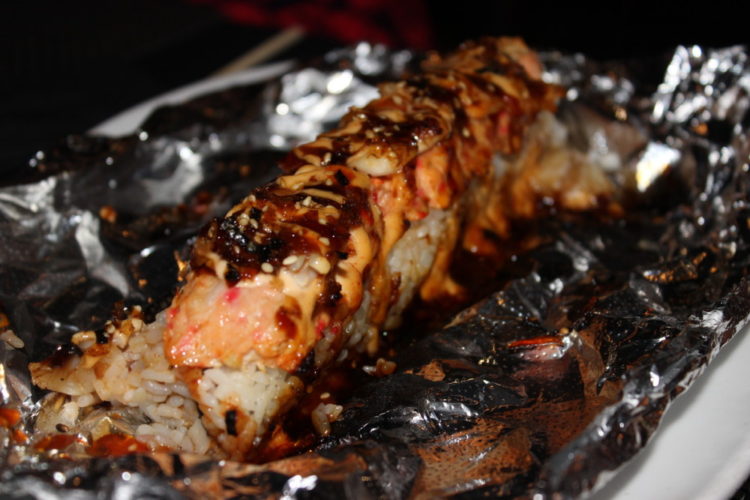 We also tried the cherry blossom, filled with robata-grilled salmon belly, wasabi aioli, whipped boursin cheese and white truffle oil. The ingredient combination here totally and completely baffles me. Cheese in sushi? Um, what?! It wasn't bad, but I think that's because all of the flavors just masked each other and you couldn't really tell what you were eating. I was excited about the robata-grilled salmon belly, but sadly, I don't feel that I could really taste it. On the flip side, the handsome rob roll was a hit. It's made with yellowtail, serrano pepper, spicy tuna, toban jan (chili bean sauce) and crispy shallots. The sauce really made it what it was, and the shallots added a great element of crunch and texture to the roll that I didn't get from either of the others.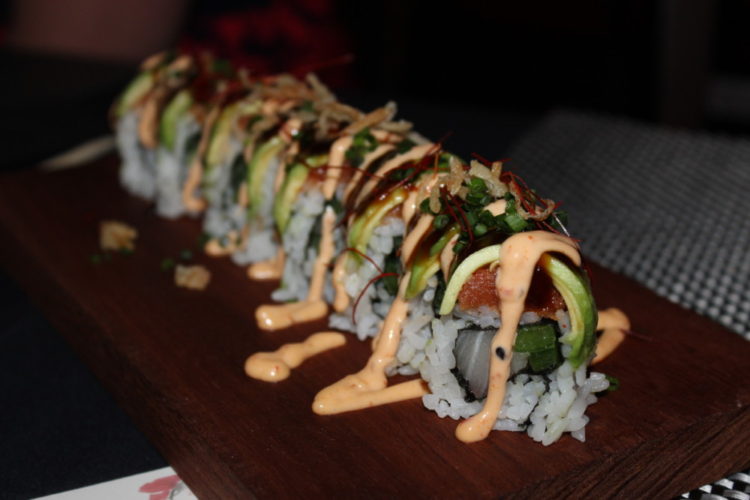 Some of the new entree items include kimchee fried rice with pork belly, Brussels sprouts and a poached egg; Kung Pao prawns and cashews with red chili and scallions; chicken red curry with bamboo shoots, snap peas, ginger and toasted cashews; honey sesame crispy wok beef; whole boneless brick chicken; and the Buddha Garden Peeking duck, which serves 2-4 people, with scallion pancakes and pickled cucumber salad.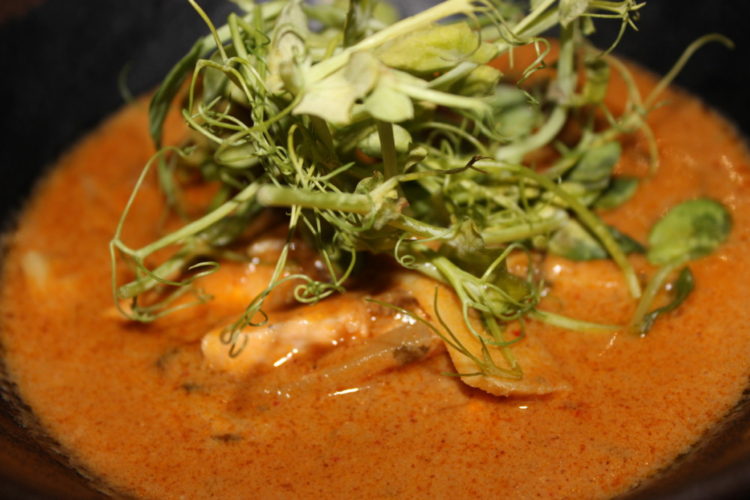 I'm thrilled to have a new place to visit on Atlantic Avenue when I'm looking for somewhere to eat, and I hope you are too!
Buddha Garden is open for dinner Sunday through Thursday from 4-11pm, Friday and Saturday from 4pm-2am. Happy hour is from 4-6pm, seven days a week, and Sunday brunch is offered from 12-3pm. Buddha Garden is located at 217 East Atlantic Avenue in Delray Beach.