Never miss a bite! Sign up here to receive new recipes and reviews straight to your inbox.
Disclosure: I was invited to dine as a guest of the restaurant. No monetary compensation has been received for this post. As always, all opinions are 100% my own.
Another new restaurant has opened in the Delray Marketplace — and this one is right inside Frank Theaters CineBowl & Grill. Burger & Beer Joint has seven locations throughout Florida including Mary Brickell, South Beach, Pembroke Pines, Sarasota, West Palm Beach, Dolphin Mall, and now Delray Beach. B&B is known for its rock and roll vibe — something you'll notice when you check out the menu. Each burger is named after a different rock and roll hit, like Hotel California, Stairway to Heaven and Wild Thing.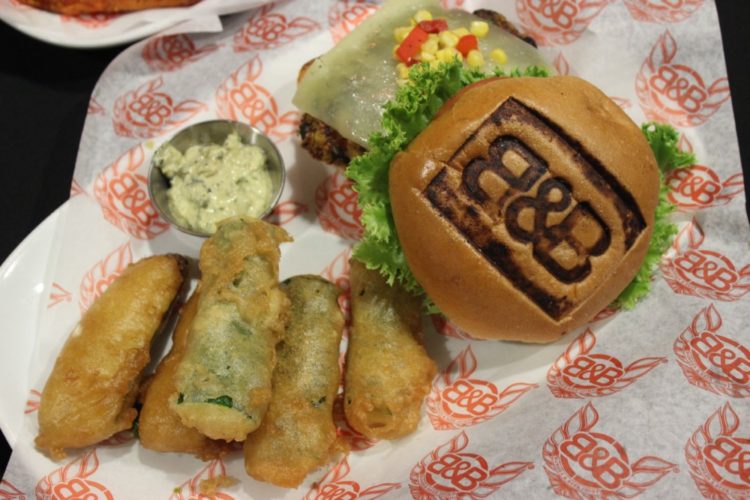 The menu offers a variety of indulgent items like deep-fried Twinkies and Oreos, duck fat fries, baked truffle potato salad with bacon, homestyle chili and cheese fries, plenty of boozy milkshakes, and a huge list of burgers to choose from — and you can even custom make your own. But the main attraction at Burger & Beer Joint is the 10 pound Mother Burger. This thing is the size of a manhole cover and served with lettuce, tomato, onion and a pickle. Guests can add cheese, two toppings and one sauce. It starts at $150 (extra charge for Pure Platinum toppings). BUT if you order in advance and finish it all by yourself within 2 hours, it's FREE. Do you think you could eat that much burger in two hours? More power to you if you do…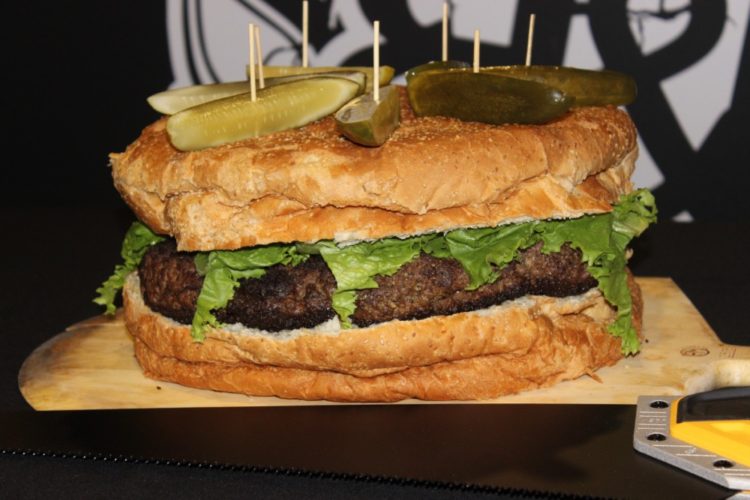 Burger & Beer Joint is literally located right inside Frank Theaters CineBowl, so it's a great location for parties or if you're looking for a fun night out of bowling, burgers and beers. The atmosphere is loud and boisterous and not ideal for a sit-down dinner, but for a party or fun night out, it's definitely an ideal spot.
On the restaurant's first day open, a group of local bloggers and media were invited to check out the menu — and partake in the MotherBurger ritual that includes a parade of kitchen staff, clanging pots and pans as they bring out this ginormous piece of meat and cut it with a saw. I spent more time watching others wolf down burgers than I did eating at this tasting (a welcomed change from other media dinners, I might add) but there were a few things I got to try.
The first bite — ahi tuna tacos with chili-garlic aioli, jalapeño salsa, cilantro and guacamole in a crispy won ton shell. The flavors were big and bold, and I liked the contrast of textures. I had a feeling I wouldn't have too much coming my way during the dinner, so I may have taken more than one of these babies. This is one of the lighter options on the menu — there aren't many. The next thing we tried is definitely not light…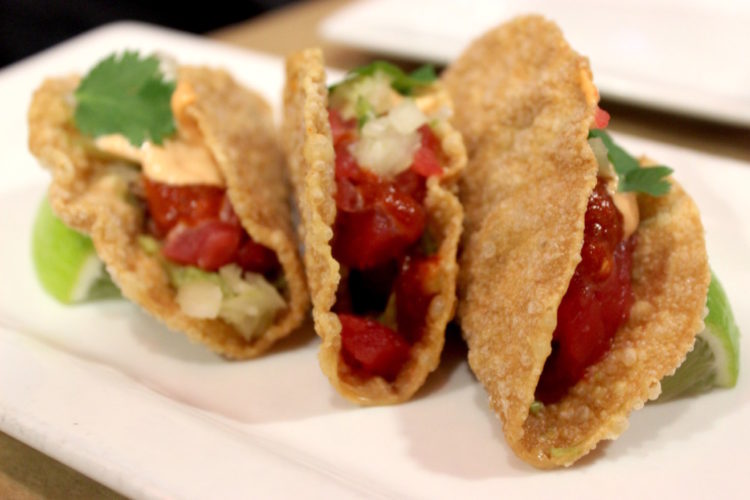 The Mac Daddy Cheese Gratin is made with a THREE cheese mornay sauce and topped with panko bread crumbs and parmesan cheese. Baked mac and cheese is one of those tried and true comfort food classics that everyone loves. It's even better when there's a crispy, crunchy topping — this dish was pretty on point.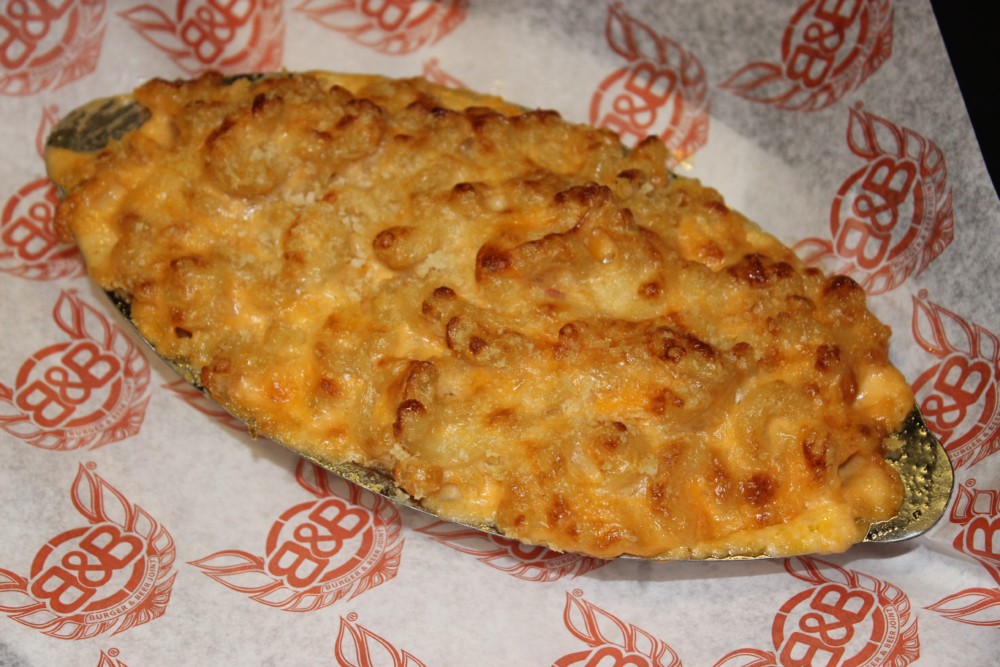 As everyone was happily eating their Mustang Sallys and Hey Judes, I was really hoping they'd bring out either the Dr. Feelgood (veggie burger) or Dear Prudence (portobello mushroom burger). Seconds later, Dr. Feelgood appeared in front of me! This 7 oz. house-made veggie burger consists of toasted rainbow quinoa, smoked cumin beans, roasted red peppers and oats, topped with a roasted red pepper and corn salsa and manchego cheese, and served on a brioche bun. It comes with a side of tempura-battered zucchini fries and the most incredible basil-mint pesto sauce I've ever tasted. I'll be honest — I ate the burger with a knife and fork, with my intention being not to eat the bread. Except then, I kept ripping off piece after piece of bread to dip in that sauce because it was just so freaking good.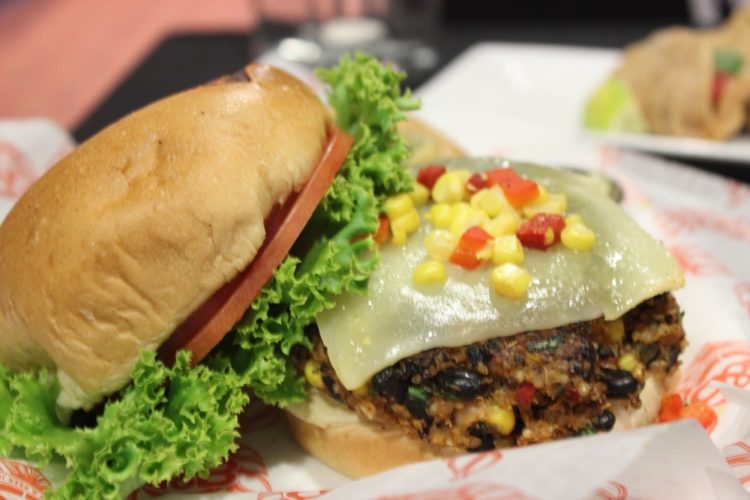 Burger & Beer Joint has a lot of menu options — and even though it caters mostly to all you carnivores out there, there are a few vegetarian- and pescatarian-friendly items that'll make your visit worthwhile if you follow either of these diets. Just don't expect to have a quiet conversation…or leave there being able to button your pants.
Burger & Beer Joint is located inside Frank Theaters CineBowl and Grille at 14775 Lyons Road in Delray Beach.