Never miss a bite! Sign up here to receive new recipes and reviews straight to your inbox.
Disclosure: I was invited to dine as a guest of Burt & Max's. No monetary compensation has been received for this post. As always, all opinions are 100% my own.
With gluten- and dairy-free restrictions on the rise, it's crucial for restaurant chefs and owners to understand the importance of being able to accommodate these diets. While some choose to eat this way, many are forced by way of medical conditions or allergies, meaning that the cost is at an all-time high if the wrong ingredients make their way onto a guest's plate. Burt & Max's, part of the iconic Rapoport's Restaurant Group, has gone above and beyond with its online menu, giving guests detailed descriptions of how to make each of their menu items gluten-, dairy- and nut-free with simple swaps and alterations. 
Burt & Max's is my go-to dining destination whenever I find myself out in West Delray — I love its rustic, industrial decor and cool, inviting atmosphere. It's super family friendly, and the outdoor patio is the perfect spot to sit back and relax with a front row seat whenever the Delray Marketplace may have something going on at its amphitheater. The restaurant is spacious, the booths are comfortable and the wood-fire brick oven fills the air with the most delicious aroma. It's only fitting that in my quest to tackle this new Allergy-Friendly Menu, I invited another blogger with food restrictions to come with me, Arielle of Gluten Free Gal Pal (who actually does suffer from Celiac). The two of us enjoyed a fun, "Gluten Free Gal's" night out, starting with my most favorite thing ever on the menu at Burt & Max's — the crispy Brussels sprouts.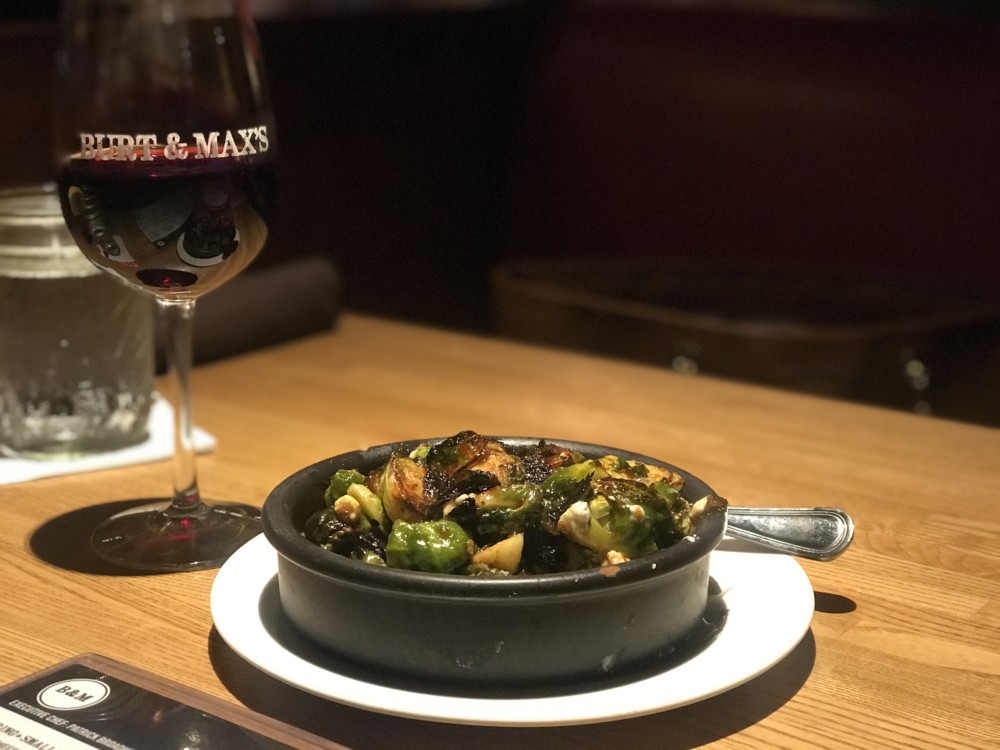 I think I Brussel-ed myself out recently, but after that little hiatus I'm back at it and starting strong with my favorite sprouts in the biz. I didn't think they could get any better than they already were, until we requested them prepared gluten-free. Instead of crisping them up in the shared fryer, the Brussels sprouts are cooked in the wood-fire brick oven, where all the magic happens. The sprouts are served with a sweet pepper jam glaze, creamy goat cheese, jalapeño and pancetta (which we got on the side). It's the most perfect combination of ingredients, and the most perfect appetizer to kick off any meal at Burt & Max's — and with the smokey char coming from that oven, the flavor is even more intense. I honestly don't know what I'd do if they ever take this off the menu. Please, please don't.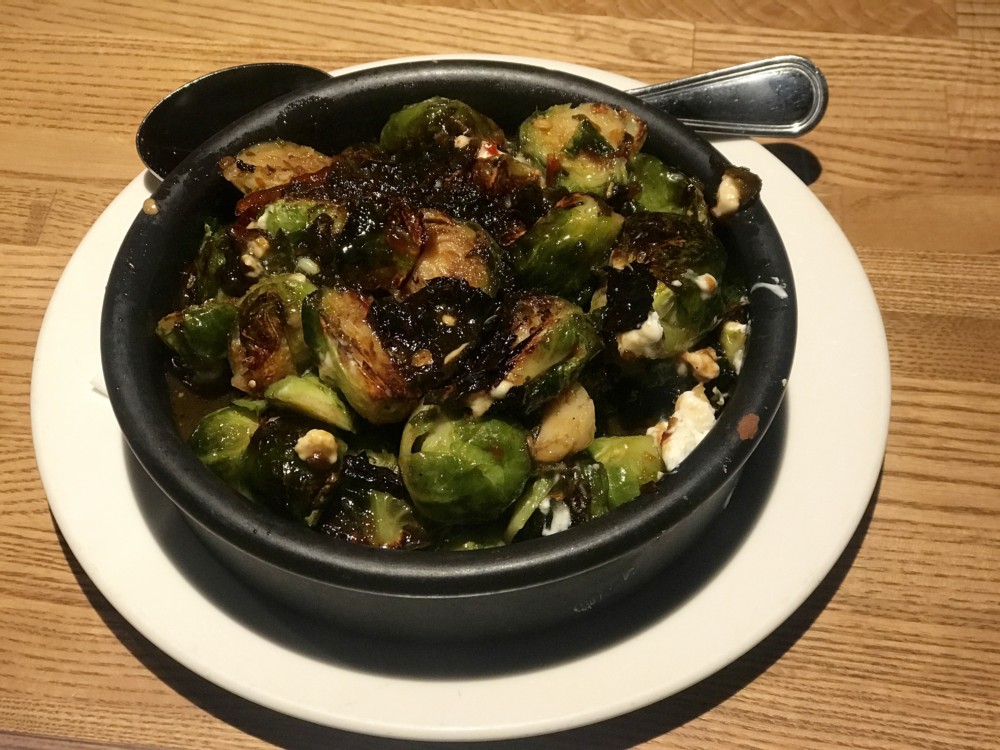 Over the summer, Burt & Max's menu change brought back the crowd-pleasing watermelon feta salad, made with Florida melon, cherry tomato, aged feta cheese, basil, arugula, and a pickled onion vinaigrette. This is the type of salad you want to eat on a hot day; it's an ideal salad to bring to summer BBQs and pool parties; and it's definitely exactly what you'd want after you've just tackled an outdoor spin class when it's crazy hot and humid out (which is what Arielle and I did before coming to Burt & Max's for dinner). It's a beautiful dish, full of color, flavor, and a vinaigrette you'll want to drizzle all over everything. Allergy note: The salad is naturally gluten-free. If you are completely dairy-free, omit the feta — and if you're like me and can have goat's milk cheese, ask to swap the feta for goat cheese.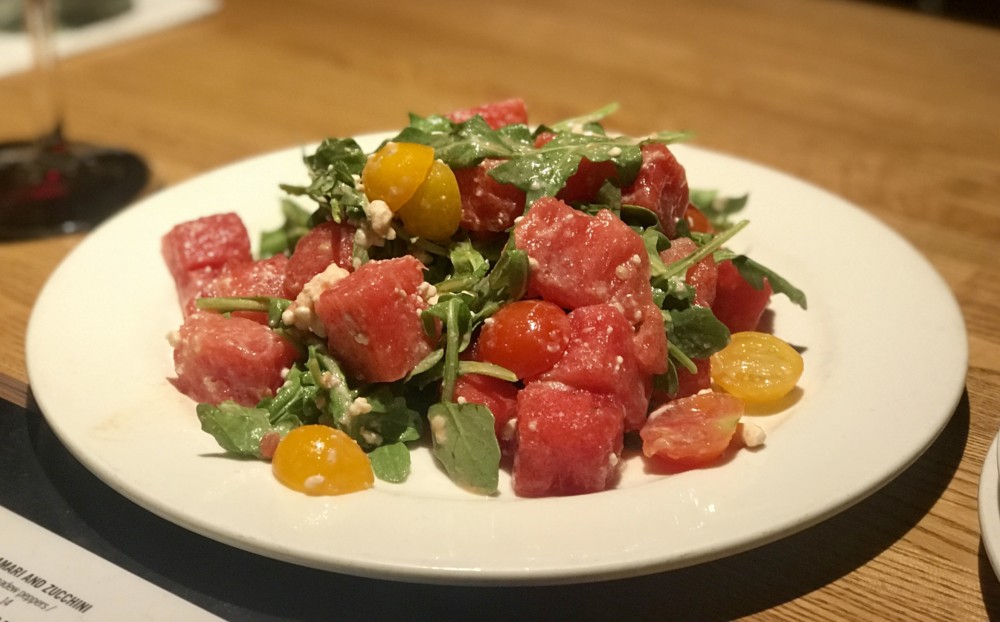 Onto the main course! Arielle ordered the shrimp tacos — available blackened, grilled or crispy — and to keep them gluten-free, she was able to sub the flour tortillas for lettuce wraps. This is also a great option for those looking to keep their carb intake down. Her grilled shrimp was topped with a cilantro-lime coleslaw and came with sides of guacamole, pico de gallo and salsa picante. Taco lovers, this one's for you! Allergy note: If you're dairy-free, omit the coleslaw.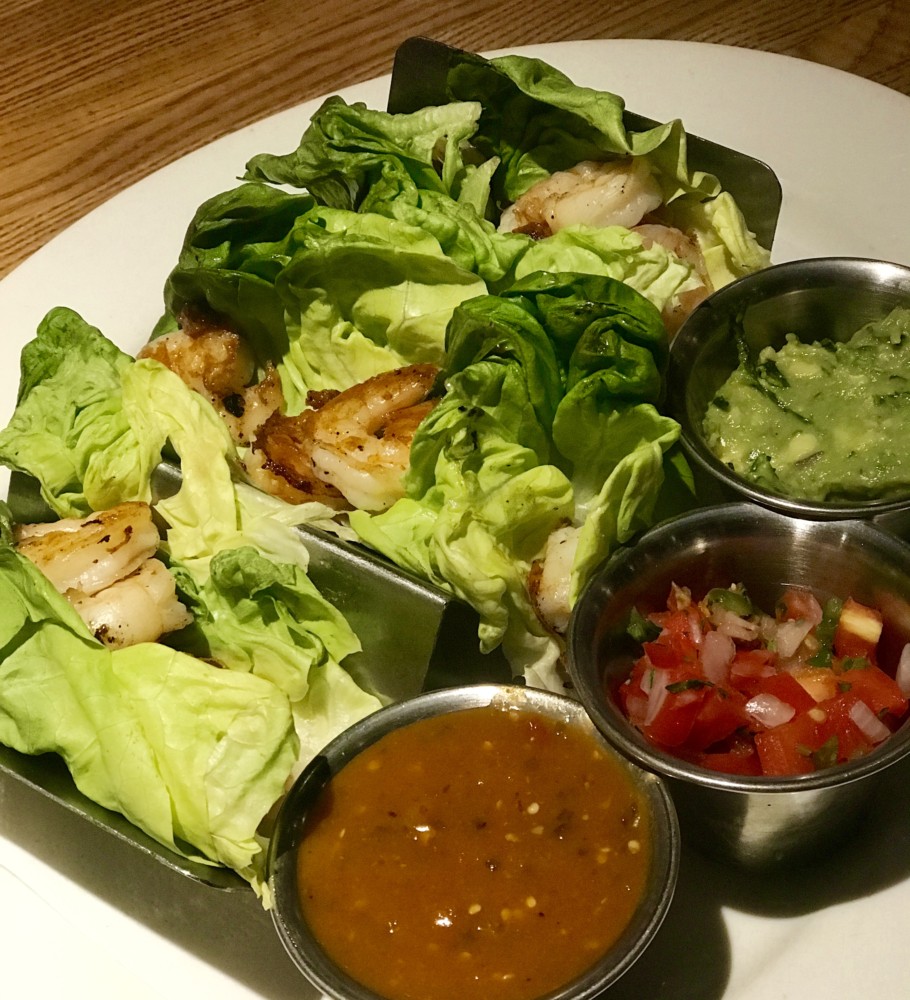 I chose the herb-grilled Idaho rainbow trout served alongside a toasted quinoa and grilled peach salad with arugula, cherry tomatoes, fennel and prosciutto (asked for mine without). I was so smitten with that pickled onion vinaigrette from the watermelon feta salad, that I asked for that instead of the lemon poppy that normally comes with the dish. Again, its flavor sang and married extremely well with all of the salad components — the best of which was the grilled peach, one of my favorite preparations of this particular stone fruit. I don't order trout often, so this was something different for me. I loved the herbaceous exterior flavor and the cook on the white, flakey fish was just right. Allergy note: It's naturally gluten- and dairy-free, so this was a win-win!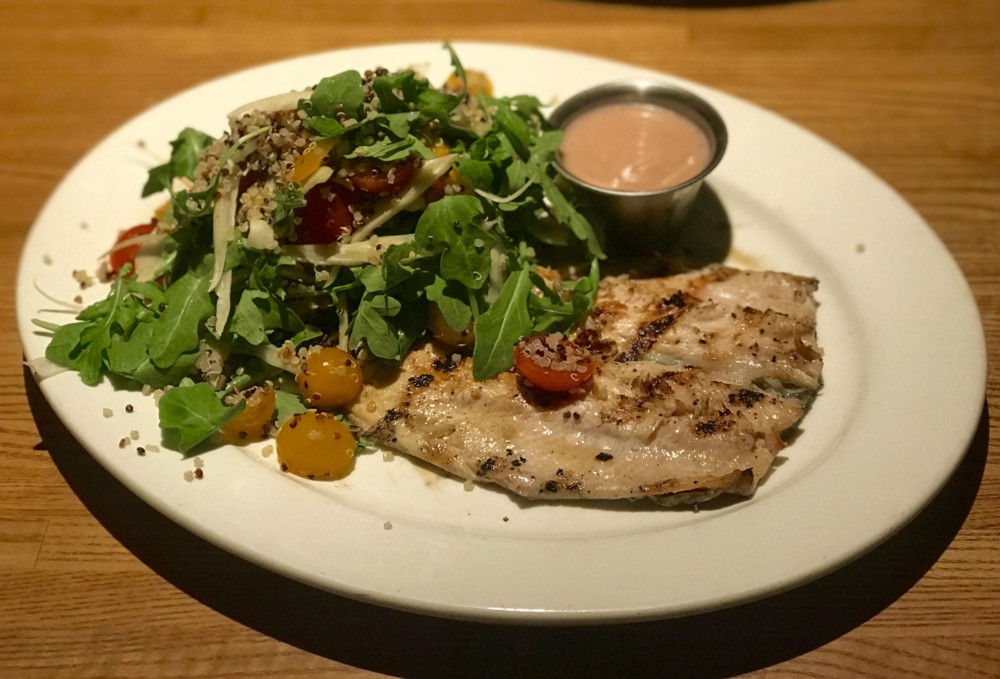 Arielle and I found these menu tips extremely helpful as we made our decisions. It helps to eliminate a lot of back and forth with the server and kitchen, and also gives you a better idea of how your food is being prepared. For example, if you order a side of the roasted Brussels sprouts, it doesn't say in the description that it's prepared with butter — but the dairy-free allergy menu specifies to ask for it without butter. See? Helpful. Kudos to the Rapoport's group and Burt & Max's for hopping on the accommodating band wagon — we hope you never get off, and that plenty more join you.
Burt & Max's is open for lunch and dinner Monday through Thursday from 11:30am-10:30pm, Friday and Saturday from 11:300am-11pm and Sunday from 11am-9pm. The 11-for-$11 lunch menu is offered Monday through Friday from 11:30am-3pm and includes soda, iced tea or coffee. Brunch is served Saturday and Sunday until 3pm featuring a $10 Build Your Own Bloody Mary Bar and $6 Build Your Own Mimosa Bar. Half-priced drinks are available at both bars and the lounge area every day from 11:30am-6:30pm, and a special Bar Bites menu is offered Monday through Friday from 4-6:30pm.