Never miss a bite! Sign up here to receive new recipes and reviews straight to your inbox.
Disclosure: I was invited to dine as a guest of the Burton's Grill and Bar in Boca Raton. No monetary compensation has been received for this post. As always, all opinions are 100% my own.
Originally hailing from Massachusetts, Burton's Grill and Bar opened its doors in Boca Raton's new Park Place plaza in early October. Their made-to-order scratch menu makes it easy to accommodate all dietary restrictions — they have a completely gluten-free menu available, as well as vegetarian- and paleo-friendly options, half portions, and the kitchen will gladly modify any dish for their guests. There is also a kids menu allowing for children to build their own meal by picking a protein and its preparation, two sides and a beverage, such as sparkling lemonade, juice or milk, from a composed list. 
To be completely honest, I was more intrigued by Burton's Grill and Bar's cocktail list than the food and it took way longer to decide on a drink than it did for anything else.
After some serious deliberation, I finally decided on a the Sanjito — a combination of sangria and a mojito, as the name so obviously describes. The name might not be so unique, but list of ingredients definitely were. It consisted of Bacardi dragon berry, gran gala, chilled red wine, mint, muddled lime and orange, and a wildberry puree. The cocktail was light, refreshing and fruity, but not too sweet. My dinner date for the evening went with a tequila cocktail called Blood Moon Rising. It was made with Milagro silver tequila, solerno, blood orange puree and blood orange shrub, with a spiced salt rim and garnished with a smokey blood orange crisp. This was a little stronger with bolder flavors than mine, but seriously delicious. Aside from an assortment of interesting cocktails, there are also various flavors of craft sodas made with natural cane sugar and no artificial flavors, single-batched lemonade, and fresh brewed iced tea (all non-alcoholic).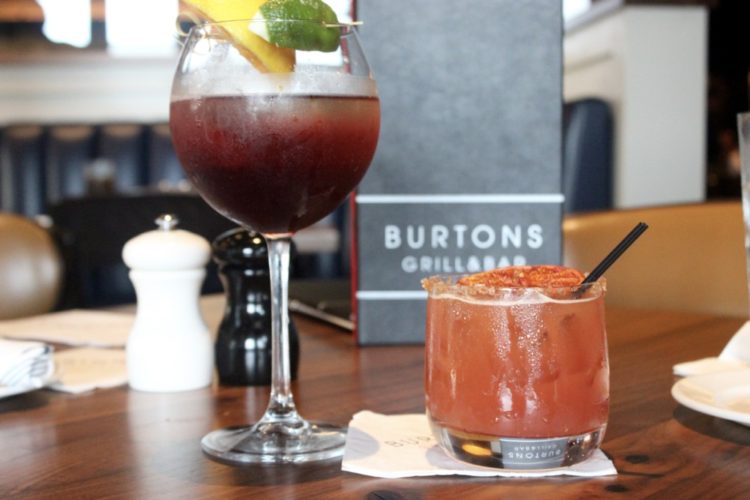 Burton's Grill and Bar has been open in Boca for less than a month and I have already heard many good things about one appetizer in particular — the stuffed grilled zucchini. Without hesitation, this was the first thing we ordered, and it did not disappoint. The zucchini comes out in a small cast-iron skillet and very much resembles eggplant rolatini — except much, much better. The filling consisted of an herbed ricotta cheese that was absolutely fantastic. It had the most perfect smooth, creamy texture that played so well with the robust and rustic tomato sauce. The baked parmesan topping was the icing on the cake…or, I guess the cheese on the appetizer. I completely understand why everyone is raving about this zucchini, and I cannot wait to go back for more.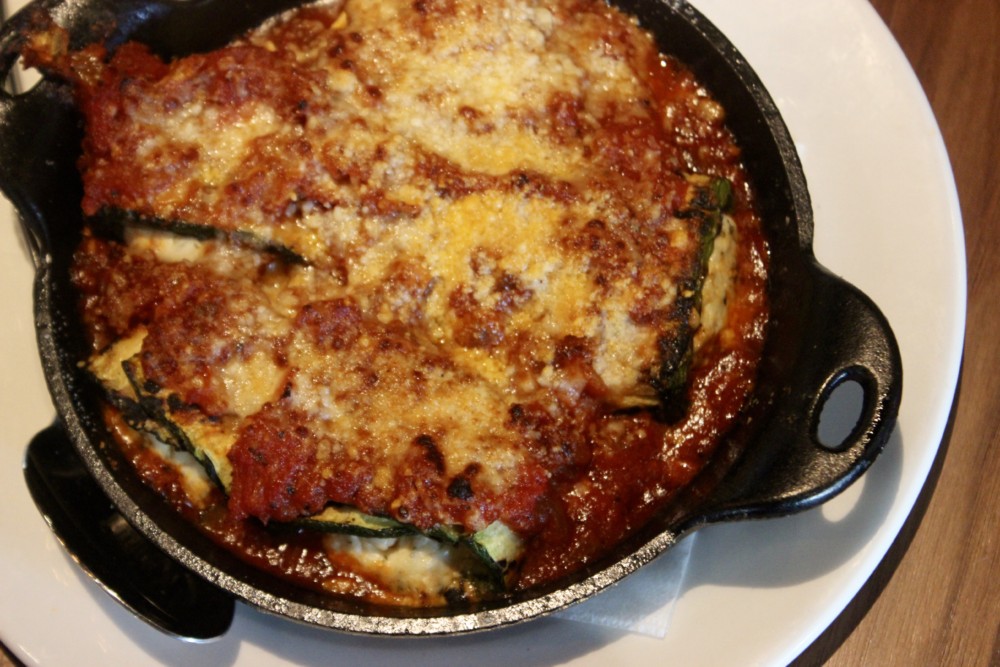 Another stand-out appetizer is the General Tso's cauliflower, a vegetarian play on the classic Chinese buffet favorite. The cauliflower is glazed in a Thai chili sauce, crisped and cooked to perfection, and served with a ginger aioli that I seriously wanted to eat with a spoon. There are so many unique flavors going on in this dish, making each and every bite even better than the last. This is another one I will definitely be going back to Burton's Grill and Bar for.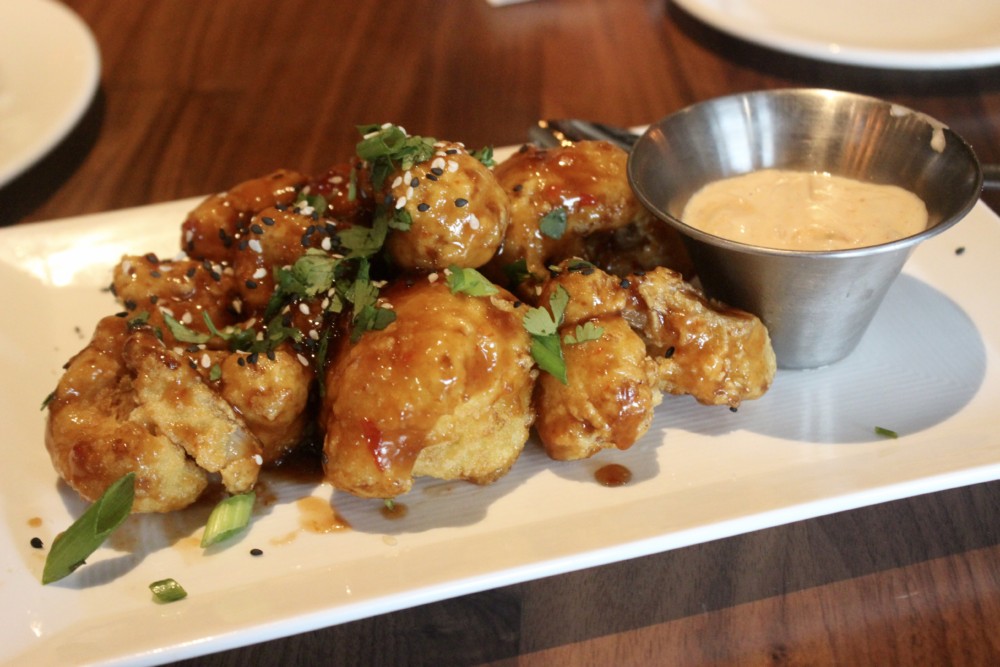 I chose one of the paleo entrees — that means it has no dairy, sugar or carbs. A beautifully cooked piece of salmon comes topped with sauteed tomatoes, and served with simply steamed broccoli and a velvety smooth romesco sauce. I prefer my salmon medium-well, and it was cooked just as I wanted. I also ordered the half portion, which as you can see here, is still pretty big! We also tried the catch of the day risotto, which happened to be grilled grouper. It was a pretty meaty piece, cooked nicely with great flavor. The risotto was filled with corn and snap peas, and enhanced even more so with a lemon butter sauce.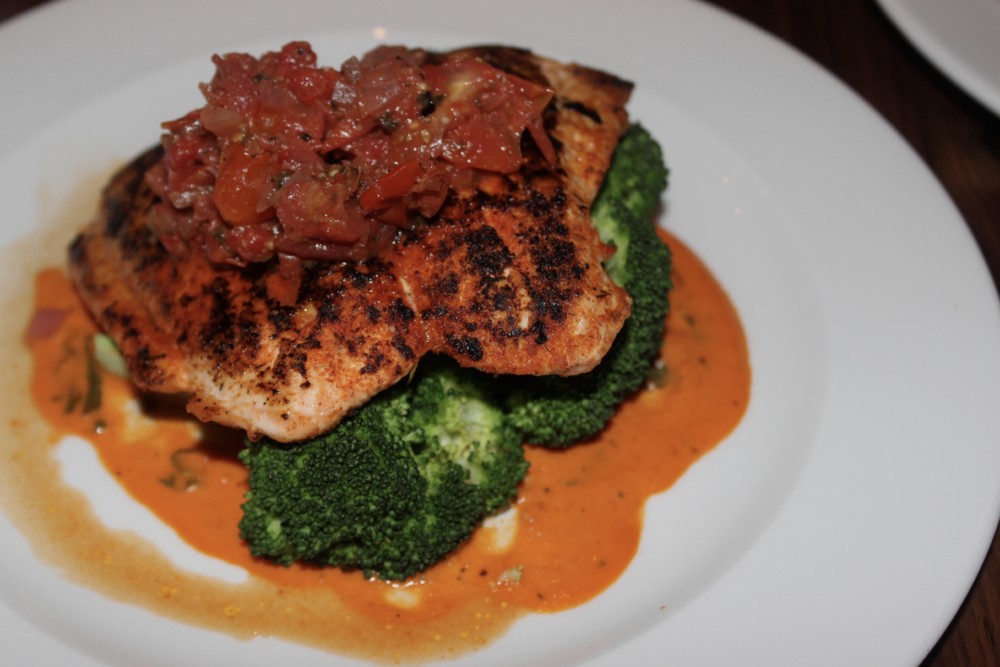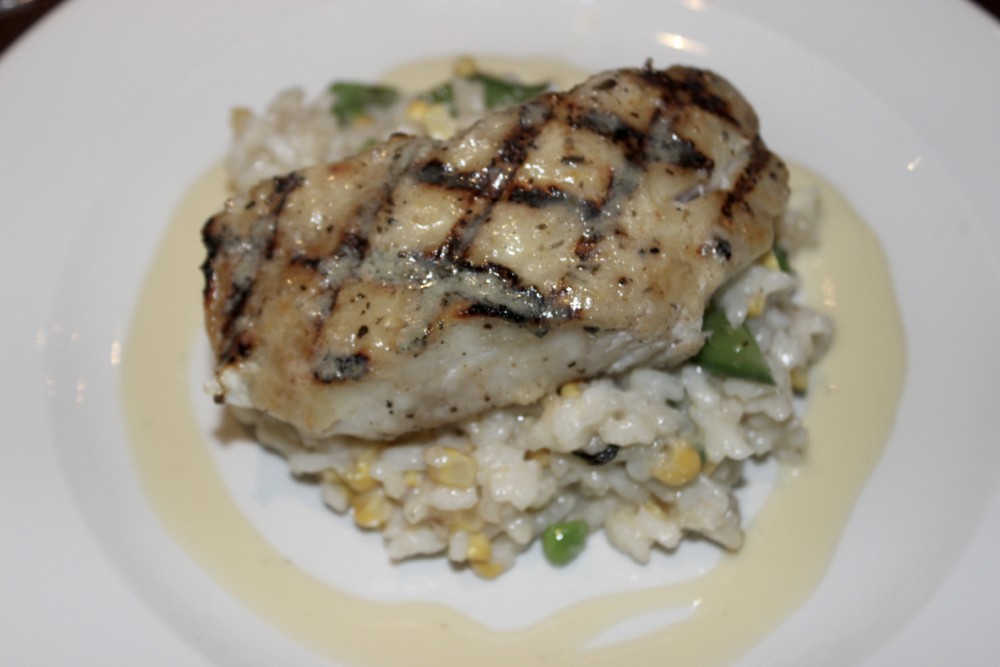 The decor at Burton's Grill and Bar is a little bit industrial, a little bit modern, and the wrap-around bar has a really appealing and welcoming look. Grab a seat and make sure to ask for a bag of their house-made thick-cut potato chips. These chips are on the house… and so good. You won't want to miss out on this delicious complimentary bar snack. And while you're there, say hi to bartenders Barry, Talia and Jaime! Speaking of the service, our super friendly and knowledgable waiter, Matt, was plucked straight out of the Massachusetts area to come down and open this new location in South Florida. His intense Boston accent gave it away, and we're glad to have him here with us in Boca!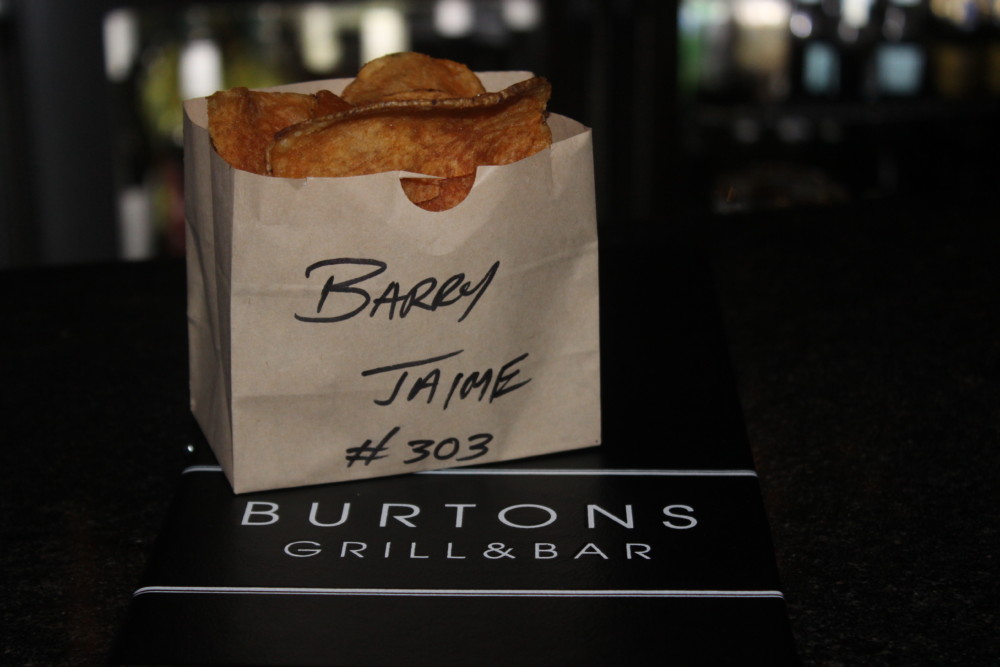 Burton's Grill and Bar is open for lunch and dinner Monday through Saturday from 11am to 10pm, and Sunday from 11am to 9pm. Burton's is located at 5580 N. Military Trail in Boca Raton.