There are a lot of recipes I come across on other blogs that are definitely pin-worthy. But the sad part is that most of them get pushed to the back of my mind, and I don't get around to making them for a while. I'm all oh-my-god-I-HAVE-to-make-this-NOW! when I see it, so I pin it, and then it's like months and months before I try it out. Until recently.

Sunday Supper's squash themed week was freaking amazing. If you missed it, you've got to check out all the recipes. There was one in particular…the moment I read the title, I had one of those moments I mentioned above. Except this time, I actually printed the recipe right then and there and wrote THANKSGIVING in big bold letters all over it. I was totally, 100% making this to bring to my aunt's for Thanksgiving dinner.

So what was this amazingly delicious recipe, you ask? Butternut Squash Gratin with Sage Pesto and Gorgonzola from Brianne of Cupcake and Kale Chips, who got the idea from a recipe from Food Network's Giada. Giada's recipes always sound to die for, so I knew this had to be good. Plus…I go crazy for butternut squash, and any kind of pesto is a winner.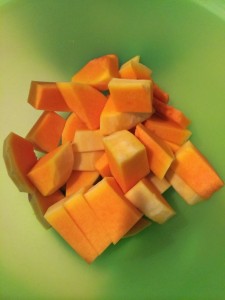 The original pesto recipe calls for walnuts and doesn't include garlic. I personally think garlic should be in everything, so I added a couple cloves, and I used toasted pine nuts instead of walnuts (another personal preference). It's basically the same thing as my Basil Pesto, but with sage leaves instead. I absolutely loved everything about this gratin, especially the fact that it is so pure. The butternut squash simply gets boiled and pureed and seasoned with a little salt and pepper. No butter, no cream, no milk – nothing at all to mask its already rich flavor. It's then layered with a sage pesto and topped with crumbled gorgonzola cheese – what's not to love?!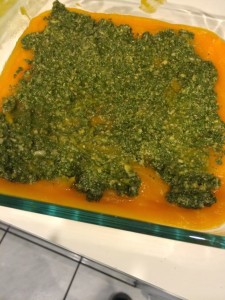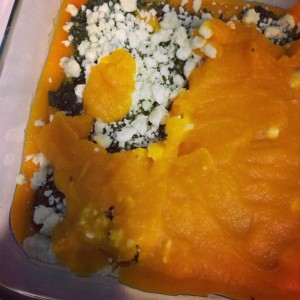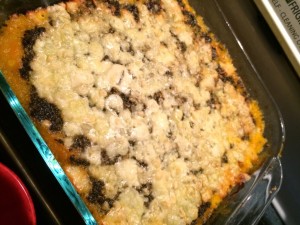 Butternut Squash and Sage Pesto Gratin with Crumbled Gorgonzola
2 packages of fresh sage leaves
½ cup freshly grated Parmesan Reggiano
½ cup extra virgin olive oil
1 medium butternut squash, peeled and cut into medium cubes
2 cups crumbled gorgonzola cheese, divided

For the pesto
Combine sage leaves, pine nuts, Parmesan, garlic and extra virgin olive oil in a food processor and pulse. Add water and continue to pulse until smooth. Keep in refrigerator until ready to use.

Preheat the oven to 350 degrees. Coat a 9-inch baking dish with cooking spray and set aside.

Fill a large pot with a couple inches of water and bring to a boil. Insert your steamer into the pot and place the cubed butternut squash on the steamer rack. Cover and steam for about 25 minutes or until the squash is very tender. Place in a bowl and put in the refrigerator to cool for 15-20 minutes. Once the squash has cooled, put it into a blender and add water. Puree until smooth and creamy. Season with salt and pepper to taste.

Spread half of the squash on the bottom of the baking dish. Spread half of the pesto sauce evenly over top. Sprinkle with 1 cup gorgonzola. Repeat the layers. Bake for 60 minutes or until the sides begin to brown.