Never miss a bite! Sign up here to receive new recipes and reviews straight to your inbox.
Disclosure: I was invited to dine as a guest of the restaurant. No monetary compensation has been received for this post. As always, all opinions are 100% my own.
Located on the premises of the beautiful beachfront Wyndham Deerfield Beach Resort, is an Italian restaurant with a view just as incredible as its menu — Cafe Med Ristorante.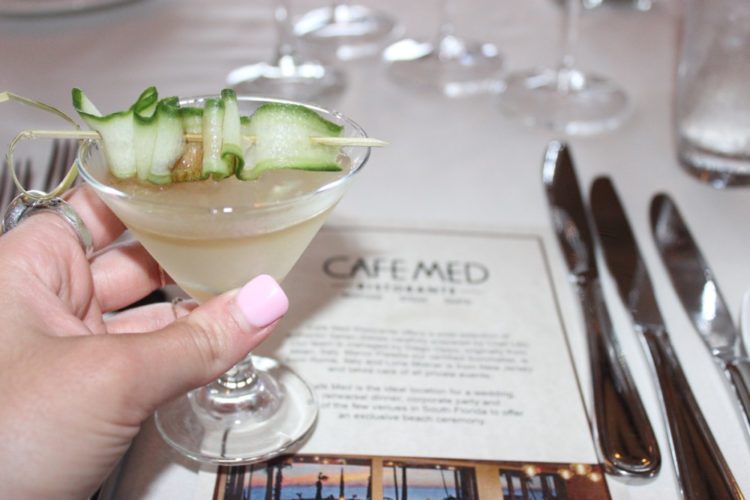 I had the opportunity to try Cafe Med last April and thoroughly enjoyed everything I tasted. Since my last visit, things have changed a bit. For starters, a new chef from Chicago has taken over the reigns at Cafe Med, bringing his 30 years of restaurant experience with him. Chef Lillo Teodosi is an award-winning chef, with accolades from the Chicago Sun Times, Chicago Tribune, New York Times, and many more. He was the owner/operator of Topo Gigio Ristorante and Trattoria Pizzeria Roma in Chicago and Caruso Ristorante in Boca Raton, and now he's here at Cafe Med in Deerfield Beach — and the team is pretty stoked about it. Cafe Med's culinary team includes two Italian-born gems — General Manager Diego Opp and Assistant General Manager/certified Sommelier Marco Pistella. Both of these men certainly know how to make you feel right at home.  That's one of the biggest perks about dining at Cafe Med — you will feel as ease the moment you walk inside. Despite its ideal location right beside the Deerfield Beach International Pier, and gorgeous views of the Atlantic ocean, there's no stuffiness. You could be dressed in diamonds or drenched in ocean waves and you'd be treated the same. Not only is Cafe Med an ideal location for beachfront dining, but it's great for corporate dinners, baby showers, holiday celebrations, birthday dinners, or even wedding rehearsal dinners, receptions, afterparties, or breakfasts. Cafe Med offers incredible menu packages and even has an event specialist to provide one-on-one assistance with all of your planning.
I was thrilled to be invited back to Cafe Med to try Chef Lillo's new menu additions along with some of my absolute favorite local bloggers. It was quite an evening, filled with perfect wine pairings and a whole lotta delicious fresh seafood. It's as if someone wrote the menu just for me.
After a welcome glass of Italian prosecco, we all sat down to watch mixologist Antonio Anobile make one of their signature drinks, the Flower Garden Martini, with Hendrick's gin, lime, cucumber, St. Germain, and simple syrup with bitters. If you know me, you know I was all over that cocktail — St. Germain! It was cool and refreshing and set the tone for what was about to be a very fresh evening of delectable eats. We started with the Insalatina di Mare Bella Napoli — an incredibly bright, citrusy salad of seppie (cuttlefish), shrimp, octopus, calamari, scungilli, giardiniera and a lemon citronette. There's nothing I didn't enjoy about the dish. This is a seafood-lover's salad, for sure.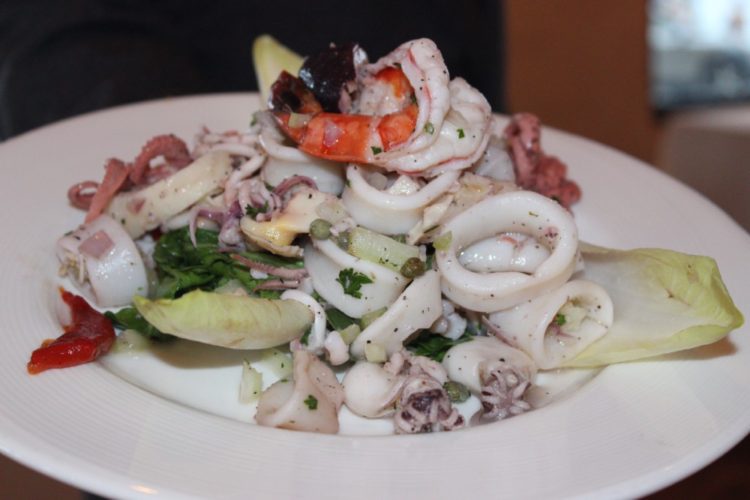 Next was the Mezze Maniche al Sapore del Mediterraneo — short tube pasta with shrimp, bay scallops, pea pods, fresh pomodoro and basil. Ironically, my favorite part about this dish was not the seafood but the house-made pasta. There is just something so fresh and delicious about fresh pasta that puts any other pasta dish to shame. We were served a small portion (thank goodness, because there was so much more food to come) but I gladly would have eaten a few more pieces of that carby deliciousness.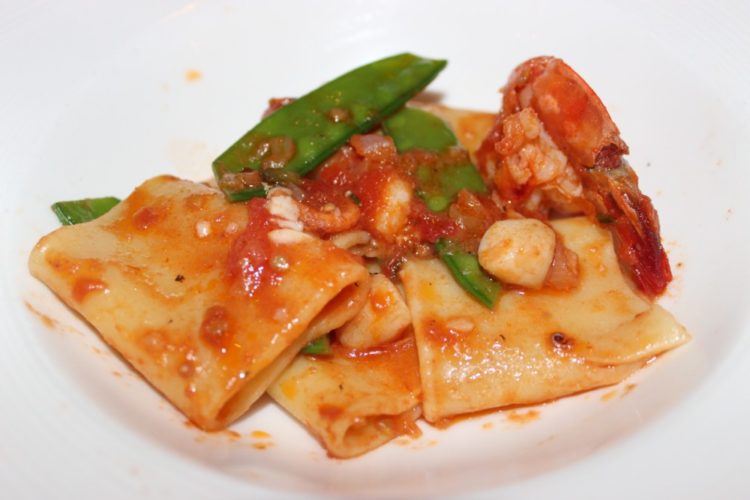 I noticed one of my top buzz words in the next dish, Gamberi e Cappesante con Funghi Trifolati — jumbo shrimp, sea scallops, lemon, wild mushrooms, garlic and risotto. As any good chef knows, risotto must be tended to carefully. It needs to be babied and treated with care. Chef Lillo's risotto was rich, creamy, and complemented the seafood and mushrooms absolutely perfectly. All of the components in this dish worked so well together. Although I would have liked more of a seared crust on the scallops, it was still very, very satisfying.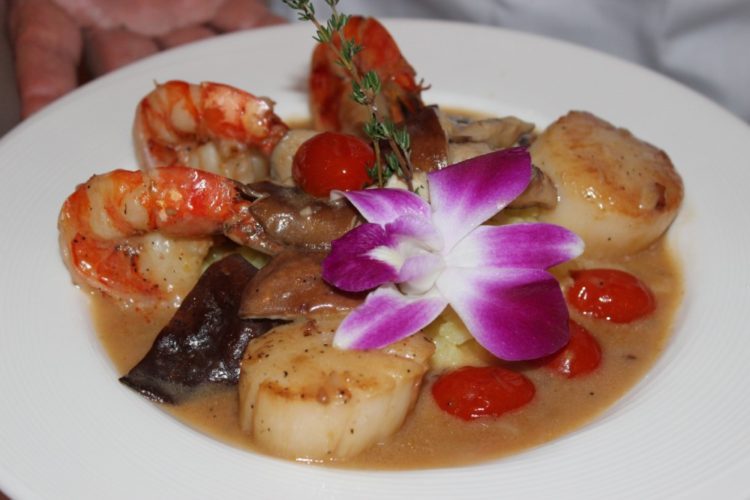 Finally! Time for a good piece of fish, and it was one of my favorites — Chilean sea bass. Seared to perfection with mussels, clams, lemon sauce, mashed potatoes and sautéed spinach. This would be my ideal entree choice at Cafe Med for dinner. I love the addition of the mussels and clams, and the spinach was cooked just right.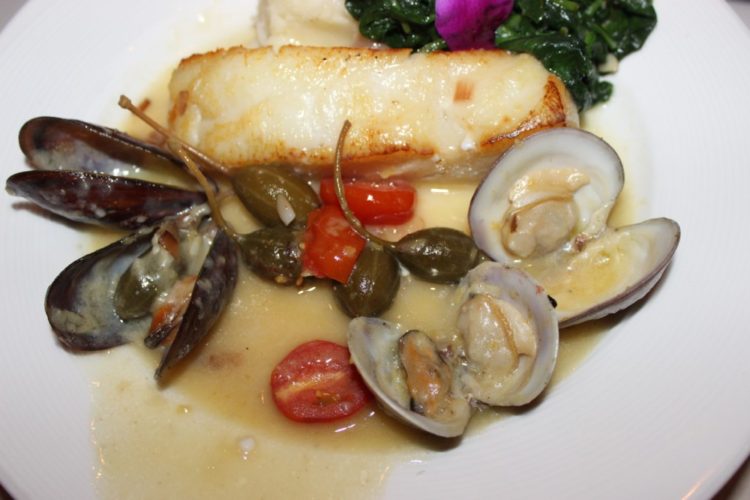 In an effort to take a break from all the seafood, the next dish was Farrotto al Tartufo — farro "risotto-style" with black truffles, porcini mushrooms, sun dried tomatoes and parmigiano. There was no holding me back from this plate. Nutty farro cooked nice and slow to give it that creamy, dreamy texture of traditional risotto, but still keeping its bite, coupled with early porcini mushrooms and that indulgent taste and aroma of truffle. I almost wished I hadn't filled up on everything that came before this dish so I could have asked for more. It was so good. I'm seriously getting hungry just thinking about it.
The final dish before dessert was a hearty plate of grilled 24 oz. grass-fed USDA Sterling bone-in ribeye steak, baked potato and Brussels sprouts — for the rest of the diners, of course. For me, more of that yummy sautéed spinach with two jumbo lump shrimp nestled on top. It was a simple substitute, which was fine with me because I needed to leave room for dessert!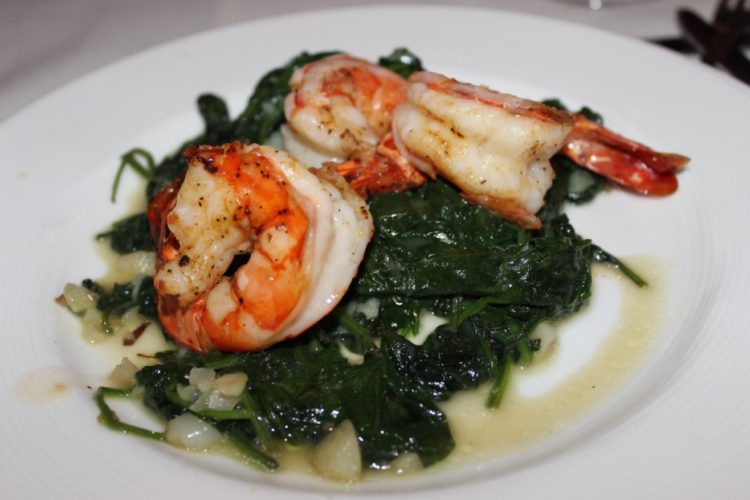 Cafe Med kept it classically Italian with their tiramisu, and then channeled their Floridian vibes with key lime cake. Both slices were delicious in their own way. I'm not normally a fan of either dessert, but I couldn't end the night without something sweet — and so you know I dug into both! The cakes were tender, moist and full of flavor. They aren't necessarily my first choice, but for those who love a good tiramisu or key lime dessert, you'd be very happy with either choice. In fact, you'll just be happy in general for choosing to dine at such a top-notch restaurant in Deerfield.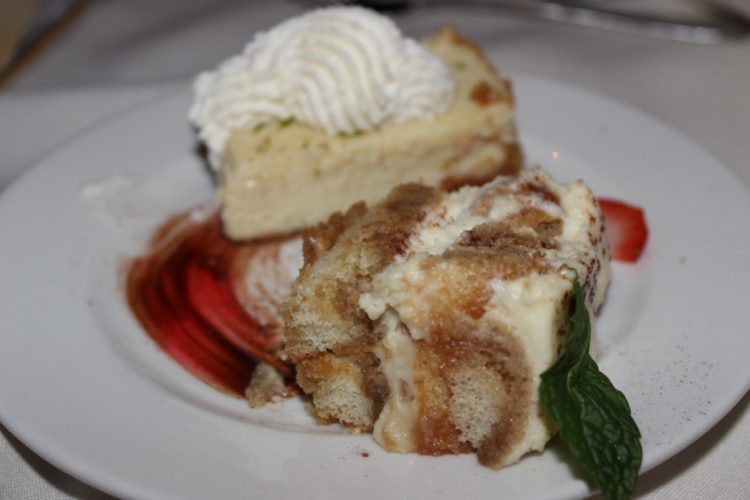 Enjoying delicious food and wine while staring out at the ocean? Can't beat that.
Cafe Med is located at 2096 NE 2nd St. in Deerfield Beach, inside the Wyndham Deerfield Beach Resort.