Never miss a bite! Sign up here to receive new recipes and reviews straight to your inbox.
Disclosure: I was invited to dine as a guest of the restaurant. No monetary compensation has been received for this post. As always, all opinions are 100% my own.
Switch things up from your typical weekend spot and enjoy a Mexican-style brunch, complete with a complimentary mimosa or Bloody Maria with entree purchase.
Cantina Laredo is known for it's Mexico City-inspired cuisine with a twist on the classics. They're also pretty well known for their creative margaritas and cocktails . Jill and I were invited to spend a Sunday Funday at the Gulfstream Park location in Hallandale Beach and couldn't resist kicking things off with something fun and fruity.
And when I say fruity, I really do mean fruity — watermelon and strawberry margaritas! In the spirit of summer, we kept things light and refreshing and full of flavor. Jill chose the Salted Watermelon, made with Casa Noble Crystal Tequila, fresh watermelon puree, Grand Marnier liqueur, lemon and lime juices; and I went with the Strawberry Mint, made with Olmeca Altos Tequila, fresh strawberries, mint, Cointreau orange liqueur, agave and fresh lime juice. Both were equally as delicious and stunning to look at — not to mention, very easy to drink! These would make fabulous poolside drinks. And hey, they're made with fresh fruit which is always much needed during those summer days by the pool.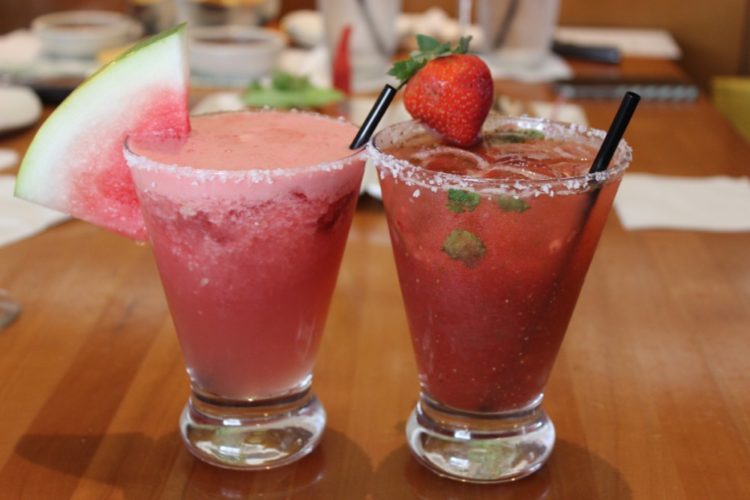 Before enjoying our brunch specials, we decided to try two tapas-style appetizers from the main menu, the ceviche and Ahi tuna tacos. One of the things I'll take away from my visit to Cantina Laredo is just how beautifully everything is presented. The cocktails were impressive, but when the ceviche was brought out, it looked so bright and colorful, I couldn't wait to dive in. It's a combination of marinated fish and shrimp with a blend of fresh veggies (tomatoes, white onion, pickled red onion, just to name a few), a touch of Cholula hot sauce and topped with sliced avocado. The only thing we didn't like about this was the fact that there were….olives. Thankfully, they were big enough to pick out and we survived. Other than that, this is a winning dish. Bursting with bright flavor, perfectly cooked seafood, and a creamy avocado added the perfect balance in texture to the crunchier veggies in the mix.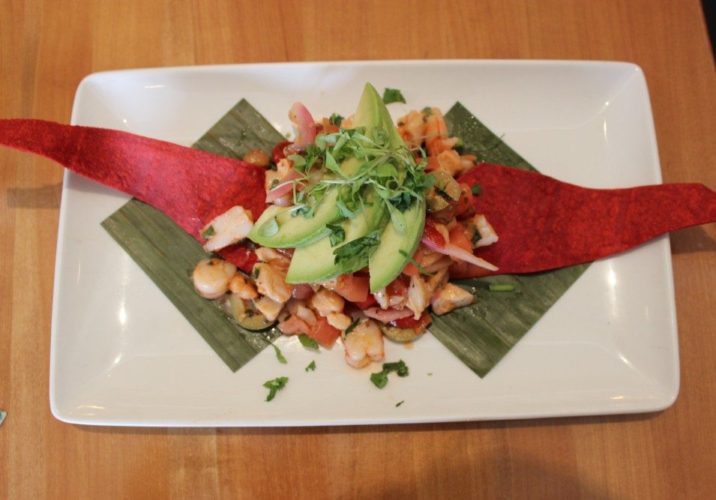 More prettiness on a plate — the Ahi tuna tacos! Three mini taco shells are filled with sushi grade tuna and jicama-ginger slaw and drizzled with chipotle aioli, served with guacamole, and pickled red onions. Did I ever tell you just how much I love pickled red onions? I hate them raw. Like, seriously hate. But pickled? They are the best thing ever. They always add such great flavor and texture to everything — these tacos included. While I couldn't eat the taco shell, I dug right in with my fork and happily devoured its contents. Every single thing about these tacos was sheer perfection. The chipotle aioli? On fire! The jicama and ginger are what made these tacos stand apart from so many others. The thinly sliced ginger added an element of spice, and the cool jicama kept it from being too spicy. I only wish there had been more of these for us to share!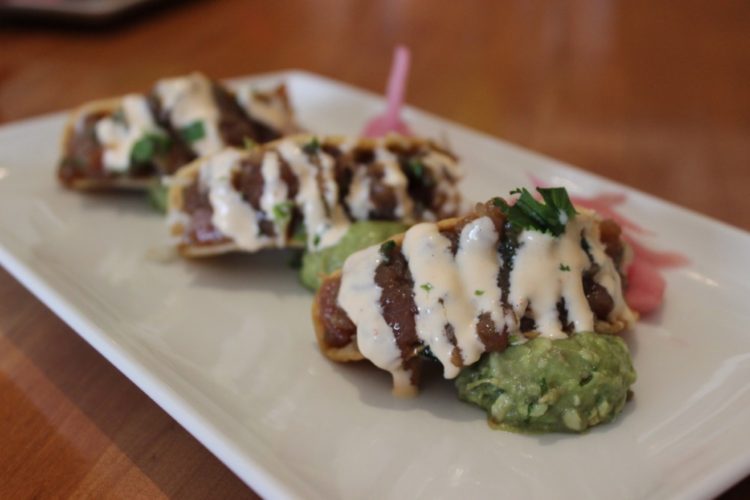 It's time for another cocktail break! This time, I ventured out of the margarita list and went with the White Honey Sangria. Sangria can be hit or miss — sometimes they are way too sweet, but this was just right. It's made with Villa Rosa Moscato D'Asti, Domaine de Canton Ginger Liqueur, honey liqueur, fresh lemon and lime juices, topped with a freshly squeezed orange and fresh berries.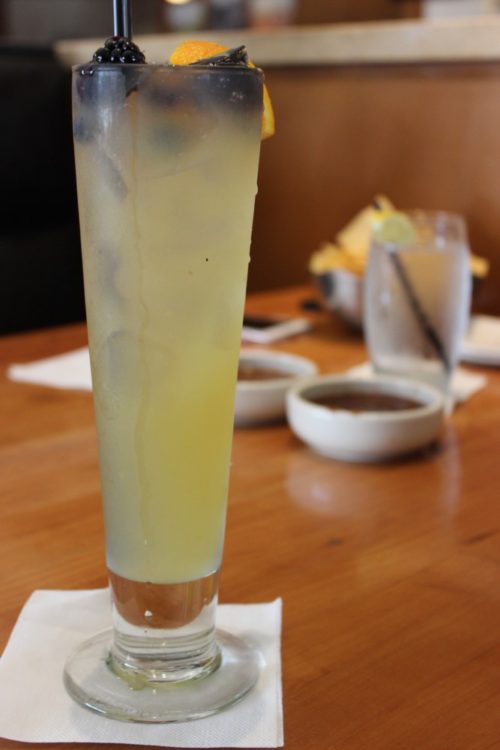 Now…entree time! There is plenty of classic Mexican fare on the brunch menu, including huevos rancheros and chilaquiles, but that's not all. Cantina Laredo puts their modern Mexican twist on brunch favorites like crab cakes Benedict (served with a chipotle-wine hollandaise and queso fresco), Tostar de Francés (fresh toast with fruit and Mexican brandy butter), and a chicken fajita omelet. Jill went ham with her choice. Actually, I guess that expression doesn't work here… She went "steak" would be a better word choice. The Asada y Huevos, steak and eggs, is a go-big-or-go-home brunch item, and according to her, it did not disappoint. She was especially smitten with the accompaniments on the plate, the chimichurri and the ranchera sauces. Of course I had to try… OH MY YUM is an understatement. (Photo courtesy of Fashionably French Fried)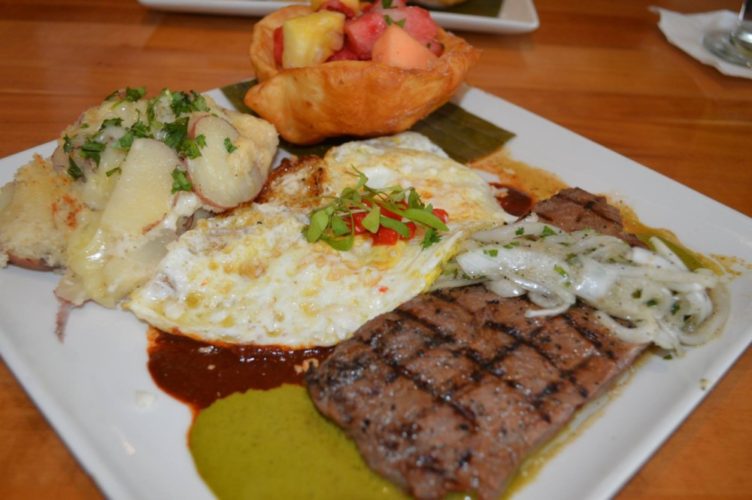 Over in my brunch world, I ordered the spinach and artichoke omelet. I know, sounds super boring, but it definitely wasn't. It was stuffed to the brim with artichoke hearts, spinach, peppers, mushrooms and lots of cheese, and served over a poblano sauce. Cantina Laredo certainly knows how to make a good sauce, because this one was just as amazing as the ones on Jill's plate. I wanted more of it! They should bottle their sauces and sell 'em — the chipotle aioli from the tacos, the chimichurri, the ranchero, and the poblano. You should just ask for a sauce tasting of all four of these when you visit the restaurant. You'll thank me.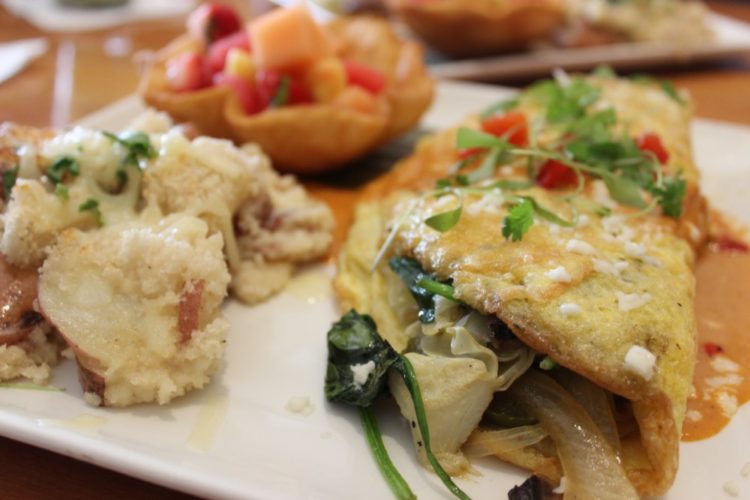 Oh, and both of our dishes came with these cheesy roasted potatoes that seriously stole the show. You all know how much I love my breakfast potatoes — and how much I love cheese. Put them together and you have made me one very happy girl. My brunch experience at Cantina Laredo did just that. On top of all the yumminess, when you order a brunch entree, you get a complimentary mimosa made with freshly squeezed orange juice or a Bloody Maria made with Casa Noble organic tequila.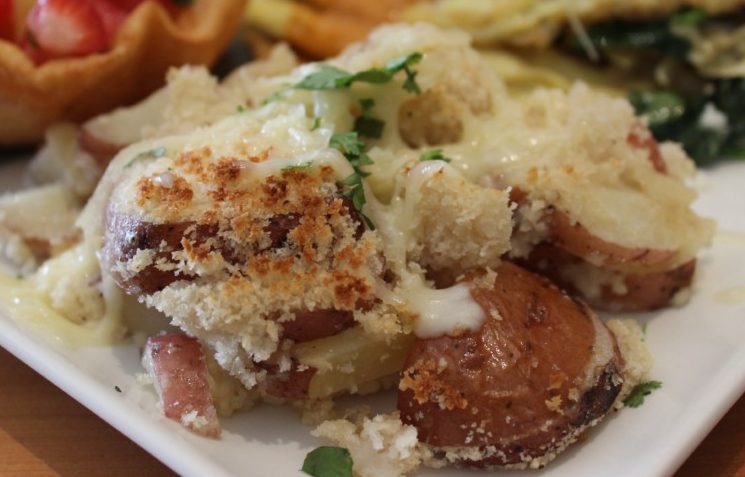 We were too full for dessert, but our server brought out their selections so we could at least get pictures to entice all of you with. Channel your inner traditionalist and order the Flan, Mexican custard topped with caramel sauce and a hint of Cointreau, or try a Mexican twist on a classic American dish, the Mexican Apple Pie. It's sizzled in Mexican brandy butter and topped with a choice of cinnamon or vanilla ice cream. Then there's the Mexican Brownie with pecans and walnuts, served on a sizzling skillet with Mexican brandy butter and a choice of cinnamon or vanilla ice cream.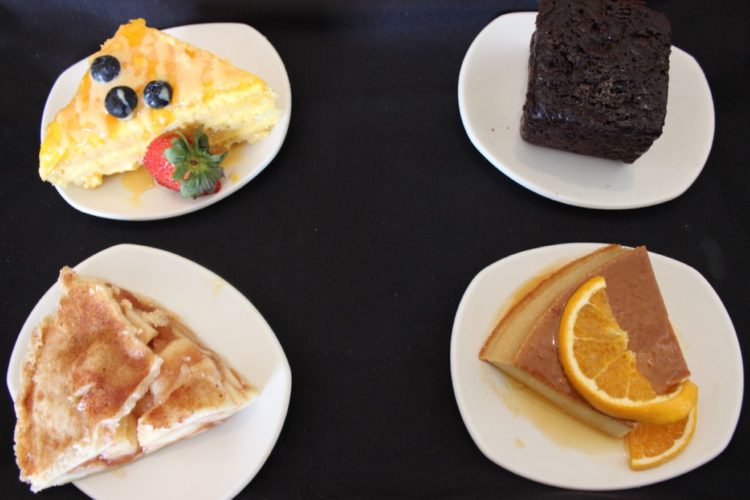 The most visually appealing dessert had to be the Mango Tres Leches, a creamy mango-vanilla cake with mango cream sauce. They all looked delicious; I silently wished I still had the mindset of my younger self when I believed my stomach had a completely different section for dessert…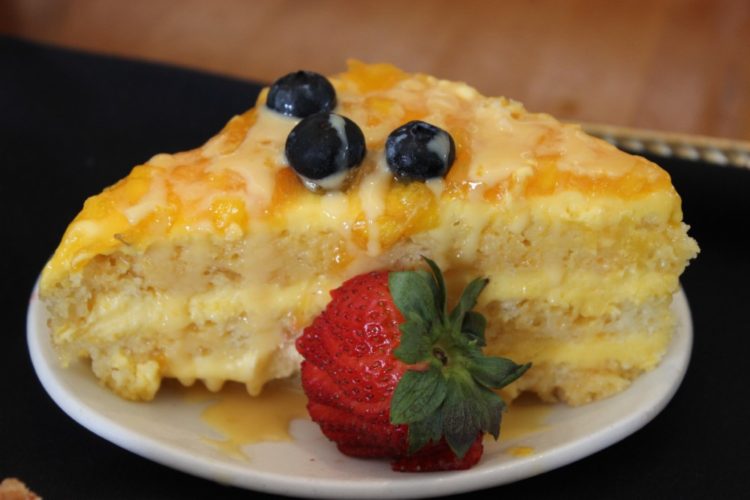 Cantina Laredo is open Monday through Thursday from 12-10pm, Friday from 12-11pm, and Sunday from 12-9pm. Happy hour is Monday through Friday from 4-7pm and Saturday from 12-5pm and features $2 domestic beers, $3 Casita Rita and imported beers and $4 well drinks and house wine. Cantina Laredo is located in Gulfstream Park at 501 Silks Run in Hallandale.