Never miss a bite! Sign up here to receive new recipes and reviews straight to your inbox.
#SundaySupper is celebrating Spring! For all of you who live where seasons exist, I bet you're pretty happy about the recent changes in temperature as we approach this time of year. Our Spring Fling theme is full of recipes with the freshest of produce, the brightest of colors and flavors, and some of our favorite foods to enjoy during these warmer months. Thanks to our hosts DB (aka Foodie Stuntman) of Crazy Foodie Stunts and Valerie of Lifestyle Food Artistry.
I don't think carrots are particularly a spring vegetable, but carrot cake is definitely a spring dessert! It's everywhere as we approach Easter — M&M's even made it their seasonal flavor! I had to incorporate something spring-ish into this recipe, though, so that's where the lemon cream cheese icing comes in. Lemon is just a burst of sunshine in any dish, whether sweet or savory. I never used to care for it much, especially in desserts, but I'm slowly starting to appreciate it much more. A simple dusting of lemon zest or a drop of freshly-squeezed lemon juice can really brighten up a dish.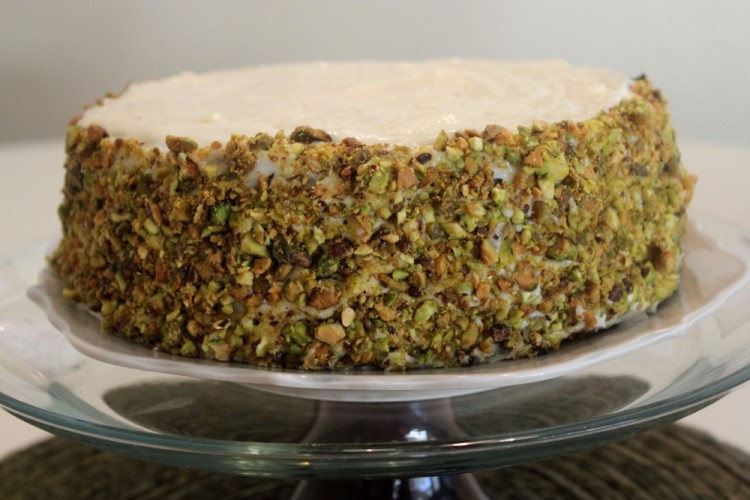 Cream cheese icing is a must for any carrot cake. It's tangy and sweet and perfectly complements the cinnamon, nutmeg, pistachios and golden raisins nestled inside this moist and delicious carrot cake. And with that little extra zing from the lemon, it's even better!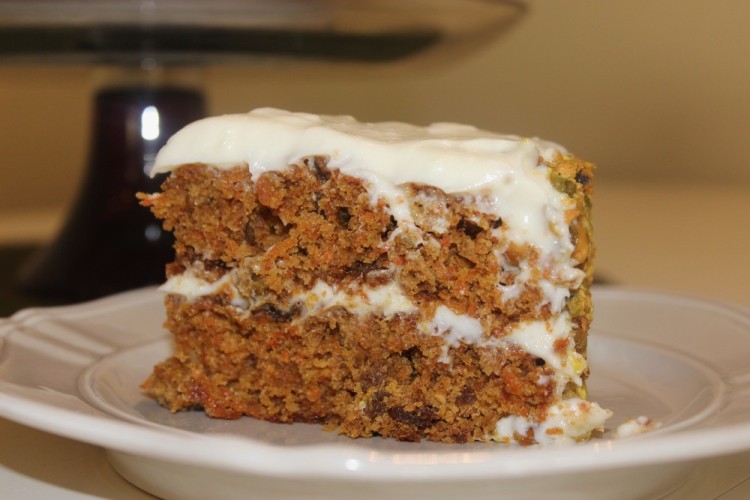 I've never made a carrot cake before — and I'll be honest, I've never actually made my own cream cheese icing either. This was a first for me in many ways, and I'm so excited to share it with all of you for today's #SundaySupper! There were a few hiccups along the way — one of the cake layers totally cracked when I flipped it out of the cake pan. But, I pretended it was like a puzzle — a cake puzzle, if you will — and put it back together again. I figured, it's going to be covered in icing anyway… My cream cheese icing tastes delicious, but I forgot to sift the powdered sugar and I just could not get all of the lumps out!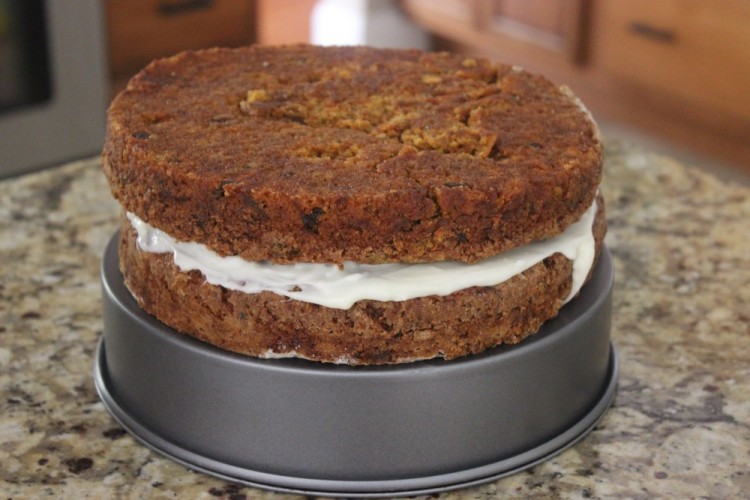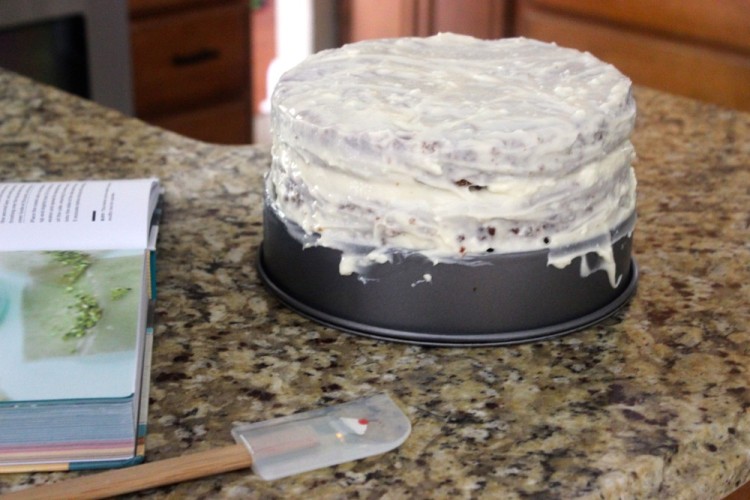 But hey, we can't all be perfect on our first try, right? It's just an excuse to try again!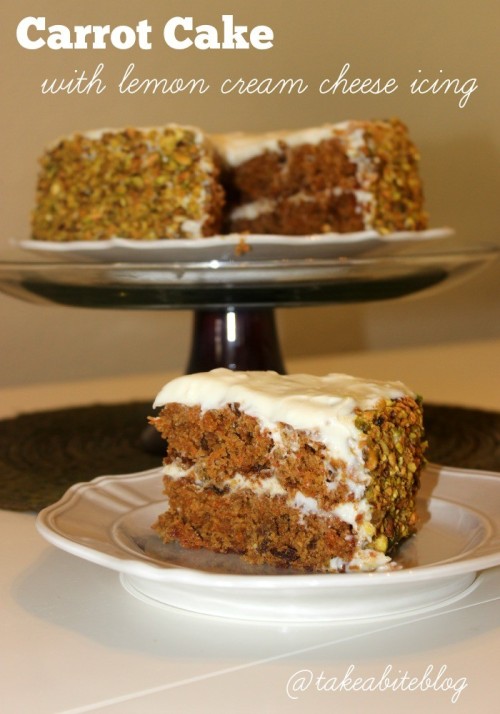 Carrot Cake with Lemon Cream Cheese Icing
Author:
Celebrate spring with a moist and flavorful carrot cake topped with a zesty lemon cream cheese icing and crushed pistachios.
Ingredients
For the lemon cream cheese icing:
2 8 oz. packages reduced fat cream cheese, room temperature
1 stick unsalted butter, room temperature and cut into small pieces
1 1/4 cups powdered sugar
1 cup granulated sugar
1 tsp vanilla extract
1 lemon, zested and juiced
pinch of salt
For the carrot cake:
2 1/4 cups ap flour
2 tsp baking powder
1 tsp salt
1 tsp cinnamon
1/2 tsp nutmeg
1/2 tsp baking soda
3 large eggs, room temperature
1 cup granulated sugar
1 cup dark brown sugar
2/3 cup canola oil
1 tbsp vanilla extract
1 lb carrots, peeled and grated
1 cup golden raisins
2 cups roasted pistachios, divided
Instructions
For the cream cheese icing:
Beat cream cheese in the bowl of a stand mixer until smooth.
Add butter, sugars, vanilla and salt and beat until airy.
Add lemon zest and juice and continuing to beat until fully combined.
Keep in the refrigerator until ready to use.
For the carrot cake:
Preheat the oven to 350 degrees and arrange a rack in the middle.
Coat two 8-inch cake pans with butter and flour (make sure to shake out the excess flour).
Whisk together flour, baking powder, baking soda and salt in a bowl and set aside.
Combine eggs, sugars, oil and vanilla in another bowl and mix well.
Fold in the flour mixture with a rubber spatula until just combined.
Fold in to the carrots, raisins and 1 cup of pistachios until fully incorporated.
Divide the batter into the two cake pans and bake for 40 minutes or until a toothpick entered into the center of the cakes comes out clean.
Use a knife to release the cake from the pan and turn the cakes out to cool on a wire rack.
Once the cakes are completely cooled, use a offset spatula to evenly spread icing on top of one layer of cake. Carefully place the second layer of cake on top.
Spread more of the icing over top of the second layer and over the sides, completely covering the cake with icing. It's okay if it looks messy, this is the just first coat.
Refrigerate for 15-20 minutes to make sure the frosting is set.
While the cake is setting, use a food processor to crush up the remaining pistachios.
Take the cake out of the refrigerator and spread the remaining icing over the top and sides of the cake.
Press the crushed pistachios into the sides of the whole cake.
Refrigerate until ready to serve.
Notes
Adapted from Aida Mollenkamp's Pistachio Carrot Cake with Brown Sugar-Cream Cheese Frosting in "Keys To The Kitchen"
Let's celebrate springtime! Flowers and sunshine and the warm breeze, and of course — food!
Beverages
Appetizers
Sides
Entreés
Desserts
Join the #SundaySupper conversation on twitter on Sunday! We tweet throughout the day and share recipes from all over the world. Our weekly chat starts at 7:00 pm ET. Follow the #SundaySupper hashtag and remember to include it in your tweets to join in the chat. To get more great Sunday Supper Recipes, visit our website or check out our Pinterest board.
Would you like to join the Sunday Supper Movement? It's easy. You can sign up by clicking here: Sunday Supper Movement.