Never miss a bite! Sign up here to receive new recipes and reviews straight to your inbox.
Disclosure: I was invited to dine as a guest of the restaurant. No monetary compensation has been received for this post. As always, all opinions are 100% my own.
"The concept of Izzy's Fish & Oyster began with memories of growing up on the shores of Cape Cod and the Islands where summers were filled with sunny days, balmy nights, sandy toes and bellies filled with the freshest seafood New England has to offer." This alone made me fall in love with the idea of dining at Izzy's, owned by Chef Jamie Derosa. My own childhood memories are filled with long days spent on the beaches in Atlantic City, NJ (for those familiar with the area, Margate, Ventnor and Longport were the top choices) with our feet in the sand and the hot sun beating down on us until we've worked up enough of an appetite to venture out to one of the many restaurants nearby — most of which were swimming with fresh seafood dishes ready to make our bellies happy. Dining at Izzy's brought me some serious seafood nostalgia — not because the dishes particularly reminded me of things I ate as a kid, but because of the love I knew was behind each and every menu item.
After scarfing down more mini versions of Izzy's signature crab rolls than I care to admit during South of Spice, I couldn't have been more excited to be invited back to check out their Miami Spice special — and to dive headfirst into the lobster poutine.
Yes, lobster poutine. Can we just start there? Crispy waffle fries topped with huge chunks of lobster meat, smothered in melted cave-aged cheddar, and, if you're a meat-eater, sprinkled with smoked bacon. As usual, I was dining out with Fashionably French Fried and we were all over those fries the second they came out. Take note that these are not part of the Miami Spice menu, but there was no way we were leaving Izzy's without trying these bad boys. They were just as amazing as we anticipated. I mean, can you really go wrong with french fries, lobster and cheese? Not possible. It's not a huge portion, but definitely a shareable dish for two. However, I wouldn't blame you for finishing the entire thing on your own.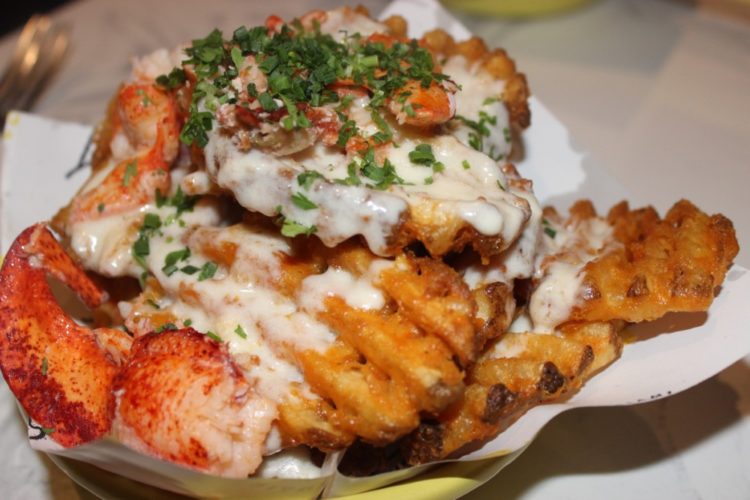 There was one other appetizer on the regular menu, not available for Miami Spice, that caught our eyes — salmon crudo with pickled pineapple, ginger leche de tigre and basil. That pickled pineapple was SO good, and I could have sworn there were pieces of grapefruit mixed in with it. The flavors in this dish were incredible — so bright and refreshing and the salmon was delicious. I'd definitely order this again. It went very nicely with my crisp glass of sparkling sauvignon blanc.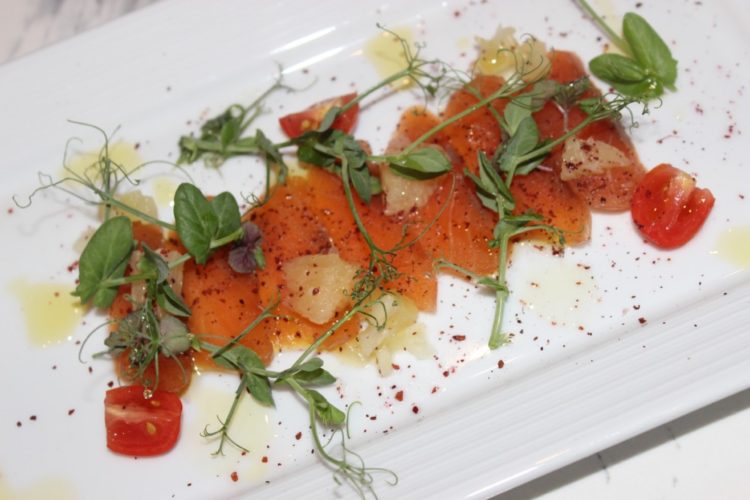 Now, let's talk about Izzy's incredible Miami Spice offering — a $39 three course dinner that includes the most delicious Parker House Rolls in the universe, an appetizer, entree and dessert. Guests also have the option to substitute an alcoholic drink for dessert — house red or white wine,  cold draft of Narragansett, Sam Adams Oktoberfest Ale or one of their Miami Spice Cocktails. This special menu is available through the end of September. Izzy's offers Miami Spice menus for lunch and brunch, as well.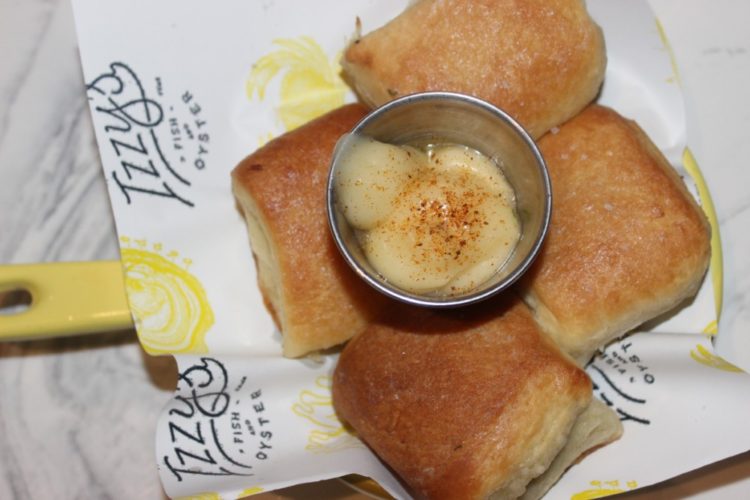 You'll start with those rolls. Like I said, they are the most delicious things ever. Super soft, warm and fluffy on the inside, with a perfectly crisp exterior. Slather them with honey butter and you can't get a much better start to dinner. After you've swooned over your rolls and secretly wished the waiter would bring out another round, it's time to order your appetizer. You can choose from black angus beef tartare, New England clam chowder or Bangor Maine scallops. If you'd like, you can supplement your appetizer for a daily flight of New England oysters for an additional $12. Since we were there to taste every aspect of Miami Spice, we made sure to get an appetizer and a flight of those oysters. For our appetizer, we decided on the scallops. One large, juicy and perfectly cooked scallop was served over a bed of sweet local corn, basil, chili and grapefruit. You know how they say we eat with our eyes — well, this dish certainly played to our sight in so many ways. Bright, beautiful colors, a gorgeous sear on the scallop, and various textures balancing each other out on the plate. It was a mouthful of flavor. I could have eaten an entire bowl of the corn on its own!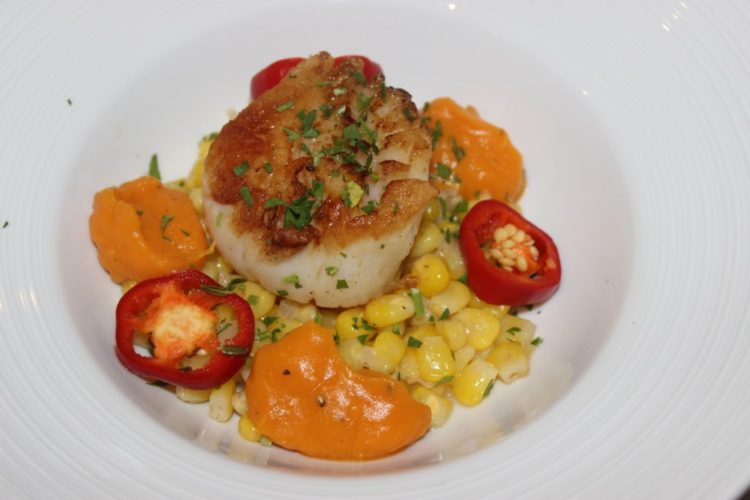 We tried one of each of the oysters offered that night — Moonrise, Avery, Dunbar, Big Rock, West Bay and Wiley Point. My favorites were the Avery and West Bay. I like my oysters on the brinier side and these two varieties were just right. Izzy's serves three different sauces with their oysters — champagne mignonett, yuzu-kosho ponzu, and a classic cocktail. All three were delicious, but the champagne mignonett was my favorite. The yuzu-kosho ponzu had a kick of horseradish-esque spice that balanced out the salty oysters very nicely.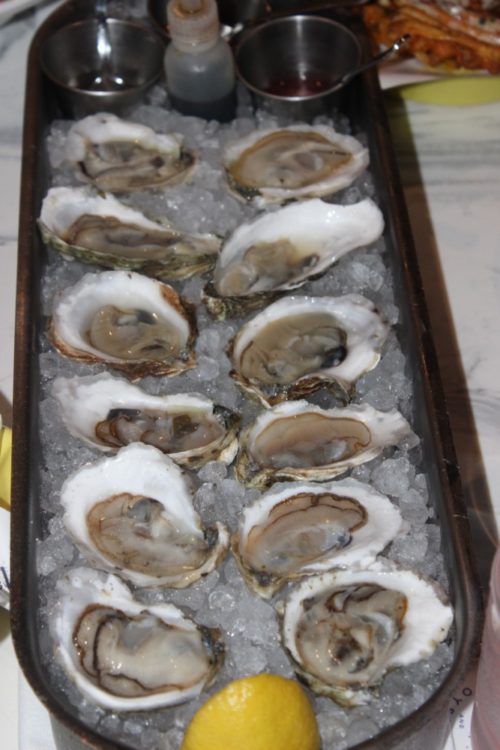 Choices for the main course include one of Izzy's signature rolls — clam belly, warm or cold lobster, or blue crab, oven roasted chicken with fall spices, or the Florida Keys daily catch, which just so happened to be yellowtail snapper the night we were there. I love snapper and the accompanying sherry blistered tomatoes, orange, tarragon and softened shallots just made this dish a total standout for me. Again, presentation was gorgeous. The  team at Izzy's knows how to plate a dish, that's for sure. The fish was cooked just right, but what did it for me were those tomatoes. They were so flavorful and really burst in your mouth with every bite.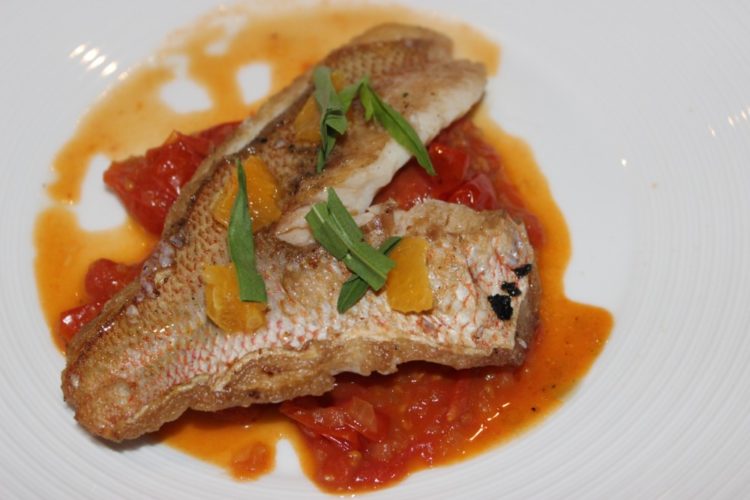 For dessert, guests can pick between Dels frozen Italian ice — a Rhode Island classic made with real lemon rind, apple pie a la mode, or Fireman Derek's Krack Pie. You're crazy if you don't go for the Krack Pie. If I could eat one dessert for the rest of my life, this would be it. It surpasses every cheesecake (and you all know how much I love cheesecake), every crumble, crisp or cobbler (love those desserts too) and ooey gooey fresh-out-of-oven cookie I've ever put into my mouth. No joke. Fireman Derek is a Miami-based baker who, as his name suggests, is also a firefighter. He started with a Florida classic, key lime pie, and now his menu includes everything from chocolate pecan to blueberry and apple. He's a pie genius, and his Krack Pie is seriously the best "pie" I've ever tasted. I use the word pie loosely, because its texture is more like a blondie, packed with vanilla, oatmeal and dulce de leche and sprinkled with a very generous amount of powdered sugar. It's soft, chewy, tender, and oh so freaking delicious.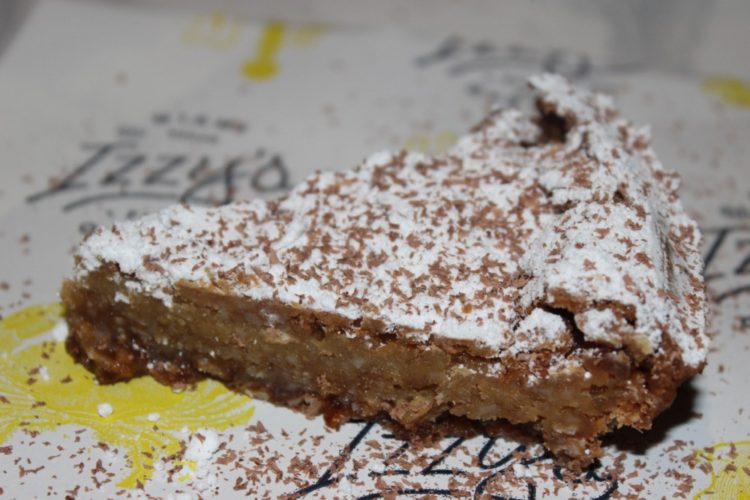 We started dinner with the best rolls in the world, and ended with the best dessert in the world — I'd say Izzy's is a must-try.
Izzy's is open for lunch Monday through Friday 12-3pm, brunch Saturday and Sunday 12-3pm, and dinner Sunday through Wednesday from 6-10pm and Thursday through Saturday 6-11pm. Happy hour is everyday from 5-7pm and features half-price oysters.
Izzy's Fish & Oyster is located at 423 Washington Avenue in Miami Beach.