It's National Cheese Lover's Day and we are celebrating with cheese and…tequila? Yeah, apparently this is a thing. Who knew? I am definitely a cheese lover, but tequila…not so much. If it's mixed into a margarita or some other kind of cocktail, I'm all in. But alone? Not my cup of tea…quila. (Sorry, I had to do it.)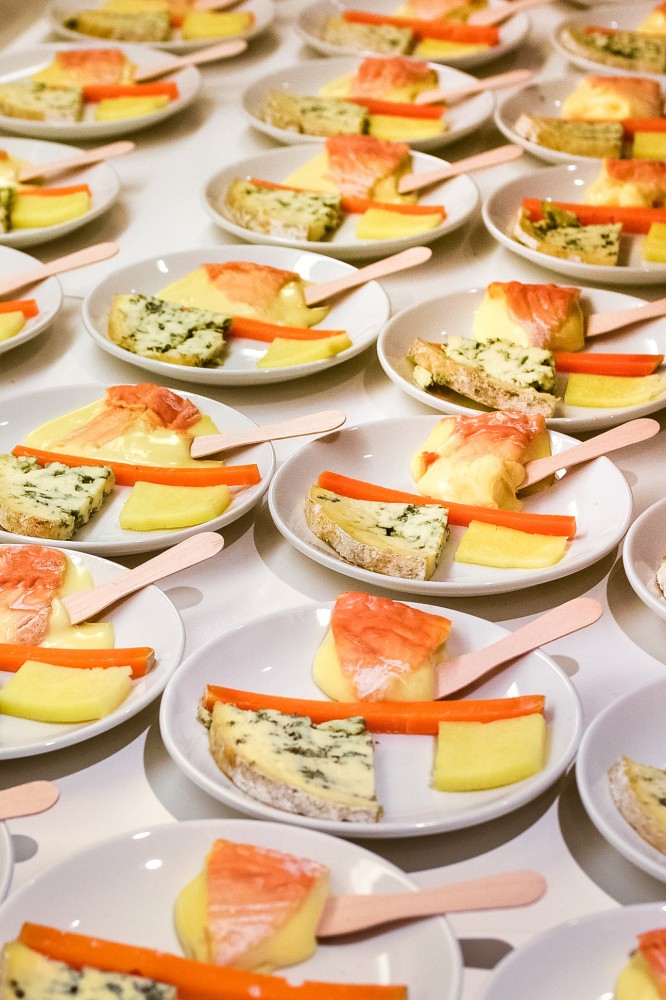 Side note: Is it just me or does this totally not look anything like cheese at first glance? It looks like a spinach quiche, a really long carrot stick, a piece of fish over mashed potatoes, and a square of pineapple. What does it look like to you?!
For all intensive purposes of this post, I must tell you about this strange combination of Casa Noble Tequila and cheeses from The Cheeses of Europe. You can pair cheese with beer and you can pair cheese with wine — why should we leave out the hard stuff?!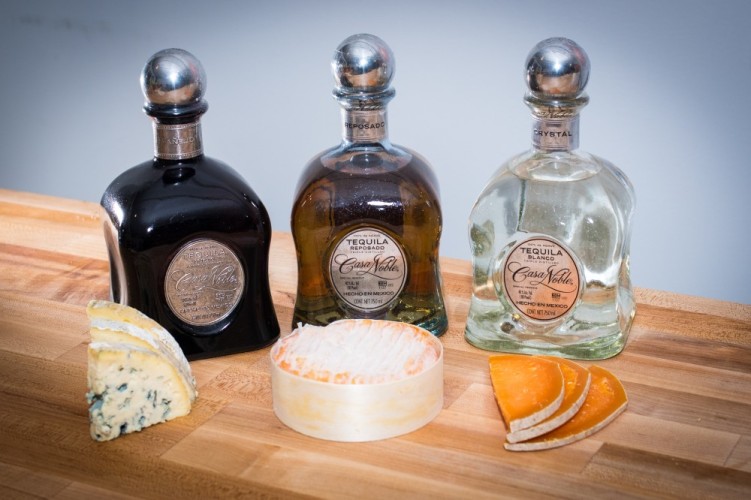 I was given the opportunity to try three different varieties of Casa Noble's tequila — Crystal, Reposed and Añejo. I was given instructions to pair each of these tequilas with with a particular cheese for some serious flavor and total tastebud overload going on in my mouth.
Let's start with the Casa Noble Crystal paired with the Mimolette.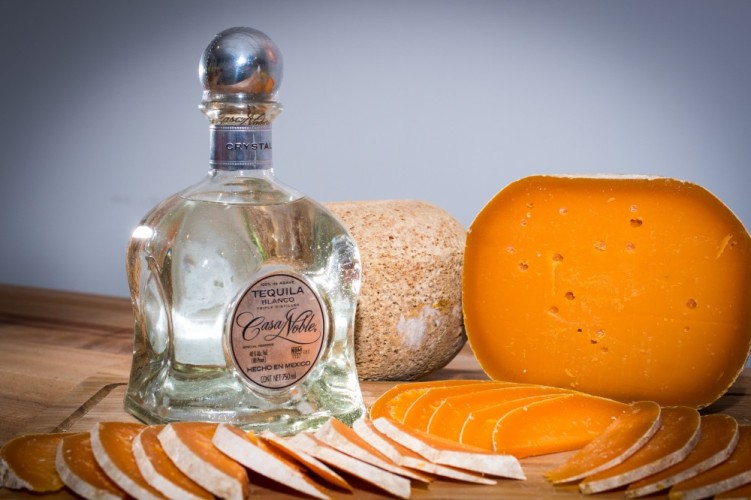 The Crystal was paired with a Mimolette a.k.a. Boule de Lille, eighteen months old so it would qualify as Vieille. During the 17th century, Colbert denied importation of foreign goods, so the French started making their own version of a Dutch cheese, Edam. Produced in Nord Pas-de-Calais, pasteurized cow milk, colored with Annatto. Very mild flavor with little aroma.
Next the Casa Noble Reposado paired with the Époisses.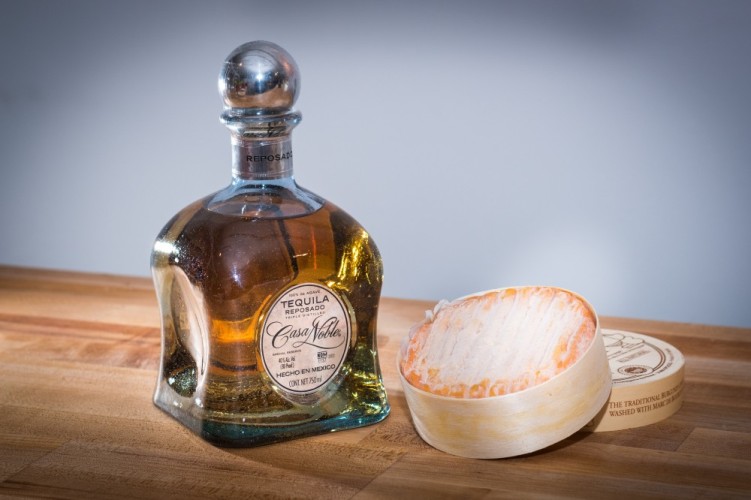 The Reposado was paired with Époisses, a wash-rind monastery style of pasteurized cow milk from Burgundy, also produced in Champagne-Ardenne. At first the young cheeses are washed in a brine solution then gradually Marc is added to the wash. Semi-soft, pungent, and a favorite of Napoleon.
Last up is the Casa Noble Añejo paired with Fourme d'Ambert.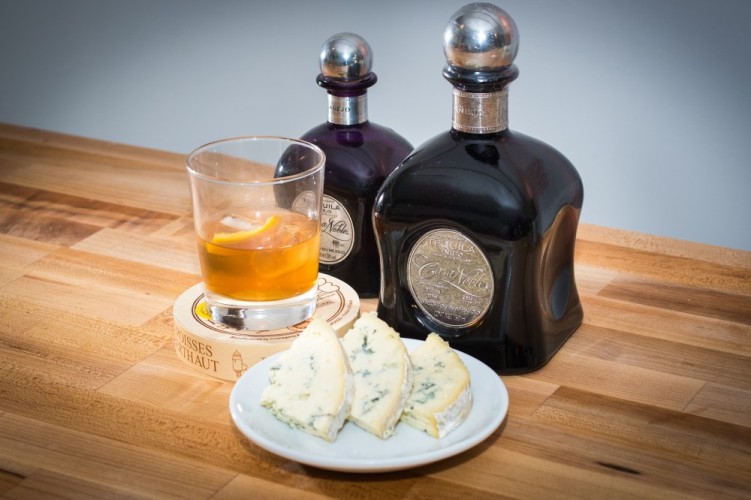 The Añejo was paired with Fourme d'Ambert. This cheese can be made with raw or pasteurized cow milk; this one was pasteurized. The blue mold is added to the curd then the cheese is pierced to promote veining during ripening. Natural rind, smooth and creamy paste, rather mild for a blue, crumbly and moist, with a pleasant aroma of cow and cellar.
A "bonus" cheese was also included to try with both the Reposado and the Añejo. Sales is a raw milk cow cheese from Auvergne.
Very rare, firm, buttery, meaty, made with the milk of the old Salers breed of dairy cow. This cheese was recommended for both the Reposado and the Añejo. The cheese may seem milder than the Époisses de Bourgogne yet it has a longer finish.
This type of pairing is definitely something new for me. I've tasted plenty of cheese with beer and wine, but tequila? That's the last thing I would ever think of! I much rather have a bright, citrusy margarita like the one prepared in this video to pair with my cheese. Check it out!
Being a food blogger and working with various brands and companies really helps to open your eyes to so many unique ingredients, interesting pairings and creative ideas that you otherwise might not know about. You can follow Casa Noble Tequila (and learn more about how to pair it with cheese!) by following them on Facebook, Twitter and Instagram. To learn more about cheese, follow the Cheeses of Europe on Facebook, Twitter and Instagram and the French Cheese Board on Facebook, Twitter and Instagram.
Disclaimer: This is a sponsored post from Casa Noble and The Cheeses of Europe on behalf of The Baddish Group. I was provided with products, tasting notes, photos and video to use for this post by The Baddish Group. As always, all opinions are 100% my own.