You know those people I always talk about, the ones who devour all my baked goods at work week after week, and beg for more? We all got to dress up and join together this past weekend for our company holiday party. We weren't snacking away on cookies and brownies this time; instead it was time to wine and dine.
The company I work for is small, family owned and operated, and really a great group of people. We had our holiday party at Brook's Restaurant in Deerfield Beach. It was a really nice event, a little cocktail hour before a sit down dinner and lots of funny speeches. Waiters walked around with mini crab cakes and potato latkes while we all said our hellos and took lots of pictures. The "paparazzi" a.k.a my boss's wife, Janine, and one of the managers, Liza, were definitely hard at work with their cameras flashing every which way. I can't wait to see all of the pictures they took. It was nice to see everyone outside of the workplace, enjoying themselves without any of the stress or craziness that we too often see.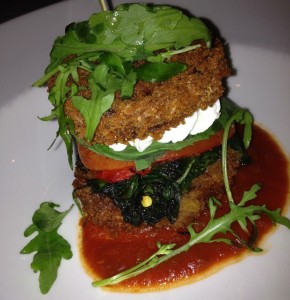 The restaurant was beautiful. I've been there before, when I was young, for my cousin's Bat Mitzvah, but I don't really remember it — I must have been about 4 or 5 years old. It's one of the higher-end restaurants in this area, so to be able to have our company holiday party there was definitely a privilege. I'm happy to be able to report that the food was just as amazing as I was expecting it to be. We could choose from a list of starters, entrees and desserts. I had no problem at all deciding my entree, but when it came to those appetizers… I would have gladly tried them all! There was a tuna tartar, cream of mushroom soup, caesar salad, and eggplant sandwich. I went with the eggplant sandwich. Oh. My. God. Spinach, goat cheese, roasted peppers and tomatoes in between two crispy pieces of eggplant. Anything with goat cheese and I'm instantly hooked. This was probably a meal in its own. It was one of the best dishes I've ever had.
For dinner, the choices were easier for me. Since I don't eat red meat, I
went right for the seafood. I chose the snapper with capers, red pepper and asparagus, served over cheddar polenta. I'm pretty sure I licked my plate clean! Metaphorically, of course; that wouldn't be appropriate for a work dinner. Dessert was just as amazing as the first two courses. I got the granny smith apple tart with cinnamon ice cream and caramel. Have I ever told you how much I love apple desserts? Well, if I didn't before, I'm t elling you now. I LOVE APPLE DESSERTS!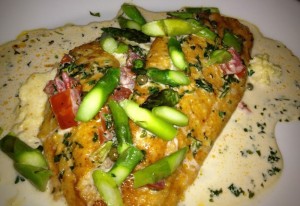 The night was put together really well. Aside from the food being absolutely amazing, we all had a really nice time together. I love how fun this time of year is with all the dinners and parties and get togethers with friends. In the past week I went to a Chanukah festival in Mizner Park, a Chanukah party at the Kabbalah Centre, this dinner at Brooks, and a great dinner with my family for the last night of the holiday. AND I also have a visit from my little sister to look forward to this week. I hope everyone is enjoying themselves as much as I am. Happy Holidays to all 🙂