This is a Sponsored post written by me on behalf of CHA! by Texas Pete for SocialSpark. All opinions are 100% mine.
Are you a sriracha lover? I can't always handle a lot of spice, but a little pinch of this spicy Asian hot sauce and I'm good! It's great in sauces and marinades like my Mango -Sriracha sauce I used to marinade shrimp for the grill. Sriracha is even better when used to give a little heat to some of your favorite classic cocktails — like a margarita! One of my favorite local restaurants makes a spicy margarita using sriracha and it's incredible! It's one of my all time favorite drinks and I never leave there without having one.
Sriracha is a staple in my house, and I wouldn't be surprised to hear it is in yours too. It's everywhere nowadays and has become so popular that even well-known hot sauce brands are coming out with their own version.
Texas Pete just rolled out a brand new product called CHA! This sriracha sauce was introduced earlier in the year and has become popular pretty quickly. This isn't surprising seeing that sriracha has been a food trend for quite some time now. But CHA! by Texas Pete is more than just a sauce or condiment — it's an ingredient. It's taste and texture are what make it so unique and great to use in all your favorite spicy recipes. Texas Pete hot sauces have been a staple in the South for decades, but are becoming more popular nationwide and even in other countries.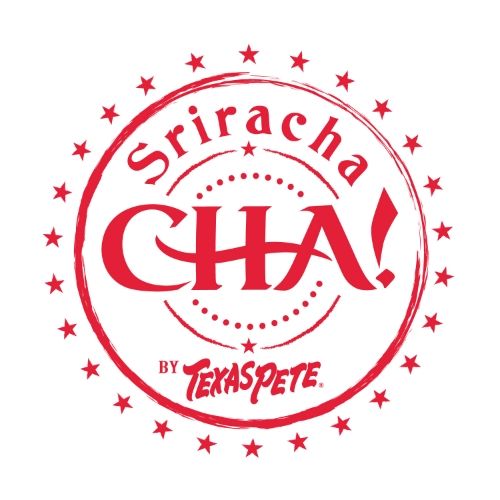 CHA! is available in grocery stores all over the nation, but if you can't seem to find it at your local stores, you can purchase it right on TexasPete.com. You can also check out all of Texas Pete's Recipes here too and even more recipes using CHA! on CHA! by Texas Pete.
These Baked Wonton Crackers with Asian CHA! Crab Salad are screaming my name! They are made with wasabi, pickled ginger, mayo, cucumbers, bell pepper, fresh sliced scallions, and of course CHA!by Texas Pete. I don't know about you, but my mouth is watering (and also on fire, which I guess would be put out by the water…) just thinking about shoveling down a few of these yummy appetizers!
Have you used CHA! yet? What are some of your favorite recipes using this new hot sauce?
When it comes to describing CHA! by Texas Pete, everyone loves it for a different reason. Some crave the tantalizing blend of spicy sweetness that makes it the perfect topping for pasta, pizza, hot dogs and hamburgers. Others can't live without the tangy, exotic heat that works great as a secret ingredient in all your sauces, soups and marinades. No matter how you use it — in the kitchen or on the table — now is the time to embrace Your CHA!ddiction.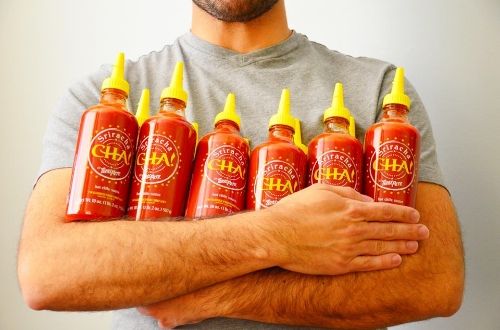 What recipe on CHAddiction.com are you most excited to try?